2021 Tar Heel State Showcase Standouts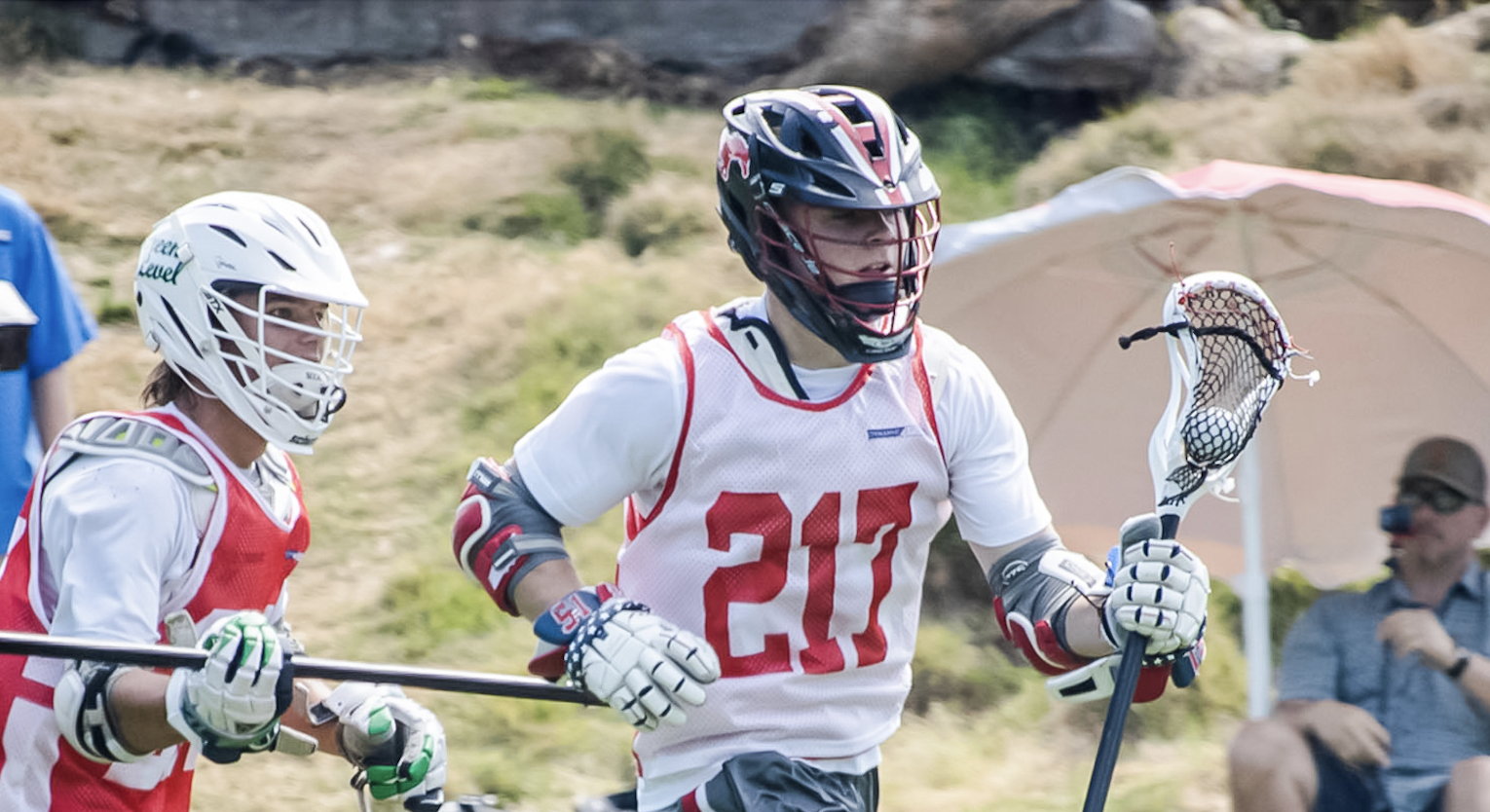 2021 Tar Heel State Showcase Standouts
Follow My Lacrosse Tournaments on Instagram, Twitter and Facebook. 
Breyden Harrison's status as one of the best uncommitted 2022 players in the country is a blessing and somewhat of a curse.
Harrison has been a force for both Team 91 Carolina 2022 and Middle Creek (N.C.) for quite some time. He's been a constant presence between the lines, making his impact felt on offense, defense and in transition. Harrison relishes the opportunity to make a play – any play, not just scoring a goal – and he's got the right mindset to make an impact at the next level.
Where that will be is to be determined, though. Despite the fact that the 2022 class flew off the board faster than any other in lacrosse recruiting history, Harrison fell through the cracks in the early months since Sept. 1. Since then, he's dominated seemingly every time he's been on the field.
That run of lights-out performance carried over to last week's Tar Heel State Showcase in Cary (N.C.). From the opening faceoff, it was readily apparent that Harrison was the guy making the biggest impact on the field. Offensively, he was basically unguardable when he got going downhill, particularly when he swept across to get top side. He had a couple of eye-popping goals and routinely got to his spot. Harrison incorporated some deft passing into his game, too, like a beautiful rope of a pass from X to LSM Ian Songer for a goal.
Whoever lands @team91carolina '22 midfielder Breyden Harrison is going to be really happy.

Dynamic all-around middie has been lights-out every time I've seen him. Getting the @LaxTournaments Tar Heel State Showcase going with a nice alley goal. pic.twitter.com/R8Y4L7Jx6V

— Matt Chandik (@MChandik26) May 23, 2021
Defensively, Harrison is absolutely not the short-stick that you want to target on your dodges. He can get up and out past just about anyone in transition, too. While he's been somewhat frustrated by the fact that he hasn't joined the ranks of the class of 2022's committed players, he knows that there's plenty of time, and that means putting in more work.
"It's a little frustrating at times," Harrison said. "You just see a bunch of people going off the board and you're just, like, 'when's my spot? When's my turn? But I'm basically just hanging out and doing what I can."
Harrison helped North Carolina power Middle Creek reach the state tournament again this year. In 12 games played, he scored 16 times, set up 11 more and collected a whopping 53 ground balls. "He doesn't come off the field," Middle Creek head coach and Team 91 Carolina director Nick Holota said. A third-team all-state pick, it's clear that he's still got plenty of upside, too, and his playing style is perfect for the shot-clock era.
"I've been going with my friends to local turf fields and keeping the stick in our hands," Harrison said. "Having more experienced guys, like some of the Duke players, come out and keep the stick in our hands and getting better. I just want to make sure that every ground ball that's out there is going to be mine and trying to get my left hand as good as my right."
There isn't a lot to not like about Harrison, and if he plays this summer like he did last weekend, that list of suitors will grow in a hurry.
TAR HEEL STATE SHOWCASE STANDOUTS
Caden Castle '22, attack, Fuquay-Varina (N.C.) / Team 91 Carolina (Highlights)
Castle is the kind of attackman that does a little bit of everything really well. He made a bunch of really smart plays that showed off his lacrosse IQ, and he was equally comfortable as a shooter and feeder. He had a couple of impressive goals, and he came in for praise for his coachability.
Wesley Cohn '24, LSM, Athens Drive (N.C.) / Team 91 Carolina 
You don't need to coax Cohn too much – scratch that, at all – to get out on his man. The freshman LSM took the ball away on a number of occasions by making his opponent uncomfortable up top, and he was super disruptive when he got his stick on his man. Cohn did a nice job of picking up ground balls and also constantly communicated with his defensive mates. He wasn't shy about guarding older players, either.
Bryce Hoben '23, goalie, Charlotte Latin (N.C.) / Team 91 Carolina (Highlights)
The younger brother of High Point faceoff man Collin Hoben, the younger Hoben acquitted himself very well in the cage all day long. A springy lefty who brought a ton of energy and communication to the crease, Hoben came up with a bunch of impressive saves, both on far and close shots. He had an awesome save on a high-to-high shot from a pole in transition and had a great stop on Liam West to highlight his day.
Hunter Falzon '23, midfield, Heritage (N.C.) / Team 91 Carolina (Highlights)
Falzon made an immediate impression on the day, bagging a hat trick in the first game. A very vocal and fiery player who got amped up every time he scored or his team made a great play, Falzon scored a bunch of different ways, including an impressive transition goal to kick off the day. He used his quickness and shiftiness to get open and nicely changed planes on his shots.
Collin Patrick '23, attack, Middle Creek (N.C.) / Team 91 Carolina (Highlights)
Patrick isn't the biggest attackman out there, but he provides so many mismatches and could potentially be a college midfielder with his ability to shake defenders from all over the place. His agility and change-of-direction gave defensemen fits, and he had a handful of impressive time-and-room shots while also feeding a good deal. Patrick sees plays unfold a step before anyone else does, but it's also his infectious style of play that will endear him to a ton of coaches. He rides hard and brought a ton of energy to his team.
Persistence pays off. @team91carolina '23 LSM Ian Songer (Cardinal Gibbons, N.C.) with the CT, eventual GB and 🏒 assist to '22 Breyden Harrison (Middle Creek, N.C.), who feeds '23 Tyler Slais (Holly Springs, N.C.) for the 🎯 pic.twitter.com/TM349N7o3Y

— My Lax Tournaments (@LaxTournaments) May 23, 2021
Ian Songer '23, LSM, Cardinal Gibbons (N.C.) / Team 91 Carolina (Highlights)
Songer was incredibly disruptive from the start and never relented throughout the day. His 6-foot, 180-pound frame lends itself well to high-level college lacrosse, and so did his aggressiveness, stick work and tenacity. If the ball was in the middle of the field, Songer was right around it. He loves pressuring the ball. Songer had a particularly impressive caused turnover on the sidelines in the first game of the day. He can get in on the offensive action, too. Songer buried a Breyden Harrison feed from X for one goal, and later, added a beauty of a backhanded bouncer.
Wade Watson '22, attack / midfield, Holly Springs (N.C.) / Team 91 Carolina (Highlights)
An attackman by trade, Watson ran a ton of midfield for his team on the day. A high-IQ player who can create mismatches vs. a short stick, Watson often got to his spot to get his hands free and let go of a hard, heavy shot. He also showed deft hands and an ability to make plays in tight when he worked inside. He's the type of finisher that can make a good passer look even better.
Liam West '23, midfield, Apex (N.C.) / Team 91 Carolina (Highlights)
West might have been the best passing midfielder at the event. He did an outstanding job of dodging with his head up and making both easy and difficult passes to open teammates. He's got some shiftiness to his game and used that to make his man miss and draw a slide before dumping off a nice pass. On one play (CLICK HERE for video), he drew three players' eyes off of an invert before snapping a picturesque feed for a tap-in goal from '22 Zachary Berg (Heritage, N.C. / Raleigh LC). West also incorporated a couple goals into his play, making slow slides pay with an accurate shot.
Sound 🆙 to hear the sweet sound of a crossbar getting obliterated. @team91carolina '23 Brodie Mason (Durham Academy, N.C.) with the bardown 💣 at the Tar Heel State Showcase. pic.twitter.com/Jy6TkV7fcl

— My Lax Tournaments (@LaxTournaments) May 23, 2021
Honorable Mention
Dylan Axman '24, goalie, Middle Creek (N.C.) / Team 91 Carolina
Dillon Bethea '22, defense, Heritage (N.C.) / Team 91 Carolina (Highlights)
Landon Greenberg '24, midfield, Middle Creek (N.C.) / Team 91 Carolina
Jarrett Huff '22, attack, Holly Springs (N.C.) / Team 91 Carolina (Highlights)
Brodie Mason '23, midfield, Durham Academy (N.C.) / Team 91 Carolina (Highlights)
Nathan Nicholas '22, midfield, Apex (N.C.) / Team 91 Carolina (Highlights)
Jake Wimsatt '23, midfield, Orange (N.C.) / Team 91 Carolina