One Percent Showcase 2022 Evaluations: Teams 1-2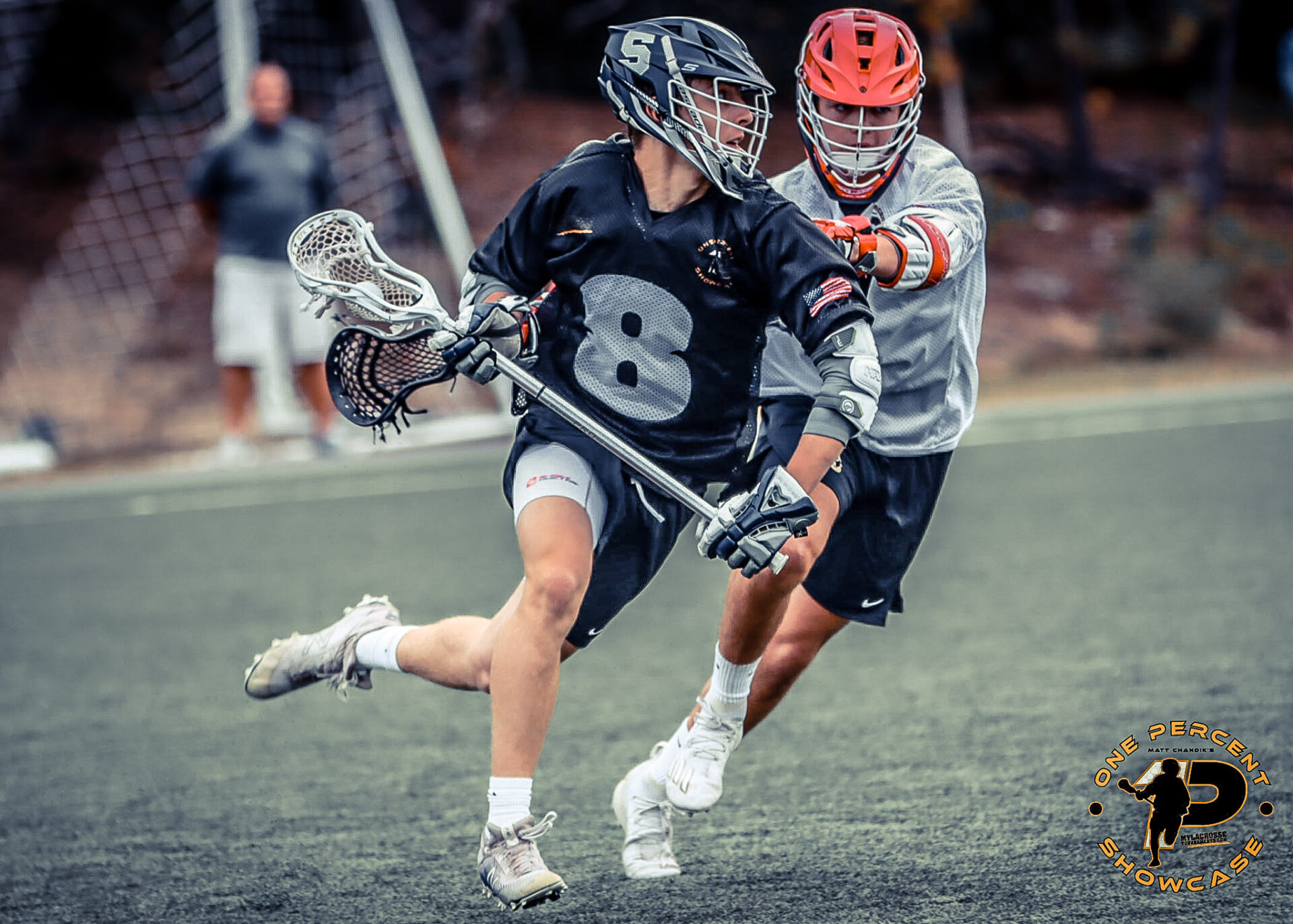 One Percent Showcase 2022 Evaluations: Teams 1-2
Follow the One Percent Showcase on Instagram and Twitter.
The inaugural One Percent Showcase is in the books.
More than 170 of the top 2022 players in the country made the trek to Capelli Sports Complex in Tinton Falls, New Jersey to compete against the best. The My Lacrosse Tournaments evaluation team compiled notes on every player. Here's a breakdown of Teams 1 and 2 for the '22 class.
Class of 2022 Evaluations
Teams 3 and 4
Teams 5 and 6
Teams 7 and 8
Team 1 – White

No. 1 Alex Shapiro, attack, Hotchkiss (Conn.) / Predators (Highlights)
A tall attackman with good footwork who scored goals off impressive head fakes near the goal and an array of shots, including bouncers, Shapiro is a threat to shoot with both hands. Strong dodger with two hands on his stick. All-around skilled attackman.

No. 2 Cameron Connolly, attack, Seaford (N.Y.) / True Blue (Highlights)
A low-to-ground attackman with a great shot and quick feet, Connolly demonstrated tremendous vision throughout the day's games, finding open teammates consistently and put the ball in places that made them a threat to score.

No. 3 Ryan Colsey, attack, Ridgefield (Conn.) / Eclipse / Virginia (Highlights)
All-Star. Maybe the most dominant '22 of the day, Colsey started the first game with a sick behind-the-back goal. Colsey is lethal off the dodge when he uses his physicality. He made a point to make first contact with his defender to give him an advantage throughout the day. His height and extensive box background give him tons of release angles, and uses power and placement on an array of shots. 
No. 4 Cristian Rodriguez, attack, Chaminade (N.Y.) / LI Express
Quick feet, good passer, excellent on the change of direction, Rodriguez is an eyes-up attackman who is always looking for a teammate or an opening for himself when the ball is in his stick.
No. 5 Tommy Garofalo, attack, Bronxville (N.Y.) / Predators (Highlights)
A great passer who has an arsenal of shots to utilize. He is an inventive attackman who is active moving without the ball and looking for space. Garafalo is a highly skilled player with tremendous upside.

No. 6 Andrew Ross, midfield, Delbarton (N.J.) / LI Express (Highlights)
All-Star. Athletic and great in transition, Ross has an outstanding defensive engine, making him a standout two-way midfielder. When he was on the field for his team, good things happened. He made the right plays throughout the event and he didn't take plays off. On offense, he found a way to consistently get to the middle of the field. 
No. 7 Charlie Keating, midfield, Rye (N.Y.) / 2Way (Highlights)
All-Star. Really dynamic in transition or off the wing, Keating has great hands and is quick off the dodge. He's tenacious in his play on both ends of the field. Coachable, personable, and an unselfish player, he's a hidden gem who'll be a difference-maker at the next level. 
No. 8 Dean Scalamandre, midfield, Council Rock North (Pa.) / Big 4 HHH (Highlights)
Boasting a long stride and strong upper body, Scalamandre stands out more on the defensive side given his size, really good footwork and willingness to defend. On the flip side, he also scored a great goal where he just bullied his way through several checks to get to the cage. An outstanding athlete who was dominant between the lines.
No. 9 Nicholas Johnson, midfield, Governor's Academy (Mass.) / NH Tomahawks (Highlights)
Speedy in transition, Johnson scored one early goal while at full stride when he was able to pick out a corner with great accuracy. He has the ability to consistently create separation and draw a slide with his shiftiness and speed. 
No. 10 Alex Loschert, midfield, Delbarton (N.J.) / Patriot (Highlights)
Tough middie with a strong chest and upper body who is difficult to move and is not afraid to get physical on either offense or defense. With the ball,  the 6-1, 180-pounder Loschert has great hands in receiving passes and offers lots of shot fakes.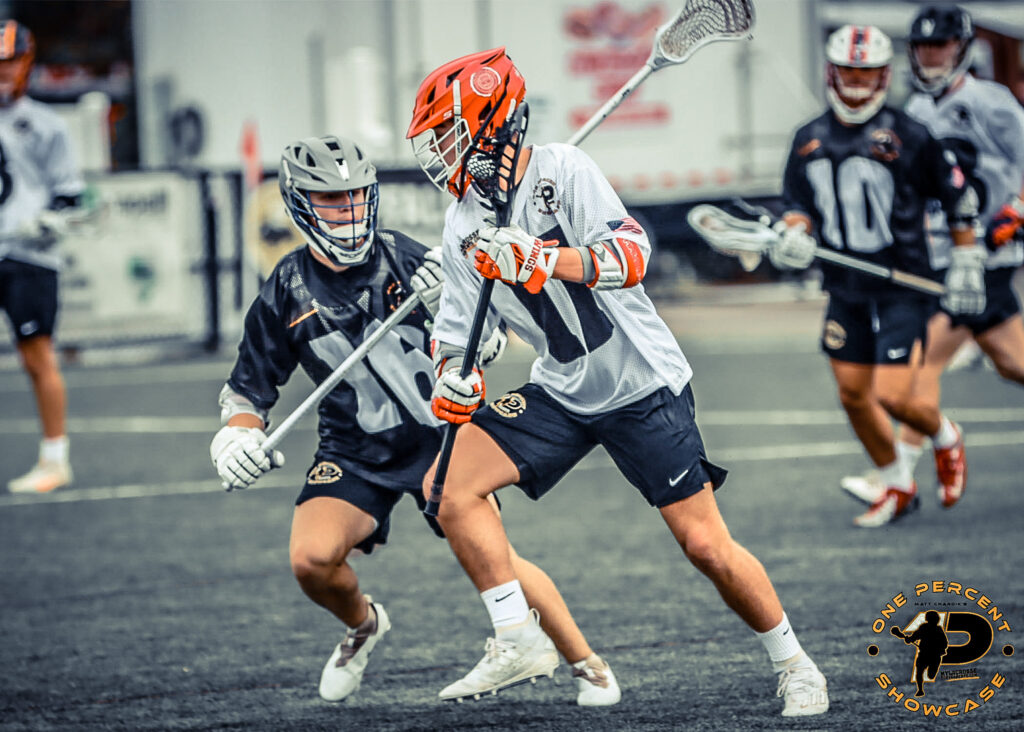 No. 11 Alex Vlacich, midfield, Rivers (Mass.) / Laxachusetts (Highlights)
Active defensively with strong hands and good instincts in transition, Vlacich scored two goals off the bounce in the event. A complete lacrosse player who demonstrated a high lacrosse IQ, Vlacich brings savvy and plenty of finesse to the table. 

No. 12 Conor Trant, faceoff, Concord-Carlisle (Mass.) / Fighting Clams (Highlights)
Trant performed well at the X in the showcase and also had a goal to his name with a left-handed shot. Really agile once he's off the ground, with bouncy strides and the ability to move to the ball once it leaves X. He has very good hands, clean exits, good stick protection, and is relentless on loose balls.
No. 13 Colin Hannigan, faceoff, Springfield (Pa.) / Duke's (Highlights)
Performed well at the X against solid opposition, Hannigan is another faceoff athlete who demonstrated poise on his exits throughout the day. At 5-11, 180 pounds, Hannigan is solidly built for the rigors of the position, and his hockey background helps him bring a certain toughness to the position. 

No. 14 Ben Thomas, LSM, St Augustine Prep (N.J.) / SouthShore (Highlights)
A rangy defender with long strides that cover a lot of the field, Thomas is good on the ground, especially considering his 6-foot-2 frame. Thomas is always aware of where the ball is, and he has an active stick in passing lanes and a knack for knocking balls down out of the air. 

No. 15 Derek Marcus, LSM, Somers (Conn.) / Express North (Highlights)
All-Star. Marcus stood out with his speed in transition and really good stick skills, especially when he's receiving passes under pressure. He scored a goal in the second game and is an end-to-end threat to account for as well as a solid man-marker.
No. 16 Charlie Guida, defense, Morristown-Beard (N.J.) / Patriot (Highlights)
A mobile defender, Guida is strong matching up on the ball and has an active stick to influence the play via interceptions when he's off ball. His quickness makes him valuable in clears – he left several riding attackmen lunging for air – where he's also a strong passer.
No. 17 Tate Seeman, defense, Noble and Greenough (Mass.) / Fighting Clams (Highlights)
All-Star. A shutdown cover guy who made a case as the best '22 defenseman at the showcase. High center of gravity given his upper body strength but very athletic. Seeman is tough to knock off the ball and a very skilled all-around lacrosse player. Also a threat to clear the d-zone with the ball in his stick and to jump into attack, something that has to be accounted for.
No. 18 William Rose, defense, Seton Hall Prep (N.J.) / Tri-State / Colgate (Highlights)
A quick and heady defender, Rose has really good footwork to navigate the high traffic around GLE. The recent Colgate commit has the agility and communication skills to tackle tricky two-man games with teammates and work through picks.
No. 19 Patrick Ferguson, defense, Yorktown (Va.) / VLC (Highlights)
With Seeman as the lockdown guy, Ferguson was able to freelance off the coverage and cause turnovers. Really astute stick, very good on the ground, but also a big frame who is physical with opposing attackmen. A really poised and reliable defender, he made the smart play time and again.
No. 20 Michael Piraino, defense, Half Hollow Hills East (N.Y.) / United (Highlights)
A solid cover guy who is good on the ball and clean on the ground as well as on clears. Piraino is a clever defender who reads the situations well – had one instance where he headed a high-bouncing ball out of trouble to put a teammate in a position for a GB.
No. 21 Luke Schlank, goalie, Brunswick (Conn.) / Prime Time (Highlights)
All-Star. Not the tallest goalie but Schlank has very quick feet and is very good at getting out of the cage to cover shots out behind. An excellent communicator, he's very good at getting low to make saves and plays his angles well.
No. 22 Landon Whitney, goalie, Starr's Mill (Ga.) / 3d Georgia (Highlights)
With quick reflexes, Whitney produced a couple of low kick saves during the tournament that were sensational. He also reads bouncing shots well. Whitney is very willing to confront shooters outside of the crease and is a weapon in pushing outlet feeds on clears. He recently decided to reclass to the '23 class, where he should emerge as one of the best goalies in the class.
Team 2 – Black 
No. 2 Charlie Howard, attack, Staples (Conn.) / Prime Time (Highlights)
Howard puts in a lot of work and has a lot of talent to go with it. He has a ton of moves to throw at defenders, possesses great hands and is an active rider on clears. He had one instance where he fooled the goalie and picked off a pass right on the crease, then scored. He exhibited great vision on offense and found open teammates, always playing with his head up.
No. 3 Joseph Leone, attack, Delbarton (N.J.) / NJ Riot
A skilled player who fights hard to get to the island, Leone made himself a presence around the goal. He's an active passer, a tidy finisher and is nimble and clever enough to find soft spots in dangerous areas to impact games.
No. 4 Peter Cook, attack, Concord-Carlisle (Mass.) / Fighting Clams (Highlights)
Though not the biggest attackman, he knows how to use his body to create leverage and space, both to shoot and as a superb passer. Cook scored one goal on a turning shot that had both power, placement and a quick release. He has excellent skills and good footwork at GLE.
No. 5 Curren Johnsen, attack, Bellport (N.Y.) / United / Lehigh (Highlights)
Johnson is always looking for the open man and had several impressive assists. The lefty is a physical player who has a variety of shots he can use, and the recent Lehigh commit also possesses tremendous footwork and a high lacrosse IQ that allows him to quarterback the offense. 

No. 6 Michael Meyer, attack, Northport (N.Y.) / Rebels (Highlights)
Meyer plays a heavy game that goes well with his 6-2, 190-pound frame. He's not afraid of contact, gets tremendous velocity behind his shot with a quick release, and he works hard, especially when riding defensive clears.
No. 7 John Murray, midfield, Summit (N.J.) / Tri-State (Highlights)
Murray played well on both sides of the field. A good dodger, he demonstrated a variety of offensive moves. He was also sound on defense, especially in engaging on the ball, and he did a little bit of everything for his team.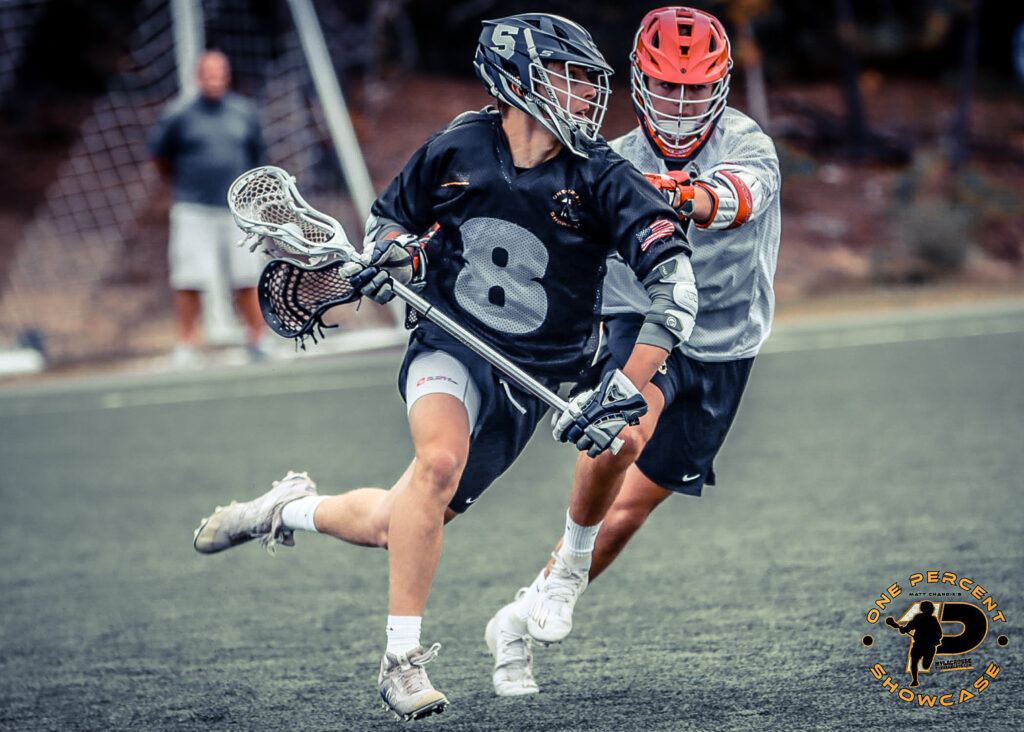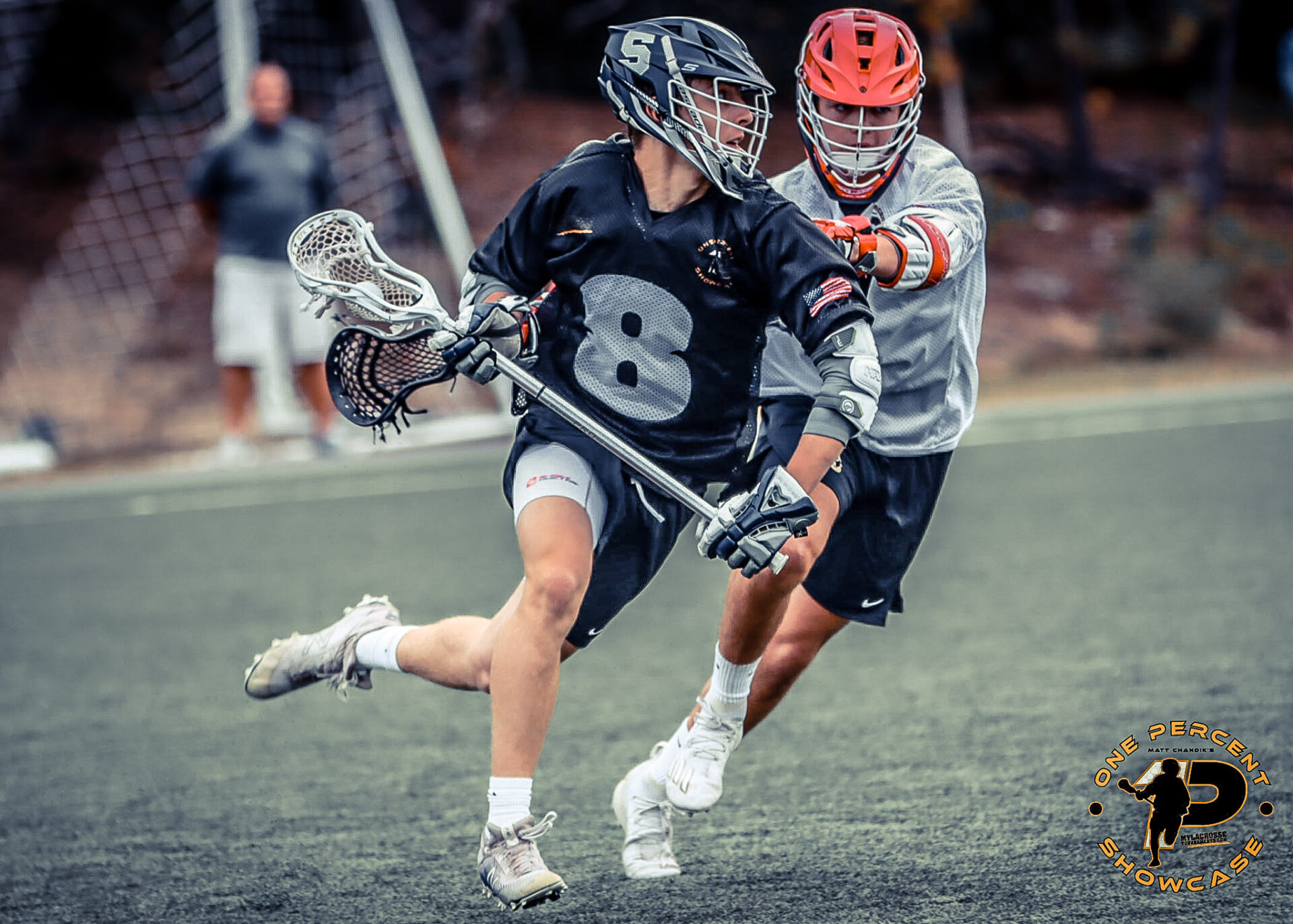 No. 8 Derek Sale, midfield, Staples (Conn.) / Express North (Highlights)
 Sale has the kind of speed that forces defenses to account for him off the dodge, drawing early slides often. That opens up space for teammates, and he has the skilled hands to exploit that, either with his passing or in receiving feeds with his off-ball movement.
No. 9 Drew Bown, midfield, Springside Chestnut Hill (Pa.) / Big 4 HHH
Skilled, disciplined, and smart, Brown consistently made the right decisions on offense and put in the work defensively, never shying away from taking on his matchup. He made a ton of little plays for his team. 

No. 10 Anthony Bartolotto, midfield, Miller Place (N.Y.) / United / Cornell (Highlights)
All-Star. An early verbal to Cornell, Bartolotto showed off why the Big Red made him a priority. Good in transition, he can be very slippery when defenders converge. Bartolotto is extremely secure in possession when getting checked, a tough middie who can absorb stick and body checks. He does all of the dirty work between the lines and generates opportunities for his teammates, an unselfish player who works hard on both ends of the field.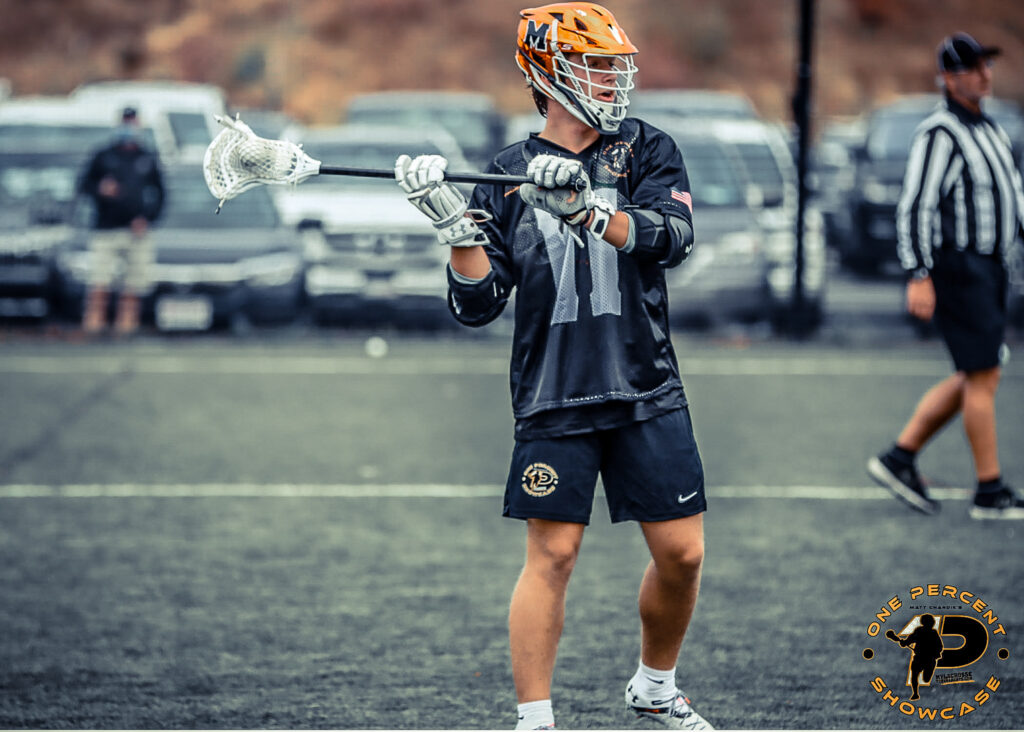 No. 11 Lucas Baehr, midfield, McDonogh (Md.) / Crabs (Highlights)
All-Star. Athletic in transition with soft hands, Baehr is an excellent blend of size and speed who is devoted to work on the defensive end. He has an outstanding engine on both ends of the field and offers a laser shot, particularly off the alley dodge. He's also adept around the cage at throwing shot fakes and finishing. He was a difference maker throughout the day for his team, one of the more complete players at the event.
No. 12 Jameson Smith, midfield, Bayport-Blue Point (N.Y.) / Team 91 Smash /Johns Hopkins 
Smith has really long strides and long arms that help him do a lot of defensive work and he also has a willingness to do the dirty work. With the ball, his length offers a plethora of angles to get off shots, high and low. Smith has good handles for a guy that big and picks his spots on offense. He's an all-around savvy player, unselfish enough to work within a firm grasp of team offense and often choosing the best angles to dodge from throughout the afternoon by staying on his natural side.
No. 13 Travis Foster, faceoff, Lawrence (Mass.) / NH Tomahawks (Highlights)
Yet another highly skilled faceoff man who did well against some excellent competition. He fought for loose balls and demonstrated a series of counter moves when he didn't win the clamp. Disciplined at the stripe throughout the day, Foster also hustled off the field.
No. 14 Joseph Bucci, faceoff, Malvern Prep (Pa.) / Team 11
A bull at the faceoff X, Bucci is strong on the ball and showed good exits and counter moves despite still being relatively new to the faceoff position. He's willing to fight on the ground and compete for loose balls.
No. 15 Zane Hitch, LSM, O'Dea (Wash.) / CitySide (Highlights)
Like so many West Coast products tend to be, Hitch is extremely athletic to go along with excellent stick skills. He thrives in transition and was very good in the clearing game. He showed he was extremely responsive to coaching throughout the day.
No. 16 Andy Giandonato, LSM, Owen J. Roberts (Pa.) / Freedom
An athletic LSM, Giandonato looks the part, with a strong upper body and good speed. He's got good footwork, strong stick skills and is good on the ground, making him an asset on the wing and clearing the zone.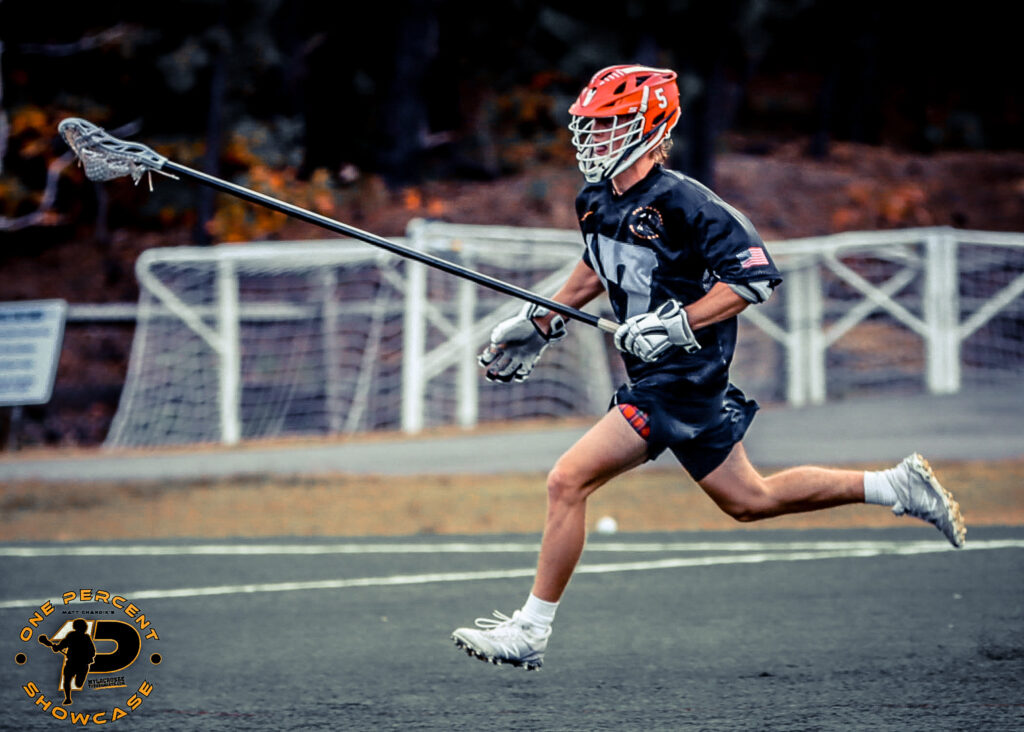 No. 17 Ethan Ackerman, defense, Seton Hall Prep (N.J.) / Leading Edge (Highlights)
All-Star. Ackerman had several caused turnovers on the day and is great on the ground. Ackerman has an all-around skillset: Good passer, super athletic and shifty despite having a big frame. He is very active in the passing lanes and in disrupting attacks off the ball. Outstanding in the clearing game, he hustles to the right spots, never turns his back to the ball and makes the correct looks.
No. 18 Ryan Foley, defense, Kellenberg Memorial (N.Y.) / LI Express
Foley has a great stick and maintains good off-ball awareness and an athletic stance at all times. An accurate passer, he's very clean on the ground and an asset in clearing the zone. He has a knack for finding a way to get involved in a ton of plays, too. 
No. 19 Kevin O'Brien, defense, St. Joseph's Prep (Pa.) / Mesa (Highlights)
Not the biggest defender, but O'Brien knows how to use his body and more than makes up for it with crisp technique and great hustle. He's high on intangibles, also exhibiting tremendous leadership by being vocal in his games throughout the day.
No. 20 Michael DeSano, defense, Smithtown East (N.Y.) / United (Highlights)
Very active with his stick, DeSano had a couple of big hits and one yard sale check. Very good at sticking with dodgers, DeSano is a threat to get up the field in transition and secure with the ball in his stick.

No. 21 Michael Park, defense, Chatham (N.J.) / Patriot (Highlights)
A very aware defender, especially off the ball, Park was quick with slides and showed good footwork to move swiftly and recover quickly. Not the biggest defender, but he's not afraid to get physical and plays to the strength that is his quickness.
No. 22 Jamie Horton, goalie, Boston College (Mass.) / Laxachusetts (Highlights)
All-Star. A big guy with stellar high net coverage, Horton also gets down to cover low shots well. He's very good at playing his angles, and doesn't dip, make false steps or get easily sold on shot fakes. Horton is also a very active communicator with the defense in front of him.
No. 23 Joe Doherty, goalie, Malvern Prep (Pa.) / Big 4 HHH (Highlights)
The heir apparent to the Friars' goalie throne, Doherty was impressive on both low and high shots. He has an active stick outside of the crease, is a good passer, moves well from pipe to pipe and shows good footwork in having a quick first step out of the crease to cover shots.