One Percent Showcase 2023 Evaluations: Black and White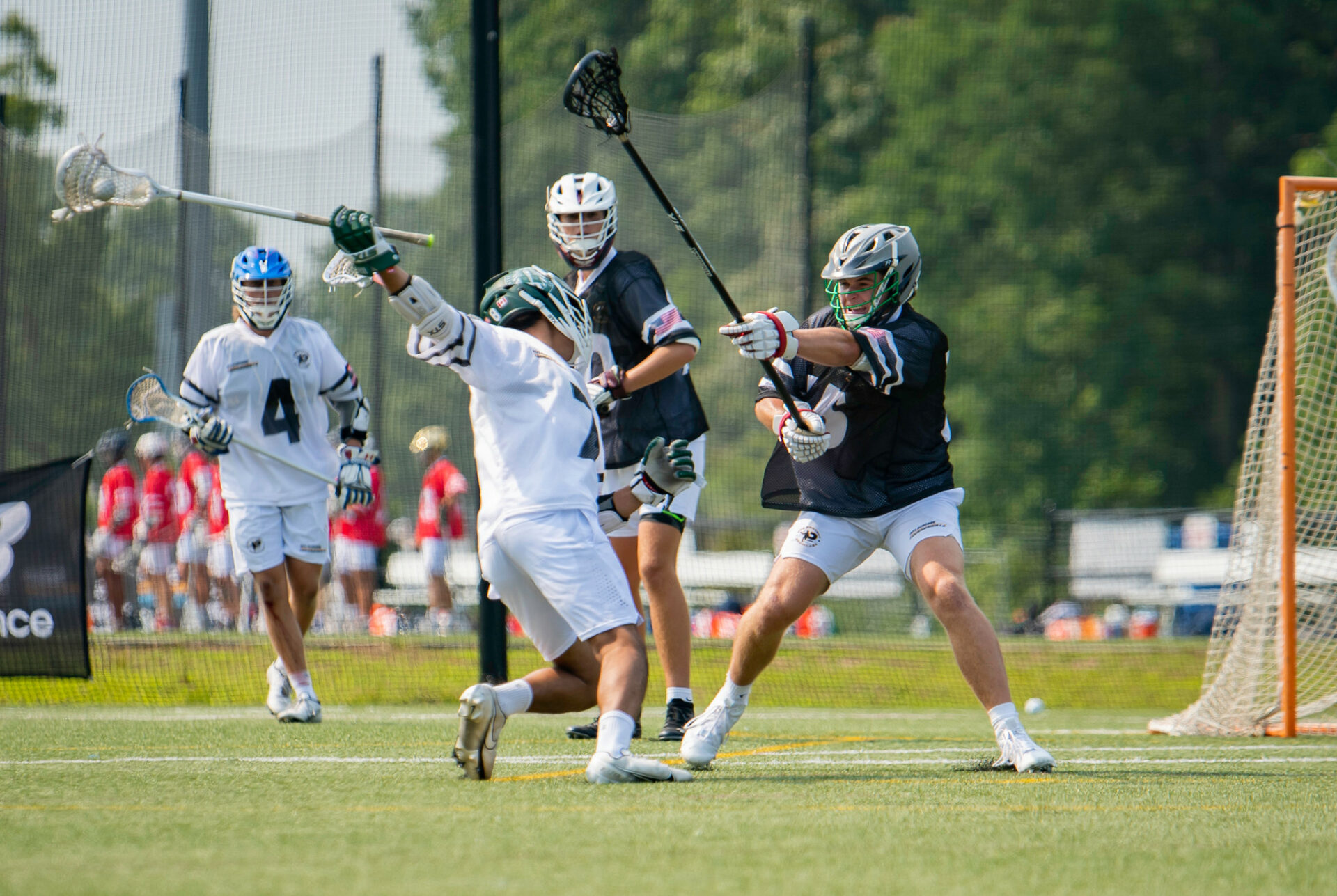 One Percent Showcase 2023 Evaluations: Black and White
Follow the One Percent Showcase on Instagram, YouTube and Twitter. Follow My Lacrosse Tournaments on Instagram and Twitter . CLICK HERE to check out the dates and express interest in the next three One Percent Showcases.  
The stars came out to play at the One Percent Showcase!
The best players in the 2023, 2024 and 2025 classes came to Capelli Sports Complex in Tinton Falls, New Jersey to test themselves against the nation's elite. Competitors want to see how they stack up against the best, and that's exactly what went down here.
Every player at the event receives an evaluation from our talented, knowledgeable group of evaluators. Yes, all 430+ players that played get broken down here! Check back in the coming days as we continue to upload evaluations and be sure to subscribe to our YouTube channel as we add all game footage from the event.
All photos in this story are courtesy of Alex McIntyre. CLICK HERE for photo gallery links and to purchase photos from Alex.
2023 Black
No. 1 Nate Kabiri, A, Georgetown Prep (Md.) / MadLax Capital
An All-Star at midfield in the fall, Kabiri made it back to the All-Star Game as an X attackman. A recent transfer to Georgetown Prep, Kabiri is an excellent passer and an unselfish player who possesses unparalleled vision. He has a number of effective dodges from behind, but it's his hesitation moves that are most effective. Kabiri is able to keep his defenders from making contact at GLE, and as a result, he can get his hands free to pass or score. He's excellent at managing the game, and the NLFRankings.com No. 9 player in the '23 class is going to be a hot commodity on Sept. 1.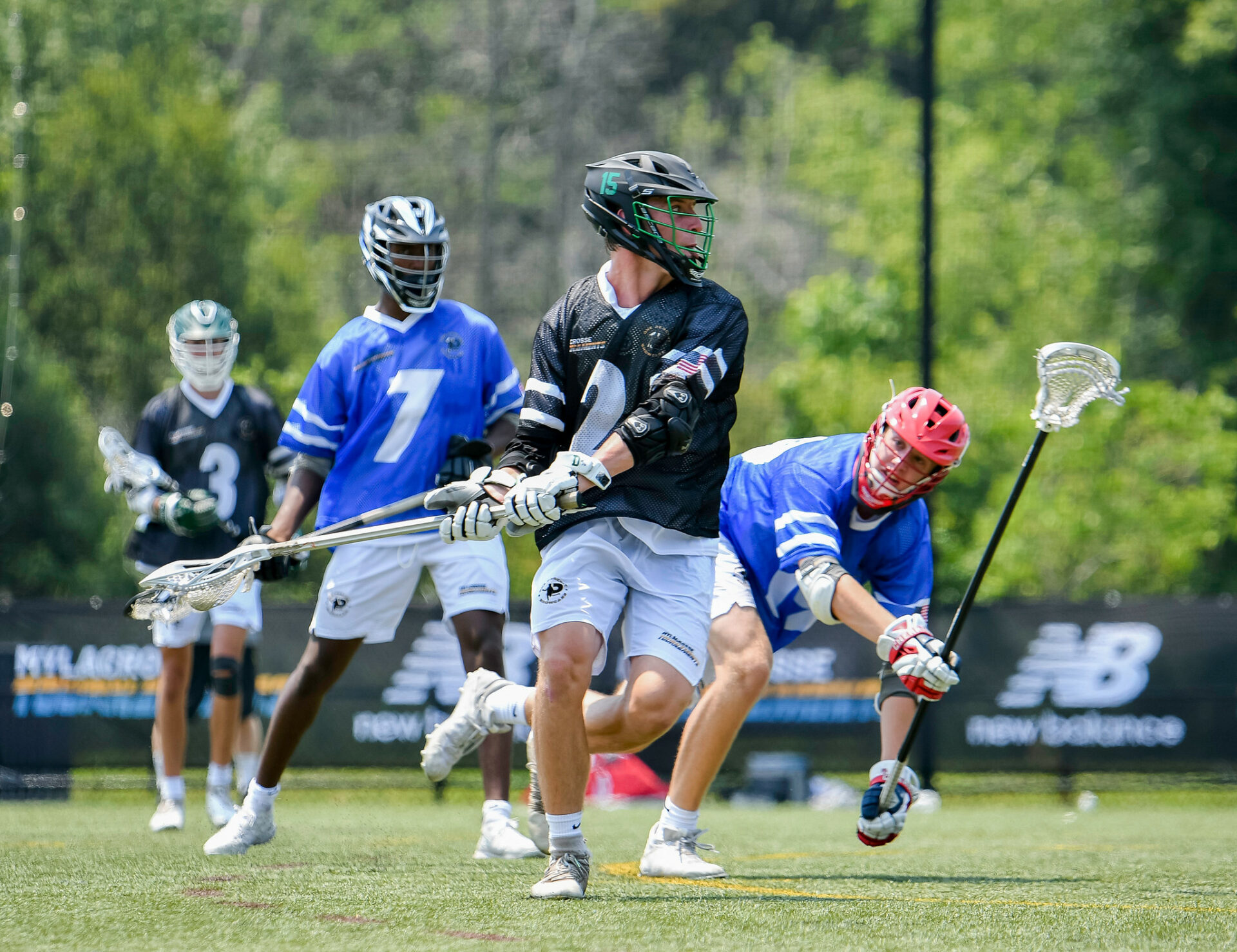 No. 2 Felix Rockefeller, attack, Deerfield (Mass.) / LI Express
Rockefeller is another attackman who consistently made the correct feeds to his open teammates while finding ways to score within the framework of his team's offense. He has adept footwork that allowed him to skewer the bad approaches of several defensemen. He has great velocity on his shot, and as the day wore on, he began to score consistently in each game. A highly skilled and well-rounded player.
No. 3 Jaxson Bodonyi, attack, Western Reserve (Ohio) / Resolute
Bodonyi floated between attack and midfield and he was equally effective in both positions. He was able to find space vacated by sliding defensemen to receive passes and score. Jaxson has an effective three-quarter arm release on his shot that was difficult for goalies to pick up throughout the day. He's an exceptional finisher who'll rack up a lot of goals at Western Reserve next season.
No. 4 Bo Page, attack, Taft (Conn.) / Mesa
A recent transfer to Nic Bell's Taft program, Page is able to change planes on his dodges to prevent overly aggressive defenseman from peppering him with checks. He's a smart and well-coached player who showcased his ability to finish inside and carry a double team. He moves well without the ball and understands the finer points of team offense. Bo was a tremendous asset to his team throughout the day. He does things the right way and he plays with tremendous effort and energy.
No. 5 Matthew Pepe, attack, Seton Hall Prep (N.J.) / Tri-State
Pepe put pressure on his defender whenever he had the ball in his stick. He's got excellent hands and is an incredibly skilled player. He uses his frame to back down defenders, and when he draws a double team, he'll find an open teammate. He was one of the best shooters at the event. Pepe has a quick release, velocity on his shot, and excellent placement.
No. 6 Matt Cargiulo, midfield, Manhasset (N.Y.) / Shore 2 Shore
Cargiulo possesses many of the skills that college coaches desire for midfielders in their programs. He has excellent stick work, athleticism and tenacity, in addition to the ability to stretch the defense with his shot. It's hard to go wrong with a midfielder from Manhasset, and he will continue to develop his vast skill set. He was consistently solid throughout the day and he plays well within himself and adds a lot of unselfishness.
No. 8 Christian Brunner, midfield, Belmont Hill (Mass.) / Laxachusetts
Brunner is a no-nonsense middie who possesses a number of skills that make him an attractive prospect. He demonstrated the ability to be effective on and off ball defensively. He showed an impressive understanding about how to find and manipulate space to his advantage in the clearing game. Moreover, Christian understands how to occupy his man on offense and move without the ball. He's savvy and technically sound.
No. 9 Kian McCarthy, midfield, Rye (N.Y.) / Prime Time
All-Star. What can Kian McCarthy do on a lacrosse field? Oh, let's run down the list.  Hitch and go? Check. Split to his non-dominant hand and roll back to his dominant hand to shoot and score? Check. A box-to-box middie with incredible athleticism? No question. McCarthy is explosive. Run, run as fast as you can, you won't catch him, he's got gingerbread man speed. An incredibly fun player to watch play the game.
No. 10 Easton Bello, midfield, Loyola (Ill.) / Team Illinois
Bello is an effective dodger and shooter who made strides throughout the day. He does a little bit of everything well, including individual defense, clearing, and contesting ground balls. He has tremendous upside.
No. 11 Patrick Tuohy, midfield, St. Anthony's (N.Y.) / Shore2Shore / Navy
The sign of an offensive player with excellent coaching and skills is the manner in which he makes his read progressions on offense after drawing a slide. Tuohy plays with his head up and looks through the defense rather than at his defender. I was so impressed with his ability to get the ball out of his stick in order to move it from one side of the field to the other. He's at his best defensively, though, as a gritty, tough midfielder who loves playing defense and is even better at getting in opponents' heads with his trash talk. He committed to Navy shortly after the event.
No. 12 Dan Sheppard, faceoff, Bergen Catholic (N.J.) / BBL
It was a very strong performance on the day at the stripe for Sheppard, who narrowly missed on an All-Star nod. He is competitive on loose balls, almost dogged in his pursuit of possession if he doesn't win a clamp. He's a skilled player and is to beating his man off the field in the sub game. Sheppard mostly utilized top sidewall moves in the event, but he demonstrated the ability to counter his opponents with a number of different moves, and he had some very clean exits. He's a well-coached and disciplined faceoff midfielder.
No. 13 Alex Fredrich, faceoff midfield, Cherry Creek (Colo.) / Team 91 Colorado
One of  the most technically sound faceoff midfielders at the event, Fredrich cleanly won draws and easily hoovered up tough ground balls. His strengths as a lacrosse player are across the board, but his ability to create transition opportunities for his team at the One Percent Showcase was his greatest asset.
No. 14 Johnny Mink, LSM, Haddonfield Memorial (N.J.) / Duke's
Mink always found a way  to be in the right place at the right time throughout the day. He was able to collect contested ground balls after faceoffs, pick off and deflect passes, and help his team clear the ball effectively. He moves well laterally and he has a burst of speed from box-to-box. Mink handles the ball well in traffic, and more importantly, he makes the right decisions in unsettled situations. Rather than try to force the ball into the middle of the field in slow break situations, Mink moved the ball down the side and allowed his team to retain possession. He's a smart, well-coached, and dependable player.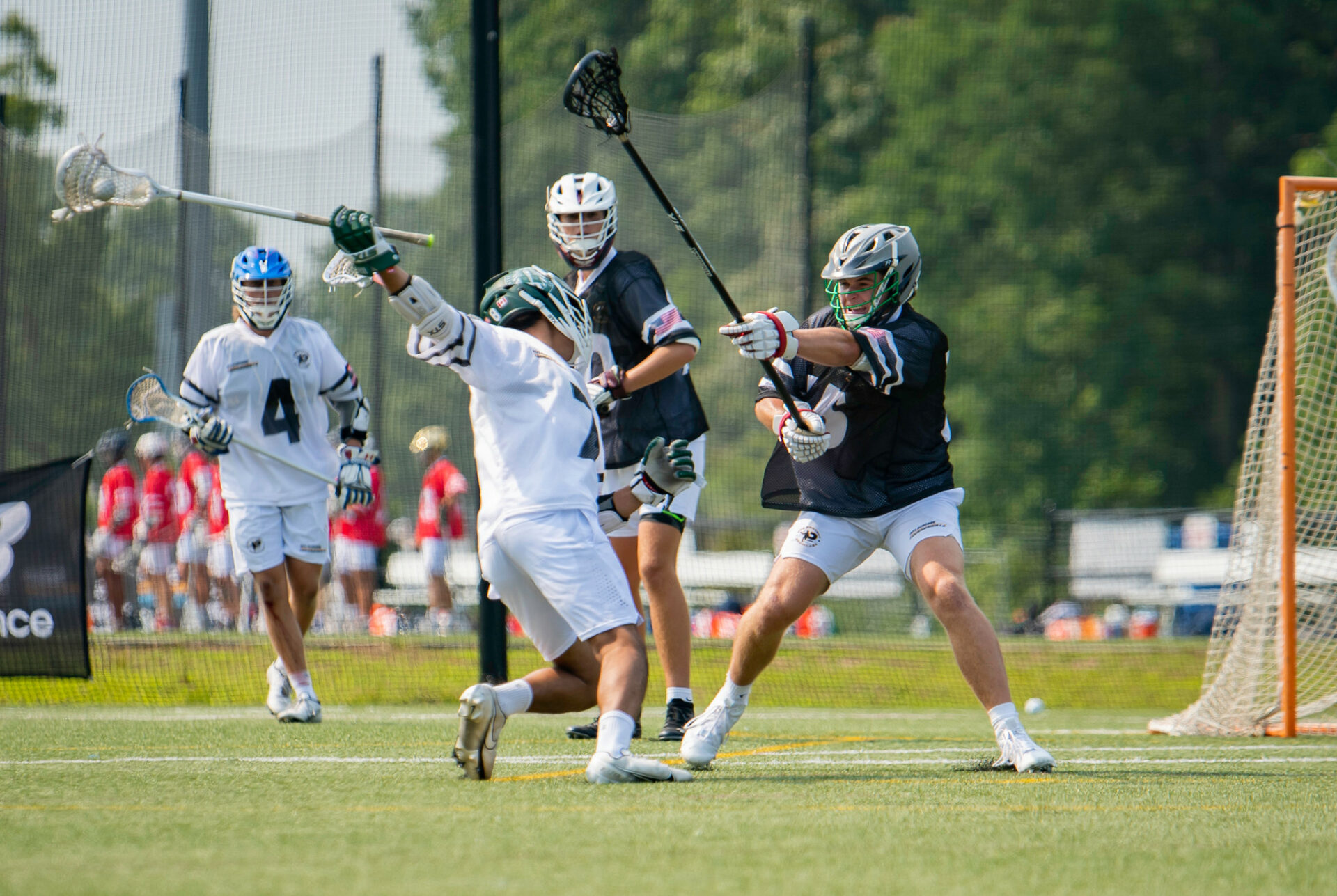 No. 15 Walker Schwartz, LSM, Germantown Academy (Pa.) / Big 4 HHH
All-Star. The aggressive lefty was able to beat his opponent off of the wing throughout the day and collect a number of contested ground balls. He's adept at using his stick to play the ball into advantageous spots for him to scoop up. Schwartz's athleticism and escapability were on full display all afternoon. Armed with a terrific handle, he's an asset to his team in the clearing game because of his high skill level and decision making.
No. 16 Makin Blalock, defense, St. Stephen's & St. Agnes (Va.) / DC Express
Blalock has all of the tools to be an impactful player on the defensive end of the field. He can cover attackmen on the high wing and behind the cage, using his stick to apply pressure and disrupt his opponent. His stick work and ability to collect contested ground balls were outstanding, and as a result, he proved to be an asset to his team in the clearing game. He collapsed on the crease when it was appropriate to do so, and he snapped back off of his man to clog up passing lanes with his stick. Blalock was physical at GLE and he took away the middle of the field from his opposing attackmen. Blalock was decisive in his decisions to slide, and he worked hard to utilize non-verbal communication with his teammates to get them organized on defense.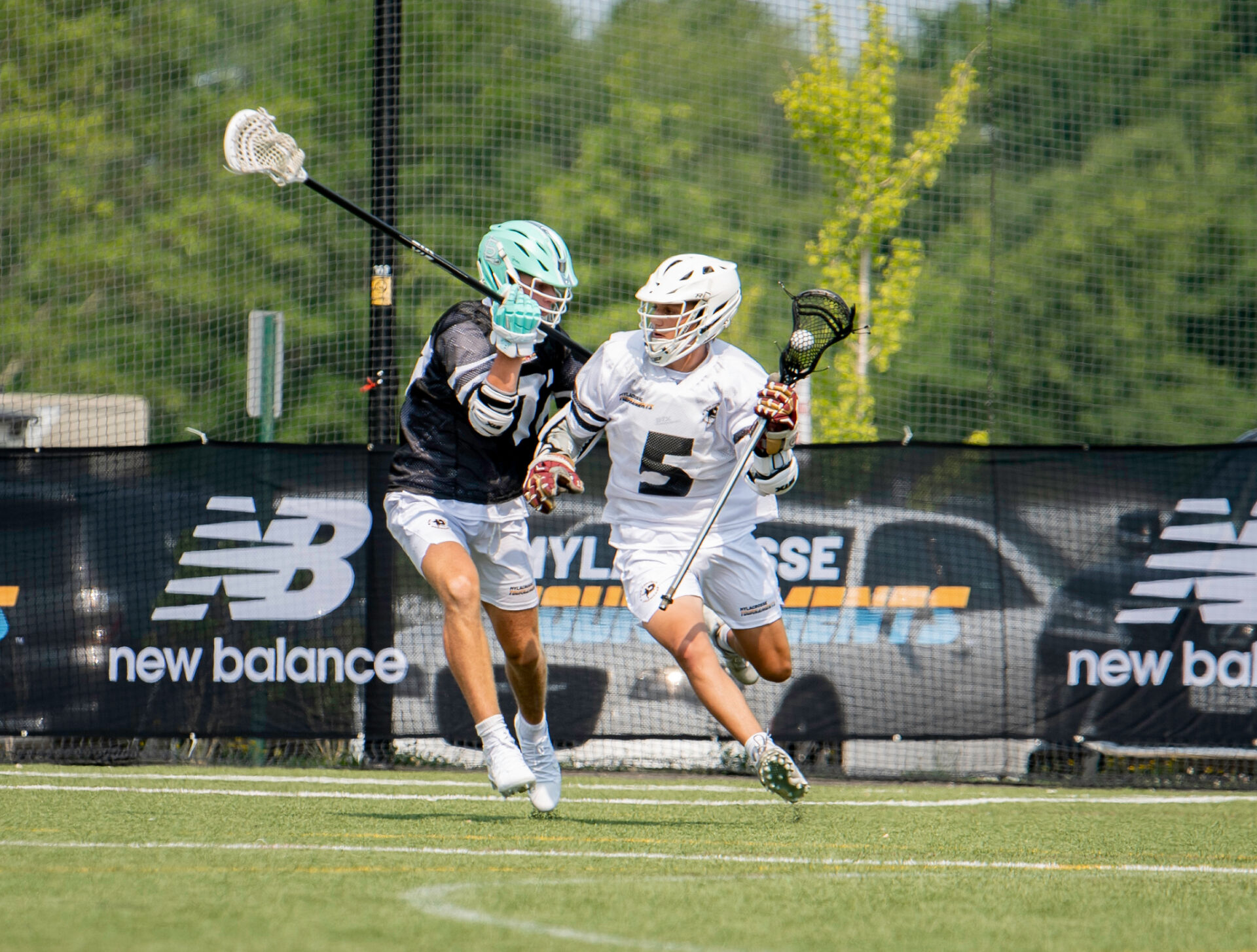 No. 17 Nash Jarolem, defense, Pine Crest (Fla.) / SweetLax Florida
Jarolem excelled in many different areas of team defense. He was decisive in his decisions about when to slide, hedge, or hold. Additionally, he kept his big eye on his man and his small eye on the ball in order to avoid ball watching. Jarolem was very effective on ball and he collected contested ground balls under duress. His stick work is exceptional and Jarolem can run by an attackman or throw an accurate cross-field pass. Last but not least, he plays with an edge and is physical at the goal line extended.
No. 18 Ryan Colella, defense, St. Joseph Montvale (N.J.) / NJ Riot
Colella was one of the most impressive athletes in attendance. The best part of his play, though, was his ability to steal space as an off ball defender. He kept his stick up in passing lanes, communicated cogently with his teammates, combined non-verbal cues to help his team play stifling defense. Colella's physicality and willingness to engage offensive players with his hands was a joy to watch. He has an active stick and he uses it to apply appropriate ball pressure inside of the box using a variety of stick checks.
No. 19 Dylan Yeung, defense, Bishop Guertin (N.H.) / NH Tomahawks
Yeung's footwork and quickness allowed him to put pressure on attackmen's hands throughout the day. Yeung's stick is always out in front of him, off of his hip, and he doesn't throw lead wrap checks on his man. His stickwork proved to be an asset in the clearing game and he can easily collect ground balls. He was competitive, physical at the goal line, and he communicated well in the two-man game with his teammates.
No. 20 Liam Clark. defense, St. Joseph Collegiate (N.Y.) / FCA Upstate
Clark showed good off-ball posture, excellent size, and he competed hard throughout the day. He flashed disciplined approaches without playing out of control, and he didn't back down from defending some very skilled attackmen.
No. 21 Kevin Devine, goalie, North Rockland (N.Y.) / Prime Time
Poised, patient, and confident are a few of the words that come to mind about Devine. He's an excellent passer and efficient in his movement in the goal. Devine stays square to the ball, remains set, watches the ball come out of the shooter's stick, and he saves it. He was one of the better athletes at the goalie position at the event.
No. 22 Aidan Troy, goalie, Delbarton (N.J.) / BBL
Troy has explosive hands, quick feet, and excellent technique. It's patently obvious that he's a well coached player who has taken much, if not all, of what he's learned and applied it to his game. He's a skilled passer who knows how to utilize the crease in the clearing game. Troy gets the ball out of his stick quickly to a midfielder transitioning from offense to defense, or place a ball comfortably in the stick of his defensemen that's just out of reach of a riding attackman. Troy is a goalie who has the ability to steal goals from his opponents on shots inside of the paint. Patience is a virtue, but it's also his greatest asset.
No. 23 Jack Massotto, midfield, West Essex (N.J.) / BBL
Massotto was one of the better passing midfielders in attendance. Rather than take low angle shots on his alley dodges, Jack moved the ball to his attack after drawing a slide. He knows how to occupy his defender on defense, and he's a fundamentally sound player. Massotto keeps two hands on his stick when he's cutting, stays opposite of the ball when he's in the crease, and he mirrored the dodging middies and attackmen on offense.
2023 White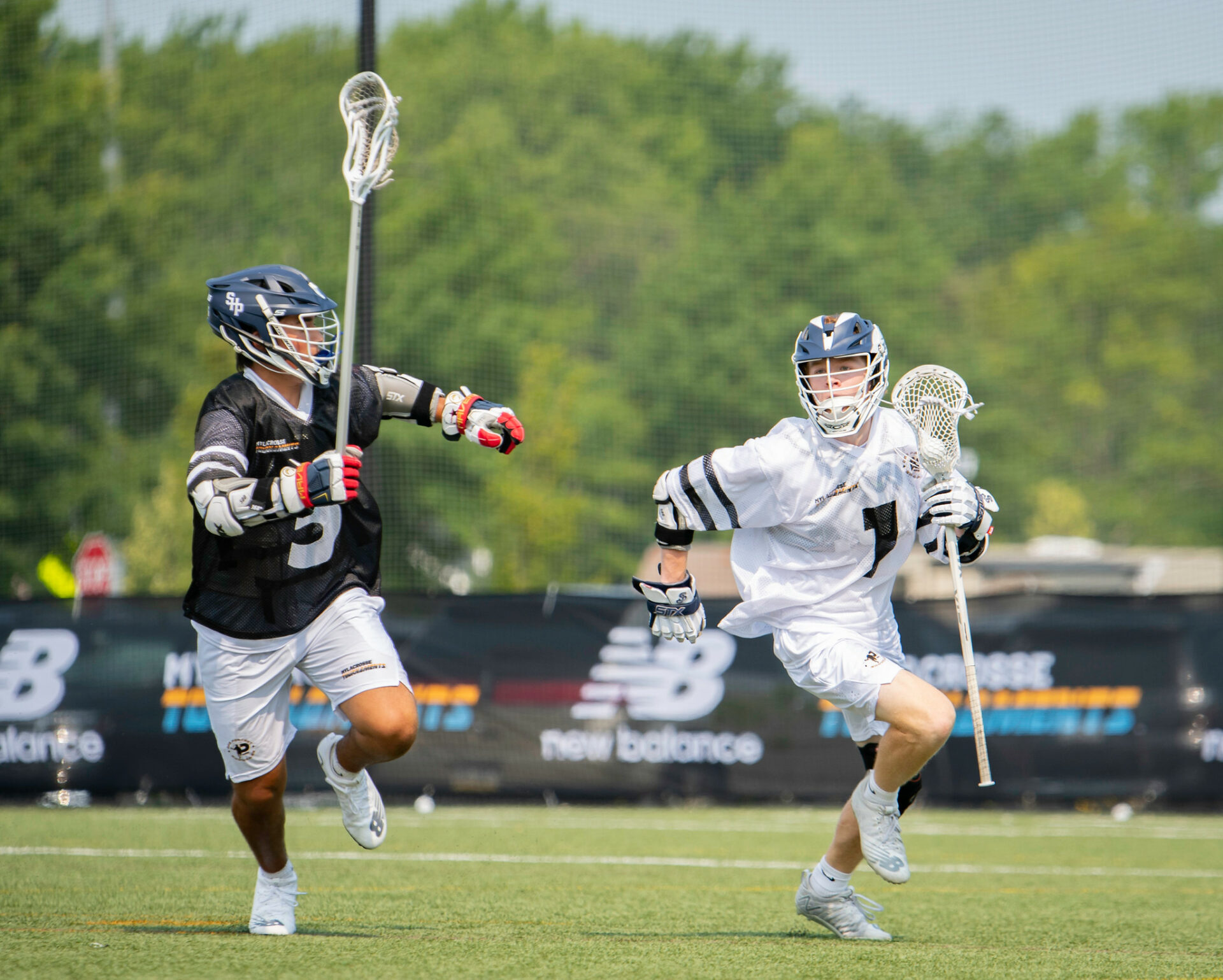 No. 1 Jimmy Ayers, attack, St. John's Prep (Mass.) / 3d New England
All-Star. A deceptive and efficient shooter who has a knack for finishing inside the paint, the St. John's Prep product fights to get to the middle of the field on offense and he has excellent hands. His most effective moves are his hesitation and a deadly hitch and go. Ayers does what good attackmen are supposed to do: he finishes in front and isn't afraid of contact.
No. 3 Clayton Gengras, attack, Berkshire (Conn.) / Prime Time
Gengras had one of the most aesthetically pleasing overhand shots at the event. More importantly, he has developed several different release points that make him a threat to score from any number of spots when he's open. He has great range on his shot, but he can do a lot more than shoot. He can dodge to his left hand and score, and he isn't afraid to initiate contact with defensemen. Gengras possesses the athleticism required to draw a slide consistently.
No. 4 Emmett Harris, attack, Holderness (N.H.) / Fighting Clams
A hard dodging, perseverant, and physical player. Emmett runs through checks, has excellent footwork, and a killer hockey stop to get back to his natural side. Harris is a very refined attackman who has a high ceiling.
No. 5 Ronan Fitzpatrick, attack, Sayville (N.Y.) / Team 91 LI Warriors A fantastic finisher between the hash marks whose shooting range stretches way out. Fitzpatrick is also a pitbull on loose balls and in the riding game. The Long Island native doesn't take plays off and always manages to put himself in the right place to help his team succeed. The lefty, who bagged 51 goals as a sophomore for Sayville, is skilled, smart, and is a difficult matchup for any defender, especially as he's continued to add to his game. 

No. 6 Fletcher Sullivan, midfield, Regis Jesuit (Colo.) / Denver Elite
All-Star. If you're looking for a midfielder who is committed to playing on both ends of the field, look no further than Sullivan. He has a great frame and he plays with ferocity on the defensive end of the field. An unselfish player who makes an impact in every facet of the game, Sullivan is one of the best all-around midfielders in the '23 class. He fought to get to the middle of the field to increase his shooting angle and didn't take bad shots.
No. 7 Jordan Ito, midfield, Western Reserve (Ohio) / Cherries
A very talented two-way midfielder, Ito is savvy, skilled, and athletic. He can carry a double team, feed with his off hand, and more importantly, he can draw a double consistently. He's not afraid to challenge long stick middies instead of simply hiding inside on the crease. Ito is a fierce competitor and a relentless defender.
No. 8 Will Pesanelli, midfield, Xaverian Brothers (Mass.) / Laxachusetts
A recent transfer to Daggett Morse's Xaverian program, Pesanelli's best attributes are his ability to shoot the ball on the run and out of his dodge. He has a quick release, range on his shot, and an incredibly effective right-to-right split. It's patently obvious that Pesanelli is well coached, based on the quality of shots that took throughout the day. He made a concerted effort to set up his dodge on his natural side, in addition to using his off hand to set up his dominant one. He can and will use his left hand to shoot and score, and he was also reliable in man-to-man defense.
No. 9 Jackson Sedlacek, midfield, Creekview (Ga.) / Thunder
Sedlacek dazzled with his consistency throughout the day. Simply put, he does all of the things a midfielder needs to do in order to help his team win. Sedlacek can pass with both hands, dodge, draw a slide, and shoot it out of his dodge. On his split dodge, he's able to attack the defender's top foot and create separation. His hitch-and-go move is probably the best one in his repertoire as it helped him leave defenders flat-footed.
No. 10 Cole Cashion, midfield, Rumson-Fair Haven (N.J.) / Leading Edge
Coming off of a 35-goal, 54-point campaign for Marc Moreau's powerhouse Bulldogs, Cashion is an impressive dodger with a quick release on his shot. When the ball was in his stick, he pressured the defense as a passer on his dodges. He has excellent vision and he was willing and able to make the extra pass to a teammate throughout the day.
No. 11 Cade Faulkner, midfield, Saint Viator (Ill.) / Team Illinois
The Team Illinois middie put together an impressive summer. He has good hands, a knack for finishing between the hash marks, and is skilled enough to move from middie to attack. Faulkner plays with his head up and he throws  consistently catchable passes to his teammates. He initiates contact as a dodger, and he was good at drawing a double team and moving the ball.
No. 12 Cameron Wietfeldt, faceoff midfield, New Canaan (Conn.) / Eclipse
The younger brother of Michigan faceoff midfielder Justin Wietfeldt and also a talented hockey player, Wietfeldt is an excellent athlete and skilled with the ball in his stick. He showed a ton of tenacity on ground balls and effectively utilized a bunch of counters to keep his opponents guessing.
No. 13 Patrick Mears, faceoff midfield, Malvern Prep (Pa.) / Big 4 HHH
Mears used his clamp and strength to outmuscle his opponents throughout the day in order to win a number of draws. When he wasn't able to gain control of the ball, he utilized reactionary counters to disrupt his opponents. Mears was effective at gaining possession of loose balls in traffic and he can pass the ball easily to his teammates when under pressure. He's got a skill set that will make him highly sought-after this fall.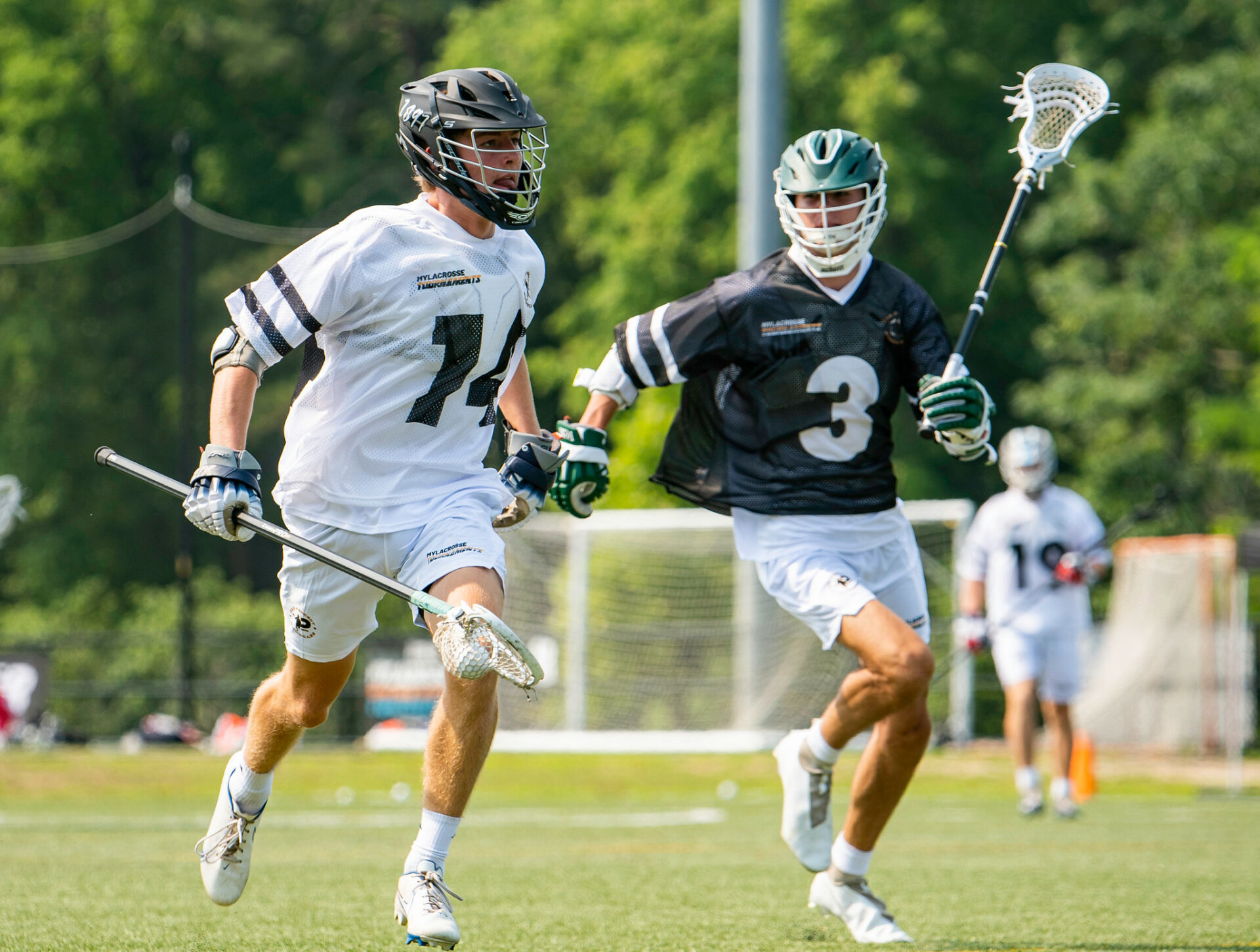 No. 14 Matt Morelli, LSM, Gilman (Md.) / Looney's
Sometimes the most reliable players fly under the radar a bit. Morelli was incredibly steady throughout the day and played within himself on defense. He applied pressure to his opponent's hands when appropriate, in addition to being able to pick up contested ground balls in traffic.
No. 15 Justin Bergman, LSM, West Essex (N.J.) / Tri-State
Built for the shot clock era, Bergman has excellent stick work, vision, and the ability to collect contested ground balls. He is an effective off-ball defender for a number of reasons: his stick clogs passing lanes when he's in the paint. Second, he has excellent posture. Third, his head was always checking back to the ball while defending his man, and finally, he knows when to collapse or surround the crease. Bergman was always probing the middle of the field when the ball was in his stick: it was similar to the skills of a middie who drew a slide and was looking to make a skip pass.
No. 16 Brandon Riggione, defense, Academy of the New Church (Pa.) / Brotherly Love
Riggione has impeccable on and off ball defensive posture and technique. He approached the ball under control with his stick in front of him and off of his hip. He trailed his opponent at X, but he knew precisely when to get his stick in front of and drive on their hips. He loves playing physical and he made first contact with his opponent so his hands didn't get pinned, and he was a force to be reckoned with as a slide man. Riggione has an effective face dodge in the open field and he throws catchable cross-field passes. He made the correct reads in the clearing game rather than trying to run the ball over himself.
No. 17 Luke Michalik, defense, Brunswick (Conn.) / Prime Time 
Michalik is a versatile player who has the skills to play both LSM or close defense. His exceptional stick work and ability to collect contested ground balls was on full display. He knows how to collapse and support his teammates when he's playing off ball defense, and he brought a physical aspect to his 1v1 defense. Michalik has excellent footwork around the cage, in addition to great speed from end-to-end.
No. 18 Kevin Dunphy, defense, Middletown South (N.J.) / Team 91 NJ South
Dunphy runs the field well and has very good stick work. He was an asset to the White team in the clearing game, in addition to being able to collect contested ground balls. His long and short approaches were disciplined and he collapsed around the crease in off ball defense. Dunphy has enough athleticism to defend quick or fast attackmen, and he could also potentially shine as an LSM.
No. 19 Luke Robinson, defense, Wilbraham and Monson (Mass.) / Piatelli
All-Star. A well-built lefty defenseman, Robinson was disciplined with his approaches and very physical at GLE, getting under his man to keep him at bay. He was a pest to the attackmen he defended, harassing them on-ball to make them pass out of the matchup. He kept his stick out in front of his hip, in addition to making good slide decisions throughout the day, and was able to cause a handful of turnovers.
No. 20 Ryan Dunphy, defense, Middletown South (N.J.) / Team 91 NJ South
Dunphy's stick work and ability to clear the ball are two of his many strengths as a defensive player. His active stick and his off-ball posture were equally impressive. Dunphy has quick feet that allow him to approach the ball, backpedal, and then make contact on an offensive player within five yards. He's a well-coached and fundamentally-sound defensive player.
No. 21 Crandall Quinn, goalie, Forest Hills Central (Mich.) / Cherries
All-Star. Quinn was an all-star at the fall One Percent and backed it up with another stalwart performance. He's got an ideal frame for the position and takes up a lot of the net, but he's athletic and nimble enough to take away low shots rather easily. Quinn is a vocal leader on the back end and he's got great hands. He explodes to the ball with his top hand, is athletic with excellent footwork and a phenomenal teammate. It's a loaded goalie class, and Quinn is in the mix as one of the better '23 goalies.
No. 22 Brayden Wilcken, goalie, Mount Sinai (N.Y.) / Team 91 LI Warriors
The heir to the Mustangs' goalie throne next season, Wilcken made a bunch of impressive inside saves with very little time to react. He's got the ability to steal the show with saves like that, but he also exhibited tremendous patience on outside shots without hitching. Wilcken also did a very nice job in the clearing game, dropping dimes on his outlets.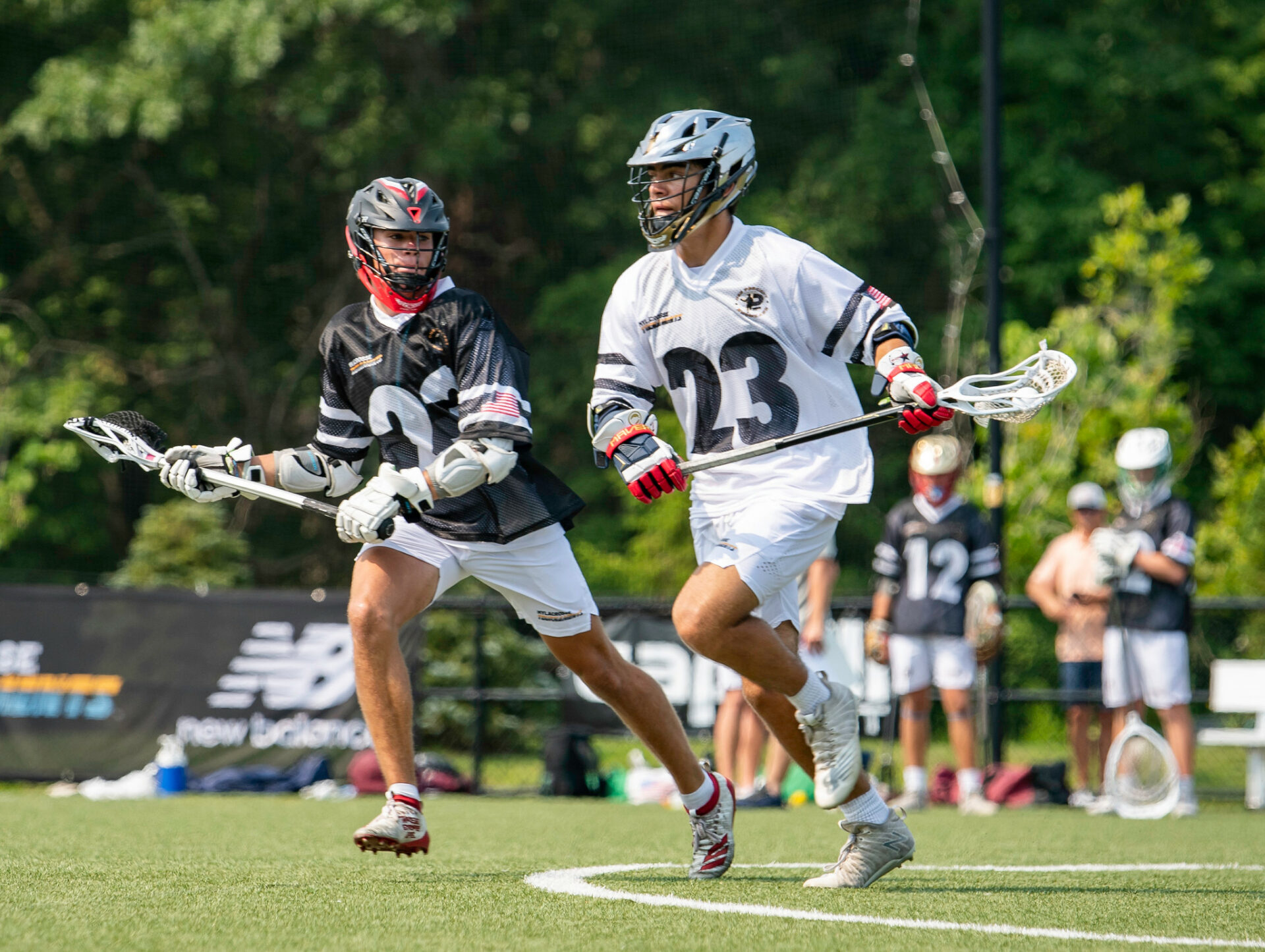 No. 23 Chris Grimaldi, midfield, Corning (N.Y.) / Orange Crush
The lefty was an incredibly physical player who demonstrated a propensity for drawing a slide using his athleticism and left-to-left split. He can shoot accurately on the run, and he can stretch the defense with his time-and-room shooting. He was really effective transitioning the ball from defense to offense in the clearing game. Grimaldi found space, ran back to the ball, and beat his man downfield.