One Percent Showcase Evaluations: Teams 11 and 12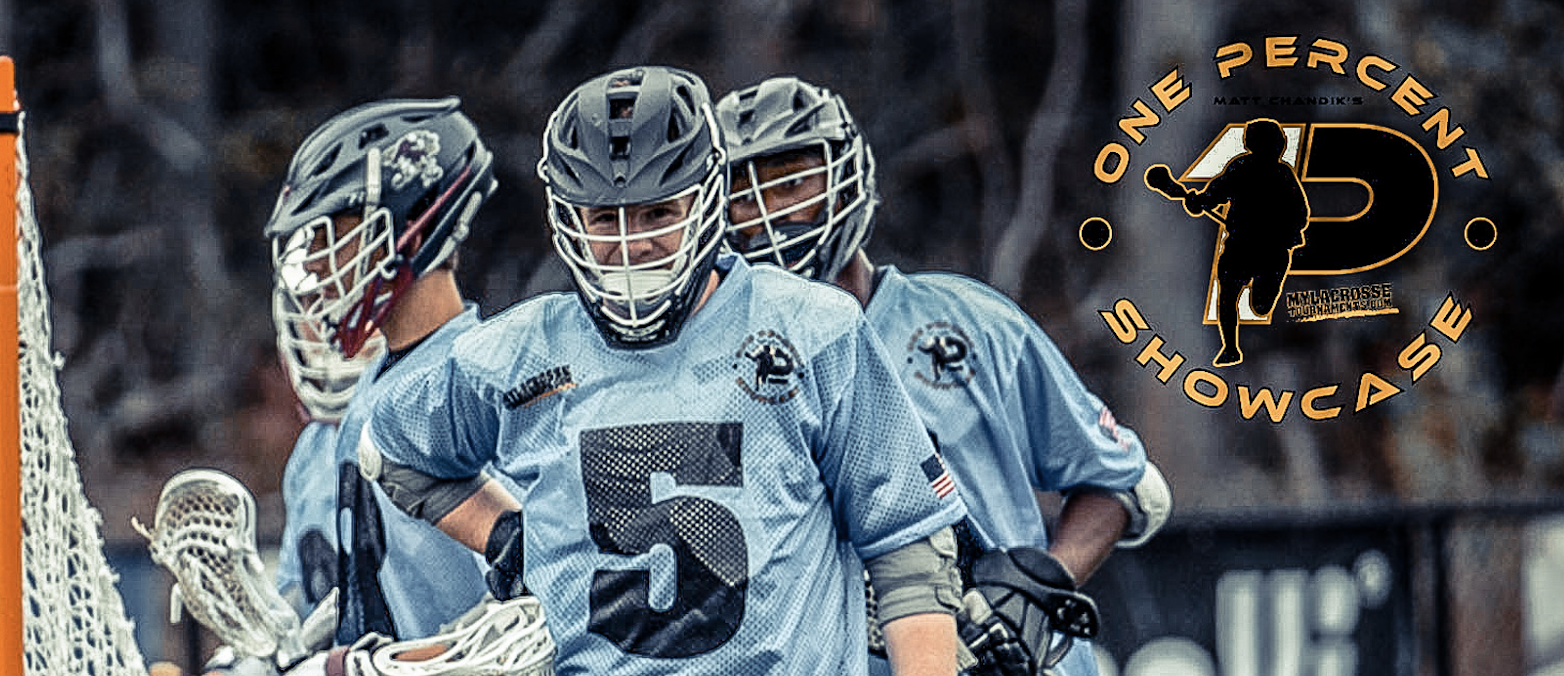 One Percent Showcase Evaluations: Teams 11 and 12
More than 90 of the top 2023 players in the country made the trek to Capelli Sports Complex in Tinton Falls, New Jersey to compete against the best. An absolutely loaded crop of many of the '23 class' elite players were in attendance, and there's little doubt that these players will be big-time recruits at this time next year. The My Lacrosse Tournaments evaluation team compiled notes on every player.
Class of 2023 Evaluations
Class of 2022 Evaluations
Teams 1 and 2
Teams 3 and 4
Teams 5 and 6
Teams 7 and 8
Class of 2021 Evaluations

Team 11 – Carolina
No. 1 Thomas Colaco, attack, Delbarton (N.J.) / Leading Edge
Colaco isn't the biggest attackman, but he finds a way to dart in and out of soft spots in coverage. He has a good handle – seems like he's played some box before – moves pretty well and earned some praise for his coachability.
No. 2 Ryan DiRocco, attack, Haverford School (Pa.) / Mesa
All-Star. A very high IQ attackman who's been well-coached, DiRocco does a little bit of everything and he finds different ways to get involved. In one half, he had a great finish off of a Jude Lynch feed, a terrific cross-crease feed to set up a Jack Ponzio BTB, a ride to cause a turnover at the midline and a finish on the crease. His box background is very evident in how he handles the rock.
No. 3 Collin Patrick, attack, Middle Creek (N.C.) / Team 91 Carolina
Patrick has absolutely zero fear. He'll go to the high-traffic areas if it means he can get a decent scoring chance. He put together a nice day, highlighted by a nifty inside roll, and competed at 100 percent all day long. He's got some really nice potential as a pure finisher at the next level with that toughness, grittiness and soft hands, a feature he displayed on a nice corner pocket shot in the middle of the EMO off of a Jack Ponzio pass from the corner.
No. 4 Andrew Kohlbrenner, attack, Christian Brothers (N.Y.) / Orange Crush
A big-bodied attackman with pretty good control, Kohlbrenner is at home posting up defenders at GLE and cutting well off-ball. He has an excellent and the scrappiness that you expect from an Upstate kid. He worked to get to the middle of the field to collect the garbage, hammering home a couple rebounds.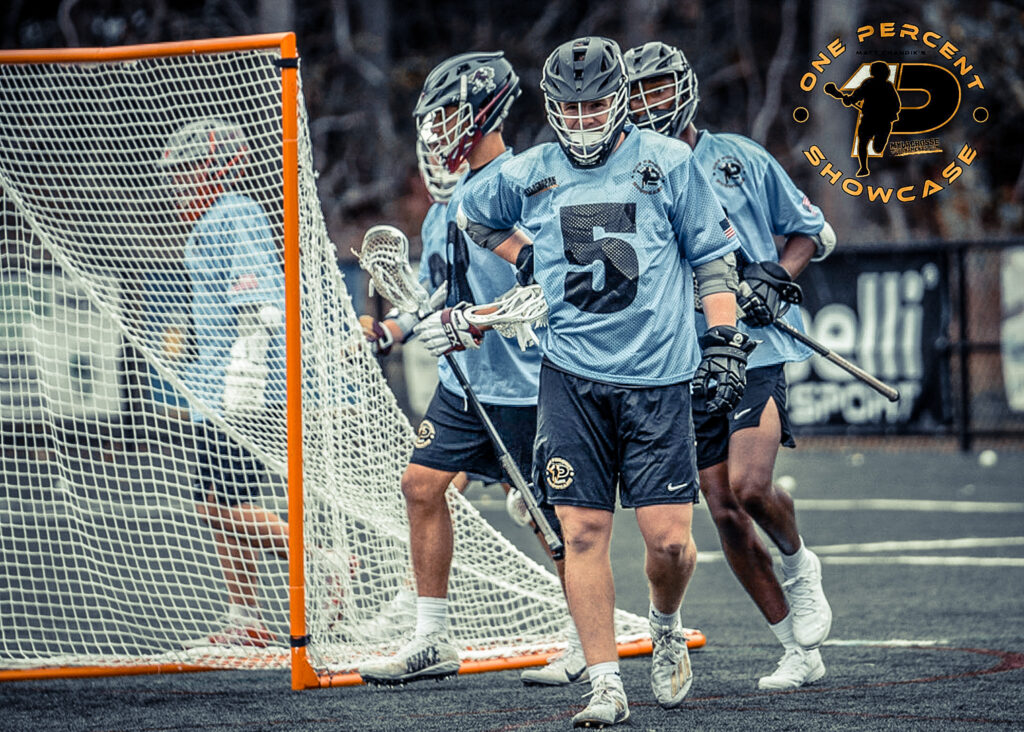 No. 5 Jack Ponzio, attack, St. Anthony's (N.Y.) / Team 91 Bandits
All-Star. Ponzio is good, knows he's good and isn't going to apologize for being good. There's not a ton of finesse to his dodging, nor does there have to be. He's here to be a bull in a china shop, overpowering defensemen with his strength and either scoring or drawing and dumping. He's patient, was very productive as a scorer and feeder and constantly drove hard to the net. He had a gem of a BTB on the crease thanks to a Ryan DiRocco feed that showcased his quick hands.
No. 6 Julian Targete, midfield, IMG (Fla.) / Laxachusetts
All-Star. When Targete is on, there's really not a whole lot you can do except hope that he misses. He's close to 6-4 already with a frame that suggests he could add another 30 pounds of muscle and not slow down. Exceptionally shifty and agile for any size, but particularly so for a big man, he's really tough to stay in front of. He has a powerful shot – he easily scored on a couple of long-range rips – and you have to account for him anywhere on the field. If he can refine his consistency and add that size, he's got the potential to be an elite collegiate midfielder.
No. 7 Tyler McCarthy, midfield, Connetquot (N.Y.) / Team 91 Bandits
A very smooth midfielder who continued to build on his performance as the day went on, he was particularly great in Carolina's finale. He dodges hard down the alley, is good off the ground, and is more than capable of zipping a nice pass into a tight window.
No. 8 Kris Henning, midfield, Garnet Valley (Pa.) / Big 4 HHH
There are really no discernible weaknesses in Henning's game. He did a nice job of initiating off the dodge and drawing a slide pretty consistently. He can shoot the ball well or find an open man. Giving time and space is a questionable strategy, as he showed early with a nice stepdown bouncer. Expect him to be one of the best midfielders in Philly's Central League, one of the country's top public school leagues, as a sophomore.
No. 9 Carter Malone, midfield, Cardinal Gibbons (N.C.) / MadLax DC Dogs
All-Star. An extremely skilled, talented, productive and effective midfielder who made the most of his offensive chances, the North Carolina native scored lefty and righty, including a play where he obliterated a midfielder with his split and hammered home a lefty laser. Malone did a nice job of keeping his head up to find teammates, grabbed some tough ground balls off the wing and embrace the defensive aspect of playing midfield.
No. 10 Jude Lynch, midfield, Chaminade (N.Y.) / LI Express
Lynch's brother, Will, a Notre Dame commit might be the best faceoff man in the '21 class because of his midfield skills, and it's clear that Jude has picked up a few tricks. He took a little to get going, but once he did, he made some very impressive plays. He did some really good things that didn't show up, including immediately adapting to coaching and setting good picks. He also hammered home a bouncer that pinged all three pipes before going in and also had a sweet feed to set up Ryan DiRocco against the White team. Lynch's work ethic will serve him well as he continues to improve. 
No. 11 Andrew Greenspan, midfield, Brunswick (Conn.) / Prime Time
One of the class' top faceoff men – the top faceoff man? – Greenspan came to the showcase to work on his field skills, and he's no slouch there, either. One of the better athletes on the Carolina team, he did a good job of contributing all over the field. He can beat his man off the dodge, and those skills, combined with his elite faceoff talent, will make him an early take for a big school next September.
No. 12 Ryan Mourad, midfield, Xaverian Brothers (Mass.) / 3d New England
A tall lefty who has room to fill out, Mourad was the quintessential glue guy, chipping in all over the field. He cuts hard off ball, plays good, hard defense and gets back in the hole on transition.
No. 13 Zach Hepworth, faceoff, Avon Old Farms (Conn.) / 2 Way
A cerebral, technically-savvy faceoff man who enjoyed some nice stretches of success at the showcase, Hepworth has a tall, lean frame that will allow him to get significantly stronger. He definitely wasn't afraid to scrap for a loose ball, won a good percentage of the clamps and understood the little nuances of when to stay on, delay a sub and had some grit and toughness to his game.
No. 14 Will Roberts, faceoff, St. Albans (D.C.) / DC Express
Somewhat similar to his running mate Hepworth, Roberts was another rangy faceoff guy who could hunt down his own ground balls. His quick hands helped him win his fair share of clamps and he was very willing to get back in the hole and play defense if he had to.
No. 15 Lucca DiBartolomeo, LSM, Malvern Prep (Pa.) / Brotherly Love
All-Star. As detailed in a pre-showcase story, DiBartolomeo has already won a battle with cancer, and after that, lacrosse probably seems pretty easy. It's enjoyable to watch him play because he plays angry all the time. DiBartolomeo loves to be involved in everything and wants to put a beating on everyone in his path. He showed a very active stick, the ability to pester midfielders and a nice handle. He reclassified to the class of 2024 shortly after the event and should be an elite prospect in that class.
No. 16 Nate Patterson, LSM, Cape Elizabeth (Me.) / NH Tomahawks
All-Star. The lefty had an LSM's signature stickwork, routinely making plays off the ground and turning in a handful of really tough ground balls in traffic. He played tough, scrappy on-ball defense, just had a knack for finding the ball on the ground and looked very comfortable with the rock in his stick.
No. 17 Michael Spaziano, defense, West Morris Central (N.J.) / BBL
Packing together a solid frame with the consistent ability to stay between his man and the cage, Spaziano was a reliable cover man who fit in well into the team defense concept. He played well in 1v1 coverage, eschewing huge checks in favor of timely, accurate ones that annoyed attackmen.
No. 18 Will Mensh, defense, RJ Reynolds (N.C.) / NC Fusion
A football linebacker who embraced defense's physical aspect, Mensh was athletic enough to run with just about anyone. He was another defenseman who focused his efforts on good positioning, angles and timely checks and he was rarely out of position.
No. 19 Aidan Carrello, defense, Huntington (N.Y.) / Igloo
All-Star. Carrello loves to get right up in your face and force you to make a play. He was all about pressing out and making attackmen uncomfortable, and he wasn't one to shy away from laying the lumber on some arms. Carrello also showcased a really good stick and a penchant for snatching up ground balls, and he had some prickliness to his game.
No. 20 Adam Carroll, defense, Choate (Conn.) / LI Express
The lefty flashed a very active stick and he seemed magnetically attracted to attackmen's hands. Dude just lived out there and loved pressuring the ball at all times. Carroll knocked a couple of balls free with his tenacity, aggressiveness and silky stickwork. A tall defenseman with a good frame, he's another one that is barely scraping the surface of his potential as he familiarizes himself more with the weight room and steaks.
No. 21 Jack Elliott, defense, Forest Hills Central (Mich.) / Cherries
All-Star. A good-sized defenseman who didn't need much prodding to use his size to his advantage, particularly at GLE, Elliott also has a terrific handle who can cover, collapse, communicate and close space on an offensive player. He moved pretty well in the open field, too.
No. 22 Connor Foley, goalie, Thayer (Mass.) / Laxachusetts
All-Star. The lefty from Boston was absolutely phenomenal, pairing with PJ Verdi to form the best goalie duo of any age group at the showcase. Foley diagnoses plays very quickly, rarely guesses where a shooter is going and is fluid and clean in his movements. He has exceptional hands, good footwork and attacks shots with ease. He made a ton of impressive saves, and his only major flaw on the day was his decision to pass out of an open look that he gave himself after clearing the ball all the way downfield in the All-Star Game. It's a showcase All-Star Game: let it fly!
No. 23 PJ Verdi, goalie, Chaminade (N.Y.) / LI Express
All-Star. There might not be a bigger goalie factory in the country than Chaminade, and Verdi is the next big thing in the cage for the Flyers. He's got a very sturdy, solidly-built frame, and the thick goalie moves really well. Like his running mate Foley, he was very outspoken and communicated well, and he threw dimes in the clearing game. He made a ton of tough low saves, and scoring against he and Foley was an absolute grind.
Team 12 – Navy
No. 1 Will Deo, attack, Gill St. Bernards (N.J.) / BBL
All-Star. An excellent finisher who knows his way around the cage, Deo does an excellent job of slithering to good attacking spots and finishing with authority. When he comes up the hash and gets his shot in transition, he's ruthlessly efficient, especially when he picks his preferred short-side low. He also had an obscenely good far-side rip against the Carolina squad.
No. 2 John McCurry, attack, Wall (N.J.) / Leading Edge
All-Star. A terrific, good-sized athlete at attack, McCurry brings a nice blend of shiftiness, agility, speed and creativity. He was routinely able to get to his spot off the dodge and there aren't many, if any, shots that he won't try. One-handed, backhand, one-handed backhand, BTBs, whatever. Can't score if you don't shoot. He dodges with his head up and tossed out a couple of nice feeds, too.
No. 3 Eric Hennessey, attack, Shaker (N.Y.) / Albany Power
Hennessey isn't the biggest attackman out there, but he was absolutely fearless and had no qualms about working to get to the dirty areas. He had one sequence where he cooked a defenseman up top and buried, and he continually worked to get to the net. Hennessey also didn't shortchange his team in the effort department, riding hard and getting rewarded for it a few times, including one play where he impeccably timed a pass, jumped and picked it off to regain possession.
No. 4 Jack Speidell, attack, St. Anthony's (N.Y.) / Team 91 Bandits
All-Star. If you like guys who score goals, hop on the Speidell Bandwagon. He doesn't need any introduction to the net, and if you can think of a way to score, he can do it. He had an outrageous goal where he wriggled out of a quadruple-team and scored – one-handed, for good measure – while falling away from the net. An elite finisher – particularly inside, but he also had a great lefty rip as he came out of the box – he can also throw some great feeds when need be, like when he set up Eric Hennessey off of a faceoff win or Michael Finnerty on the door step in transition.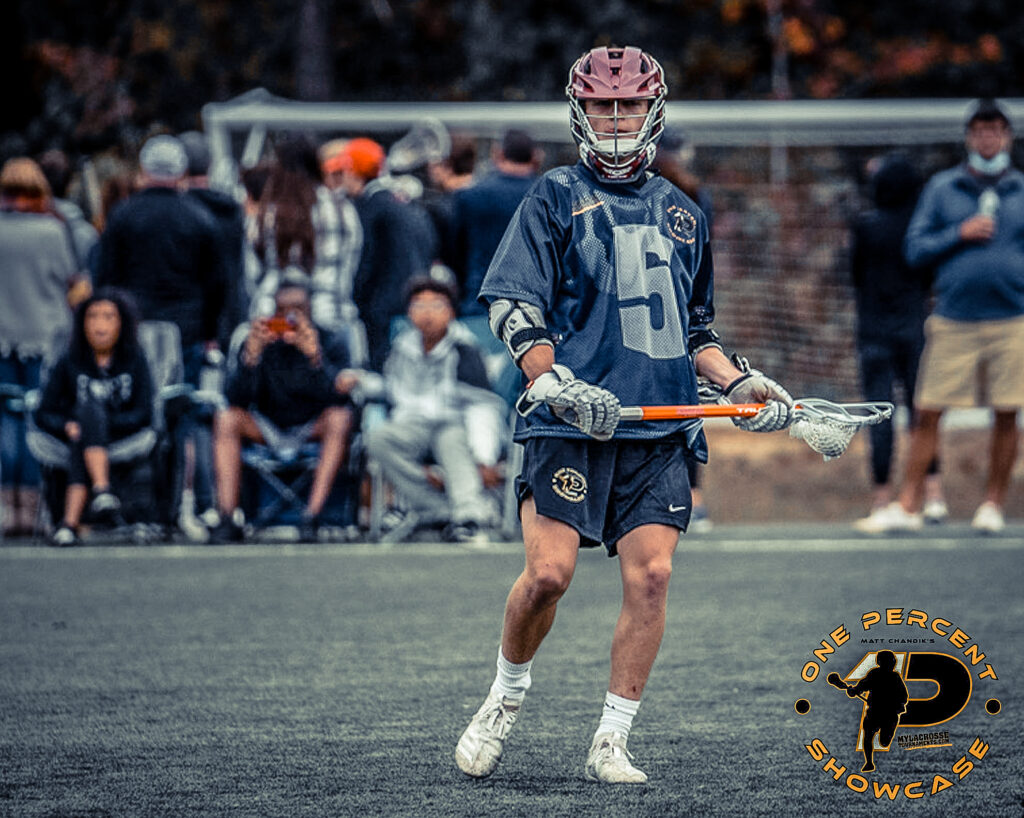 No. 5 Michael Finnerty, attack, Whitman (N.Y.) / LI Express
A solid lefty who worked well off his attack counterparts, Finnerty had some decent quicks, a good handle and a strong knowledge of where to go and when to get there. He didn't dodge a ton, but when he did, he was able to shake free of some defenders and draw a slide.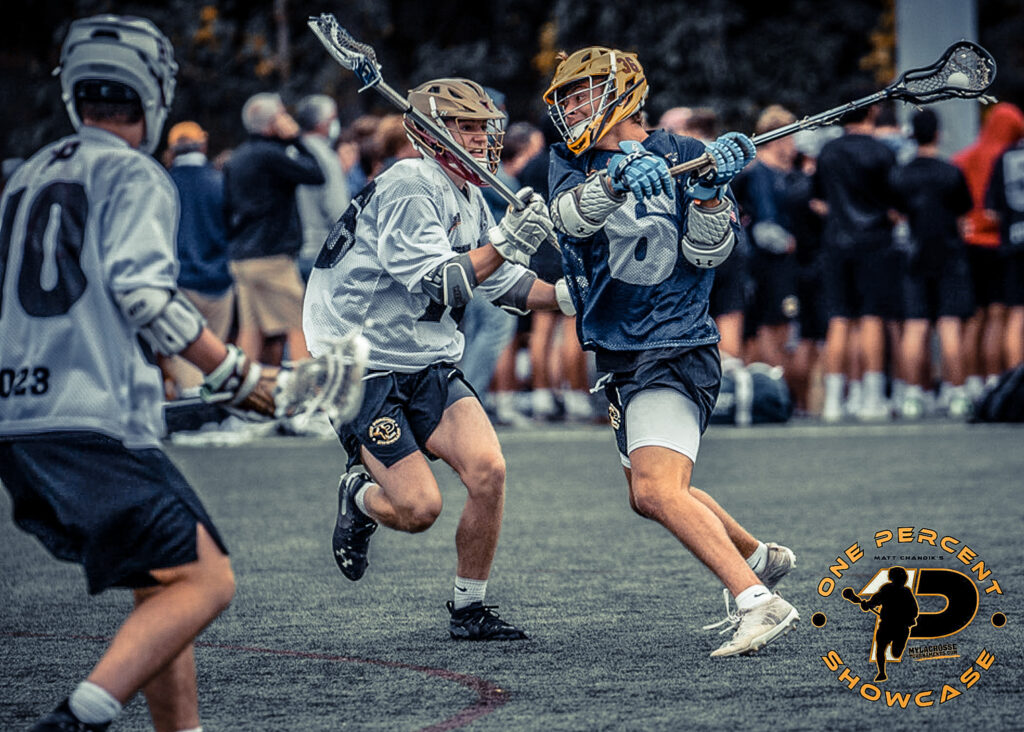 No. 6 Tomas Delgado, midfield, Brunswick (Conn.) / Prime Time
All-Star. If Delgado isn't the best '23 in the country, he's at worst top 5. Whew. He's got an older brother at Duke and another headed to Michigan, and there's a consensus that he could be better than both, and that's putting it mildly. A complete midfielder who plays angry, Delgado blends size, power, a blistering shot, lethal clearing ability and a desire to hurt people on the defensive end. He completely took over one game with a bunch of goals and some plays on the defensive end, and he pocketed at least four goals in the All-Star Game. Best play of the day might have been a clear, though, where he served as the windshield against five guys who were the bugs. He will be a priority for every major program on 9.1.21.
No. 7 Nate Kabiri, midfield, Episcopal (Va.) / MadLax DC Dogs
Another elite midfielder who used to play up with the vaunted Annapolis Hawks '22 team, Kabiri lived up to the hype. A tall, lanky, athletic midfielder who makes everything look easy, he has an excellent shot and a smooth handle. He had an absolute screamer of high-to-high rocket against the white team, and leaving him open to shoot is foolish. Kabiri also had a particularly slick goal where he went coast-to-coast, dove across the crease and tucked the ball home.
No. 8 Ethan Salvia, midfield, Shady Side (Pa.) / Crabs
The Western Pennsylvania product frequently seemed like he was in the right place at the right time, collecting a bunch of ground balls and helping to start transition. He's got some shake, too, and he can break down a defense with his dodging ability. Salvia made a bunch of little plays for his squad.
No. 9 Wills Burt, midfield, Haverford School (Pa.) / Mesa
All-Star. In a stunning turn of events, Haverford has another stud in the pipeline. A true two-way midfielder, Burt can run all day and then some. He has a hard, heavy shot that's accompanied by some force off of his strong dodges. He had an excellent on-the-run bouncer against the White squad, grabbed ground balls off the wing and was terrific on the defensive end.
No. 10 Tyler Moore, midfield, Connetquot (N.Y.) / Team 91 Warriors
A tall, lanky, lefty midfielder, Moore was able to make plays all over the field, and he's a well-balanced offensive middie. He showed that he can score with a nice shot, but he also does a good job of keeping his head up and threading the needle with some nice feeds. He also snared a couple of tough ground balls.
No. 11 Tyler Clayton, midfield, Acton Boxborough (Mass.) / Laxachusetts
Clayton was a jack of all trades for his team, coming up with some nice plays in all aspects of the midfielder's job description. A good athlete who played solid defense and did well in transition, he rarely made mistakes and put himself in the right spot a lot of the time. He did also have a nice rebound goal that was a testament to his ability to get to the dirty areas.
No. 12 Jake Spallina, faceoff, Mount Sinai (N.Y.) / Team 91 Bandits
All-Star. The beauty of Spallina's game is that he's a throwback midfielder who's also a good faceoff guy. He started off a little slow at the X, but quickly figured out how to counter and started racking up the wins. He's more than happy to scrap to make it a 50-50 ground ball, which he'll usually win. Great off the ground and tough as nails, he had a couple of nice hits, and his stickwork is definitely very advanced for a younger faceoff guy.
No. 13 Dylan Dwyer, faceoff, Ocean City (N.J.) / SouthShore
Dwyer and Jake Spallina were a terrific duo for the Navy squad, and one of Dwyer's biggest strengths is that he has a full arsenal of exits. He always knows where to go with the ball, has a good stick and can run by some guys in transition. He had a particularly awesome faceoff win against the White squad, where he was on the ground and basically gator rolled the ball out to his wing man behind him.
No. 14 Brett Spallina, LSM, Mount Sinai (N.Y.) / Team 91 Bandits
All-Star. Spallina made a ton of plays in the open field, snagging some ground balls, causing turnovers and spearheading transition. He understands positioning and angles well and like his twin brother Jake, is not the guy you want to find yourself going up against in a street fight. Tough and tenacious with a ton of sandpaper to his game, Spallina showed off an improved stick, too.
No. 15 Jake Melchionni, LSM, Delbarton (N.J.) / Leading Edge
Melchionni does everything that a top-flight LSM does. He's a big takeaway guy who doesn't miss on ground balls, runs the field like a deer and hustles all the time. He makes a ton of little plays – and big plays, for that matter – and was also rewarded for his stick skills by one-timing a rebound home like a hockey player.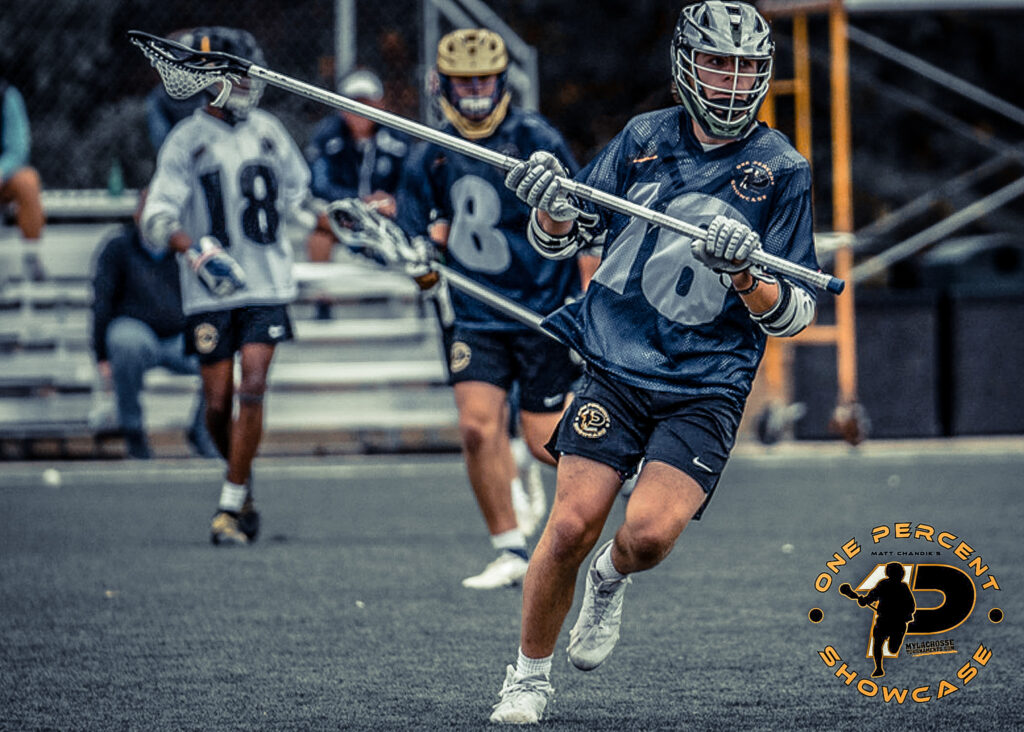 No. 16 Kurt Dillmeier, defense, Manhasset (N.Y.) / Shore2Shore
Dillmeier is a smart all-around defenseman who knows when to go and when to hedge. His high lacrosse IQ allows him to put himself in the right spot on nearly every play. Equipped with a solid stick, he was very good in 1v1 coverage, and he's quietly effective on the back end.
No. 17 Tristan Mullahey, defense, Garden City (N.Y.) / LI Express
All-Star. Mullahey brings good size and solid stickwork to his defensive spot. He was aggressive in covering – not afraid to press out – and did a nice job of staying with his man. When he got the chance to clear, he showed that he could leave guys behind him.
No. 18 Charles Hazard, defense, Belmont Hill (Mass.) / Laxachusetts
Hazard took a minute to get his footing, but once he did, he showed that he could throw good checks and establish himself as a physical presence. He had a really nice caused turnover at GLE at one point, and he's got plenty of upside.
No. 19 Matt Bové, defense, Glenn (N.Y.) / Team 91 Bandits
A good-sized defenseman, Bové did a nice all-around job in coverage, and he also has a good stick that enabled him to be a problem for offenses. He liked getting physical with his man and often did a good job of gaining and maintaining leverage, and he can move when he gets going on the clear.
No. 20 Truman McCormick, defense, Upper Merion (Pa.) / Freedom
The lefty was far and away the most physical defenseman on his team, using a strong, muscular frame to push attackmen around. He's not just a brute, either, as he showed by flashing quick feet, good positioning and advanced understanding of angles.
No. 21 Eric Grahn, goalie, Bayport-Blue Point (N.Y.) / Team 91 Bandits
The lefty is extremely cerebral and quickly knows what the offense is looking to do. He shook off some early goals and bounced back by putting a solid performance in the cage, coming up with a handful of nice saves. Grahn also does a terrific job in the clearing game, usually putting the ball right where it needs to be to go the other way.
No. 22 Griffin Ready, goalie, Xaverian Brothers (Mass.) / 3d New England
Ready turned in a solid all-around performance in the cage, coming away with a bunch of impressive saves, particularly low. He was in command of his defense, imploring them to get to the correct spots, and he always looked poised and unflappable in the cage.