One Percent Uncommitted '24 Evaluations: 49ers and Bengals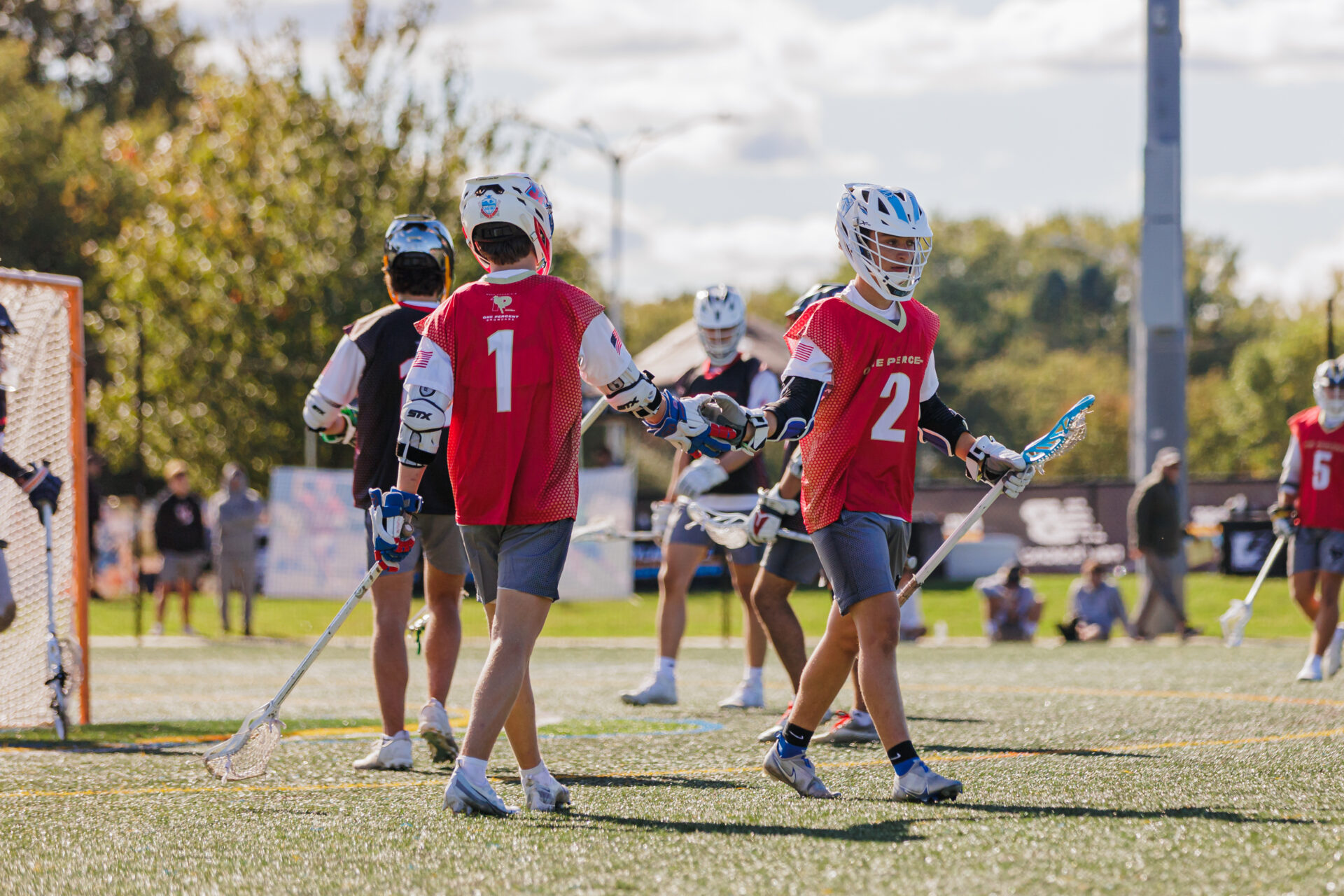 One Percent Uncommitted '24 Evaluations: 49ers and Bengals
Follow My Lacrosse Tournaments on Instagram, YouTube and Twitter.
The best uncommitted talent in the 2024 class balled out at the One Percent Uncommitted event. Some of those players didn't take long to find a home shortly thereafter, proving once again that One Percent is a great springboard to playing college lacrosse.
As always, every player at the One Percent receives an evaluation. Let's get to it with the 49ers and Bengals.
49ers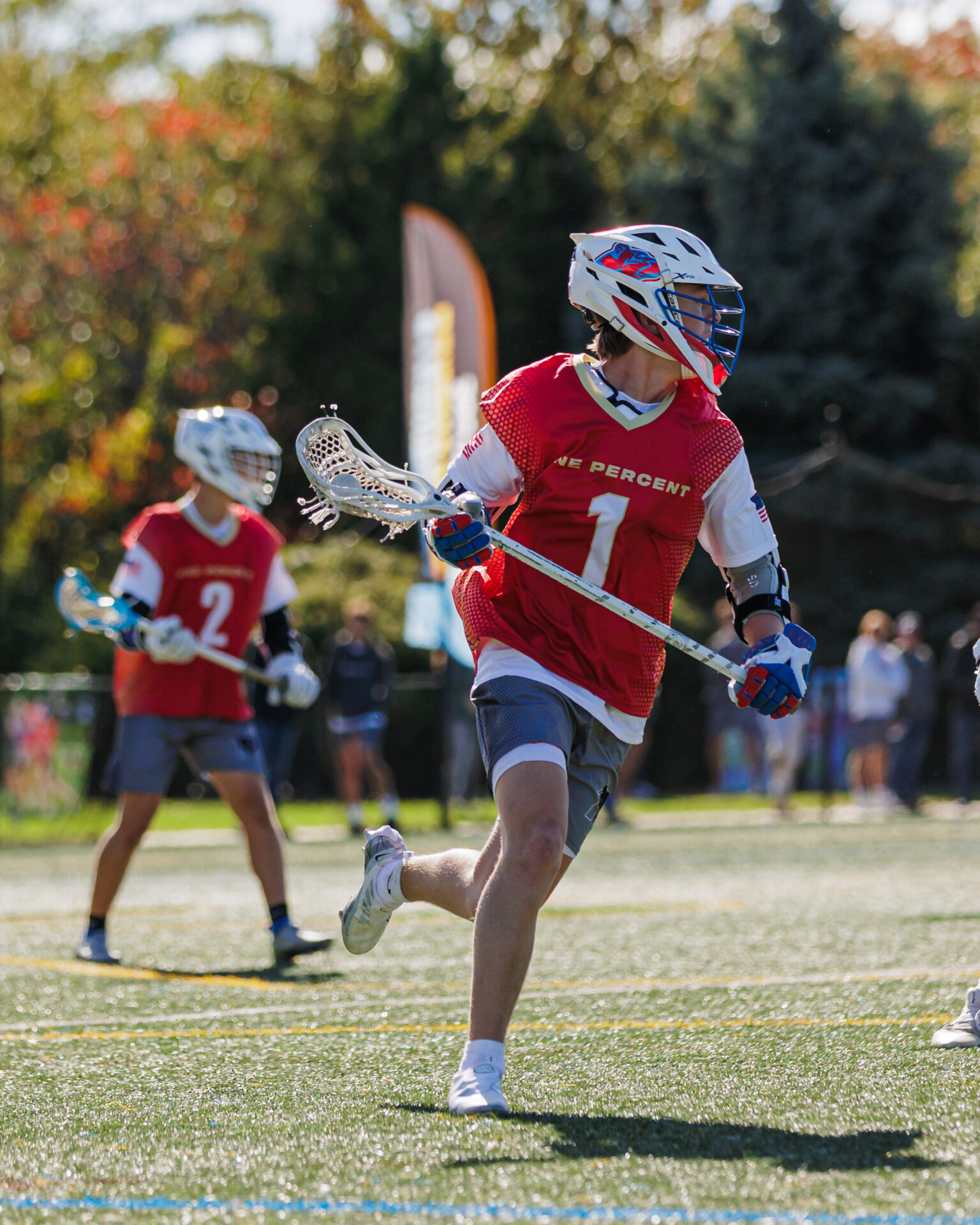 No. 1 Brooks Power, attack, Cherry Creek (Colo.) / 3d ColoradoPower is a smart and deft passer who elevated the play of his teammates by playing unselfishly throughout the day. When he has a window to score, he can shoot it with either his left or right hand. He has the technical ability and physicality of a box player and he rode ferociously.
No. 2 Liam Gaugler, attack, Haldane (N.Y.) / Rhino Hudson Valley
Gaugler has a high lacrosse IQ and is a savvy attackman. He is skilled, unselfish, and he fought to get to the island on offense rather than settling for low percentage shots.
No. 3 Conor Sweeney, attack, Downingtown East (Pa.) / Freedom
Sweeney is a dynamic offensive threat who has a penchant for scoring goals. He is a formidable opponent for any defense and is a phenomenal dodger with technically-sound stick work. His ability and desire to share the ball with his teammates made him a joy to watch.
No. 4 Ricky Geier, attack, Massapequa (N.Y.) / Team 91 Long Island
Geier was a dangerous offensive threat throughout the day, and he has great footwork and can easily evade opponents. His ability to pass the ball and read the defense made him an invaluable teammate. He also made a point to create space for his teammates so they could find scoring opportunities for themselves. He's an excellent manager of the pace of the game and he played under control.
No. 5 Alex Krusko, attack, Choate (Conn.) / Express North – Army
There is a lot to like about Krusko's game: he is highly-skilled, has great vision,  and he's unselfish. his athleticism allowed him to beat his man and score. He has positional versatility at the next level, something that he showed while bouncing between attack and midfield throughout the day. His best asset, though, is his shooting ability. The ball comes rocketing out of the lefty's stick and he doesn't need much time and room to let it go. 
No. 6 Will Madden, midfield, Wall (N.J.) / Leading Edge – Monmouth
Madden is a gritty, tenacious midfielder with speed and quickness. A powerful dodger with refined stick skills and a propensity for scoring, he was an essential member of his squad due to his tireless work on both sides of the field. He is versatile and can play above and behind the goal, and it's patently obvious that he's been well-coached.  
No. 7 Sammy Baek, midfield, Vestal (N.Y.) / SweetLax – Air Force
The future Falcon is a technically gifted player. While he's a right hand dominant player, he can certainly unleash a left-handed shot with pace or a deft touch. He absorbed contact well. Baek knows how to use a defender's poor approaches against him to gain a small advantage and turn it into a bigger one. Already a Division I commit, he still has vast upside.
No. 10 Cisco Celotto, faceoff midfield, Staples (Conn.) / Eclipse
Celotto is a ferocious competitor at the stripe and on contested ground balls. He has several effective exits, but he might be at his best when he plays the ball back to himself on a defensive exit. He can carry the ball confidently and his skills are refined.
No. 11 Aidan Fairweather, midfield, Scotch-Plains Fanwood (N.J.) / Tri-State
Fairweather  is a highly cunning dodger who understands how to get his hands free to pass or shoot. He doesn't settle for low angle shots, and he works tirelessly to get to the middle of the field. He doesn't shy away from contact, or dodging a long stick midfielder. More importantly, he is a deceptive shooter who can find the back of the net on a consistent basis.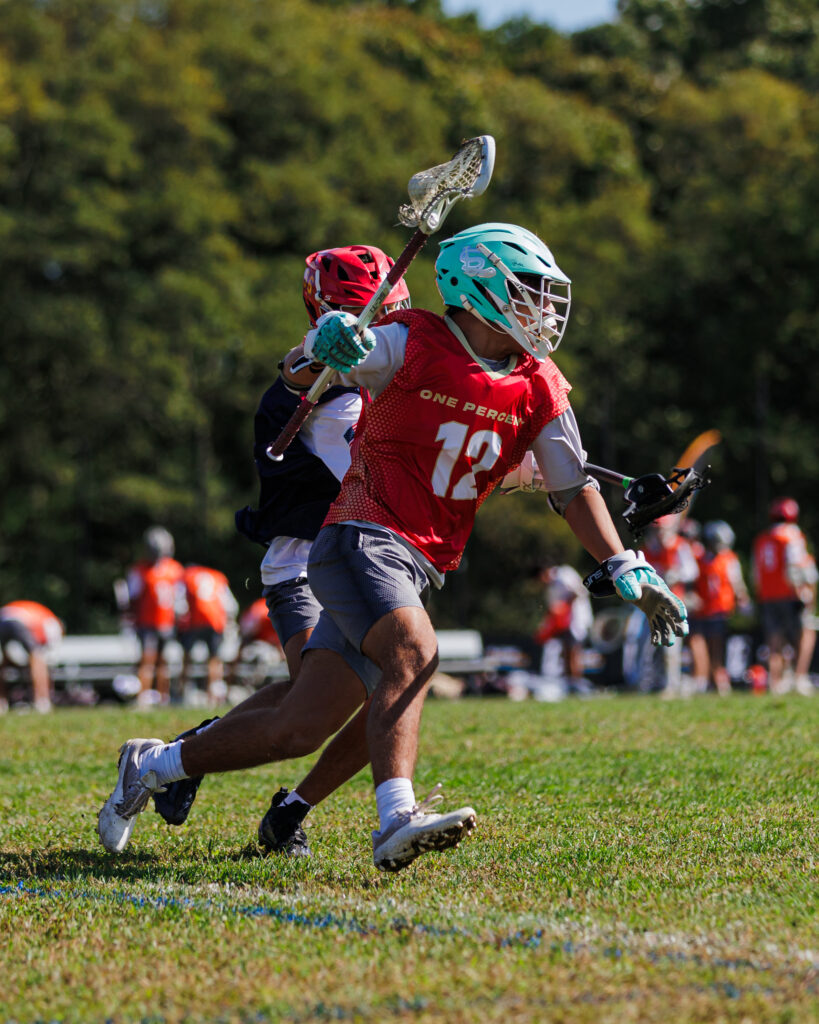 No. 12 Beck Trafton, faceoff midfield, Saint Andrew's (Fla.) / SweetLax Florida
Trafton possesses outstanding skills and athleticism, making him an extremely formidable opponent at the stripe. He did a fantastic job of varying his exits, and he clearly communicated his intentions to his wingmen throughout the day. His ability to win crucial faceoffs and maintain possession of the ball was notable; however, I'd argue that his greatest attribute is his ability to play offense or defense. He isn't just a faceoff athlete, he's a very skilled lacrosse  player who puts pressure on the defense when he wins a draw.
No. 14 Alex Caltenco, LSM, Pelham Memorial (N.Y.) / Team 91 Tristate
Caltenco was disruptive off the ball, but he was exceptional in the clearing game. He has tremendous stick work and he was a threat to score when the ball was in his stick when he transitioned to the offensive end of the field.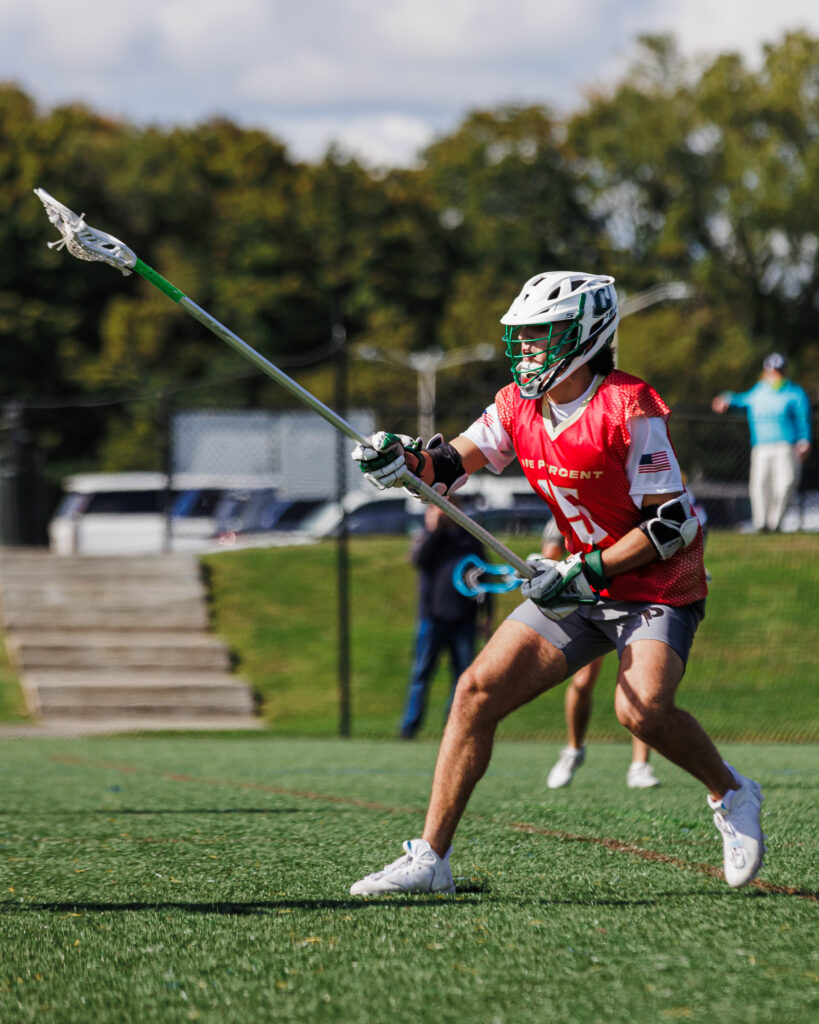 No. 15 Gabe Reiter, LSM, Delbarton (N.J.) / Leading Edge
The All-Star Game Defensive MVP, Reiter possesses a number of qualities that any college coach covets. He works hard off the ball, has excellent stick work, and he is disciplined in his approaches. He is vocal, in addition to being a very well-coached player. Reiter's not as flashy as some of his LSM counterparts, but that's not a negative. His coverage is better than average for the position. 
No. 16 Christopher Wehri, defense, St. Joseph's Montvale (N.J.) / NJ Riot
Wehri is a physical player on GLE who possesses good footwork, which enables him to effectively defend against his opponent and keep them out of the middle of the field. He has an excellent off-ball stance, which allowed him to be in a position to support the on ball defender and his teammates. 
No. 18 Aaron Alford, defense, McCallie (Tenn.) / Team 91 Georgia
Alford played at a high level throughout the day. He's at his best covering the ball and he has a refined stick that allows him to clear the ball efficiently. Alford also has tremendous athleticism, which he utilizes to cause havoc on the field. Additionally, he is well-coached, disciplined, and plays under control.
No. 19 George Hawley, defense, Fairfield Prep (Conn.) / LI Sting
Hawley is a disclipined close defneder who possesses the skill set and  athleticism to play long stick midfield. He made a point to always approach his offensive player with his stick in front. He rarely, if ever, gave his opponent the middle of the field on their dodges. He was able to get back into the paint when he was playing defense off the ball to support his teammates. His long strides allowed him to cover faster attackmen, and his footwork and change of direction suited him well against quicker players. Hawley also showed that he could take the ball away, including on one gorgeous over-the-head check. 
No. 20 Adam Angel, goalie, Seton Hall Prep (N.J.) / Tri-State – Manhattan
The lefty was superb all day long and followed it up with another great day at the One Percent Club Challenge the following day. He has impressive patience on shots both inside and out of the paint, allowing him to make timely saves and prevent easy goals. Angel's economy of movement is another strength, enabling him to make quick saves with ease. In addition to his shot-stopping abilities, he also has an accurate passer in the clearing game, which helps to initiate fast breaks and create opportunities for his team on offense. 
No. 21 Colby Weaver, goalie, Malvern Prep (Pa.) / Mesa
Weaver's stance and excellent footwork on his arc allowed him to remain square with shooters and make easy saves. He has great instincts and is able to read the game well, making him a reliable last line of defense. His communication with his team was outstanding, and he was able to hit streaking midfielders in stride in the clearing game.
Bengals
No. 1 Anthony Miceli, attack, New Hampton (N.H.) / Piatelli
Miceli possesses a diverse skill set, and more importantly, he demonstrated  a knack  for finding the back of the net in a number of ways. He can stretch the defense with his shot, and he made a point to make first contact with his defender and finish in front of the goal several times. Miceli's ability to score goals is only one facet of his impressive game. He is a fierce competitor on the field, and he put continuous pressure on opposing defenses when they attempted to clear the ball.
No. 2 Nate Hoffman, attack, Avon Old Farms (Conn.) / Predators
Hoffman's ability to assess a situation and act decisively is his greatest attribute as an attackman. He has great vision and he created scoring opportunities for himself and his teammates. Hoffman has also several different – and effective – release points on his shot that served him well. 
No. 3 Cole Pedroso, attack, Upper Dublin (Pa.) / Big 4 HHH
Pedroso sees the field well and can accurately analyze the movements of his teammates after assessing the quality of defense being played on and off of the ball. He presented challenges to his defender and opponents because of how effectively he can move without the ball, but he was also a threat to get to the middle of the field and score when he was in possession.
No. 4 Avery Richardson, attack, Sandwich (Mass.) / Kings
Richardson's IQ and unique skill set were on full display throughout the day. He's proficient at scoring between the hash marks, and he'd be an asset to any team with his ability to beat his man and draw a slide on a consistent basis. Richardson's competitive spirit and willingness to challenge his defender without taking low percentage shots both stood out. 
No. 5 Jake Riglietti, attack, St. Anthony's (N.Y.) / Long Island Express
Riglietti is a talented offensive weapon who possesses both the skill and tenacity to be a threat on the offensive and defensive ends of the field. Riglietti is unselfish, competitive and has the versatility to make an impact in different spots.
No. 6 Jackson Platner, midfield, St. Andrew's Episcopal (Md.) / DC Express
Platner can carry the ball while being subjected to pressure and cross checks  from opposing defensive  midfielders. He's a dynamic athlete who can run the field well and he was able to find space in unsettled situations. Highly confident in shooting with his non-dominant hand, he was also able to get to the middle of the field and score several right handed goals. 
No. 7 Bayard Plumb, midfield, St. George's (R.I.) / Mesa
Plumb has impressive range on his shot, and his ability to shoot accurately from long distances puts pressure on the opposing defense. Plumb runs the field well, which made him effective on both ends of the field. He's got some craftiness to his game, too, with his ability to get his hands free in a wealth of ways.
No. 8 Nic Jeffries, midfield, Colorado Academy (Colo.) / 3d Colorado
As a result of his ability to dodge downhill with great pace, Jeffries was able to generate opportunities for himself and his teammates at the event. He had a great flair for collecting contested ground balls in traffic, and he should be commended for his tenacity as a defender. 
No. 9 Milton Hafron, midfield, New Trier (Ill.) / Team Illinois
Hafron is a physically imposing middie who possesses good size and an accurate shot. Hafron's split dodge made him a dangerous offensive threat throughout the day, and it enabled him to avoid opponents and generate scoring opportunities for himself and his teammates. 
No. 10 Graham Burchill, midfield, Brunswick (Conn.) / 2Way
Burchill consistently demonstrated a number of talents, including, but not limited to, the ability to beat his man and draw a double team on a consistent basis. The All-Star is very skilled and savvy, while also showing off his offensive chops as a proficient shooter.
No. 11 Laird Miller, midfield, Brophy Prep (Ariz.) / West Coast Starz
The southpaw from the Grand Canyon State is a dynamic and versatile midfielder with exceptional stick skills. Tabbed as the Offensive MVP of the All-Star Game, Miller sees the field well and he has the athleticism to carry the ball through traffic. He showed an innate ability to create natural side shots that made the goalie have to work to make saves.
No. 12 Harry Attell, faceoff midfield, Taft (Conn.) 
Attell is a force to be reckoned with on the field, particularly with his squat, powerful frame. He has  quick reflexes  and technically sound offensive and defensive exit  strategies helped create scoring opportunities for his team, or retain possession. 
No. 13 Luca DiCarlo, LSM, Libertyville (Ill.) / True Illinois
DiCarlo is a gritty and agile LSM who excelled in creating havoc in the middle of the field. He has the ability to read and react to his opponent's movement as a result of his patience and tremendous footwork. He has a very good stick and he can collect contested ground balls in traffic.
No. 14 Adam Kim, LSM, Greenwich (Conn.) / 2Way
Kim is a balanced player with a wide range of abilities on the defensive end of the field. He can clear the ball with accurate cross field passes, and he has a knack for collecting ground balls. Kim did an excellent job of finding the ball throughout the day. 
No. 15 Daniel Higgins, LSM, St. Dominic (N.Y.) / Shore2Shore
Higgins' ability to close out without getting beat on both long and short approaches is exceptional, and it clearly demonstrated his tremendous footwork and lacrosse IQ. His ability for communicating with his teammates is another one of his great qualities. Higgins used verbal and non-verbal communication when sliding and recovering that resulted in key stops throughout the day.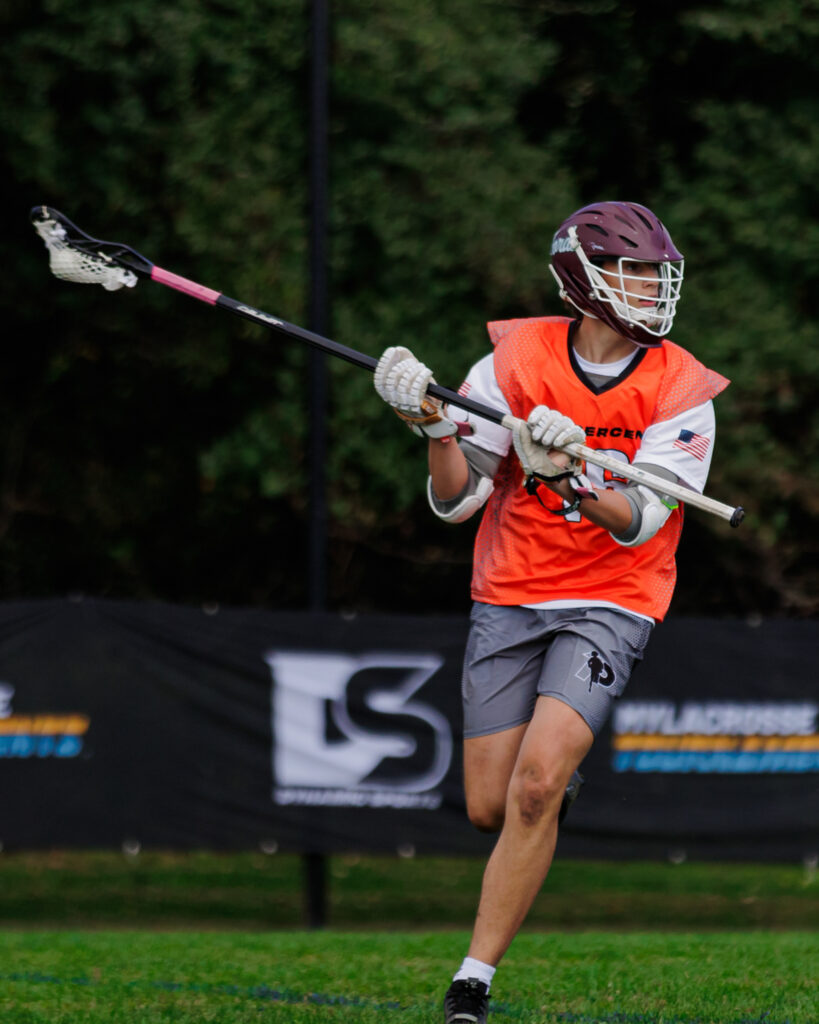 No. 16 Holden Smith, defense, Haverford School (Pa.) / Mesa
Smith is a skilled defender who has the versatility and athleticism required to play on the wing or on close defense. As an on-ball defender, he makes first contact with his opponent and he demonstrates the ability to execute long and short approaches without giving up the middle of the field. Additionally, Smith is a dangerous offensive threat during unsettled situations, using his speed to create scoring opportunities for himself and his teammates. 
No. 17 Nicholas Armato, defense, Ward Melville (N.Y.) / Long Island Empire
Armato is an imposing and physical defender who makes his presence known on and off the ball. He's well coached, vocal, and was a tremendous asset to his team in the clearing game. His advanced understanding of team defense might be his greatest attribute. 
No. 18 Edward Jefferson, defense, Sanford (Del.) / Brotherly Love
Jefferson is a talented and athletic defender who played well throughout the day. His ability to close out on the goal line extended, as well as his ability to harass his opponent, stood out. 
No. 19 Alex Dircks, goalie, Chaminade (N.Y.) / Shore2Shore
Dircks has a deft passing touch, in addition to excellent stickwork. His presence in the goal makes it seem as if there isn't a lot of space to shoot at, and he demonstrated the ability to sit on shooters in his stance and make saves. Dircks has quick hands and he makes the correct read progression in the clearing game. 
No. 20 Bryce Chirgott, goalie, Gilman (Md.) / DC Express
Chirgott has excellent  hand-eye coordination that allowed him to track the ball effectively and make saves with confidence. Chirgott's ability to clear the ball quickly allowed his team several scoring opportunities. He remained square to outside shooters and dodgers, which resulted in several key saves.