Winter One Percent Evaluations: 2024 Dartmouth and Harvard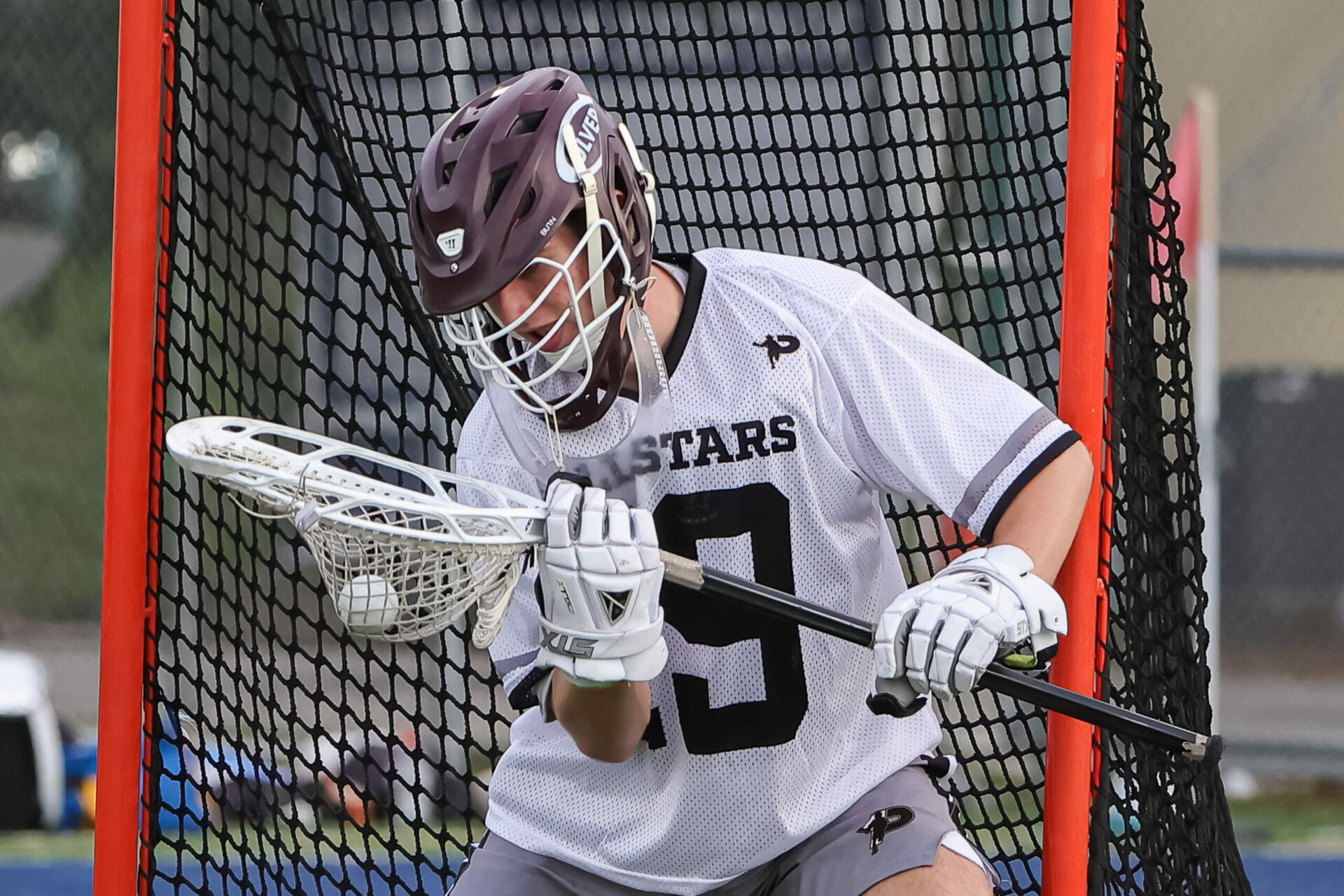 Winter One Percent Evaluations: 2024 Dartmouth and Harvard
Follow the One Percent on Instagram , YouTube and Twitter.
The winter One Percent evaluations are here!
We're kicking it off with 2024 teams Dartmouth and Harvard, with every player getting an evaluation. CLICK HERE to see the list of 2024 all-stars.
This summer's One Percent takes place on June 28 (2024 and 2025) and June 29 (2026) at The Proving Grounds in Conshohocken, Pa. CLICK HERE for full info.
APPLY HERE
Dartmouth
No. 1 Ben Dale, attack, Millbrook (N.Y.) / Team Illinois
All-Star Game Offensive MVP. Dale was a problem for every defenseman that he went up against throughout the day. He was unguardable with his combination of quickness, change-of-direction and creativity. Dale's not big, but he's also not scared of getting to the paint. He loved baiting guys into covering him at X, breaking their ankles on the dodge and finishing in close. Dale also tossed out a bunch of behind-the-back passes – at times to a fault – and there isn't a move he won't try. He capped off his day with a four-goal, one-assist performance to collect All-Star Game Offensive MVP honors. 

No. 2 Jackson Chase, attack, Tabor (Mass.) / Boston Kings
Chase makes it a point to dodge hard every time he gets the ball. He won't sit back, hemming and hawing about where he wants to go. Rather, Chase plants his foot in the ground and goes right to the rack. He stayed within the framework of the offense and showed a nifty handle and toughness inside to rack up a couple of goals.
No. 3 Nate Hoffman, attack, Avon Old Farms (Conn.) / Team 91 Tristate
Hoffman's not overly big, but he showed a couple of times that he could finish in style in traffic. His best moment of the day came when he caught a Cormac Walsh feed in front and went short-side with a lefty BTB finish. Hoffman showed the IQ to get open off-ball, and he can also dodge above the cage and beat a short-stick.
No. 4 Tripp Redd, attack, Rye (N.Y.) / Predators
Similar to Hoffman in a way where both are attack/mid types who can threaten a defense from different spots, Redd had his moments for the Dartmouth squad. He's got a pretty tall yet lean frame that suggests that he's got a lot of room to grow. He played hard throughout the day, but he could stand to be a little bit more aggressive. At times, he was too passive and almost shy about getting involved in the offense. He has the skill set to make more of an impact when he does become more assertive, but also made some nice plays in the passing game off the dodge.
No. 5 Jake Taromina, attack, Bergen Catholic (N.J.) / Patriot
All-Star. Taromina's got the ability to score a ton of goals both in high school and college. He's small but tough and knows that he's got to pay a price to score in front. Taromina, who set BC's freshman points record this year with 73 points, is a hard-nosed competitor with a silky set of mitts. He kept goalies busy all day with his hard cuts and finishes. Taromina also had the best goal of the All-Star Game by catching a pass without facing the net, faking a low backhand and finishing with a high backhand. It was delightfully disrespectful to goalies everywhere.
No. 7 Will Cramp, midfield, Paul VI (Va.) / VLC
All-Star. A big, athletic midfielder from Virginia, Cramp has the physical skillset to be a big-time college midfielder. He competes very hard and often showed flashes of his high-end potential, including one high-to-high screamer while dodging down the alley. As he continues to round out his skillset and adds some weight to his frame, Cramp could blossom into one of the better ones in the class.
No. 8 Will Laughlin, midfield, Noble and Greenough (Mass.) / 3d New England
All-Star. Laughlin's athleticism stood out even amongst a loaded field. He was Dartmouth's best and most athletic midfielder, pairing his athleticism with a hard, heavy shot. Laughlin showed a knack for making a bunch of little plays, including knocking down passes, landing trail checks or denying transition. He has a great feel for the middle of the field. Laughlin will only get better he adds confidence and understands that he can play at a very high level.
No. 9 Emmett Heissan, midfield, Loomis Chaffee (Conn.) / 2Way
All-Star. Heissan's box background is immediately apparent when you watch him play. He knows how to move off ball and pops in and out of dead zones to get the ball. Heissan protects his stick well and plays well in traffic. He's not overly big but initiates contact on his dodges, and he also scored a couple of nice goals in tight.
No. 10 Breck Peacock, midfield, Wheaton (Ill.) / True Illinois
Peacock's lack of size belies his toughness and scrappiness. He's always going hard and gets downhill quickly on his dodges. Peacock also showed that he can shoot either righty or lefty, and as he adds size and fine-tunes his skills a bit, will be able to develop into a collegiate midfielder.
No. 11 Cormac Walsh, midfield, St. Sebastian's (Mass.) / Laxachusetts
Walsh brings an interesting mix of a good skillset and a desire to go hard on every play. He showed that he could dodge from up top or off the invert and had a slick sidearm feed on Nate Hoffman's lefty BTB goal. Walsh gets open on the dodge with subtle fakes and showed good speed on the clear.
No. 13 Josh Hallam, LSM, Loyola Blakefield (Md.) / FCA
Hallam had the stick skills that you want out of an LSM. He did an excellent job off the carpet and defensively, he was very willing to take on anyone 1v1. Much like most of his teammates, he went hard all the time and came up with a couple of extra ground balls and plays out of it. He'll need to get stronger and polish up his footwork to handle the rigors of the MIAA and of college lacrosse, but the potential is there.
No. 14 Bryan Henry, LSM, Shipley (Pa.) / NXT
All-Star. A tall, rangy pole who covered a good deal of ground, Henry was an opportunistic off-ball slider who caused some havoc in the middle of the field. He can get out and run, too, and got involved offensively, too. Henry wasn't afraid to get out and press to make life uncomfortable for dodgers.
No. 16 Jack Donahue, defense, Mountain Brook (Ala.) / 3d Georgia
A freshman starter for the Alabama state champions, Donahue has good size and an active stick. At times, he played with a little too much stick and not enough body. When he matches up both well enough, he's tough to get around, marrying his strength with his stick and solid footwork. He'll only continue his upward trajectory as he continues to play better competition.
No. 17 Ethan Ferrant, defense, Pentucket (Mass.) / HGR
All-Star. Ferrant was Dartmouth's best defenseman throughout the day. His combination of footwork, aggressiveness and communication skills helped him shine as an all-around presence. He likes to get physical, and as he adds strength, that physicality and snarl will enable him to overpower more attackmen. Ferrant also came in for praise for constantly asking the right questions and showing a desire for more reps.
No. 18 John Scarelli, faceoff midfield, Hagerty (Fla.) / SweetLax Florida
All-Star. Scarelli started winning faceoffs early and kept winning faceoffs often. He flashed his raw ability on a handful of occasions where he cleanly won his draws forward. Also a football running back, he gets moving well after the win and often scurried out of trouble thanks to his athleticism.
No. 20 Charlie McCullough, goalie, Boston College (Mass.) / Laxachusetts
Another quality goalie out of a Laxachusetts program that's pumped out a ton of 'em, McCullough has an ideal Division I frame at 6-4, 170 pounds. For a big guy, he dropped on low shots well and came away with a handful of impressive saves, perhaps none better than a tough off-stick hip shot where he quickly got his hands across his body. At times, he anticipated the wrong way on a few shots, but his frame and quick hands helped bail him out. Becoming a little more patient on shots will help take his game to another level.
No. 21 Dominic Veloso, goalie, Gulliver Prep (Fla.) / Florida Crabs
Veloso didn't miss the All-Star game by much. He was a quality presence in the Dartmouth cage throughout the day. He's relatively raw, but at 6-0, 190 pounds and a three-sport athlete, there's so much to like about him athletically. Veloso showed some good flexibility and range when getting to shots, and he usually made good, safe decisions in the clearing game.
Harvard
No. 1 Jack Ransom, attack, Charlotte Catholic (N.C.) / Team 91 Charlotte
All-Star. Ransom might have scored more goals than anyone throughout the day and it's entirely possible that not one of them was a run-of-the-mill finish. He had the goal of the day on a spinning backhander going across his body off of a ridiculous bounce pass in transition from Julian Navab. Ransom is really smart and has the guts and savvy to try any shot in the book. He had a great backhander to start the day and continued his onslaught with a bevy of shooting angles.
No. 2 Mattix Groves, attack, Naperville North (Ill.) / Team Illinois
Groves is at home as an off-ball finisher with a hard, powerful stepdown shot. He works well off-ball and finds open spots in the defense. He can dodge enough to keep defenses honest, but he'll need to continue to improve on his dodging to be a well-rounded threat. Despite that, he's the type of player that can thrive with a good feeder around him.
No. 3 Jonathan Benerofe, attack, St. Ignatius Prep (Calif.) / Big 4 HHH
The righty from California left a couple of defenders wobbling with his shake and ability to quickly change directions. He also wasn't afraid to use his left hand and had a couple of impressive, tough lefty takes. Benerofe also did a good job of dodging with his head up and found teammates for open looks. He'll be able to threaten defenses more as he adds more size and some more pop to his shot.
No. 5 Luke McNamara, attack, Rockhurst Jesuit (Mo.) / FCA
A tall and solidly-built Midwest attackman who was all too happy to engage his defender with a bull dodge. McNamara has a box background that's apparent in his game. He has soft hands around the cage and finishes everything from inside of eight yards. McNamara doesn't create a ton of separation on his dodge but he makes up for it with his ability to get his hands free and finish.
No. 6 Julian Navab, midfield, Deerfield (Mass.) / Legacy
All-Star. Physically, Navab looks like he can play collegiately right now. Checking in at 6-1, 190 pounds, he's well-built but also runs the field really well and is more agile than you'd expect from a midfielder of his size. He's a creative player – the bounce pass to Ransom was patently ridiculous – and he always plays hard throughout. Navab has also gotten more comfortable as a dodger and it wouldn't be surprising to see him make a big impact this spring at Deerfield.
No. 8 Andrew Jimenez, midfield, Oak Hall (Fla.) / SweetLax Florida
All-Star. The lefty is a crafty player who does a good job of hitting open teammates with his feeds. He keeps his head up and makes a ton of smart plays, like finding a better shooting angle or quickly moving the ball if he doesn't have the right look. Jimenez understands where skip lanes are going to open and he'll throw it in that window. Defensively, he held up his end of the bargain with effort and physicality.
No. 9 Jack Schneider, midfield, Belmont Hill (Mass.) / Laxachusetts
Another good all-around midfielder who can feed efficiently, Schneider did a good job of dodging with his head up and feeling where the defense was sliding from. He's got a very effective split dodge that helps him create separation at the top of his dodge and he can finish either righty or lefty.
No. 10 Grayson Moniz, midfield, Taft (Conn.) / West Coast Starz
At 6-3 and about 175 pounds, Moniz certainly looks the part of a future Division I midfielder. Moniz, who put up 25-16-41 at Weston (Conn.) last year before transferring to Taft, can stretch out defenses with his shooting range but also does a solid job of finding open teammates. Adding some bulk and working on becoming a half-step quicker, as well as more intensity on the defensive end, will help him round into a complete midfielder.
No. 11 Chase Picard, midfield, Holderness (N.H.) / 4Leaf
All-Star. Picard plays in fast forward, both physically and mentally. He's got next-level athleticism and speed, but moving forward, he'll need to slow the game down a bit in his head as he can occasionally rush plays. That said, it won't take long for college coaches to be enamored with his lightning-fast wheels and ability to get up and down the field. He's a rock-solid D-middie who excels in transition to go with a hard shot, and once he fine tunes his 6v6 offensive game, he could blossom into a top midfielder in the class.
No. 12 Christian Tapia, faceoff midfield, Iona Prep (N.Y.) / Express North
All-Star. A smart, savvy and scrappy faceoff man, Tapia showed off a bevy of moves and counters that he used to earn a spot in the All-Star Game. He lacks in prototypical size, but it almost works to his advantage at times because he's able to stay low and burrow his way to the ball. Tapia has gotten much better at finding the ball in traffic and his stick skills have markedly improved. He can push the pace pretty well, too.
No. 13 Beck Trafton, faceoff midfield, Miami Country Day (Fla.) / SweetLax Florida
Another undersized but tenacious faceoff man, Trafton showcased a bunch of different exits and had a knack for making good plays under pressure from LSMs and SSDMs on the wings. He tracked the ball well and collected his fair share of ground balls throughout.
No. 14 Tyler Quake, LSM, Brunswick (Conn.) / 2Way
All-Star. Quake is tailor-made for the LSM position and has so many of the attributes that you want in a guy who's roaming the middle of the field. At 6-1, 175, he's got the frame to go along with an incredibly active stick and the requisite tenacity. Quake did an awesome job of hounding ballcarriers throughout and putting the ball on the ground. His stick is seemingly always attached to someone's gloves, and once the ball hits the ground, he can pick it up either righty or lefty.
No. 17 RJ Salser, defense, Cardinal Mooney (Fla.) / SweetLax Florida
Salser has great size at 6-1 and close to 200 pounds and he moves deceptively well for a bigger defenseman. He also has the versatility and stick skills to bump up to LSM and showed off his offensive chops with a goal against Dartmouth. Salser is a good athlete who excels at getting up and down the field. He played pretty good 1v1 defense, too.
No. 18 Aiden Froh, defense, Culver (Ind.) / Alpha
All-Star. Part of an outstanding 2024 class at Culver, Froh is such an intriguing prospect because he can do a little bit of everything. He earned an All-Star nod as a defenseman, but he can also play LSM or trade in his pole for a short-stick and be a dependable SSDM. He's north of six feet and is around 165 or 170 pounds, so he has a frame that will allow him to continue to grow while still being a versatile, athletic defender. He's not very flashy, but was dependable in coverage throughout the day.
No. 20 Brendan Owens, defense, Xaverian Brothers (Mass.) / Laxachusetts
All-Star. The lefty repeat All-Star is technically sound – advanced for his age, actually – and while he's not super flashy, he gets the job done. Owens, who started as a freshman for Xaverian, does a little bit of everything well. He communicates with his teammates, grabbed a bunch of ground balls and showed the foot speed to get upfield quickly.
No. 21 Tade Wynn, goalie, Culver (Ind.) / West Coast Starz
All-Star. Wynn is in the conversation to be the top-ranked goalie in a class that's absolutely LOADED with great stoppers. He carries a great frame at 6-2, 185 pounds, and he rarely, if ever, gave up a bad goal on the day. If you're beating him, you probably got really close to him or had an absolutely perfect shot. He's poised in the cage, doesn't really have a discernible weakness and made a few eye-popping saves. He came away with four saves in the All-Star Game.
No. 22 Marc Gadbois, goalie, St. Mark's (Mass.) / Fighting Clams
A small lefty, Gadbois was solid throughout the day in the Harvard cage. He made it a point to learn and use all of his defensive teammates' names, something that was readily apparently early when everyone was still feeling themselves out. He does a very good job on low shots and sometimes tries to bait shooters in aiming high at him. At times, it worked. Other times, it was a gamble he lost, but as he gets bigger, it may not be a huge problem down the road. Gadbois was also active out of his crease and helped his team in the clearing game.