One Percent '24 Summer Evaluations: Miami and Michigan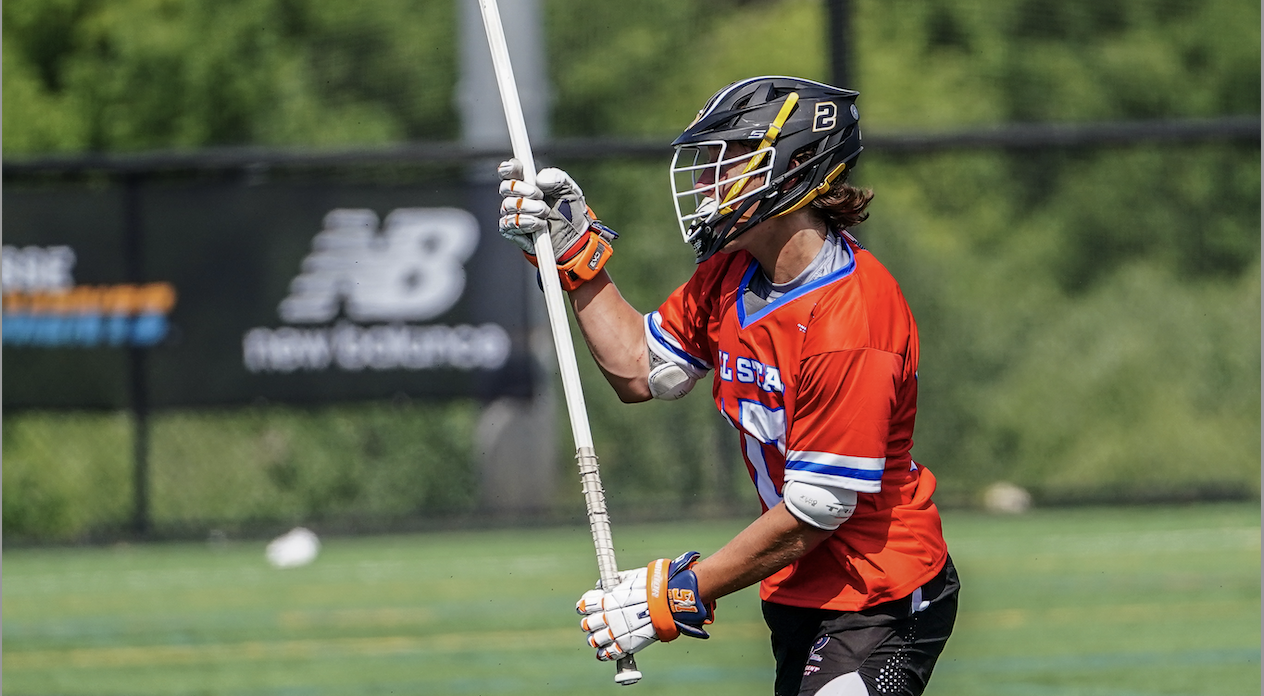 One Percent '24 Summer Evaluations: Miami and Michigan
Follow My Lacrosse Tournaments on Instagram, YouTube and Twitter.
The One Percent summer evaluations are finally here.
Every player that took part in this June's One Percent in Philly receives an evaluation. It's no surprise to have seen so many of these elite players already find a collegiate home, and there's no doubt that it's just the start.
The next One Percent is set for Dec. 17 (2025) and Dec. 18 (2026) at American Heritage in Delray Beach, Florida.
CLICK HERE to express interest in the 2025 event.
CLICK HERE to express interest in the 2026 event.
CLICK HERE to express interest in the summer '23 event (2025 and 2026 on June 27, 2027 on June 28)
Without further ado, here's the next round of the 2024 evaluations from Matt Chandik and Matthew De George.
Miami 
No. 2 Jackson Chase, attack, Tabor (Mass.) / Boston Kings
A low-to-the-ground attackman, Chase knows how to use his body to fend off defenders and create space for himself. He has great hands, a lot of fakes to throw at defenders and goalies and poise on the ball to dictate the pace of an attack. 
No. 3 Jimmy Douglas, attack, Notre Dame Prep (Ariz.) / Cali Gold
A physical attackman, Douglas can create opportunities for himself and others. He's adept at operating through X and is fearless coming up field at GLE. Douglas has a powerful shot that he's able to get off from a variety of angles, and he's got the passing touch to get others involved.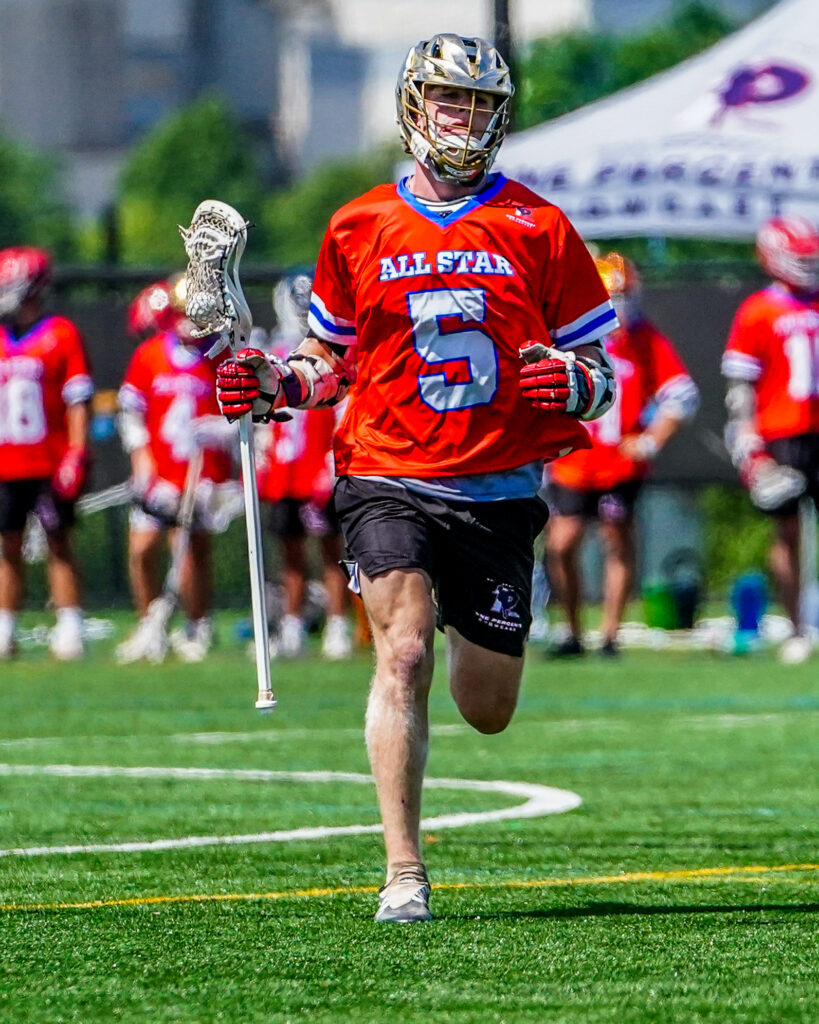 No. 5 Will Barber, attack, Emmaus (Pa.) / Mesa – Saint Joseph's
All-Star. Barber perhaps didn't carry the reputation of others into the event, but he just kept scoring at every level of the day, including a couple of goals in the finale. The big, downhill attackman can shoot from the wing, can take defenders off the dodge and can get others involved. He absorbs contact and is willing to put himself in high-traffic areas to make plays. Barber's got the hands to cash in on those trips with a lethal finishing streak.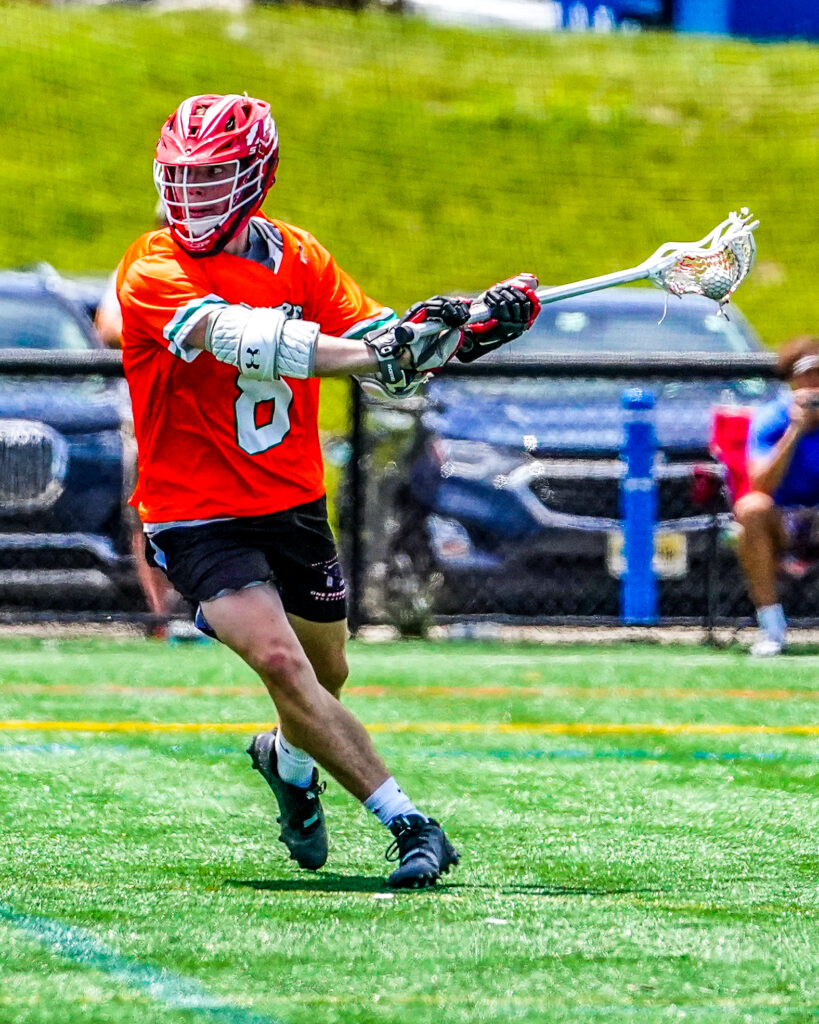 No. 8 Nolan Coyle, midfield, St. Andrew's Episcopal (Md.) / DC Express
All-Star. A powerful dodger, Coyle is a handful for any short-stick defensive midfielders to have to stop. He's able to dodge to both hands and shoot with power and accuracy at full speed. His passing ability allows him to get others involved from up top, and his dodging ability requires defenses to account, opening space for others. 
No. 10 Jacob Pages, midfield, Cathedral Catholic (Calif.) / Cali Gold
All-Star. Pages has an array of moves that he can deploy. He's an athletic middie, able to change direction, run past defenders and get physical when needed. He has a variety of attacking moves, a powerful shot and the passing touch to dictate an attack from up top in the space he creates with his feet. 
No. 11 John Malone, midfield, Episcopal Academy (Pa.) / Mesa
The heady middie uses space well, working off-ball to make himself an option and possessing the quick release to catch and shoot in that space. Malone has quick feet to create space from a defender at the end of the dodge, particularly when sweeping onto his right, and is unafraid to head to the crease. 
No. 12 Griffin Strange, faceoff midfield, IMG (Fla.) / 2Way
Strange is a clean technician at the X, winning many of his draws forward and right into fast breaks. He's got the foot speed to draw slides, the stick skills to make good decisions in the attacking half and the long arms to fire off deceptively difficult to handle shots. 
No. 13 Christian Tapia, faceoff midfield, Iona Prep (N.Y.) / Express North – Lafayette
Tapia's athleticism goes beyond his work at the X. On draws, he's good at winning forward and breaking away for clean looks, his speed helping him gain separation in the open field. He's also an offensive threat, with a strong and accurate shot. 
No. 14 Braeden Korb, LSM, Salesianum (Del.) / Brotherly Love
All-Star. A playmaking LSM, Korb's off-ball awareness is excellent, allowing him to get his stick in passing lanes and disrupt plays. He's excellent on the ground and covers a lot of territory in the open field. Korb, who helped Salesianum to another Delaware state title in the spring, is also a shot threat, the kind of LSM that you have to account for on both sides of the field. 
No. 15 Matt Blanton, LSM, Wesleyan (Ga.) / Team 91 Georgia
The rangy LSM covers a great deal of real estate in the defensive half. Because of his disciplined stick and long reach, he's able to press out in coverage to put pressure on middies as they settle into the half-field attack. He's also very good at hanging with attacking players in coverage. 
No. 16 Dante Vardaro, defense, St. Anthony's (N.Y.) / Team 91 LI Wolfpack – Penn
All-Star. Vardaro has a polished and sophisticated defensive approach already at such a young age. He's got a great stick when locked up in coverage and is great at influencing the play defensively off the ball. Vardaro has excellent defensive instincts to know when to take risks and how to make plays, and he's got a secure stick to hold onto possession, even through his athleticism in the open field or passing, to hold onto the ball. Also a standout middle linebacker for the Friars' football team, Vardaro was a huge coup for Penn this fall.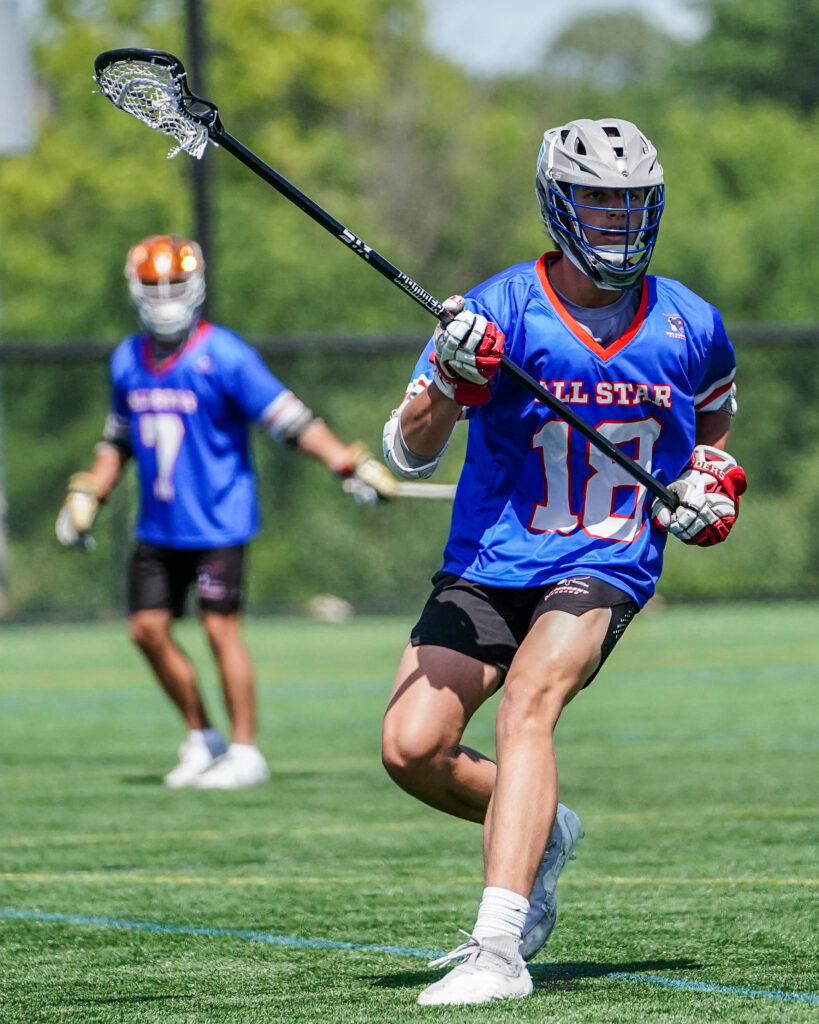 No. 18 Gordon Reynolds, defense, Regis Jesuit (Colo.) / Denver Elite – Denver
All-Star. The 6-2 defenseman is a formidable physical presence. He covers a ton of real estate with his long reach and strides and uses his strength to push attackmen off-course. He's an excellent communicator within the team defense, is an eager and efficient help defender and puts his speed to good use in the open field as a transition outlet. Reynolds was a huge pull for hometown Denver, which has cleaned up on that stacked Denver Elite '24 team. 
No. 19 Will Chanin, defense, Fairview (Colo.) / True 
All-Star. The feisty lefty with elite size (6-3, 220) has a polished defensive skillset. His stick technique and footwork are excellent when he's locked up in coverage. He knows how to use his body smartly and dictate the terms of a physical confrontation with an attackman. His stick is constantly in an attackman's hands, hounding for mistakes. When he's off the ball, he directs the defense and patrols a large swathe of territory. 
No. 20 Drew Jones, defense, St. Francis DeSales (Ohio) / Resolute
The lanky left-handed pole isn't the biggest or strongest defender, but he knows how to use his body smartly. His long reach allows him leverage on attackmen in a different way than more compact defensemen approach coverage. Jones is also quick in the open field and makes good decisions with the ball in his stick. 
No. 21 John Fisher, goalie, Battlefield (Va.) / VLC / Crabs
All-Star. One of the more impressive goalies at the showcase, Fisher is a natural shot-stopper. He tracks shooters beautifully and moves from side to side efficiently. Many of his high stops are clean catches. He gets low well, collapsing his body to get behind low shots and bouncers to keep them out. He's also an excellent communicator with his defensive unit. Fisher is one of the best, if not the best, uncommitted '24 goalies nationally. 
No. 23 Andrew Sullivan, midfield, Saint James (Md.) / Mad Dog West
The middie shows a good understanding of his role within a team offense. He moves well off the ball and feels out the space created by those around them. His ability to catch and shoot quickly and accurately allows him to take advantage of those pockets. 
No. 24 Marvin Johnson, midfield, Carnegie Vanguard (Texas) / Magnolia
A hard-working defensive middie, Johnson has a very workmanlike game. He's got long strides to use as a transition outlet, and he provides solid wing play on faceoffs. He's able to use his stick to get leverage and re-direct dodging middies. 
No. 25 Aiden Froh, defense, Culver (Ind.) / Alpha
The defenseman isn't the biggest pole, but he's got a strong stick to create problems. He slides hard and recovers well, working well within the framework of a team defense. Part of a loaded Culver '24 class, Froh fits in well in a couple of different roles. 
No. 26 Troy Monte, defense, Rumson-Fair Haven (N.J.) / Leading Edge
Monte reads an opposing attack well. He's got an excellent stick, particularly on the poke check, that is always in the hands of his opponent. His footwork is sound, he patrols a lot of space in the defensive half and he's a threat in transition, making good decisions with the ball. 
Michigan
No. 1 Mason Hill, midfield, Loyola Blakefield (Md.) / Crabs – Lafayette
A scrappy middie, Hill is able to contribute in all facets. He can play on the wing for draws and does the work defensively. He moves well off ball to find open spaces. Hill keeps the ball moving offensively and has a laser shot, particularly a low-to-high weapon, to deploy when he calls his own number. 
No. 3 Jared Effinger, attack, Harvey (Conn.) / Express North
A crafty attackman, Effinger can create out of double teams with his elusiveness and passing vision. He's got a fluid game, able to fire accurate passes through tight windows. Effinger moves well off the ball, with soft hands to catch and shoot in high-traffic areas around the crease. While undersized, he makes up for it with incredible intensity on the ride.
No. 4 Collin Thomson, attack, John Carroll (Md.) / Team 91 Maryland
An inventive attackman, Thompson has excellent passing vision and the supple hands to turn that understanding of space into chances for his teammates. He's always looking for the next pass, but he's also an potent finisher when the chances are there for him, with a strong and accurate shot. 
No. 5 Miles Mann, attack, St. Ignatius Prep (Ill.) / Team Illinois
Mann can work through X or make himself dangerous off ball. He has soft hands to catch and shoot in crowded areas and isn't bashful about forcing his way toward the crease. Despite that toughness, he also possesses a nice passing touch and works very hard riding on clears. 
No. 6 Ryan Metz, midfield, Salesianum (Del.) / Brotherly Love
All-Star. A big-bodied middie, Metz has a flash, aggressive game. He's a handful when he gets moving toward goal, with a downhill dodge that he uses to funnel power into his shot. He's not afraid to do the dirty work, whether that's playing on the wing on draws or using his physicality to man shifts in the defensive half. Metz clearly has played a good amount of box, and it's evident in how he handles the rock. 
No. 7 Jackson Platner, midfield, St. Andrew's Episcopal (Md.) / DC Express
All-Star. Platner is the kind of dodger that sets the tone for the entire attack. He creates so much space for others and has the eyes and hands to execute tight passes at speed off his dodge. He has the passing touch to create havoc from behind the cage, and he adds the all-around middie skillset on the ground and defensively. 
No. 8 Graham Garrigan, midfield, Lake Forest (Ill.) / Team Illinois
The middie can create dangerous chances with or without the ball. He's a slippery dodger, able to shake his man or use his hands to fake defenders off the space he's looking to fill. Garrigan works hard off the ball, making himself a shooting option with his quick release, and he works hard in the ride. 
No. 9 Bayard Plumb, midfield, St. George's (R.I.) / Mesa
Plumb primarily made his presence felt on the wing and as a short-stick defensive midfielder, showing off aggressiveness and grit in spades. He did have one of the nicer goals of the day, showing off his offensive upside with a nifty goal. Plumb worked his man down the alley, then curled back and snapped a bardown bomb.
No. 10 Sam Schafer, midfield, Spring Lake (Mich.) / Cherries
 Shafer has long arms that allow him to access a ton of shot angles, including a fluid and easy behind the back shot. He's physical on the dodge, using his strength to separate from defenders. His reach and physicality also serve him well on the defensive side of the ball.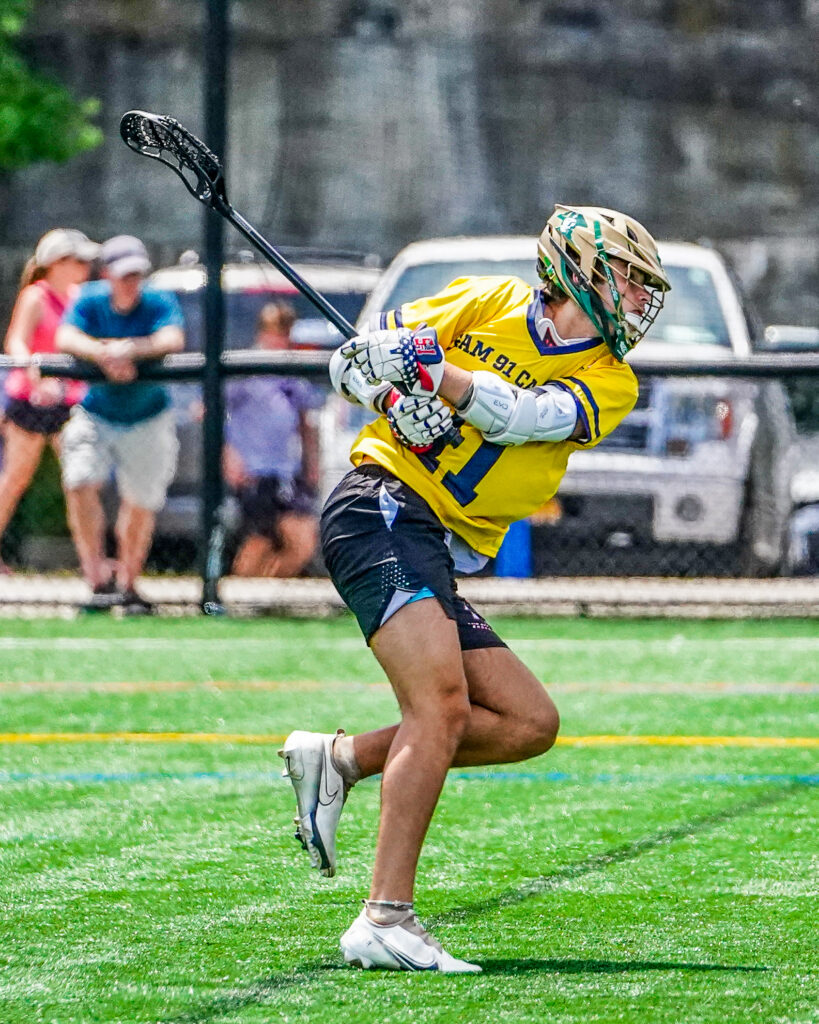 No. 11 Gavin Laton, midfield, Pinecrest (N.C.) / Team 91 Carolina
An imposing defensive middie, Laton picks his spots well on the other side of the field, too. His physical build and strong footwork allow him to keep dodging middies in front of him, and he's an asset in transition. When he's got the ball, he's able to find pockets of space to contribute offensively. 
No. 12 Spencer Reagan, faceoff midfield, Culver (Ind.) / West Coast Starz – Dartmouth
All-Star. A physical faceoff man, Reagan isn't easily outmuscled at the X. Add to that his balance, enough quickness to escape trouble and solid hands to win forward cleanly and Reagan is a handful. He earned a share of the starting job as a sophomore at Culver and helped the Eagles earn a top-5 ranking with his play. 
No. 13 Jax Lou, faceoff midfield, Georgetown Prep (Md.) / Mad Dog West
Lou has long legs for a faceoff man, which serve him well as he escapes midfield with the ball to launch fast breaks. He's able to win draws cleanly with fast hands and great technique and get moving forward. His rangy strides help him slow opponents in transition after losses. 
No. 14 McClaine Cantrell, LSM, Mater Dei (Calif.) / West Coast Starz
All-Star. Cantrell gets up and down the field like a top LSM should. He's a demon in transition, both with his open-field quickness, his stick skills and his decision-making. Defensively, he covers a ton of ground with a busy stick and is always clued in to what is happening around him as part of the team defensive approach. 
No. 15 Emmett Kenehan, LSM, Iona Prep (N.Y.) / Team 91 Tri-State
Strong on the ground and clean on clears, Kenehan melds good decision making with the ball with strong defensive instincts. He's an excellent weakside defender, sliding decisively and recovering quickly.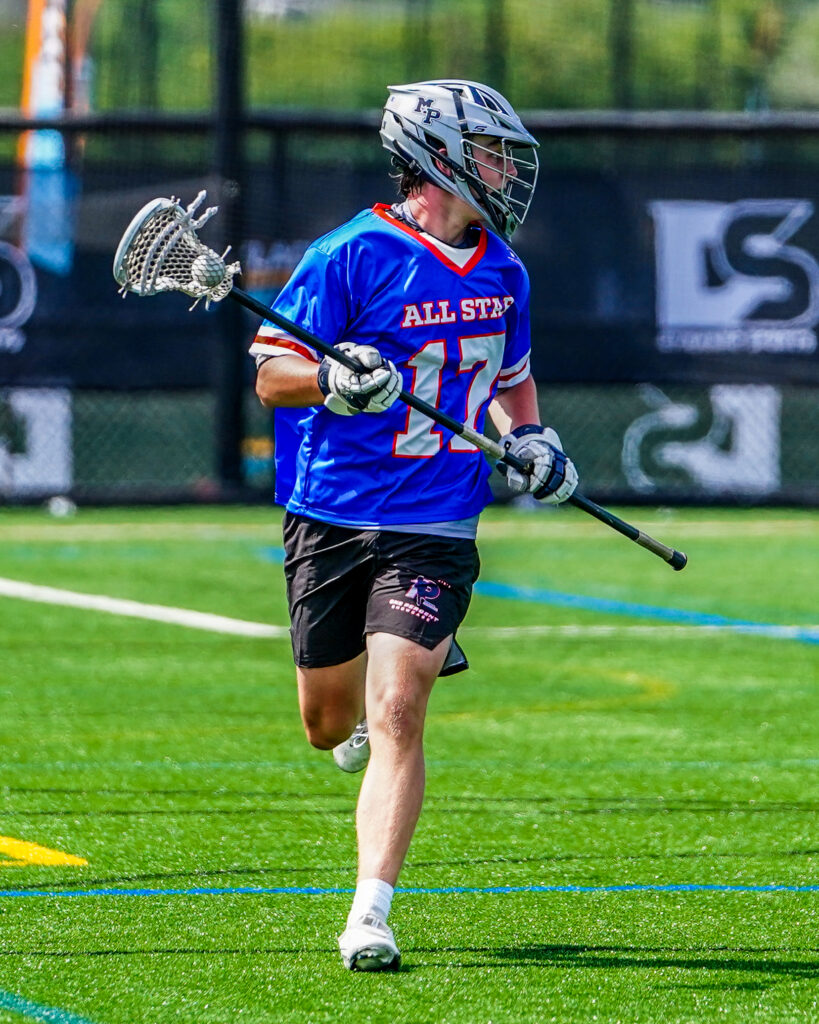 No. 16 Brad Piffath, defense, Malvern Prep (Pa.) / Freedom / Ascension – Penn State
All-Star. Piffath moves extremely well for a defenseman that is so good in coverage. His footwork and stick discipline make him a nightmare for attackmen to try to get by. He's got LSM-type athleticism in the open field. The future Nittany Lion, part of a ridiculous in-state haul for Jeff Tambroni, is excellent off the ground, poised in transition, a plus passer and a shot threat on fast breaks. 
No. 17 Patrick Mullin, defense, South Side (N.Y.) / True Blue – Providence
A towering presence on the back end at 6-5, 205 pounds, Mullin has the athleticism and footwork of a much smaller defender. His basketball background helps, and he still has room to grow physically. The future Friar showed that on-ball tenacity and a good understanding of team defense. His size, athleticism and stickwork mean that he has vast upside.
No. 19 Charlie Booras, defense, Norwell (Mass.) / Boston Kings
A proactive defenseman, Booras covers a lot of space in the defensive half of the field. He has the knowhow and athleticism to press out, forcing mistakes one-on-one. He slides well, recovers quickly and is clever in when he chooses to push the issue. Booras made a lot of smart right decisions in transition.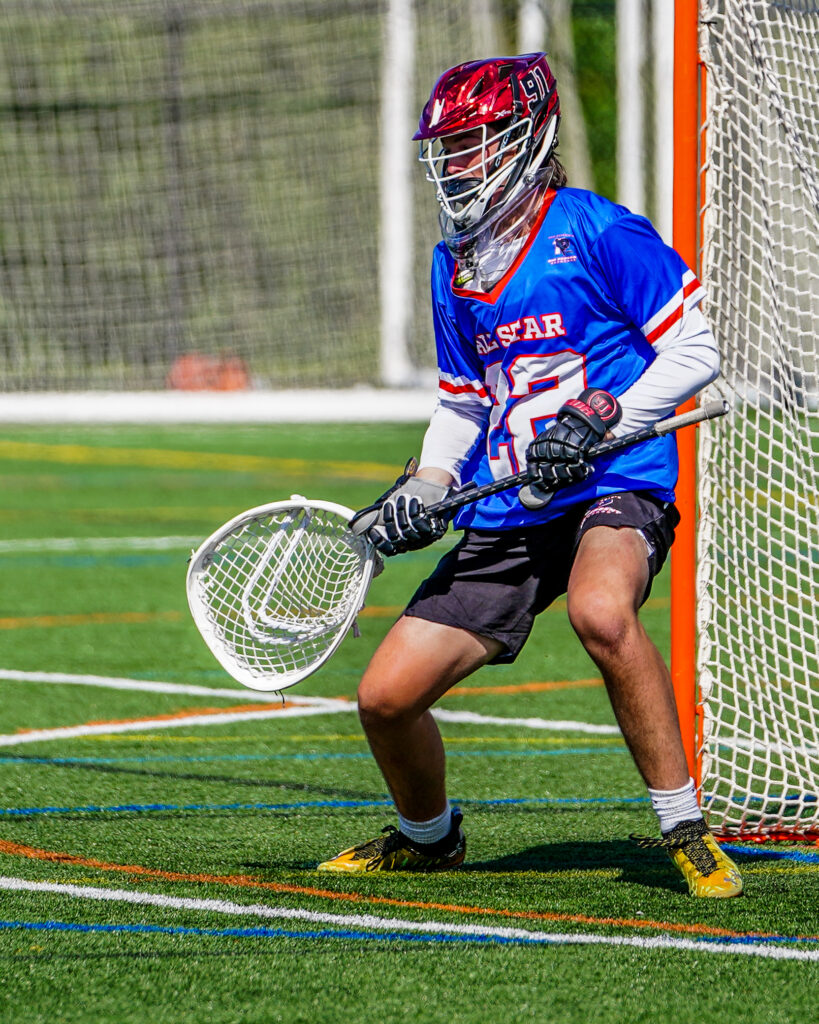 No. 21 Aidan Olazabal, goalie, Phillips Exeter (N.H.) / Team 91 Maryland – Yale '25
All-Star. Olazabal is a natural shot-stopper with a penchant for the sensational save. But he's augmenting that talent with a polished, all-around goalie toolkit. He's great at tracking shooters, is quick to get out of the cage and pick off loose passes around his crease and can use his legs and his passing skills to boost his team's clears. A fiery, vocal leader who'll be a four-year starter at Exeter, Olazabal will be a '25 for Yale after taking a gap year. 
No. 23 Jack Tenaglia, attack, Bergen Catholic (N.J.) / NJ Riot
A pass-first attackman, Tenaglia's hands are always in motion, looking for the next feed. He doesn't have the biggest frame, but he makes up for it somewhat by keeping his hands high to access passing lanes and uses his low center of gravity to his advantage. 
No. 24 Wyatt Hurd, midfield, Denver South (Colo.) / Denver Elite – Denver 
An elusive midfielder, Hurd is difficult to keep in front of you. He's got an array of moves to try to wriggle out of trouble, and he's not afraid to absorb punishment in a high-traffic area to make a play. He's the kind of middie who can calm an attack down by knowing when to push and when to pull back. 
No. 25 Drew Pfeiffer, midfield, Montclair (N.J.) / NJ Riot
A big middie who moves well, Pfeiffer is a very good defender, with his strong upper body and high center of gravity. He's able to cover ground in the open field and is good on the ground for a big player, providing solid wing play on draws. 
No. 27 James Peters, defense, Paul VI (Va.) / VLC
A strong system defender, Peters knows how to work within a six-man unit, avoiding mistakes with sound defense on his man and within his wingspan. With the ball, he's great at getting up the field, effective on clears and able to hand the ball off to his short sticks. Peters isn't afraid to press out when need be, either.