One Percent '24 Summer Evaluations: Ohio State and Ole Miss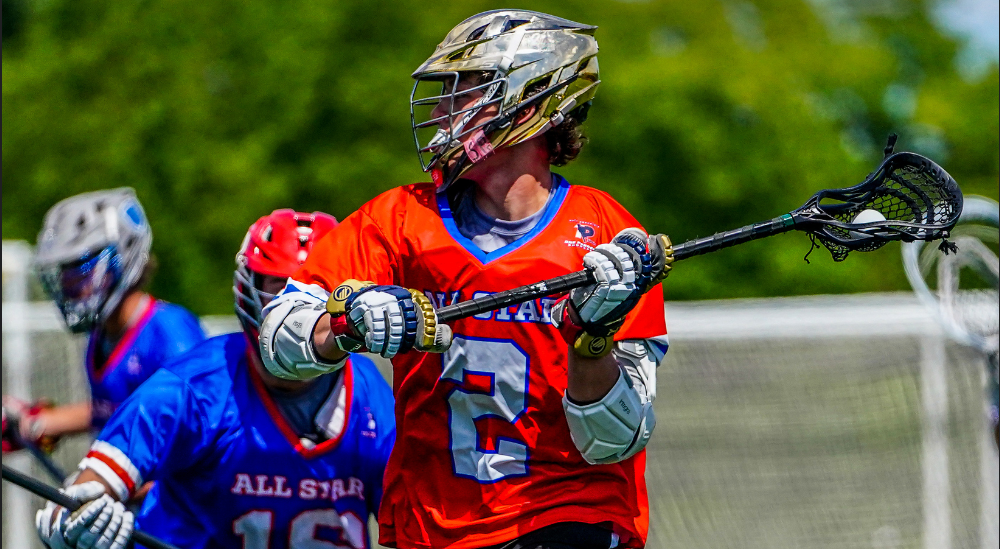 One Percent '24 Summer Evaluations: Ohio State and Ole Miss
Follow My Lacrosse Tournaments on Instagram, YouTube and Twitter.
The One Percent summer evaluations continue to roll out.
Every player that took part in June's One Percent in Philly receives an evaluation. It's no surprise to have seen so many of these elite players already find a collegiate home, and there's no doubt that it's just the start.
CLICK HERE to express interest in the summer '23 event (2025 and 2026 on June 27, 2027 on June 28)
Without further ado, here's the next round of the 2024 evaluations from Matt Chandik and Matthew De George.
Ohio State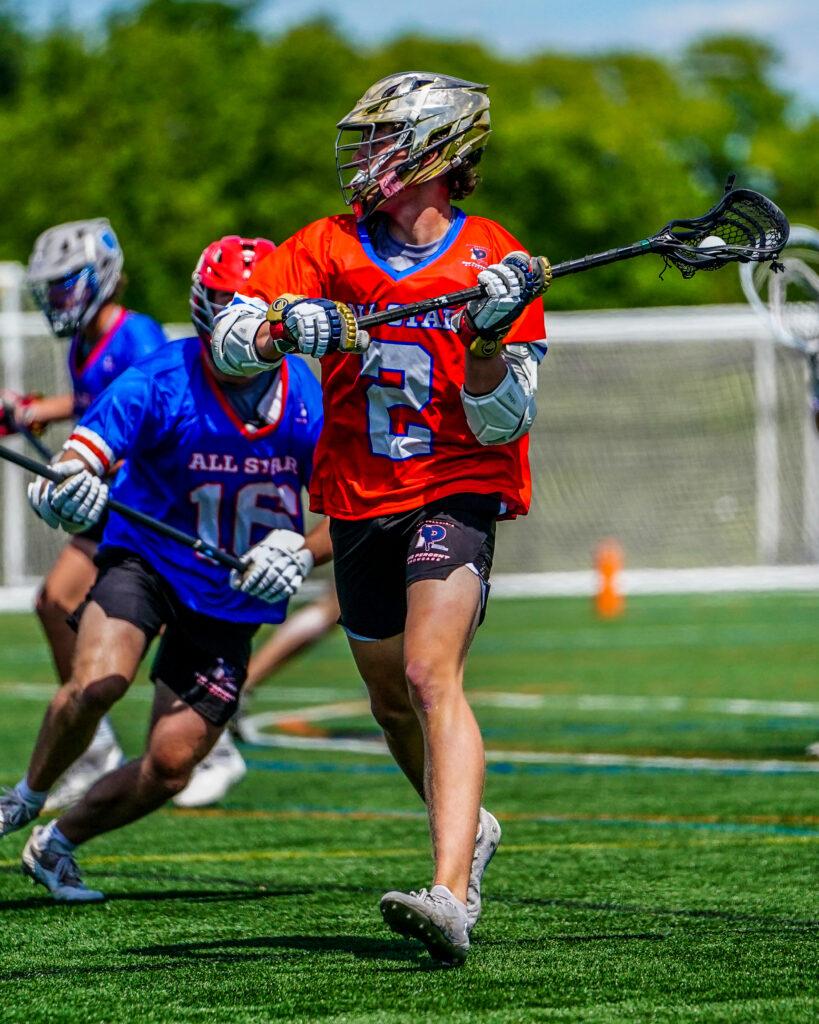 No. 1 Rowyn Nurry, attack, Salesianum (Del.) / Brotherly Love – Cornell
All-Star. Nurry took home the Offensive MVP belt thanks to a hat trick in the finale, which was a continuation of what he'd done all day. Nurry is the complete package as an attackman. He can create for himself and others. He has enough speed and strength to create space for himself. Nurry can get the job done from behind the cage, at goal line extended or from up top. He has the passing vision to get his teammates open, the sublime hands to catch and shoot around the cage and the physical traits to create his own shot off the dodge. It all sums to a mighty impressive attackman.
No. 2 Luke Breslin, attack, St. Anthony's (N.Y.) / Team 91 LI Wolfpack – Lehigh
All-Star. Breslin is a smart attackman and a deadly finisher around the cage, but also has the IQ and vision to be a very good X attackman. He's able to get himself into dangerous areas, either by eluding his defender or by working off the ball. He's a catch and shoot threat on the crease, with soft hands and a quick release that he can get lots of power and accuracy into. Breslin did a nice job of spot feeding his teammates where they could catch the ball loaded. 
No. 3 Luke Dickinson, attack, Briarwood Christian (Ala.) / Yellowhammer
The physical attackman knows how to use his strength to create space. He can work from the wing or through X, able to generate opportunities for himself and others. Dickinson's a lethal finisher around the cage with a heavy shot.
No. 4 Dylan Reese, attack, Iona Prep (N.Y.) / Team 91 Tristate
An athletic attackman, he's able to use his long strides and quickness to create space by running by defensemen. The lefty worked hard off ball and found dead spots in coverage. Being a little more assertive offensively will help expand his game.
No. 5 Baron Masopust, attack, Phillips Exeter (N.H.) / True Illinois
 Masopust isn't the most physically commanding attackman, but he can use his smarts and vision to dictate and offense. He's calm with the ball, able to move and find openings to get others involved. He's got great hands, a willingness to work without the ball and the shooting placement to finish at will.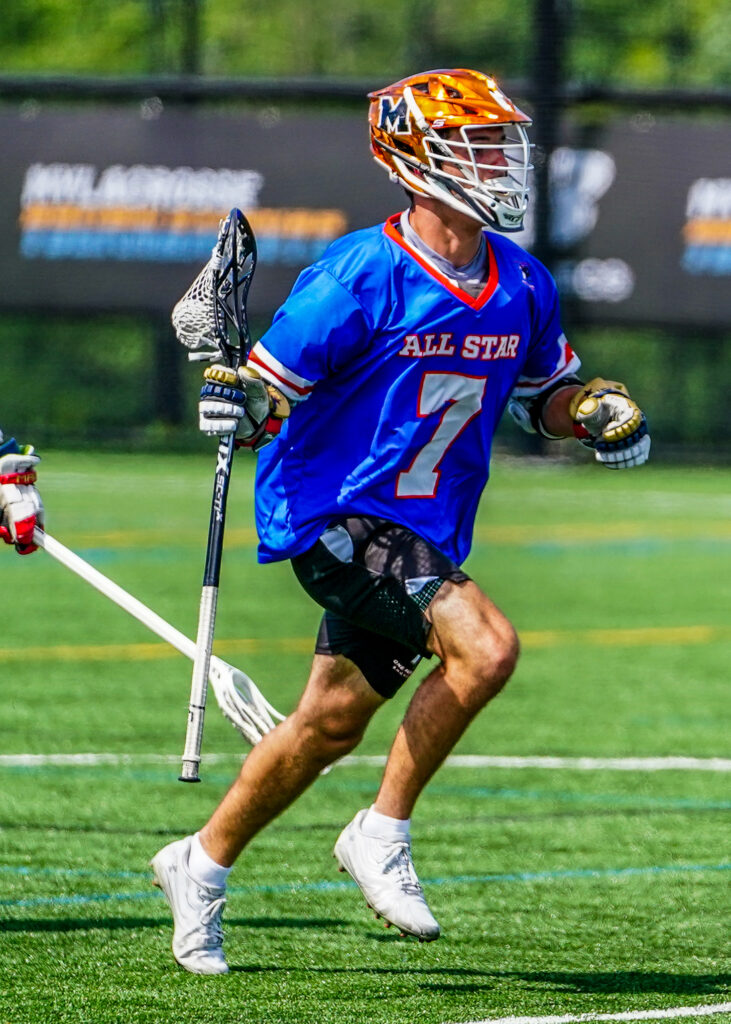 No. 6 Ben Firlie, midfield, McDonogh (Md.) / Team 91 Maryland – Georgetown
All-Star. Firlie's trademark is his rocket shot off the dodge, either heading down hill or sweeping onto his right hand. That shot is a cannon, one that he can snap off with little warning and with great accuracy. Firlie has an excellent case to earn the title of the best midfield shooter in the 2024 class. He's so quick on the dodge and so good at changing direction that he can shake off defenders and find that narrow window of space that he needs to shoot. If you give him a look at goal, he's got the power and placement to make you pay. 
No. 7 Chase Picard, midfield, Holderness (N.H.) / 4Leaf – Georgetown
All-Star. Picard did a little of everything. The middie showed an awe-inspiring shot, one of which might still have a crossbar at the Proving Grounds rattling. Picard might also be the fastest midfielder in the 2024 class. So, so, so fast. He played all over the field, as an asset on the wing to his long strides in transition to being a game defender. It's off the dodge that he's most dangerous, though. He is quick enough and powerful enough to create separation, either to get off that howitzer of a shot or to feed and get others involved. The space he creates off that dodge allows others to get open. 
No. 8 Andrew Chio, midfield, Avon Old Farms (Conn.) / Iron Horse
Chio did an excellent job of popping in and out of coverage around the crease, working hard to make himself an option. He showed pretty good athleticism throughout the day, too, doing some nice work in transition.
No. 9 Mitchell Dua, Loyola Blakefield (Md.) / Crabs
A dogged defender, Dua isn't the biggest, but he makes up for it with sound fundamentals and headiness. He's excellent at redirecting dodging middies with quick footwork and an aggressive stick. He's also a target in transition, able to get up and down the field to start fast breaks or deter opponents' attacks. 
No. 10 Axel Greve, midfield, Palisades Charter (Calif.) / Mad Dog West
A poised and confident middie, Greve can create space for himself and teammates. He's always dodging with his head up, able to use a blend of speed and strength to create space. When he does, he's able to pass accurately at speed and he's got a blistering shot with which he's able to paint corners. 
No. 11 Nick Moore, midfield, Acton-Boxborough (Mass.) / Fighting Clams – Colgate
At about 6-2, 200 pounds with long legs and plenty of athleticism, Moore looks the part of a big-time Division I midfielder. He gets up and down the field, an omnipresent target to hit in transition. Moore also worked hard defensively, and he's a dangerous shot threat off the dodge with his heavy shot. 
No. 12 Nick Wehmeyer, faceoff midfield, Malvern Prep (Pa.) / Brotherly Love – Yale
Wehmeyer was a quick commitment to the Bulldogs and it's not hard to see why. Also a wrestler for Malvern's nationally-ranked team, he's well-built and has the strength and power to bully opponents. Wehmeyer has fast hands to win draws going forward. He makes good decisions with the ball in the attacking half and has the shot to remain on the field as a threat at goal. 
No. 13 Hunter Johnson, faceoff midfield, St. Augustine Prep (N.J.) / SouthShore – Merrimack
A low-to-the-ground, athletic faceoff man, Johnson performed well on draws. He's able to generate shot chances off his wins and is good at using his wings to claim possession. He has the stick skills to contribute in the attack after wins.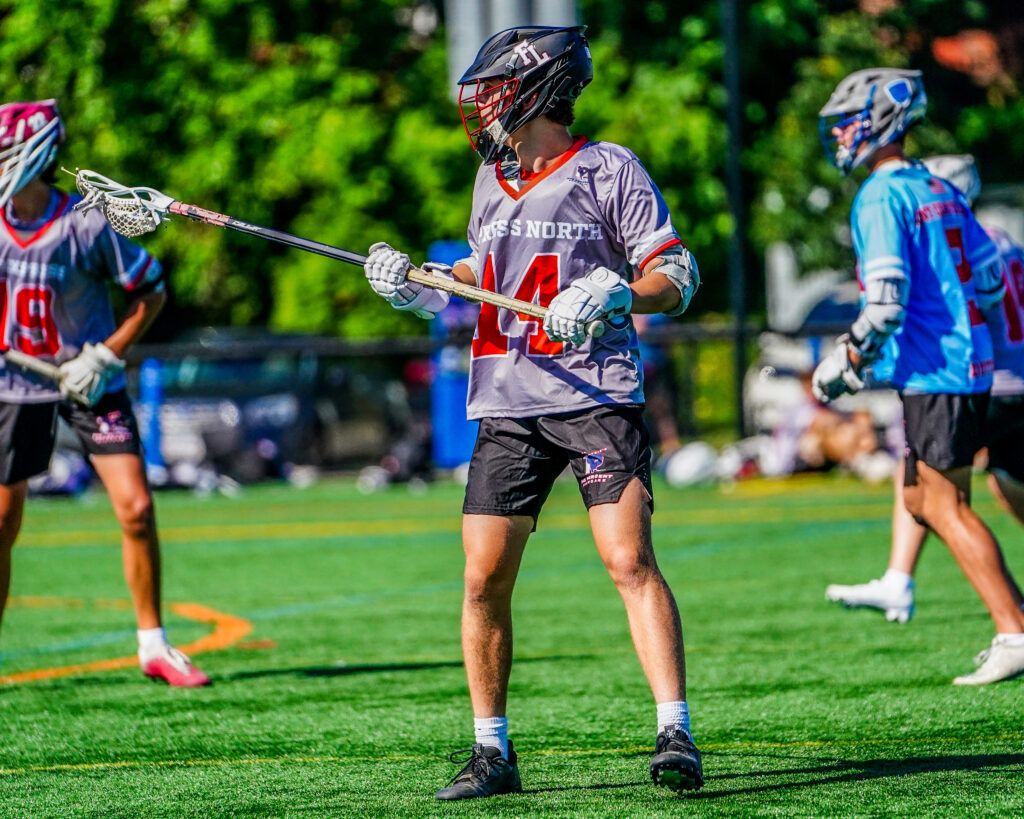 No. 14 Ryan Nathan, LSM, Fox Lane (N.Y.) / Express North
Nathan's stick skills stand out. He's got an active stick in hounding opposing middies, is clean on the ground, finds his way into passing lanes to pick off feeds and is able to get leverage on dodging midfielders with his stick. His footwork is also very good, allowing him to stick with players in coverage. 
No. 15 Thomas Perkins, LSM, Holy Family (Colo.) / Sixers
A disciplined defender, Perkins works well with in a team defensive concept. He slid effectively and recovered well, and while he didn't throw a ton of checks, he also did a good job of staying with his man in coverage and playing understated defense.
No. 17 Ian Conner, defense, Chaparral (Colo.) / Denver Elite – Jacksonville
All-Star. A tremendously physical defender, he has the body typical of an elite defenseman, with a strong base and solid upper body. He adds a refined skill set to that, with good footwork and an active stick. It all allows him to minimize the danger of attackmen he matches up with. He's also proficient with the ball in his stick, a very good long passer who makes the right decisions on clears. 
No. 18 Brendan Burke, defense, Archmere (Del.) / Brotherly Love 
Mobility is one of Burke's strengths as he moves very well, with quickness in tight spaces and enough strength to lean on most attackmen. That, combined with a hounding stick that is always in the hands of the man he's covering, makes him very difficult to get separation from. 
No. 19 Trevor Owens, defense, Saint James (Md.) / DC Express
Owens is relentless with his stick, constantly pressuring opponents and trying to force mistakes. He's got a long reach to monitor passing lanes and is great on the ground. With the ball, he covers a lot of ground in transition with his long strides and speed in the open field, and he's elusive in getting the ball out of trouble on clears.  
No. 20 PJ Ruggiero, defense, Haldane (N.Y.) / Rhino
Athletic in transition and sound in coverage, Ruggiero does a little of everything. He's got an aggressive stick and good technique to serve as a valuable cog in the defensive unit. He's got a great stick to get out in the open field and execute on clears. 
No. 21 Sal Caputo, goalie, Chaminade (N.Y.) / Team 91 LI Wolfpack
All-Star. Caputo gobbled up shots with impressive efficiency and got the ball up and out in a hurry. A smaller goalie, he made up for his lack of size with instincts and quick hands. He's not afraid to get out of his cage to start transition, either. Caputo's movements are clean, and his overall ability, complete with elite-level grades, should make him a very appealing option for NESCAC schools and the like.
No. 22 Dominic Veloso, goalie, Gulliver Prep (Fla.) / Florida Crabs
Veloso tracks shooters well. He's got a strong upper body and stands tall to deny high shots well with his stick. He communicates effectively with his defense, and his distribution on clears is top notch. 
No. 24 Corbin Martin, midfield, Austin Prep (Mass.) / HGR
Martin's best ability was how he fared between the lines and on the wing. Certainly not afraid to go mix it up for a ground ball, he uses his first step well and can get out in transition.
No. 25 Ryan Menard, midfield, Legend (Colo.) / 6Star – NJIT
Another impressive figure on the wing, Menard also had good speed to get downhill on his dodges. At 5-11 and about 150 pounds, he's got a fairly tall, lean frame that will allow him to bulk up as he gets to college. He's got some pop to his shot, too, and operated well in tight spaces.
Ole Miss
No. 1 Ryan Baik, attack, St. Andrew's Episcopal (Md.) / DC Express – Drexel
All-Star. A shifty attackman, Balk may not be the biggest, but he more than makes up for that with his slippery set of moves. He's an excellent operator through X, able to hit teammates with passes. Baik's got a quick first step, changes direction on a dime and is able to use his body to create space to get off shots. He doesn't need much room, given his quick release, excellent aim and ability to find a deceptive array of shots. Baik showed significantly improved assertiveness and aggressiveness since the previous winter's One Percent in Delray Beach. 
No. 2 Ben Dutton, attack, Kent Denver (Colo.) / Denver Elite – Saint Joseph's
The future Hawk moves well without the ball, finding soft spots to exploit in the defense. He's a catch-and-shoot threat around the crease, able to get his shot off quickly. He's able to place that shot with ruthless accuracy, painting corners and putting off goalies with shot fakes.
No. 4 Jared Beschel, attack, Manhasset (N.Y.) / Team 91 Long Island Wolfpack – Holy Cross
Beschel can impact the game with or without the ball. He's a good passer, able to keep the ball moving and calmly suss out his options. He moves well off the other attackmen in the 6v6 unit, finding areas of weakness for the defense and quickly turning feeds into shots, even in traffic.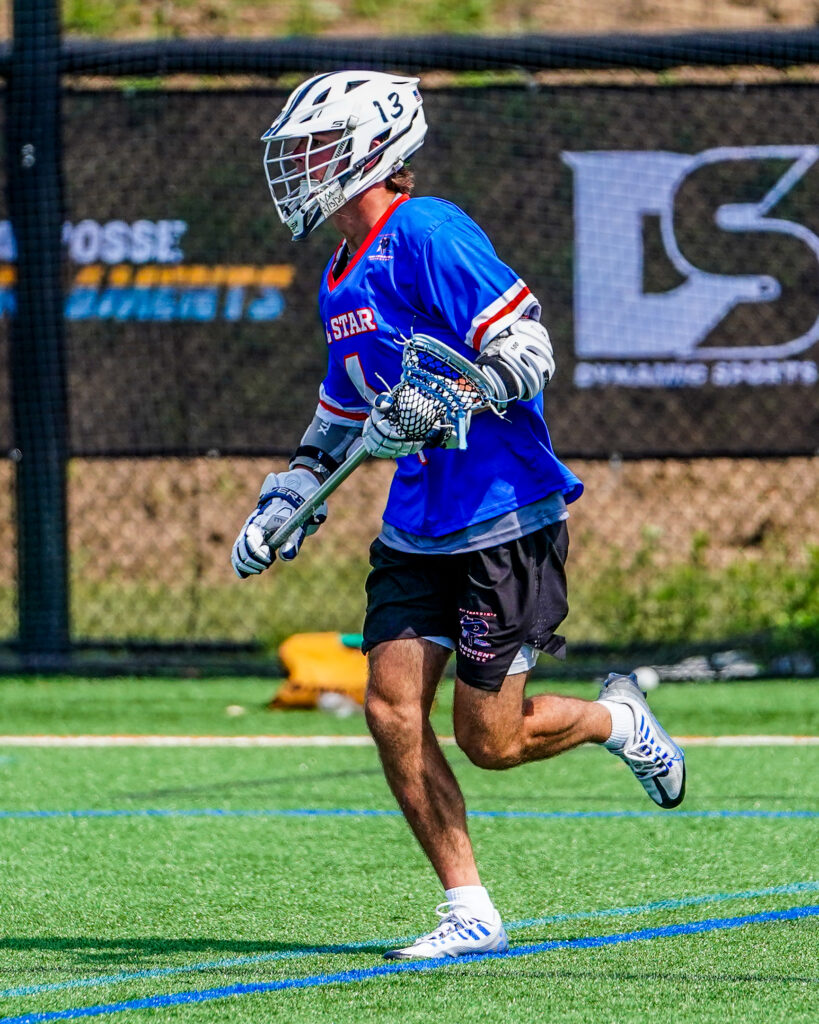 No. 5 Dylan Jaszcz, attack, Episcopal Academy (Pa.) / Brotherly Love – Penn State
All-Star. Jaszcz has quite the attacking arsenal already. He's quick, clever and extremely intelligent in how he reads the attack. He can operate from X, getting upfield at will and always with his head up to get others involved. Jaszcz able to use defensemen's aggressiveness against them, and he's a lethal finisher from a variety of angles. When all else fails, Jaszcz, part of a massive in-state '24 haul for the Nittany Lions, can also fall back on the fact that he's one of the best lefty shooters in the class. He can sting it.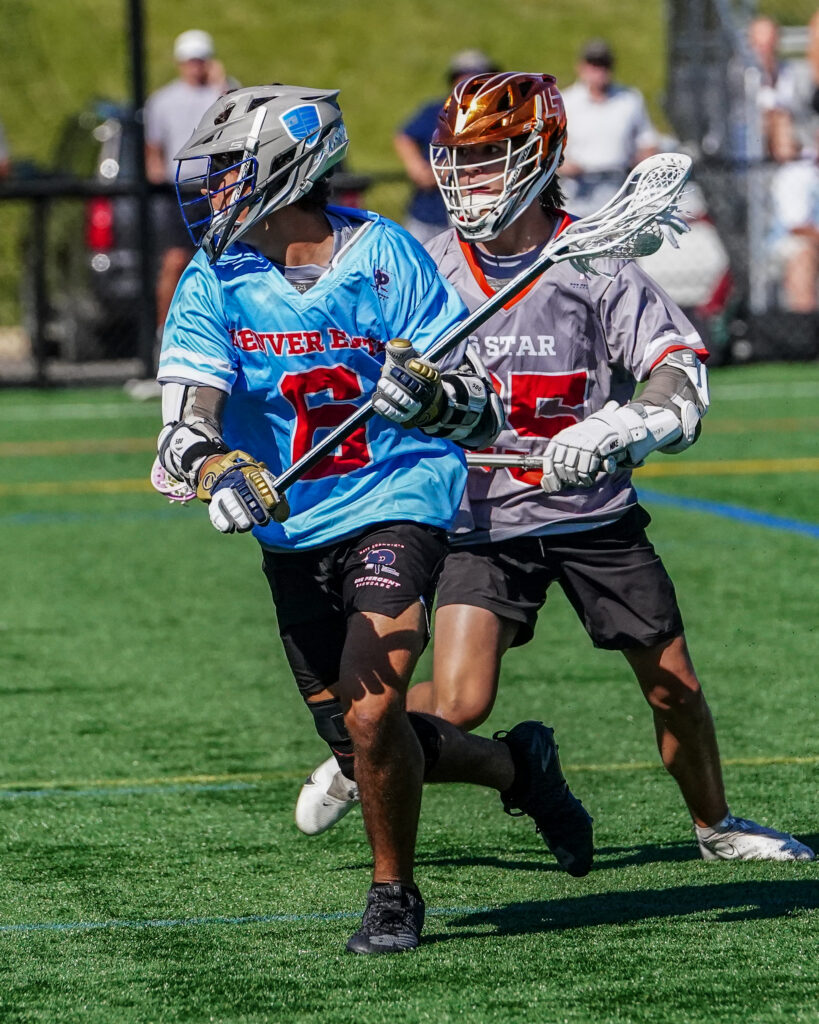 No. 6 Alexander Rismani, midfield, Valor Christian (Colo.) / Denver Elite – Air Force
All-Star. Rismani impacts games all over the field. He's able to play on the wing on draws and create problems in transition with his speed and decision-making. He's got great defensive fundamentals and a willingness to do the work. With the ball, he's a downhill dodger with a heavy shot and skilled enough hands to get teammates involved with his passing. 
No. 7 Pearse MacDonald, midfield, Governor's (Mass.) / Laxachusetts – Penn
All-Star. MacDonald's shot stands out, a rifle of a delivery that he gets all manner of power behind with his long arms. But MacDonald contributes on both ends of the field, has the skilled hands to not just rely on power but placement and shot fakes in tight and the athleticism to force the issue in transition. The future Quaker also showed that he's one of the better passing middies in the class, routinely finding open guys inside after drawing a slide off the dodge. 
No. 8 Connor Schoenwetter, midfield, Boys' Latin (Md.) / Crabs – Marquette
All-Star. Schoenwetter's long legs mean he covers a ton of ground in the open field. It's an asset on both sides of the transition game, combined with his defensive work rate and his offensive poise. Schoenwetter is one of the better defensive midfielders in the '24 class and he takes pride in doing the dirty work necessary to be a shutdown SSDM. He always seems to make himself an option offensively, whether that's slipping onto the crease with his big frame as a passing target or creating space off the dodge. 
No. 9 Ryan Traynor, midfield, Malvern Prep (Pa.) / Freedom
They've got to be running out of Traynors at Malvern at some point, right? It's a good pipeline for the Friars to have, to say the least. He's got a good first step that serves him well all over the field, and Traynor did an excellent job in the clearing game. He's a righty, but Traynor also has a more than serviceable lefty stroke, which makes him a tough cover for opposing middies. Traynor also flashed some good IQ when weaving into open spaces.
No. 10 Conner Ryan, midfield, Salisbury (Conn.) / SweetLax Florida 
An asset in transition, Ryan can beat his man in the open field to set up his accurate shot or get his teammates involved with unselfish distribution. His placement on shots is excellent, particularly off the dodge, and he uses his speed and quickness to create slivers of space that others can use. 
No. 11 Connor R. Smith, midfield, Springboro (Ohio) / Resolute
Smith always has his head up when dodging, an indication of his passing ability. He's able to get others involved when he draws attention with the ball, and he can punish a defense directly with a very good shot.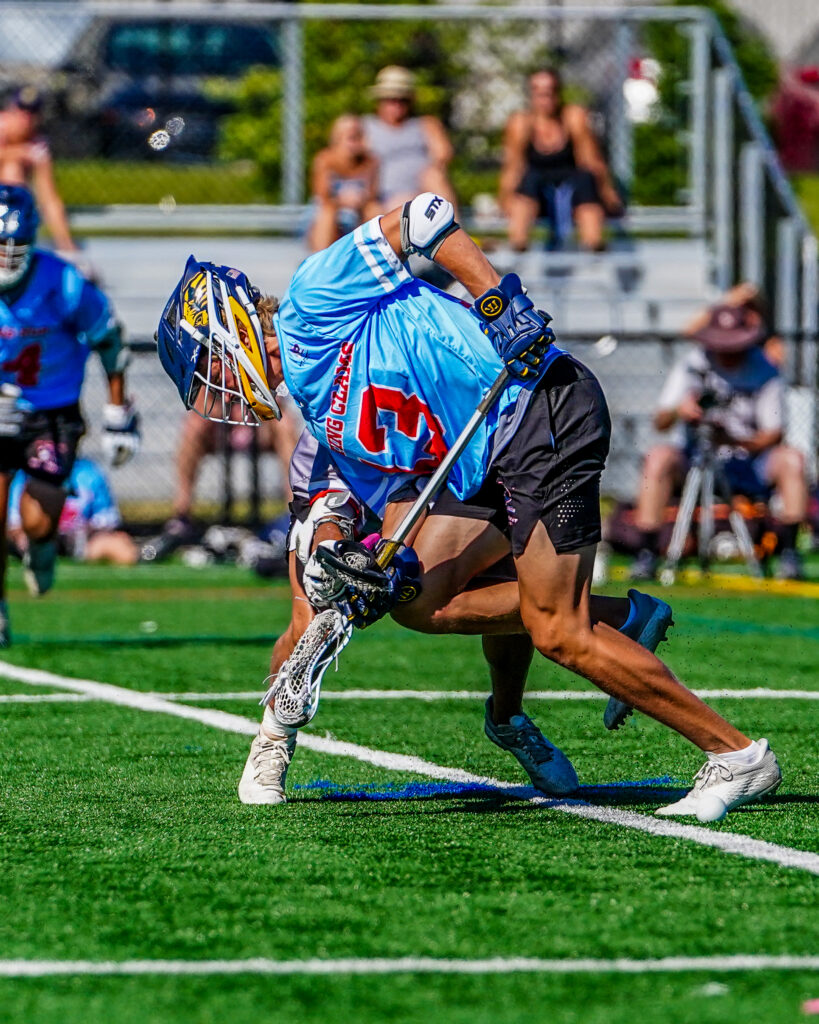 No. 13 Andrew Tilton, faceoff midfield, Trinity-Pawling (N.Y.) / Fighting Clams – Fairfield
All-Star. Most faceoff guys don't have Tilton's size, and that powerful 6-1, 180-pound frame gives him a big advantage over his competition. Tilton used his power to push around opponents and showed a surprisingly quick first step out the front door. Battle-tested after a strong spring campaign at Trinity-Pawling, where he won 62 percent of his draws, Tilton still has vast upside.
No. 14 Benjamin Bradley, LSM, King (Conn.) / Express North
All-Star. The 6-1, 190-pound lefty wreaks havoc with his stick, dispossessing middies with his heavy checks and gobbling up turnovers on the ground. He's an adept wing player on draws, moves well in the open field to create transition opportunities and is a threat to finish off plays with a solid shot. Also a good hockey player who scored the game-winning goal in King's Fairchester Athletic Association championship overtime win last winter, Bradley might be one of the best uncommitted '24 poles. 
No. 15 Andrew Klein, LSM, St. John's Prep (Mass.) / Fighting Clams
Klein isn't the biggest LSM, but he's got the stick technique needed for the position and never short changes his team on hustle and tenacity. His stick is active when he's in coverage, especially with a probing poke check. He's got speed in the open field, and he's able to pass well on clears. 
No. 16 Ben Fox, defense, Chaminade (N.Y.) / Team 91 Long Island Wolfpack – North Carolina
All-Star. A vocal defensive leader, Fox is a keystone to a team defensive effort. He's great in coverage, with terrific footwork, a disciplined stick and physicality that he uses smartly. He's also clean in helping get the ball up the field and into the hands of the attack. Fox relished the opportunity to cover the opposing teams' top scoring threat. A two-time All-Star, he's become significantly more aggressive and mean. Courted by just about every top program in the country, Fox was a huge recruiting win for the Tar Heels. 
No. 17 Jack Cimino, defense, Haverford School (Pa.) / Mesa 
A 6-2, 190-pounder, Cimino does an excellent job of working with his teammates and focusing on doing his job. He's quietly effective, using his strength to push back power dodges and showing deceptively good range for a defenseman of his size. Cimino has a patient stick and didn't chase attackmen's stick. Rather, he made them make the first move, read it well and made them pass out of the matchup.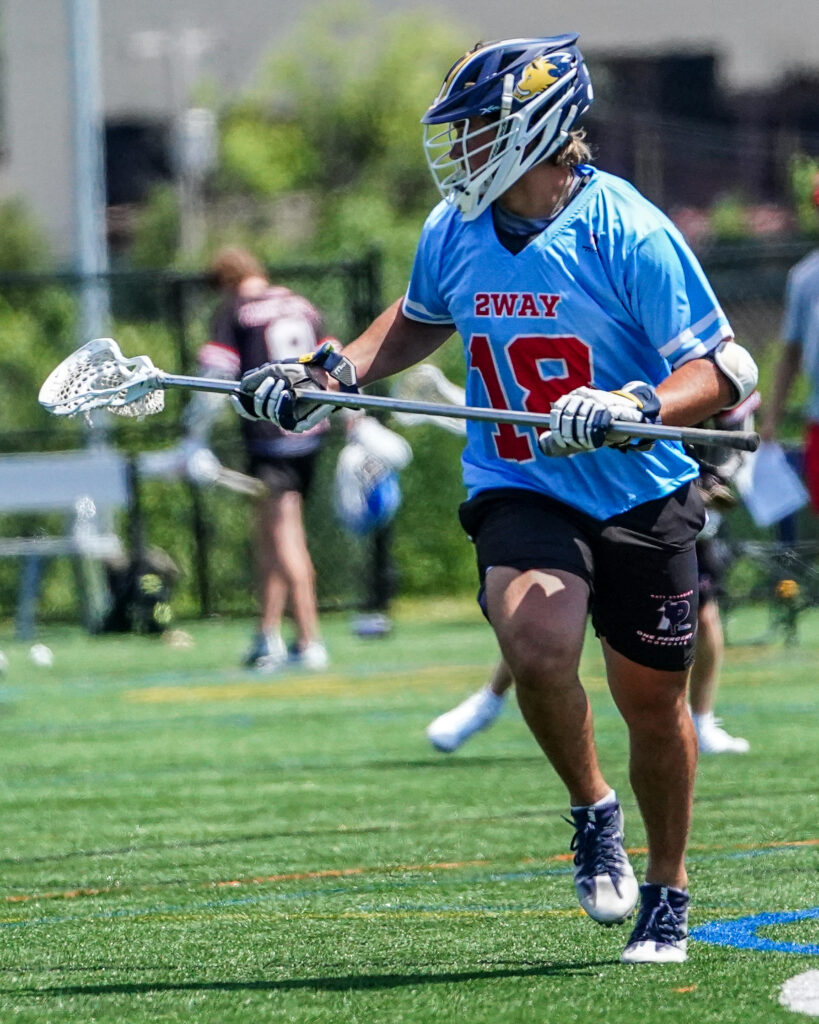 No. 18 Jack Wable, defense, Choate (Conn.) / 2Way
Physically, Wable looks like a middle linebacker. At 6-1, 215 pounds with a powerful lower body, he showed that trying to get through him was an exercise in futility. He flashed a very active stick and effortlessly gobbled up ground balls. Wable is also an asset in the open field with the ball in his stick.
No. 19 Matt Fogarty, defense, Oakton (Va.) / VLC
Fogarty doesn't have prototypical size, but he's technical and savvy and slides very aggressively. Fogarty was impressive in coverage, particularly at X, where he likes to take chances with checks more often than in other spots. He understands where and when to slide, and he was also steady on ground balls.
No. 20 Grant Garrison, defense, Rock Vanyon (Colo.) / 6Star – LIU
A 6-foot, 170-pound lefty, the future Shark was smart in his defensive positioning and aggressive with his stickwork. When he latches on to his man, he drives his feet well and dislodged the ball on a few occasions. Garrison is pretty consistent with his technique and looks fluid running in the open field.
No. 21 Ethan Jaffe, goalie, Denver South (Colo.) / Denver Elite
Jaffe is a pretty well-rounded goalie with advanced communication skills for his age. He's always talking to his defenders to put them in the right places. Jaffe's also got quick hands and slick footwork and makes just about every save that he should have. One of the better uncommitted '24 goalies in the country.
No. 22 Brody Murphy, goalie, Haverford School (Pa.) / Brotherly Love
A 6-2 stopper who made a couple of eye-popping saves, Murphy might be the next great goalie out of Haverford. He showed good patience against shooters and mostly made clean saves. He has has controlled movements and good athleticism and made dropping for low shots look effortless.
No. 23 Crispin Kaye, attack, Don Bosco Prep (N.J.) / BBL – Bucknell
A 33-goal scorer as a sophomore at Bergen Catholic, the 5-10, 195-pounder can absolutely sting it. He gets a ton of power and torque on his shot and doesn't need much time and room to get that shot off. Kaye also does a good job of making himself an option off-ball and creeps into open space well while presenting his stick. He's a guy who could do wonders on Bucknell's man-up.
No. 24 Caswell Friedman, midfield, Brentwood (Calif.) / Cali Gold
Friedman's a very good two-way midfielder who takes pride in his defensive game. Every team needs someone like him, and he can do a lot of the dirty work that nobody else wants to do. He'll compete for every ground ball and came away with his fair share. He's a little undersized but plays much bigger than he is. That, coupled with a 3.9 unweighted GPA, should make him a very appealing NESCAC-type recruit.