One Percent '25 Summer Evaluations: Ohio State and Ole Miss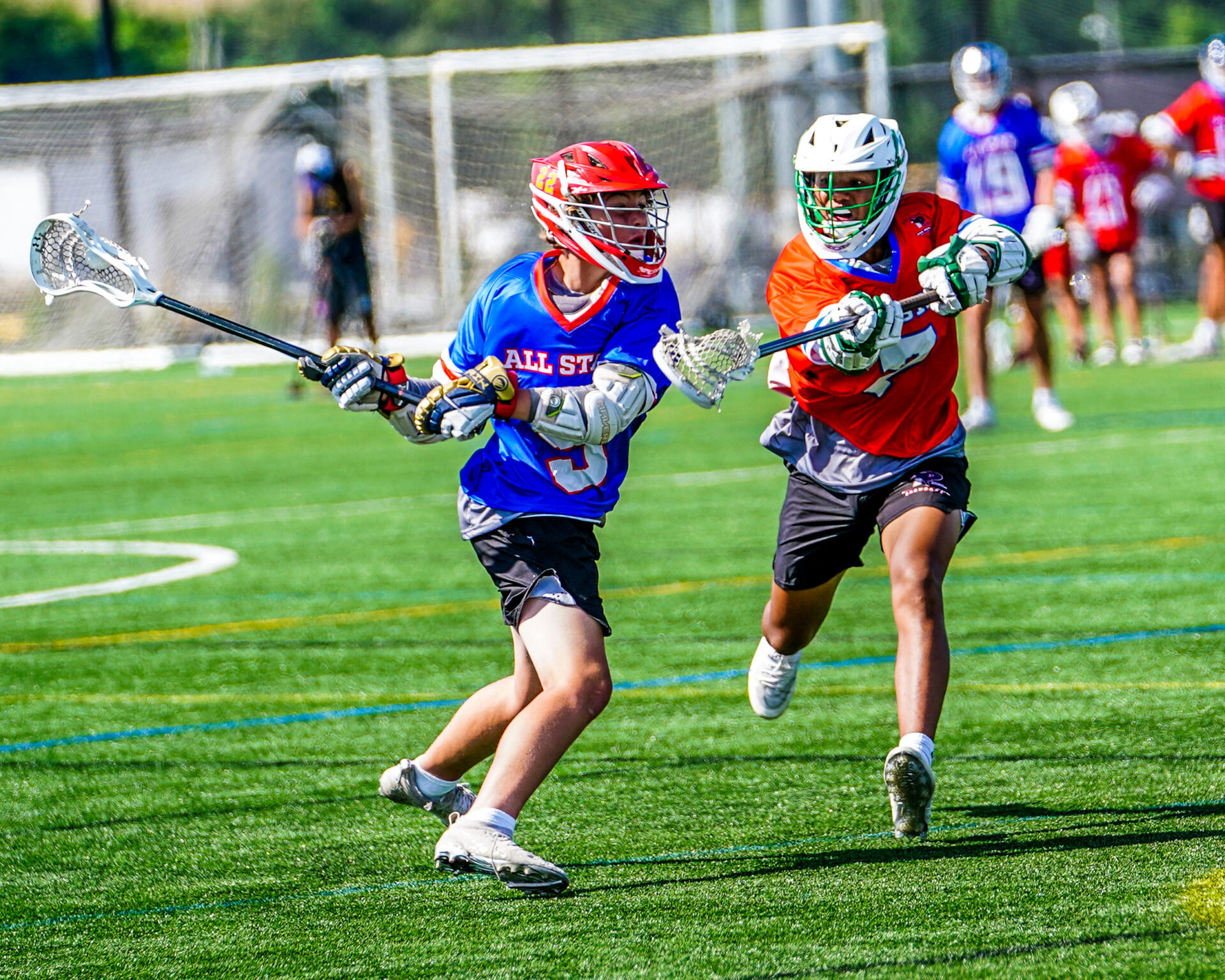 One Percent '25 Summer Evaluations: Ohio State and Ole Miss
Follow My Lacrosse Tournaments on Instagram, YouTube and Twitter.
The One Percent summer evaluations continue to roll out.
Every player that took part in June's One Percent in Philly receives an evaluation. We're on to the class of 2025, an insanely loaded group that featured so many of the best players in the country. We're moving on to Miami and Michigan.
CLICK HERE to express interest in the summer '23 event (2025 and 2026 on June 27, 2027 on June 28)
Without further ado, here's the second round of the 2025 evaluations from Matt Chandik and Matthew De George.
Ohio State
No. 1 Owen Iles, attack, Brunswick (Conn.) / Team 91 LI Shock
Iles can impact the game from anywhere in the offensive half. His hands are in constant motion, whether he's possessing through X, looking for passes up top or getting upfield through GLE. His passing vision allows him to capitalize on the space he creates with his close-quarters quickness. When he calls his own number, he's got a hammer of a shot and an all-around fluid game that includes behind-the-back looks. 
No. 2 Jackson Harcarik, attack, John Carroll (Md.) / Crabs
All-Star. Harcarik's game is so polished, a Swiss army knife's worth of attacking moves. He's a natural facilitator, able to pick apart defenses with his passing ability and fiercely efficient in using even the most miniscule windows of space he creates with his quickness. Harcarik can shoot off the dodge, is a catch-and-shoot threat or can beat his defenseman from just about any angle to get to the cage, where he knows how to finish.  
No. 5 Gabriel Fasano, attack Taft (Conn.) / 2Way
Fasano isn't the biggest attackman, but he uses his body smartly to achieve the same ends as his more physical peers. The shifty lefty has plenty of options to create space, and he's got the hands to execute on those windows. He's a plus passer, has a strong shot, works hard on ground balls and moves well off the ball as a cog in the offense. 
No. 6 Kevin Magee, midfield, Lovejoy (Texas) / LI Express
All-Star. Magee's combination of size and speed allows him to pick his way through high-traffic areas, getting him in dangerous positions to make plays. Magee has long arms to effortlessly launch passes and shots with accuracy and power. He's a great finisher in tight quarters, able to put off goalies with his shot fakes and paint corners. 
No. 7 Alex Bauer, midfield, Cold Spring Harbor (N.Y.) / Team 91 LI Shock
 A hard worker all over the field, Bauer can influence the game in a variety of  ways. He puts in a dogged defensive shift, with a strong upper body to lean on dodging middies. He works hard on the wings, good on the ground as an asset for faceoff guys to win toward. With the ball, he possesses a hammer of a shot, finishing efficiently when he gains a step on his man. 
No. 8 Will Moskowitz, midfield, St. Luke's (Conn.) / Eclipse
Moskowitz moves well off the ball, infiltrating the center of a defense to create space for himself and his teammates. He's an excellent finisher in those areas, with soft and strong hands to receive feeds and get his shots off under harassment. He moves the ball well in the offense and knows when to pick his spots.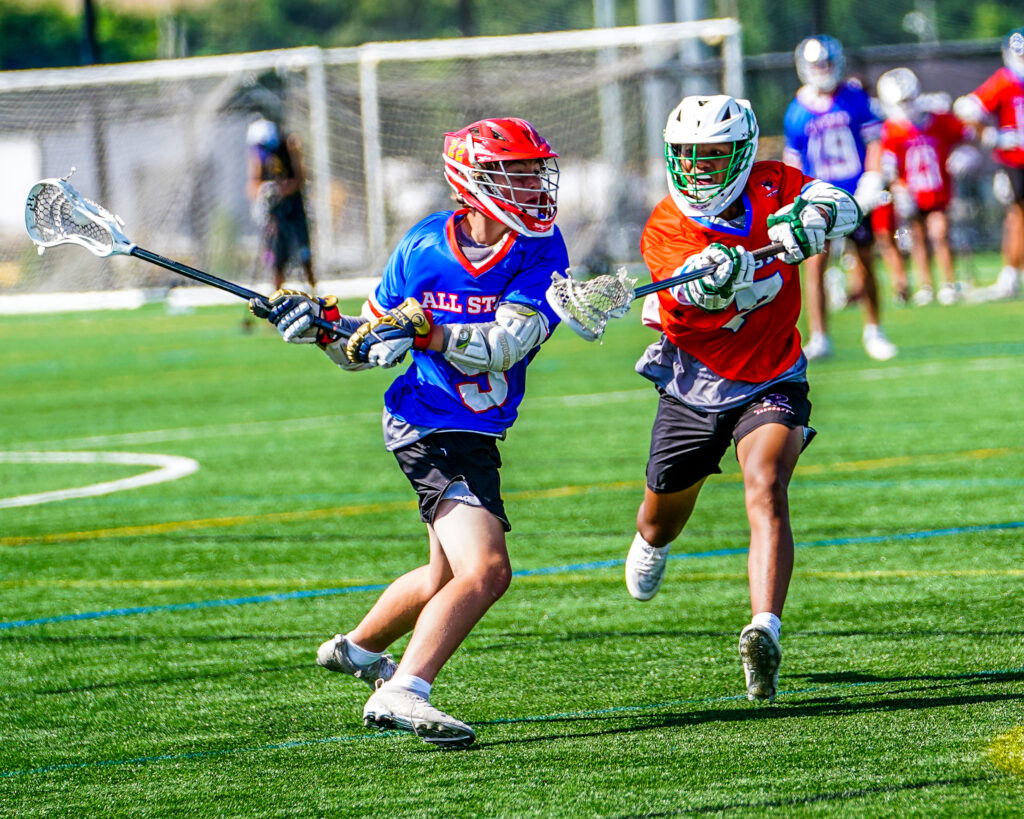 No. 9 Gavin Lynch, midfield, Chaminade (N.Y.) / LI Express
All-Star. An athletic middie, Lynch is an absolute terror in transition. He covers so much ground and makes such wise decisions when he gets to the attacking half that he's an instant fastbreak goal threat once the ball hits his stick. Lynch sets up those moments with his proficiency on groundballs and his hard work defensively. In the six-v-six attack, he's a dangerous dodger, able to fire off a hard shot or move the ball decisively to allow others to capitalize on the defensive chaos he creates. 
No. 10 Nathan Sabol, midfield, Tatnall (Del.) / ETC '34s
Sabol was noticeable on both sides of the field. He's excellent on ground balls and provides faceoff wing play. He moves off the ball in the offensive half and uses his shiftiness to create space against defensive middies or poles. He works hard defensively, with solid footwork, a strong stick and savvy off-ball reads. 
No. 11 Owen Magee, midfield, Lovejoy (Texas) / LI Express
All-Star. The lefty has a massive shot, but he's more than just a catch-and-shoot wing option. He's adept at creating space for himself off his dodge, and he has the passing vision to use that space to set up others. He's great on the ground, has long strides to cover acreage in the open field and puts in solid defensive shifts. 
No. 12 Kyle Hata, faceoff midfield, Choate (Conn.) / LI Express
All-Star. Hata was both one of the best FOGOs in terms of raw victory numbers and in his varied skillset after draws. He's got an imposing frame, able to win draws cleanly with his quick hands or outmuscle smaller faceoff men. His stick skills are top notch, his passing vision is excellent and he's a shot threat when he gets on the run. 
No. 14 Asher Levine, LSM, Northport (N.Y.) / LI Express
The LSM has a great stick, whether he's locked up in coverage, jumping passing lanes or picking out passes in transition. He's great on the ground, capable of taking draws or helping his FOGO win by scooping GBs on the wing. 
No. 15 John Rodehorst, LSM, La Salle (R.I.) / 3d New England
All-Star. Rodehorst is an athletic, skilled and sound defender. The LSM has the speed to cover ground in the open field, where he's an excellent passer, shot threat and wise in when he chooses to push the pace. He's excellent in winning GBs. Defensively, he's great in coverage, a valuable help defender and patrols a lot of airspace with his off-ball awareness.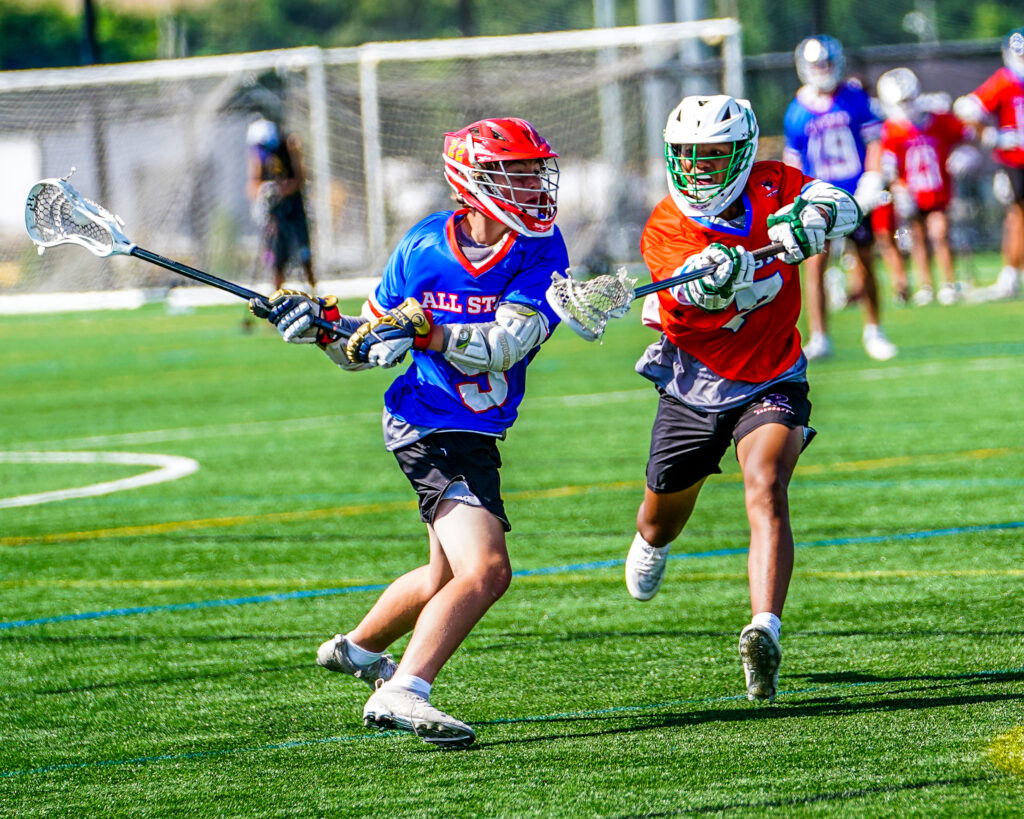 No. 16 Christopher Iuliano, defense, Rye (N.Y.) / Prime Time
All-Star. Iuliano's defensive toolbox is augmented by his excellent stick skills. He's a secure stick in transition, able to withstand punishment and use his feet to get him out of trouble and create openings to display his superlative passing ability. Defensively, he's physical, smart and fundamental. He's got great footwork, tremendous stick technique, the strength to dictate confrontations and is a prolific winner of groundballs. 
No. 17 Brady Wesloski, defense, Boys' Latin (Md.) / Team 91 Maryland
All-Star. A polished defenseman, Wesloski is an aggressive disruptor who makes his opponents uncomfortable. He moves extremely well and knows how to be physical with his man at speed. He's got a devious stick, able to force mistakes by keeping his stick constantly in the attackman's hands or hitting them with vicious checks. Wesloski is also excellent with the ball, with a great passing eye and the ability to execute on clears. 
No. 20 Ryker Kemp, defense, Ponte Vedra (Fla.) / SweetLax
All-Star. Kemp directs traffic in the defensive half. He's a physically imposing defenseman, with a strong upper body to bully attackmen. But the lefty also has quick feet, moving well to keep opponents in front of him to make sure he doesn't have to do too much with his active stick. Kemp has great stick skills, an asset to get the ball up the field on clears and make good passing decisions in the open field. 
No. 21 Trent Yelton, goalie, St. Xavier (Ohio) / Resolute
Yelton is an athletic goalie, whose feet seem to be always moving as he tracks shooters and stays ready for shots. He's good going side to side and has an ideal build, tall enough to cover the high corners with his stick but still able to get low on shots. He uses his footwork to confront shooters, pick off passes around the cage and cover shots. He's a decisive distributor, able to get the ball up the field quickly and with pinpoint accuracy. 
No. 22 Kellen Curby, goalie, Detroit Country Day (Mich.) / Cherries
The goalie has long legs and a wide base that gives opponents very little to shoot at. He's got great technique with his stick, baiting shooters toward a five-hole that he's outstanding at covering. With his height, he stands tall on shooters in tight to limit their angles. The lefty is able to catch high shots cleanly and moves the ball quickly on clears.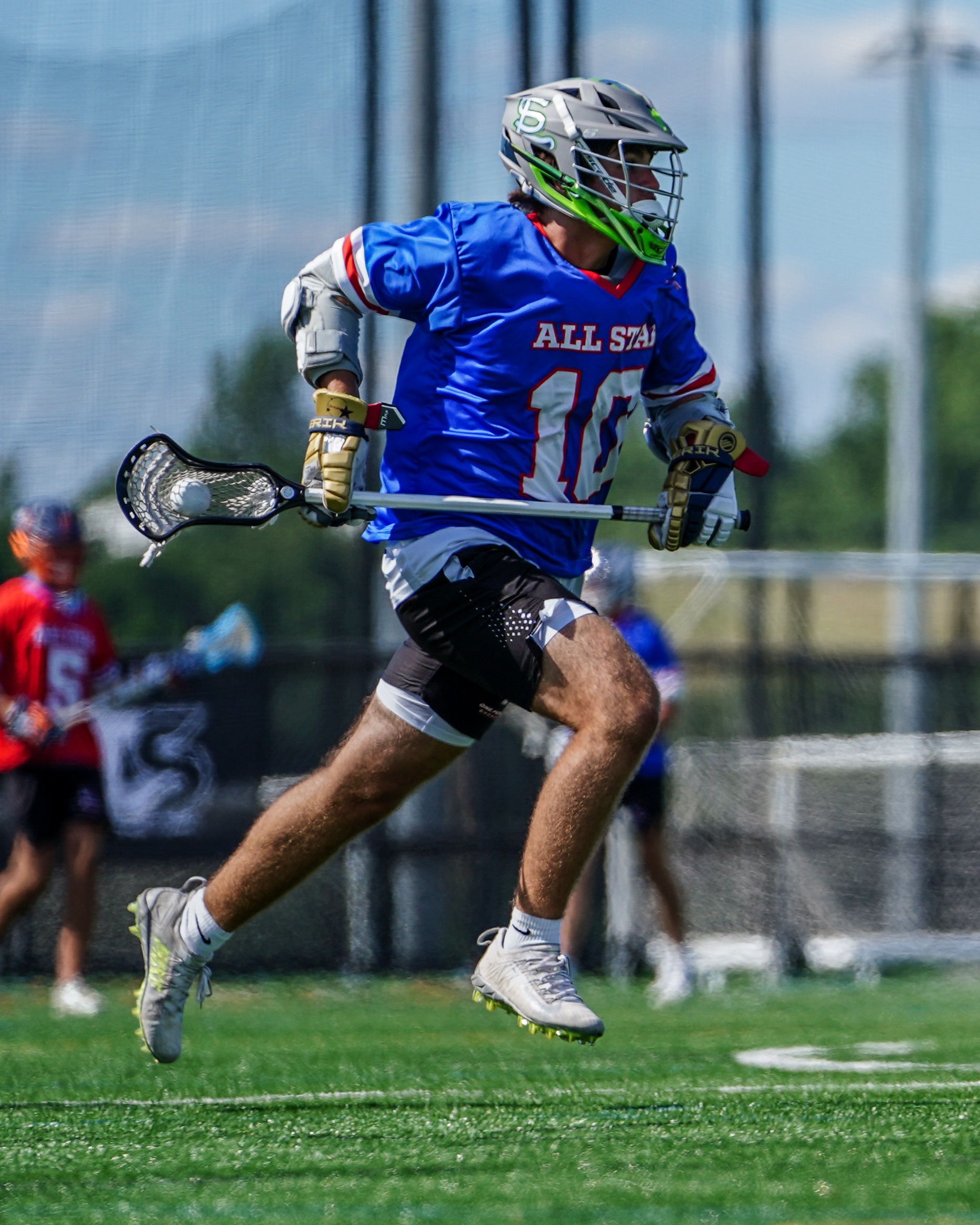 No. 24 Parker Reynolds, midfield, Fayetteville-Manilus (N.Y.) / SweetLax
All-Star. Reynolds' work rate jumps off the page. He's constantly hustling up and down the field, and he has the savvy to know when to slow the game down when he has the ball. Reynolds is shifty and able to change direction at will when locked up against a bigger defenseman. He's tireless and tenacious in defense and tidy in his work on the ground. 
No. 23, Luke Shannehan, attack, Fairfield Prep (Conn.) / Eclipse
All-Star. Shannehan was about as important in the red team's comeback as Gary Merrill was. He had a goal and two assists in the fourth quarter, his feeds setting up Chris Cobb and Merrill for goals in a marauding fourth quarter. Shannehan's movement off the ball is excellent. He's able to slip into tight spaces and feed passes through narrow windows. He also added an important caused turnover on a ride in the fourth that led to another goal.
Ole Miss
No. 3 Matthew Byrne, attack, Horace Greeley (N.Y.) / Express North
A pass-first attackman, he didn't have a ton of the ball given the other players around him, including a deep and dodge-happy midfield. But he works well off the ball, trying to find soft spots and always with his stick up to receive passes. With the ball, he's got a strong passing eye and a deceptive set of moves to put off defensemen. A smaller attackman, he's got quick feet and he works very hard pressuring on the ride. 
No. 4 Will Majcher, attack, Loyola (Calif.) / Cali Gold
 A quick attackman through X, he has good quickness to beat his defender and get upfield to create shots or open up passing lanes. Majcher is able to access different shot angles and has a high release despite not being the tallest player. His hands are always moving, looking for the next pass, and he moves well off the ball, especially with the kind of dodging midfielders he had around him. 
No. 6 Gary Merrill, midfield, St. Anthony's (N.Y.) / Team 91 LI Shock
 All-Star. The offensive MVP of the all-star game scored early, often and just about whenever he wanted on the day. Merrill is a powerful and graceful attacking player. He covers a ton of ground with his long strides in the open field and is shifty when he's locked up against a pole and trying to elude them. Merrill doesn't need much space to get off his heavy shot or to move the ball and create for his teammates. He scored two goals in the finale, and his impact on the attacking end with all the space his dodges created helped shift the game in the favor of the red team.
No. 7 Max Fertels, midfield, Haverford School (Pa.) / Brotherly Love
Fertels is a handful to corral off the dodge, with long strides and the ability to get past guys if not wow you with speed. He's quick in tight quarters, with his hands always moving to look for a pass or a shot. He's active off the ball and his blend of speed and strength with the ball in his stick make him difficult to defend. 
No. 8 Luke Jaeger, midfield, Western Reserve (Ohio) / Iron Horse
A do-everything midfielder, he was able to impact play on both sides of the field and gets up and down all day long. He is a physical defender with good footwork to keep opposing middies in front of him and constantly hound them with his stick and strong upper body. Jaeger has good defensive instincts in how he reads play. Offensively, he's a play-starter with his ability to get downhill on the dodge, to shoot or to distribute. 
No. 10 Ryan Winters, midfield, Santa Margarita Catholic (Calif.) / Cali Gold
The two-way middie brings a lot to the table at both ends of the field. He's got a secure stick in transition and makes solid decisions in the open field. Defensively, he's a disciplined stick-checker and has solid footwork to stay in front of his man. Offensively, he packs a potent shot off the dodge with great accuracy and forces defenses to slide to him. 
No. 11 Sean Sheehan, midfield, Benjamin (Fla.) / SweetLax
An asset in transition, he's got great speed in the open field. He's good on the ground, a steady wing player and is elusive on clears, able to run by or spin out of trouble. He's solid defensively. On the offensive end, he moves well off the ball and always has his stick up to be a catch-and-shoot option. 
No. 12 Seth Aliveto, faceoff midfield, Saint James (Md.) / Crabs
The bigger of Ole Miss's two faceoff guys presented a contrast in styles. He's a battler on draws, able to use his body well to put off his man and use his feet to carve out space to win the draw on the ground, where he's very proficient, especially for a bigger player. Aliveto's able to win to his wings, speeds away from X to get the ball up the field and makes smart passing decisions. He's also a shot threat, his long arms and broad shoulders allowing him to shoot from a high release points that gives goalies fits.
No. 13 Bryce Allen, faceoff midfield, St. Ignatius (Ohio) / Resolute
He was the more likely of the two to win the clamp, a smaller, quicker type of faceoff middie. He's shifty and quick to get himself out of trouble when he wins the ball and wins the ball forward to start breaks. He's also got the stick skills to jump on as an offensive middie on long possession, and his smaller frame allows him to sneak under bigger defensemen's check, in the open field and in traffic in the offensive half, if they don't aim at his center of gravity. 
No. 14 Will Oliverio, LSM, Fox Lane (N.Y.) / 2Way
He's the kind of LSM who seems to have things under control when he's out there, knowing when to push, when to pull back and when to impose that pace on an opponent defensively. A smaller-framed defender, he makes himself bigger with his posture and how he uses his stick. When his team has the ball, he's a shot threat who gets the ball up the field quickly and passes well. Defensively, he's great at tracking middies in the open field and has a constant check threat, including an excellent poke check. 
No. 15 Ryan Slomsky, LSM, Greeley (N.Y.) / Express North
 The LSM is a solid system defender who gets great leverage with his stick on dodging or sweeping middies. He's not the fastest LSM, but he has a great motor to get up and down the field and has good awareness about spacing in the open field to make himself an option on clears. With the ball, he has strong stick skills and is a capable passer who makes good decisions in transition. 
No. 16 Matthew Giannetti, defense, Rye (N.Y.) / Prime Time
All-Star. A solid stay-at-home system defender, he's very good in tight spaces and gets his head around quickly to assess threats, either from his off-ball assignment or sliding to help. He extends out pretty well, has sound footwork, good body positioning and solid stick skills. With the ball, he's a plus passer who is decisive on clears and can spread the field.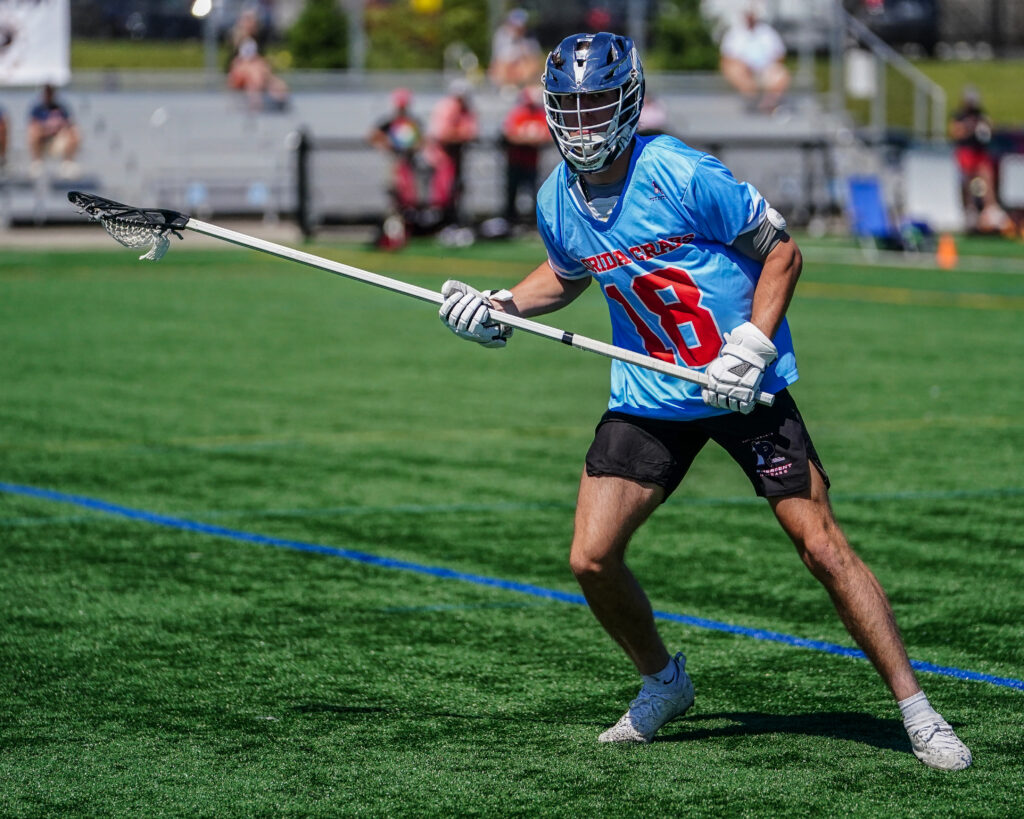 No. 18 Tommy Weber, defense, Oakl Hall (Fla.) / Florida Crabs
An excellent all-around defender, he's a playmaker. He knows how to take intelligent risks, sensing vulnerability in an opponent with a help slide that can end a possession. His stick is always in his opponents' hands from the time he locks up with them, he covers a lot of airspace with a huge wingspan and a head that's always on a swivel and is excellent in playing the ball on the ground to turn his efficient checks into ground balls and possession (plus he can play on the wing for draws). 
No. 20 Joseph Filardi, defense, Half Hollow Hills West (N.Y.)
All-Star. A fundamental defenseman, he does a good job of breaking down and handling his man one-v-one. He stays in the attackman's hands and on his strong side. He's aware of what's going on around him to provide help defense. He's an asset on clears, if one who usually defers to others once he gets over the midline, and is excellent on ground balls. Also a potential Division I football prospect, he's one of the best two-sport athletes in the class.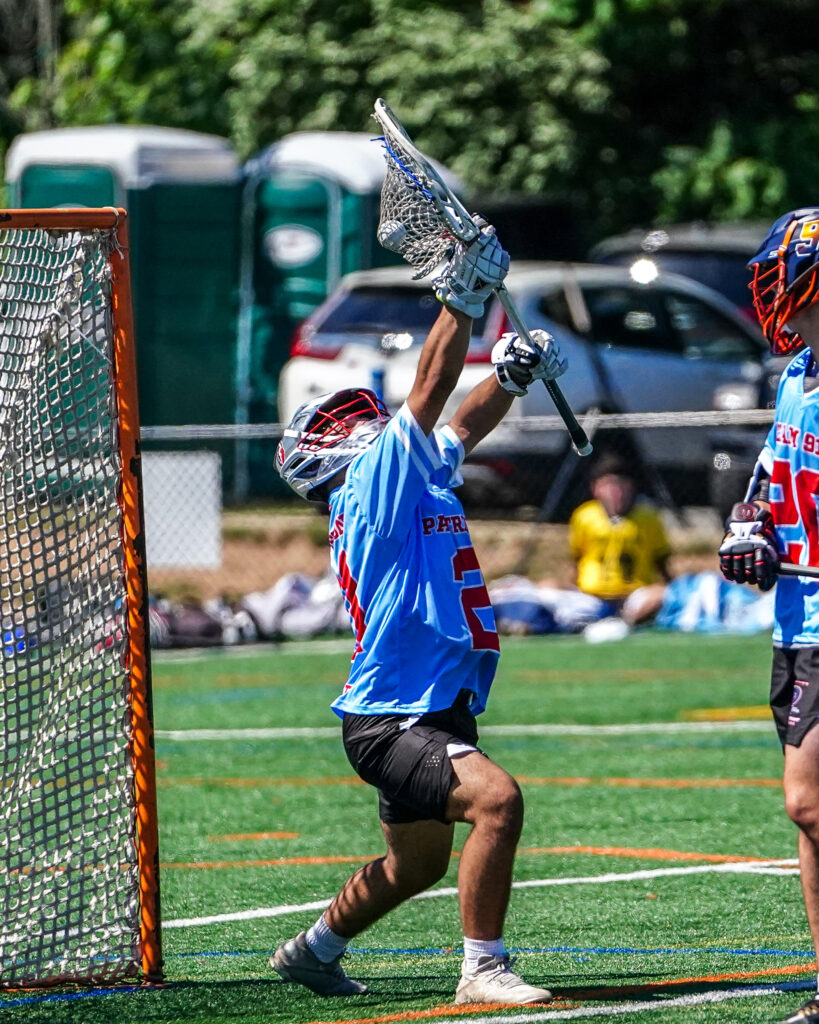 No. 21 Frank Bagolie, goalie, Livingston (N.J.) / Patriot Elite
All-Star. One of the best goalies in attendance in the 2025 class, it took well-worked looks to beat him. Supremely composed in the crease, he was great on low shots, tracking bouncers beautifully, and covered the high corners well despite not being the tallest goalie. He's able to challenge shooters, especially when they try to make moves in tight with the crease, to make himself bigger and fill more of the cage. His stick is excellent, both in intercepting loose passes around the crease and in resisting the ride from attackmen on clears. 
No. 23 Collin McLaughlin, midfield, Ralston Valley (Colo.) / Denver Elite
An eager and shifty dodger, he's able to shake his defender often on the dodge, especially if it's a short-stick d-middie. His quick first step and deceptive array of moves opens up space for him to then make plays. He's elusive in the open field in transition and he works hard defensively to keep opposing middies in front of him. 
No. 25 Patrick Geragthy, midfield, Iona Prep (N.Y.) / Prime Time
A speedy middie with an outstanding motor who is excellent in the open field, he's able to contribute on both ends of the field and supply wing play. A heady offensive presence, he reads play well to figure out pockets of space to pop into and impact plays and can lose his man with a shifty and deceptive dodge. Defensively, he works hard, is good on the ground and is willing to engage his man physically. 
No. 26 Reg Campbell, attack, Trumbull (Conn.) / CT Wolves
A heady off-ball attackman, he's not afraid to go into high-traffic areas, something that will likely only increase as he grows into his frame. He reads play well, popping into dangerous areas, especially on fastbreaks, and understanding when he has a matchup to exploit or how to drag a pole away from a teammate. He's got soft hands to catch and shoot on the crease, and his release allows him to get away shots in the narrow windows he's able to find.