One Percent '26 Summer Evaluations: Georgia and LSU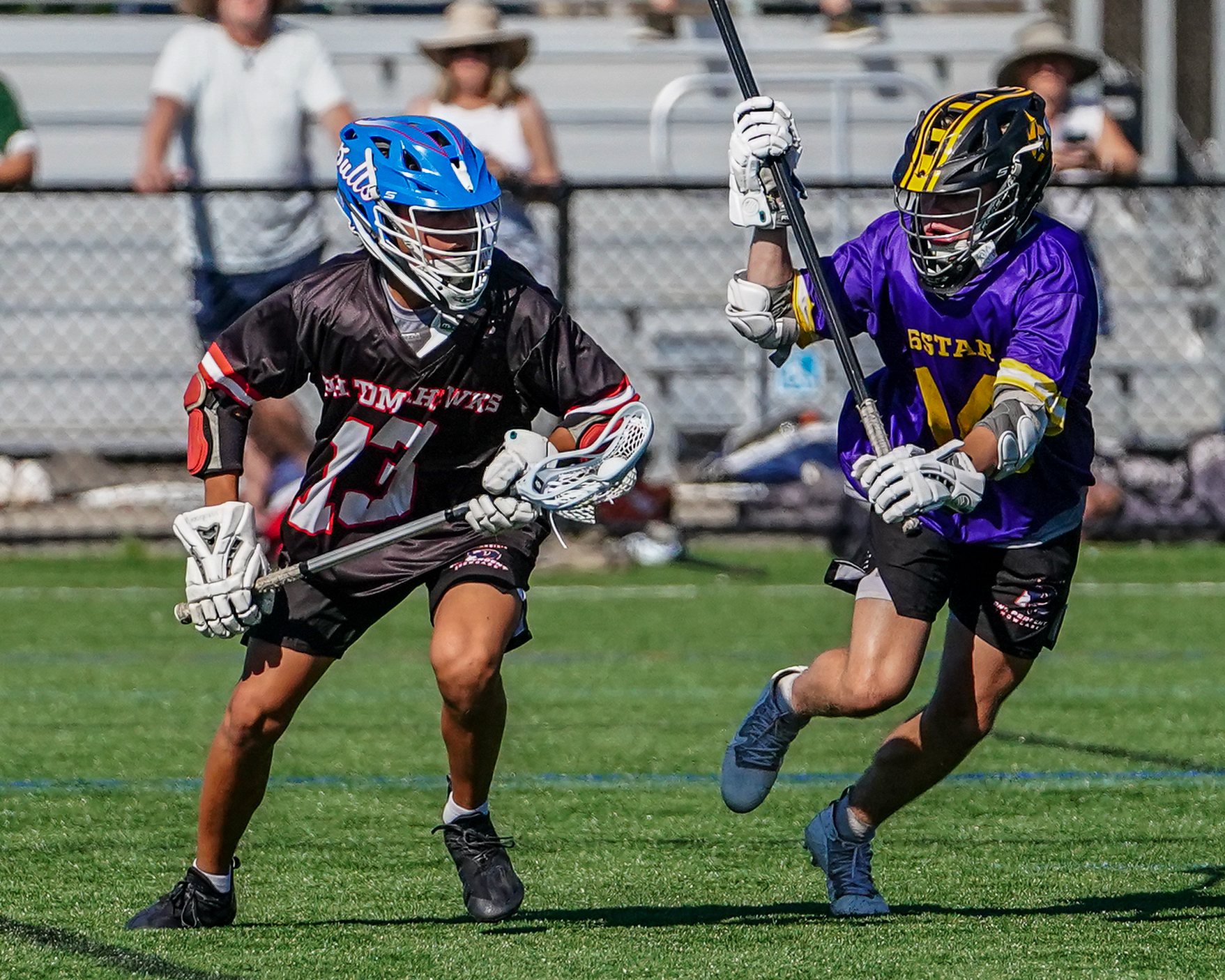 One Percent '26 Summer Evaluations: Georgia and LSU
Follow My Lacrosse Tournaments on Instagram, YouTube and Twitter.
The One Percent summer evaluations continue to roll out.
Every player that took part in June's One Percent in Philly receives an evaluation. We're on to the class of 2026, an insanely loaded group that featured so many of the best players in the country. Let's kick it off with Georgia and LSU.
CLICK HERE to express interest in the summer '23 event (2025 and 2026 on June 27, 2027 on June 28)
Without further ado, here's the first round of the 2026 evaluations from Matt Chandik and Matthew De George.
Georgia
No. 1 Gabriel Moore, attack, Phillips Exeter (N.H.) / Laxachusetts
All-Star. Moore is a bulk scorer, with an intriguing build and the varied skillset to match. He's strong with long legs to help him get past defensemen. His shot can beat you for power or for deception. He's got a lot of different shots he can opt for, can fire them at speed or with a quick release and can get upfield when operating through X to open up space for himself and others. 
No. 3 Billy Haggerty, attack, Iona Prep (N.Y.) / 2Way
An imposing attackman, Haggerty is physical off the dodge, able to dish out punishment when locked up in coverage with defensemen. He moves well off the ball, has a quality set of hands and can fire shots with speed and accuracy. 
No. 4 Charlton McDevitt, attack, Springside Chestnut Hill (Pa.) / Big 4 HHH
A rangy attackman, McDevitt's long arms allow him to access a variety of shot angles to put off goalies and keep them guessing. He's able to place his shot accurately, particularly sweeping across to his right hand or on shot from low release angles. He's a hard worker off the ball and on the ride, and knows how to use his body wisely to open up space. 
No. 5 Ethan Moore, attack, Phillips Exeter (N.H.) / Laxachusetts
All-Star. The left-handed of the brother tandem, Moore finds looks from all over the attacking half. He's got a fluid attacking repertoire, including behind-the-back moves and the ability to stay balanced in traffic. His first step leaves defenders playing catch up, and he's capable of creating for others. 
No. 6 Jay O'Connor, attack, Brunswick (Conn.) / 2Way
O'Connor has excellent hands, a hallmark of a pass-first attackman. He can switch hands off the dodge, keeps the ball constantly cycling through the offensive half and is a confident decision-maker. He's a valuable outlet in transition with his ability to make passing decisions, and he gets the ball out of his hands quickly, whether it's a pass or shot. 
No. 7 Hunter Duany, midfield, Bishop Guertin (N.H.) / NH Tomahawks
The athletic middie is able to contribute on both sides of the field. He provides wing play on draws and is an outlet in transition. He's got a variety of moves in the offensive half to draw on. 
No. 8 Patrick Moloney, midfield, Perkiomen Valley (Pa.) / Tigers XXVI
An eager defender, Moloney contributes on both halves of the field. He's a secure stick to get the ball up the field in transition. He creates space off the dodge and can either pull a solid shot or facilitate the ball through the rest of the offense. 
No. 9 Matthew Kelley, midfield, Parkland (Pa.) / Freedom
Kelley has good awareness of where to pop up. For a bigger body, he's good on the ground and provides physical wing play. His defensive footwork is sound, he's active off ball in the offense and brings a good compete level to the table.
No. 10 Nicholas Samburg, midfield, Langley (Va.) / VLC
Samburg has tremendous instincts in transition, able to use his speed to get into dangerous positions and his savvy to cash them in. He's excellent on the ground and on the wing, and he is a solid contributor within the offensive and defensive six-man units. 
No. 11 Barrett Mullahy, midfield, Fairfield Prep (Conn.) / Prime Time
A shifty dodger, Mullahy uses quick feet to make up for what he lacks in the size department. He's an asset on the wing, expends a ton of effort defensively and works off the ball to get open in spots where he can score. 
No. 12 Edward Rudloff, faceoff, Malvern Prep (Pa.) / PA Roughriders
Rudloff has a low-to-the-ground build that befits his battling style at the X. He's great on ground balls, is tough to stay in the contest as the draw gets extended and has the stick skills to contribute after the draw is decided, both offensively and defensively. 
No. 13 AJ Yeung, faceoff, Holderness (N.H.) / NH Tomahawks
All-Star. On the balance of the day, Yeung was the most impressive faceoff man. He rarely lost draws and never lost them at the X, only surrendering possession on the rare occasions that his wings were bested on the ground. His hands are so fast and he moves forward so quickly that it feels like a win when you can deny him a fast break, never mind the ball. He makes clean exits, good decisions with the ball and is a shot threat once he gets moving.
No. 15 Matthew Meredith, defense, Boys' Latin (Md.) / Team 91 Maryland
Meredith isn't yet the most physically formidable player, but the skillset is obvious. The lefty has LSM-type athleticism in a close defender, and he's a terror in the open field, both in slowing opposing fastbreaks and as a shot threat. He moves well in coverage, covers a ton of space with his stick and stalks passing lanes with his off-ball awareness in the defensive half.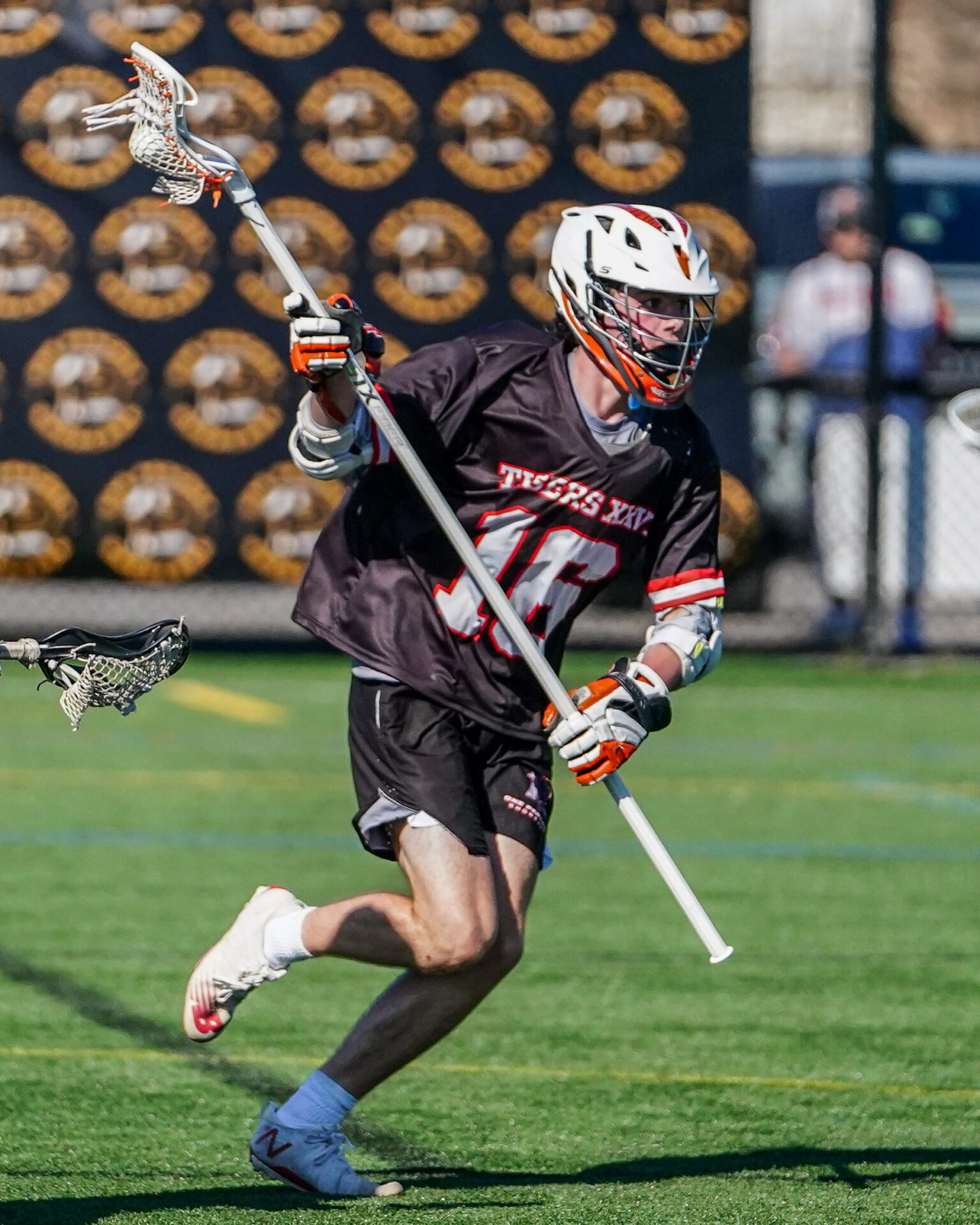 No. 16 Charlie Regan, defense, Conestoga (Pa.) / Tigers XXVI
All-Star. Regan impressed with an all-around defensive arsenal that is polished beyond his years. He's got a devastating stick that threatens to separate attacker and ball with each check. He slides assertively and recovers efficiently. He's great on the ground and has the stick skills to send and receive long-range passes on clears. 
No. 17 Preston Shuster, defense, Jesuit (Fla.) / 3d Florida
All-Star. Shuster added a pole goal or two during the day, but that's not what made him so effective. He was one of the most fearsome defensemen of the bunch, melding size with quickness. His footwork is excellent, his stick technique is polished and he does is all within the team defensive concept. He's not afraid to get physical, and he cashes in all the pressure he puts on opponents by being so clean on the ground to turn those mistakes into possession.
No. 18 Charles Thomas, defense, Downingtown East (Pa.) / Freedom
With his combination of strength and foot speed, Thomas is outstanding at keeping attackmen in front of him. His stick technique is excellent, and his checking ability led to a yard sale or two on the day. He strikes a good balance of when to keep attackmen at a distance with the stick and when to engage physically with the body. 
No. 19 Dylan Novak, defense, Malvern Prep (Pa.) / Tigers XXVI
The rangy, physical defensemen is able to control opponents with his stick, bringing calm to defensive matchups. Though he's not the fastest in terms of straight-line speed, he moves well in coverage, slides aggressively and generally dictates the terms of confrontations. 
No. 20 Garrett Markey, defense, Hudson (Ohio) / Burning River
Markey is a solid system defender with sound fundamentals. He's got a strong stick and solid technique. He's clean on clears and is a plus passer, plus he's a shot threat when he's able to get up the field.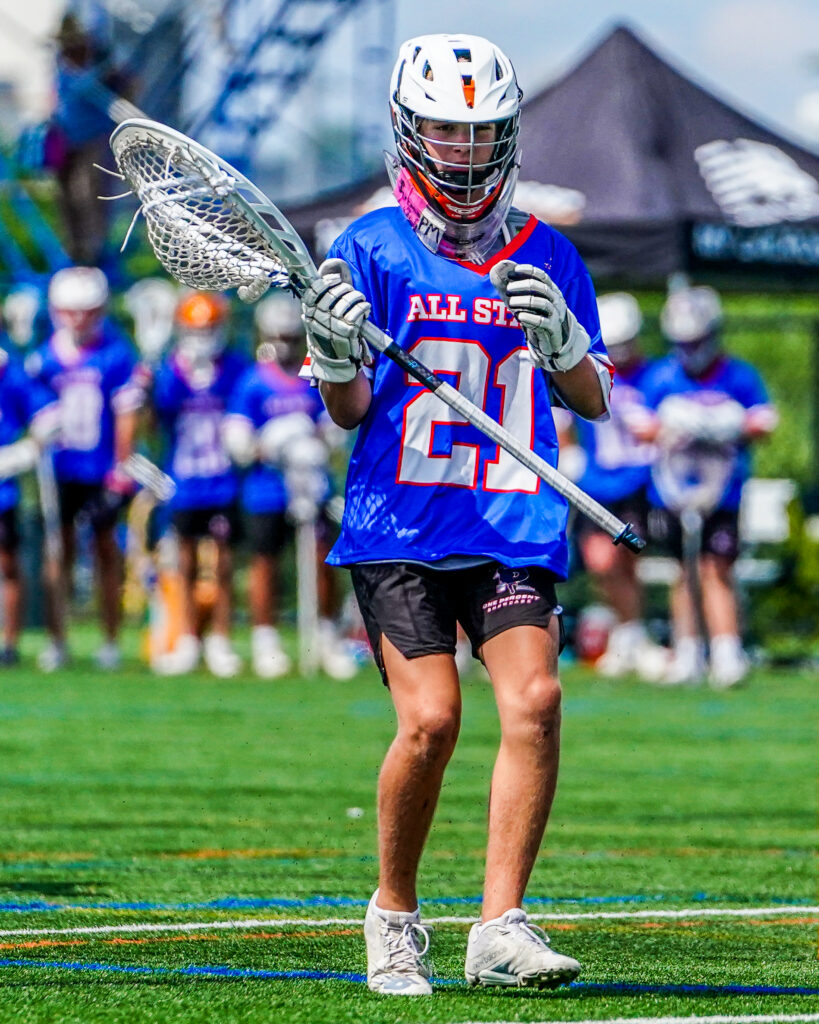 No. 21 Thomas Ploszay, goalie, Malvern Prep (Pa.) / Tigers XXVI
All-Star. Ploszay made eight saves in the first half of the all-star game for the blue team, including an utterly incredible one where he sealed off the angle at the near post to force an attackman to dish cross-crease, then scampered across to throw his body at the shot. He gave up seven goals, but two were on rebounds when the other team was quickest to the ball after Ploszay made an excellent save. He's just a natural shot stopper, excellent at getting high, effectively covering low corners and willing to confront shooters.
No. 22 Hunter Mezzatesta, goalie, Yorktown (N.Y.) / Express North
All-Star. Even among the elite goalies, Mezzatesta's reflexes shine as top-notch. He stands tall in the cage and gives opponents precious little to shoot at, combined with an aggressive final step to trim the angles further. Despite that high center of gravity, he gets down to low shots extremely well and is capable of impressive kick saves. He's a great communicator, and he knows when to use his feet to get his team out of trouble, either pouncing on turnovers or on clears.
No. 23 Jack Gallucci, attack, Seton Hall Prep (N.J.) / Jersey Thunder
Gallucci is a consummate feeder who sets up shop at X. His head is always up and he keeps his hands high and ready to thread passes to teammates. He's able to snap off feeds quickly, and he's got a quick release when it's time for him to shoot.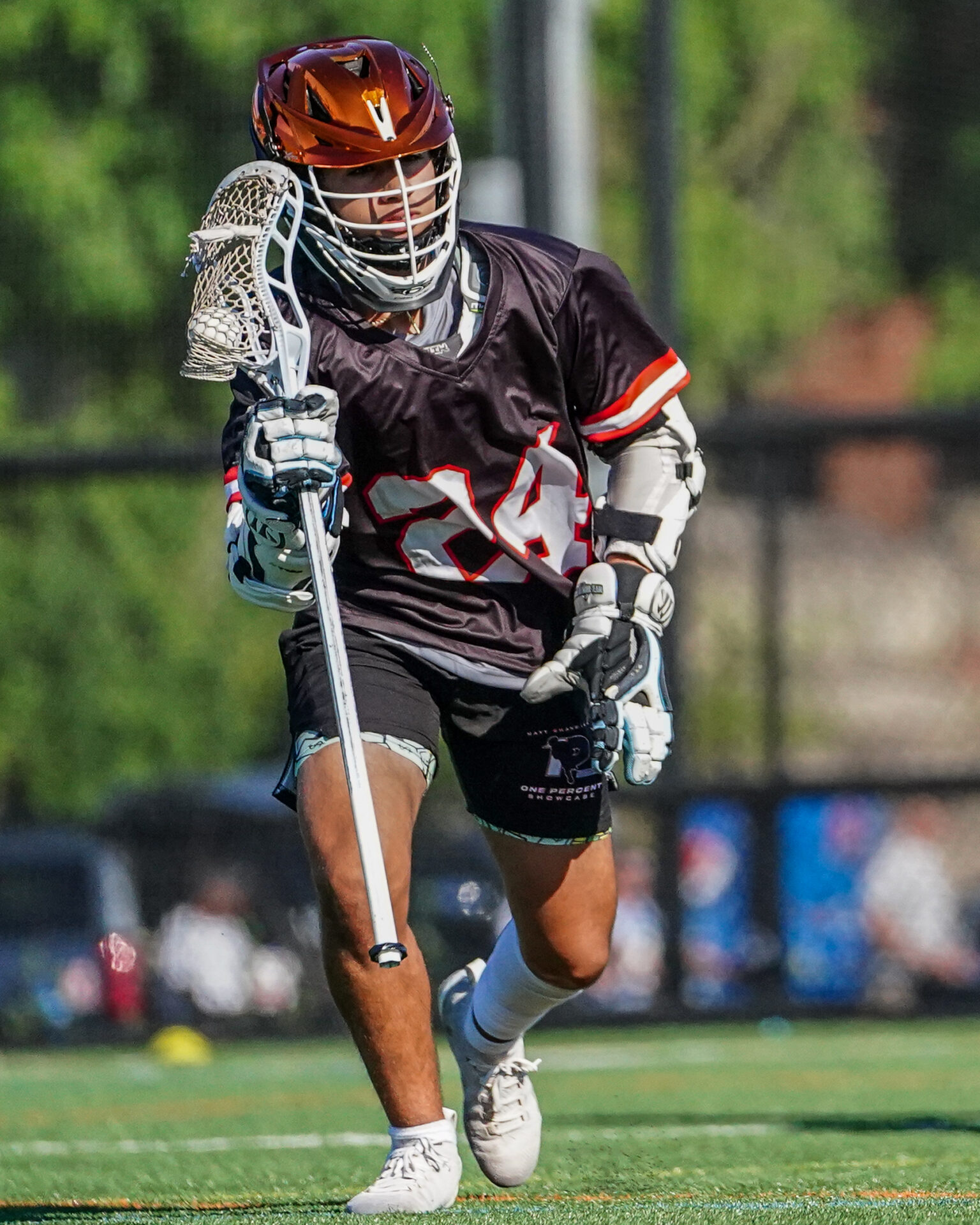 No. 24 Nick Testa, attack/midfield, Saint Andrew's (Fla.) / Team 91 Long Island
All-Star. Testa's midfield motor stand out: Once you see him on the field, he seems to pop up everywhere. He relishes in the defensive work, and he's constantly working off-ball on offense to create mismatches. He's got a bombing downhill dodge, and he uses that quickness to make the most out of a shorter frame, create space. When it comes time to shoot, he can let it rip, painting corners with a serious punch behind it. 
No. 25 Thomas Blouin, defense, Westminster (Conn.) / Express North
The lanky defenseman has an active stick, in particular with a poke check that hounds opposing attackmen. He's adept at directing traffic, whether that's in organizing his fellow defensemen or funneling his man toward less dangerous areas. Within the defensive system, he's an excellent help defender, both sliding to the ball and knowing what's happening around him off-ball.
LSU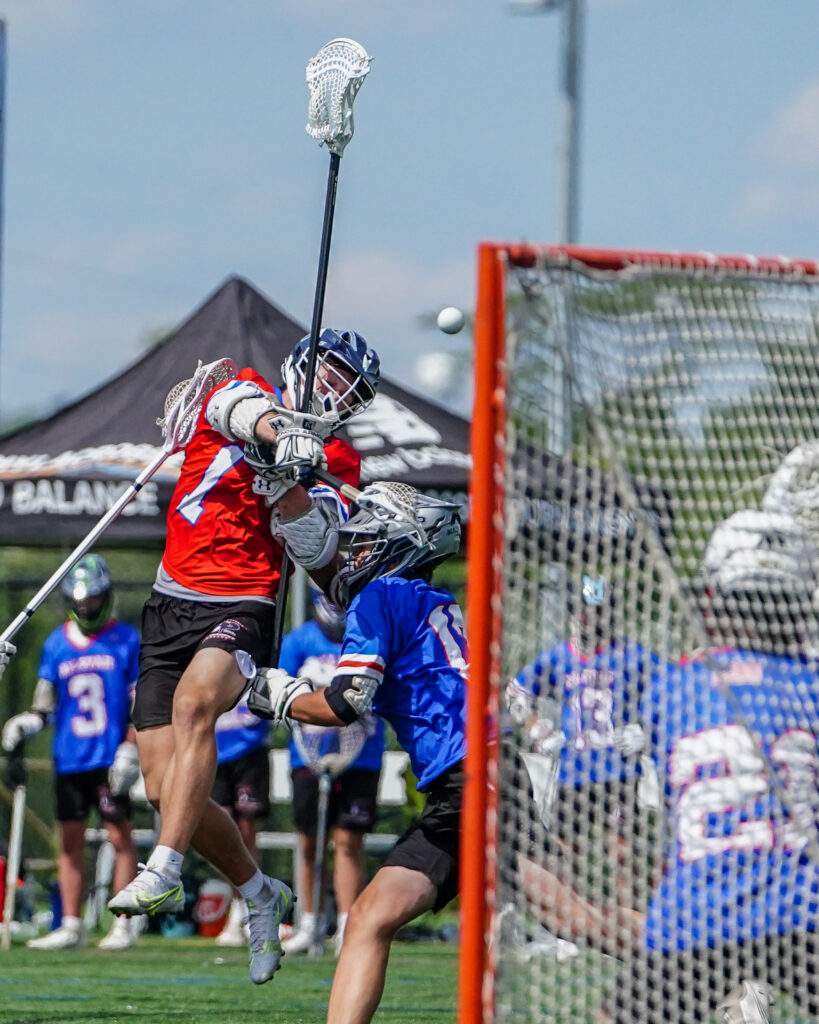 No. 1 Tuck Gilbane, attack, Noble & Greenough (Mass.) / Laxachusetts
All-Star Game Offensive MVP. Gilbane had four goals and an assist in the finale, continuing his dominance throughout the game. Once he gets upfield around the crease, you're not stopping him. You'd better hope he shoots wide, though with his long arms and big body, that doesn't happen much. He's a consummate finisher, and he's a good enough passer from behind the cage to use the space his physical threat creates to get other people involved. Also a AAA hockey defenseman, Gilbane has excellent athletic awareness.
No. 2 Braiden DeLacy, attack, Haverford School (Pa.) / Tigers XXVI
DeLacy is an effective finisher around the cage. He's able to change his shot angle with a tricky set of hands to put off goalies. He's also got a quick release, particularly when he catches and shoots, and moves well off the ball to get into useful spots. 
No. 3 Tommy Lombardi, attack, Sacred Heart (N.H.) / NH Tomahawks
All-Star. Lombardi is equally at home operating through X or finishing catch-and-shoot opportunities on the wing with his hammer of a shot. His finishing ability is exemplary, with the aim on his shot and the power he puts into it. He's able to avoid defenders, he always has his head up to look for openings or teammates and his upfield dodge is so difficult to stop. 
No. 4 Ryan Thurlow, attack, Darien (Conn.) / Eclipse
Thurlow has a tremendous set of hands, able to fire off a variety of shots or hit teammates through narrow windows. He's got long arms, which help him create separation from defensemen, and he's shifty when he gets his feet moving and in how he uses his body, especially through X or at gle. When it's time to shoot, he's got great accuracy. 
No. 5 Tedy Frisoli, attack, St. Sebastian's (Mass.) / Laxachusetts
All-Star. Frisoli's first step on the dodge leaves plenty of defenders in the dust. He's an ideal blend of foot speed and upper body strength thanks makes him hard to line up defensively. Once he's created the space, he knows how to make the most of it, with a rocket of a shot that he's able to unleash accurately at full speed. 
No. 6 Declan Heilig, midfield, La Salle (Pa.) / Tigers XXVI
All-Star. The lefty has an array of attacking moves. Hellig is a speedy dodger with a strong set of hands and an accurate shot, a combination of quickness and stick skills that induces chaos in a defense once he gets a step on his man. He gets up the field well in transition, has a strong base to hold his own defensively and can play a more physical game when the moment calls for it. 
No. 7 George Laskowski, midfield, Malvern Prep (Pa.) / Big 4 HHH
Great in transition and strong defensively, Laskowski is a safe pair of hands to get the ball to under pressure. He moves well off-ball, contributes in transition and has a high work rate on defense. 
No. 8 Bennett Matthews, midfield, Bedford (N.H.) / NH Tomahawks
All-Star. A hard worker defensively, Matthews shines at both ends of the field. He's got great foot work, a strong body and makes astute defensive reads. He works hard off the ball to make himself a defensive option, and he's got soft hands to receive passes in traffic and fire off shots. 
No. 9 Michael Mayerhofer, midfield, Chaminade (N.Y.) / Team 91 Long Island
All-Star. Mayerhofer has a fluid and fundamental game, making plays with ease on both ends of the field. On defense, he's a tireless worker with great fundamentals, a strong physical presence and solid footwork. Offensively, he's got a fine passing touch, able to thread feeds through narrow windows. He's an excellent finisher, able to move off-ball to get open and catch and shoot. 
No. 10 Drew Engle, midfield, Twin Valley (Pa.) / Freedom
Engle is a powerful presence, able to use his strength to make plays, whether while being hounded on clears or in traffic in the half-field offense. He's got a secure handle in transition, is strong on the ground, has a powerful dodge to create space, and uses his body well defensively to nudge opposing middies off their path.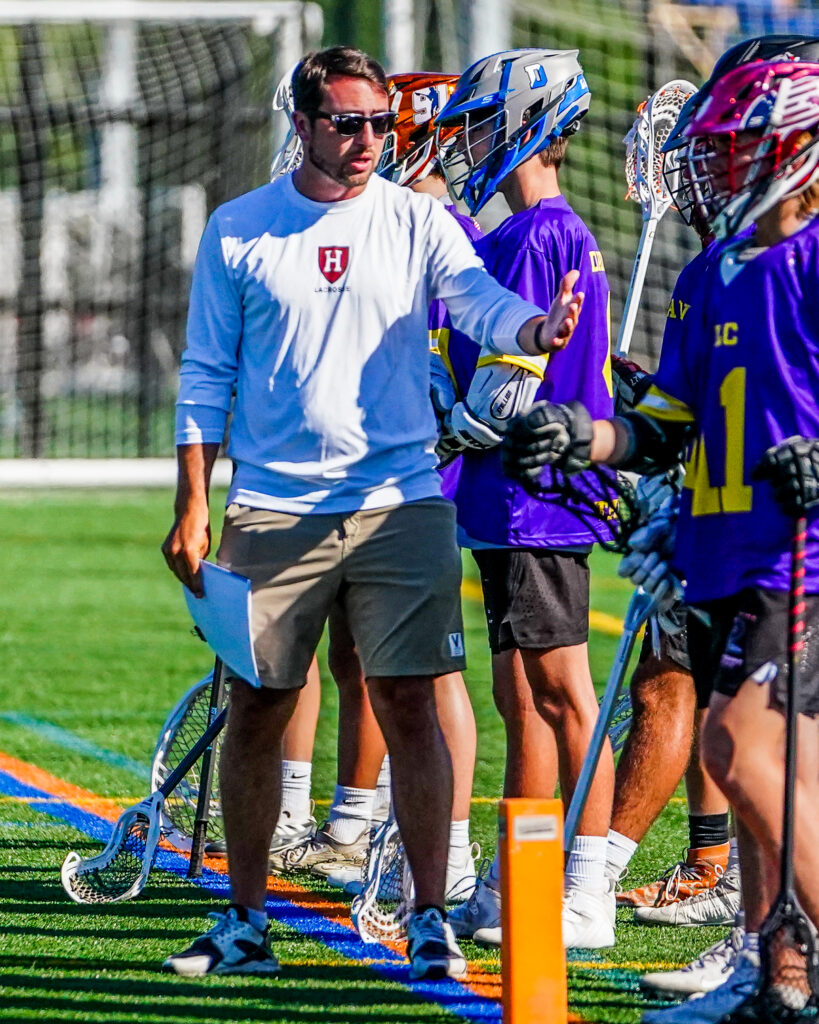 No. 11 Gavin Gilmore, midfield, Paul VI (Va.) / VLC
All-Star. Gilmore is a monster defensively, with caused turnover numbers that a pole would envy, using his strength and defensive instincts to put off opposing middies. He's a hard worker on the wings on draws, great on the ground, and a key part to the ride. His athleticism and open-field speed create space for him to contribute offensively in transition, and he's got the shot and quickness off the dodge to be a useful cog in the offense. 
No. 12 Tommy Lavin, faceoff midfield, Great Valley (Pa.) / Big 4 HHH
Not the biggest faceoff guy, Lavin is a hard worker. He's very good on the ground and is able to extend the contest to the point that it's advantageous for him. He's also a hard defensive worker, capable of contributing to the six-man unit on lost draws. 
No. 14 Gavin Reinhart, LSM, Legend (Colo.) / 6Star
All-Star. Reinhart shined all day. Every time you turned around, he was making a play. He scored goals, contributed passes in transition and generally menaced the opposing attack. His stick is perpetually in passing lanes, he's so disciplined with his checks and is next to error-free on the ground. He's not the biggest player around, but he makes up for it with an engine that never stops, getting up and down the field to create havoc. He also has tremendous technique at the faceoff X, where he didn't look out of place against top faceoff specialists.
No. 15 Nevan McKneely, LSM, Loyola Blakefield (Md.) / Team 91 Maryland
All-Star Game Defensive MVP. The LSMs in the Class of 2026 were outstanding, and with KcKneely and Reinhart on the same team during group play, it was almost unfair to opposing middies, who found their pockets picked with alarming frequency. McKneely did the job plenty. He reads the attack well, applies pressure at heady moments and is great on the ground. His speed in the open field and his excellent stick skills make him dangerous anywhere on the field.
No. 16 Cooper Heilig, defense, La Salle (Pa.) / Tigers XXVI
All-Star. A lockdown defenseman, Hellig has the combination of speed and strength to run with just about any attackman and keep them in check. He applies constant pressure, his stick always in the opponent's hands. He's able to cope with change of direction behind the cage and dictate where attackmen are able to have the ball. 
No. 17 Matthew Pearl, defense, Chaminade (N.Y.) / Team 91 Long Island
Pearl's stick technique is outstanding, with his hands always high and tracking his man, gaining leverage on attackmen and forcing mistakes. He's got quick feet plus speed in the open field, with the ability to use his legs to motor out of trouble. 
No. 18 Chace Hixson, defense, Episcopal Academy (Pa.) / Tigers XXVI
Not the biggest defenseman, Hixson makes up for it with strong fundamentals in how he moves and how he uses his stick to affect attackmen. His stick is constantly hounding opponents, particularly with a strong poke check. He's got quick feet and is able to track attackmen well in dangerous locations around the cage. 
No. 19 George Kelly, defense, St. Sebastian's (Mass.) / Laxachusetts All-Star
All-Star. Super athletic for a close defender, Kelly matches the physical skillset with solid defensive fundamentals. He moves his feet very well when locked up in coverage. He's got a heavy stick to not let attackmen get space to create chances. Also already Division I football recruit as a running back, Kelly covers a ton of ground in the defensive half, and he's got excellent stick skills to execute on clears and in transition. 
No. 20 Angus Brown, defense, Taft (Conn.) / Team 91 Long Island
The big lefty showed excellent positioning, technique and general defensive knowhow. An astute defender, he's aware of where he should be to make plays and how the space and areas of weakness move in the defense. His aware of what's happening off-ball, and he slides and recovers well within the defensive concept. 
No. 21 Jude Cook, goalie, Bishop Ireton (Va.) / VLC
All-Star. Cook has a complete skillset for a goalie with very few weaknesses. He sticks with shooters well as they change angles and is light on his feet to move side-to-side. He gets to low shots well and is capable of producing highlight-reel saves. He's an exemplary passer on clears and able to use his feet to get the ball upfield. 
No. 22 Kieran Walsh, goalie, Garden City (N.Y.) / Long Island Express
Walsh is a strong shot-stopper who tracks shooters well. He's a vocal leader in the cage, making sure his defense is on the same page. He also passes well and doesn't make mistakes in distribution on clears. 
No. 23 Brian Burke, defense, St. Sebastian's (Mass.) / Laxachusetts
The lefty has an imposing frame which, combined with his good footwork and deceptive quickness in close quarters, means he's able to blanket opposing attackmen in coverage. He's got an active stick that is constantly delivering heavy checks on opposing attackmen's hands, and his stick skills and off-ball awareness make him a menace in passing lanes. 
No. 24 Marino Yozzi, midfield, Independence (Va.) / VLC
All-Star. Yozzi contributes in all facets. His defensive work rate is excellent, with good footwork and a strong upper body. He's clean on the ground and is an asset on the wing for draws. He's a great help defender, with the headiness to take smart defensive chances and recovery efficiently. With the ball, he's a downhill dodger with a big shot that he can finish at speed.