One Percent Showcase 2024 All-Star Game Standouts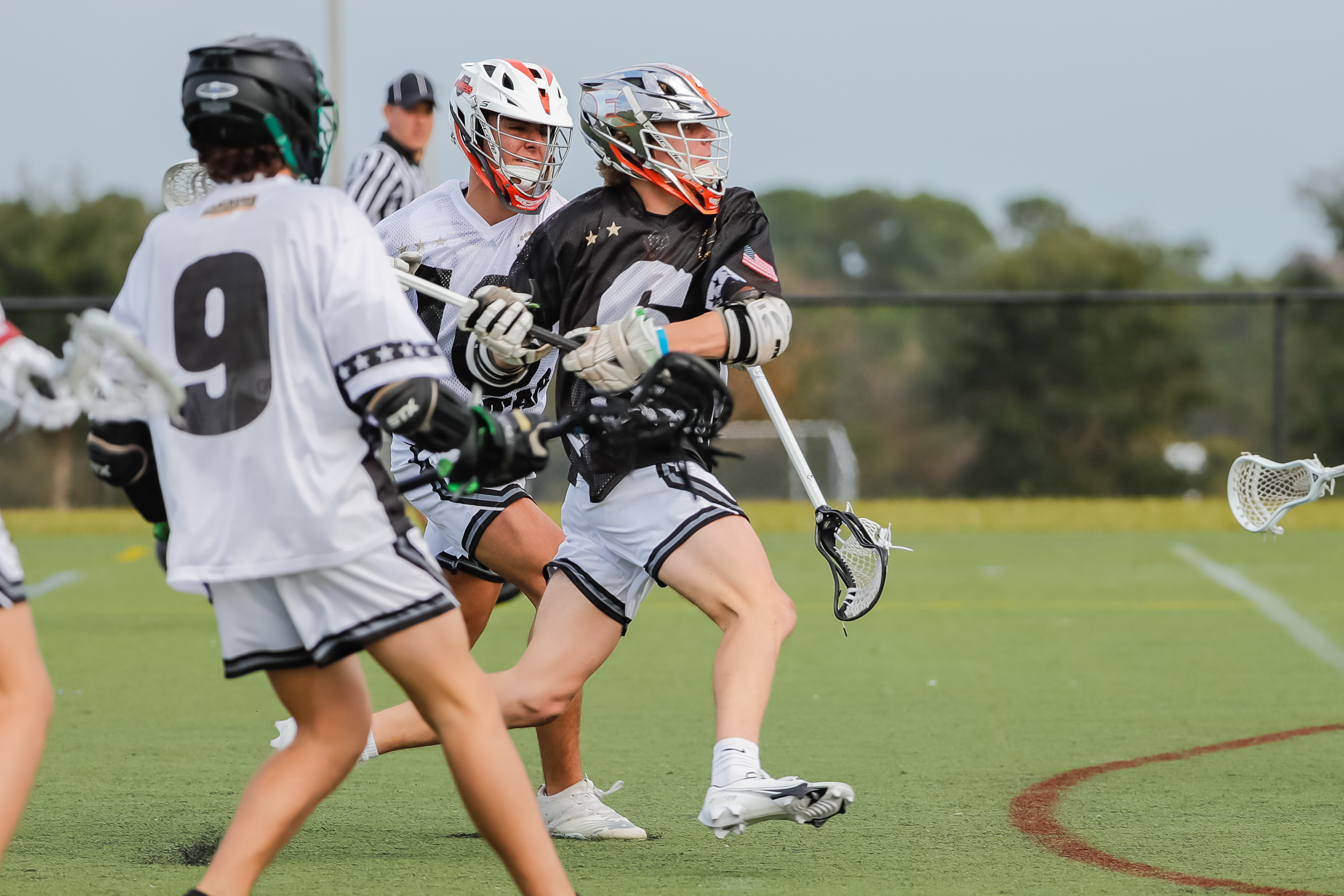 One Percent Showcase 2024 All-Star Game Standouts
Highlights courtesy of Mike Sears. 
Follow the One Percent Showcase on Instagram and Twitter. The One Percent will be held on July 6 (2023 and 2024) and July 7 (2025). Click here to apply. 
The first One Percent Showcase: Tomorrow's Stars is in the books, and if it's any indicator of what's to come, there's an overabundance of talent in the 2024 class.
More than 120 players from 23 states and D.C. made their way to Davenport, Florida for the showcase. The top 40 players played in the All-Star Game. Every player in attendance will receive an evaluation in the next week or so, but before we get to that, here's a look at eight players who stood out the most in the All-Star Game. We've also included six honorable mention selections. CLICK HERE for an awesome All-Star Game photo gallery from professional photographer Mike Watters.
MVP
Black No. 6, Hudson Hausmann, midfield, Brunswick (Conn.) / Eclipse
Hausmann was dominant all day and turned it up even more in the All-Star Game. He makes everything look so effortless and easy with his scoring ability. He got stripped early on by Tyler Eye (St. Anthony's, N.Y. / Legacy) and instead of that causing him to hang his head and feel sorry for himself, it's like a switch went off for Hausmann. He was completely unstoppable after that, scoring a pair of goals where he went through everyone on the defense like they were cones.
His third goal of the game may have been his best, a play where he took a midfielder to the outside, cut back inside of a defenseman and snapped a high-to-high off-stick rocket. He wasn't a one-trick pony, either. Defensively, he had a couple of really impressive sequences, including forcing a bad lefty shot from an opposing midfielder with his great positioning, and he picked up a couple of tough ground balls. He'll be a priority for everyone on 9.1.22.
Black Team Standouts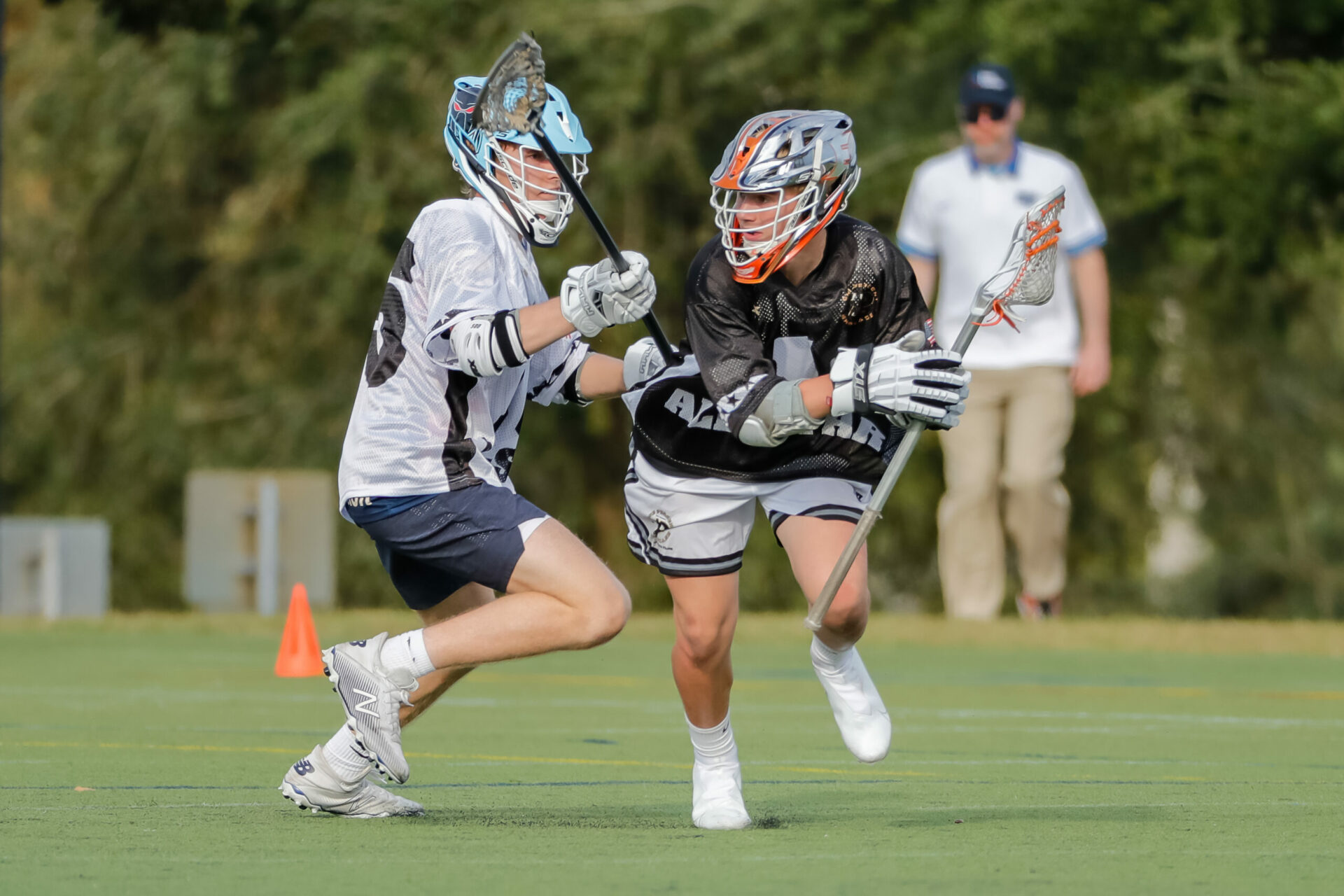 Photo courtesy of Mike Watters.
No. 1, Kyle Colsey, attack, Ridgefield (Conn.) / Eclipse 
It's early, but it's to project many better attackmen in the '24 class than Colsey. The son of Hall of Famer Roy Colsey and the brother of '22 Virginia commit Ryan Colsey, who earned All-Star Game MVP honors at the October One Percent Showcase, the youngest Colsey was electric in the All-Star Game. He capped the game with an outrageous low-to-high rocket that pinged the upper far corner, the cherry on top of a three-goal, two-assist sundae. Colsey was a constant factor in the riding game, causing a pair of turnovers, one of which led to a goal. That energy and enthusiasm for getting the ball is a rarity among high-scoring attackmen, but Colsey seems to thrive off of what he can do on the ride.
Early in the game, the lefty zipped a perfect pass to set up an Aydan DiRocco (Haverford School, Pa. / Mesa) BTB goal. He showed off his vision again by threading a beautiful skip pass to Luca Duva (John Jay, N.Y. / Prime Time) for a dunk on the crease.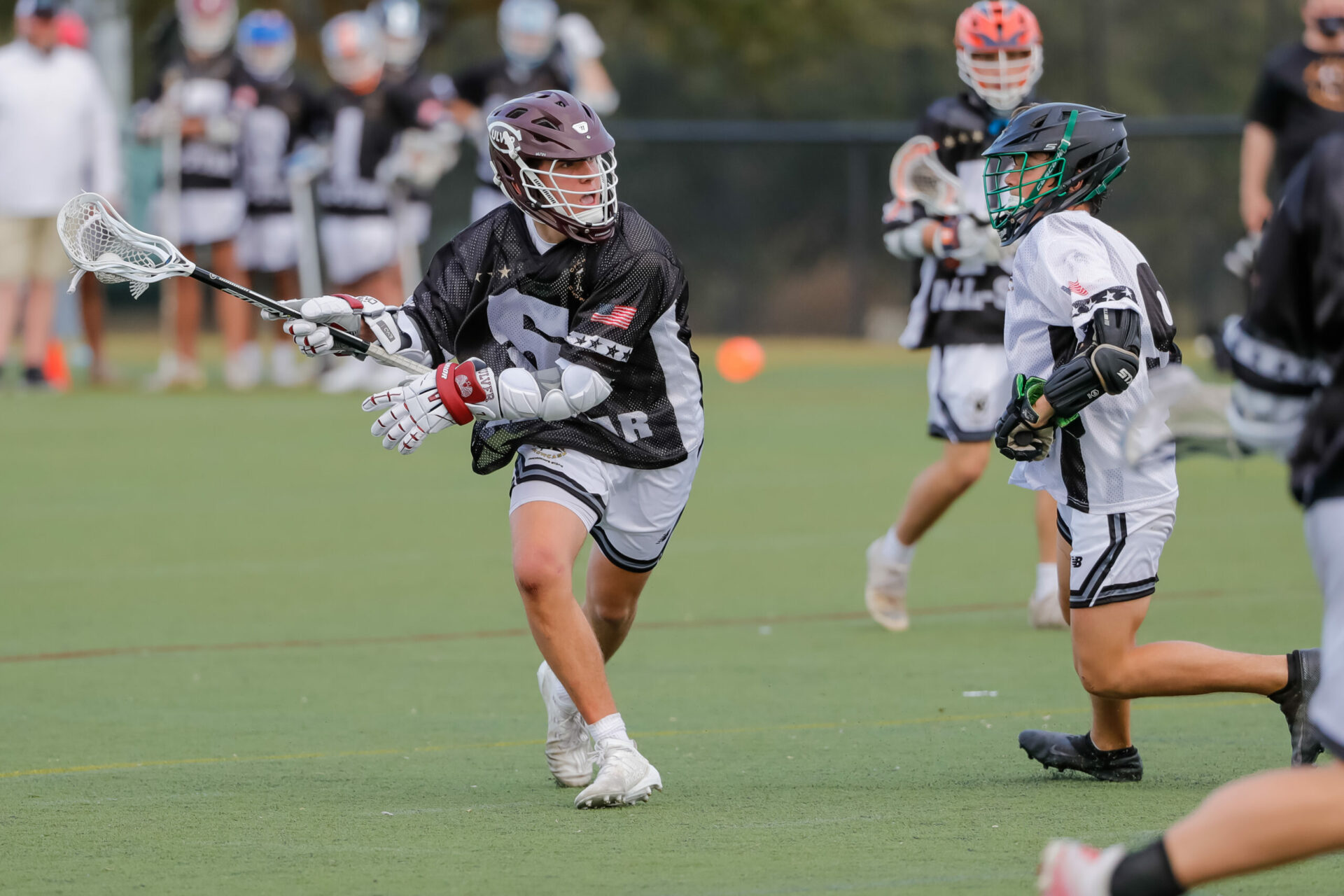 Photo courtesy of Mike Watters.
No. 5 Luke Warrington, midfield, Culver (Ind.) / True
A dynamic midfielder who made his bones early in the All-Star Game on defense, Warrington turned the offensive intensity up as the game went on. Defensively, he pressed far out on guys and made it clear that he relished the challenge. At the other end, he made his presence felt with a gorgeous leaner after slaloming through the defense, then later added another goal with an off-stick hip transition rip. Warrington also showed that he could make plays as a passer, setting up Greg Canning (Worcester Academy, Mass. / Fighting Clams) for an easy goal and drawing a hockey assist on a Kyle Colsey-to-Luca Duva tally.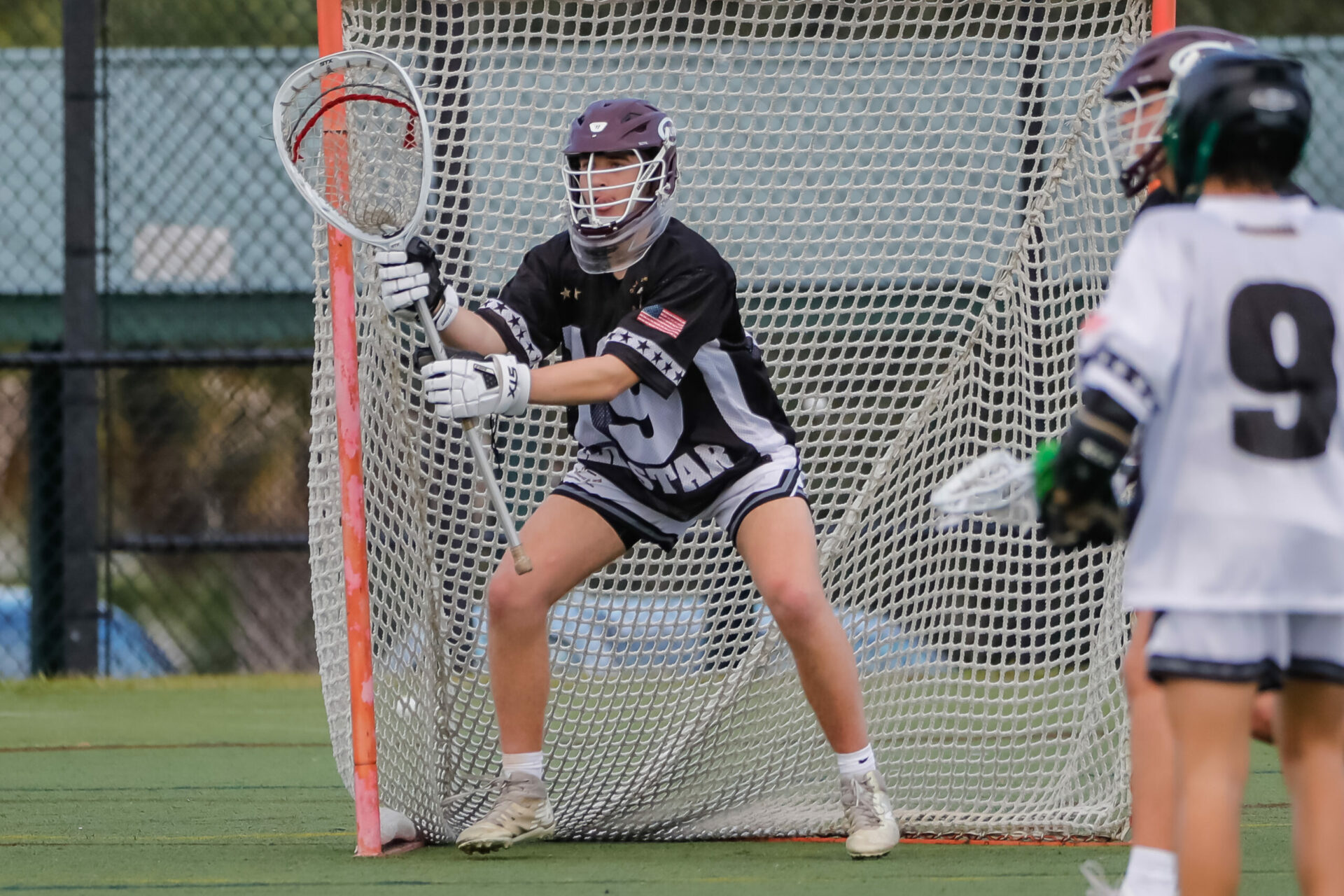 Photo courtesy of Mike Watters.
No. 19 Tade Wynn, goalie, Culver (Ind.) / True
Cool and composed in the cage, Wynn was a force for the Black team, making a handful of impressive stops. A bigger goalie, he showed good footwork and the ability to make low saves, as he did on a nifty kick save on a midfielder's alley dodge. He also made a pair of highlight-reel 1v1 saves, denying a high-to-high shot in tight and then adding a great foot save. Wynn made smart, safe decisions in the clearing game.
Black Team Honorable Mention
No. 12 Madden Murphy, faceoff, Ward Melville (N.Y.) / Legacy
No. 14 Rowan Collins, LSM, Manhasset (N.Y.) / Team 91
No. 15 Thomas Sheumack, defense, Bronxville (N.Y.) / Predators 
White Team Standouts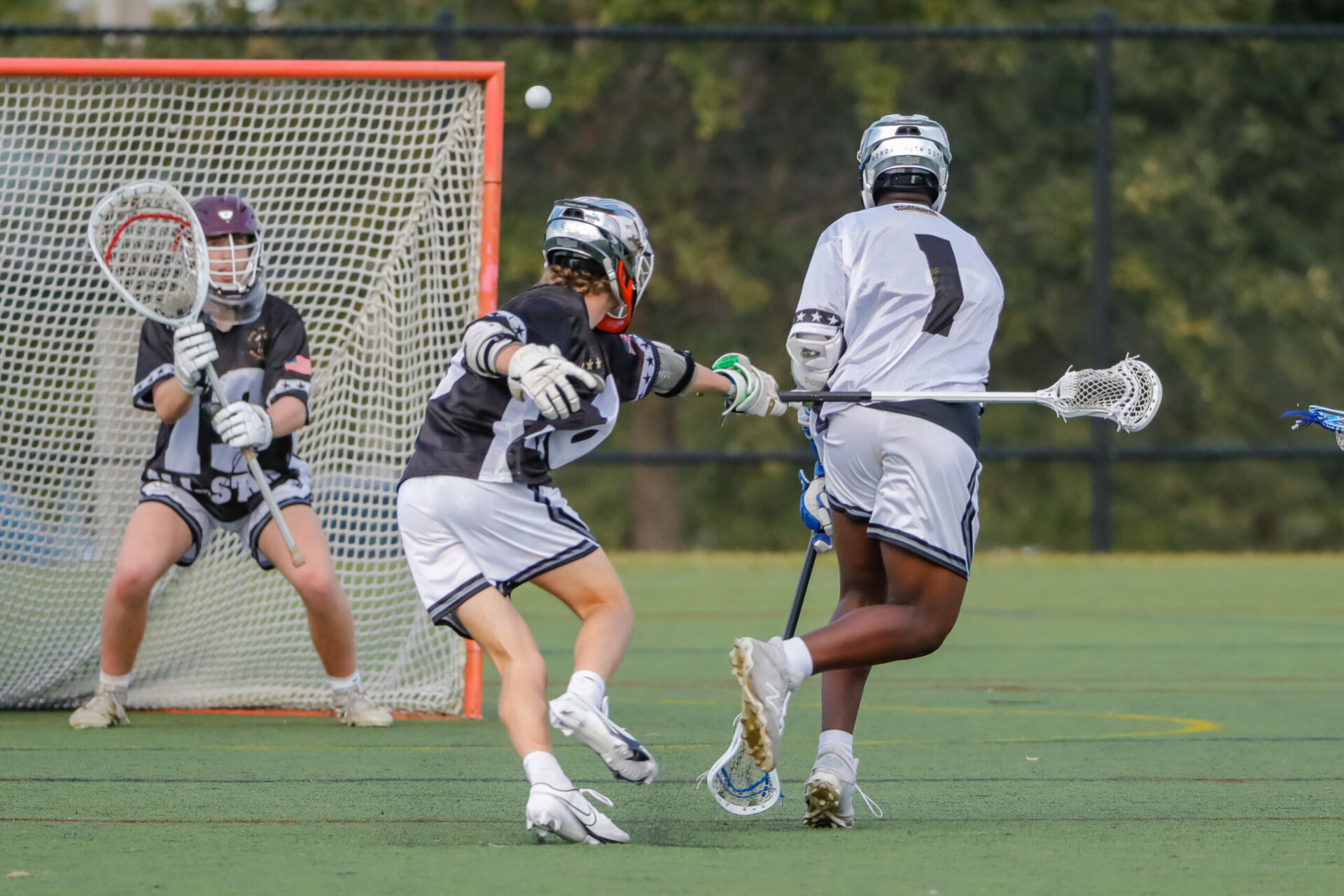 Photo courtesy of Mike Watters
No. 1 Zach Chari, attack, McCallie (Tenn.) / Thunder LB3
What a beast. Already north of 200 pounds, Chari physically looks like he should be in college, but he's also got plenty of shiftiness for a bigger guy. He had an eye-popping lefty crank that got him rolling and later crossed up a midfielder up top and unleashed a righty rocket into the corner. Chari showed that he could dodge from anywhere and get to his spot, and he has a hard, heavy shot. He also did a nice job of getting his teammates involved, setting up Luke Macaluso's hitch-and-go goal and then setting up a great chance for one of his midfielders.
Photo courtesy of Mike Watters.
No. 2 Luke Macaluso, attack, Culver (Ind.) / True
This kid's going to be special. He moved well off-ball, finding open space to make himself a threat, but he was even better with the ball in his stick. He dusted a defenseman with a filthy hitch-and-go off of a Zach Chari feed for his first goal. That was good. This was even better.
Macaluso's a problem from GLE and up top, which will give Culver coach Jon Birsner some options to work with this spring. His excellent handle and patience in traffic are next level qualities.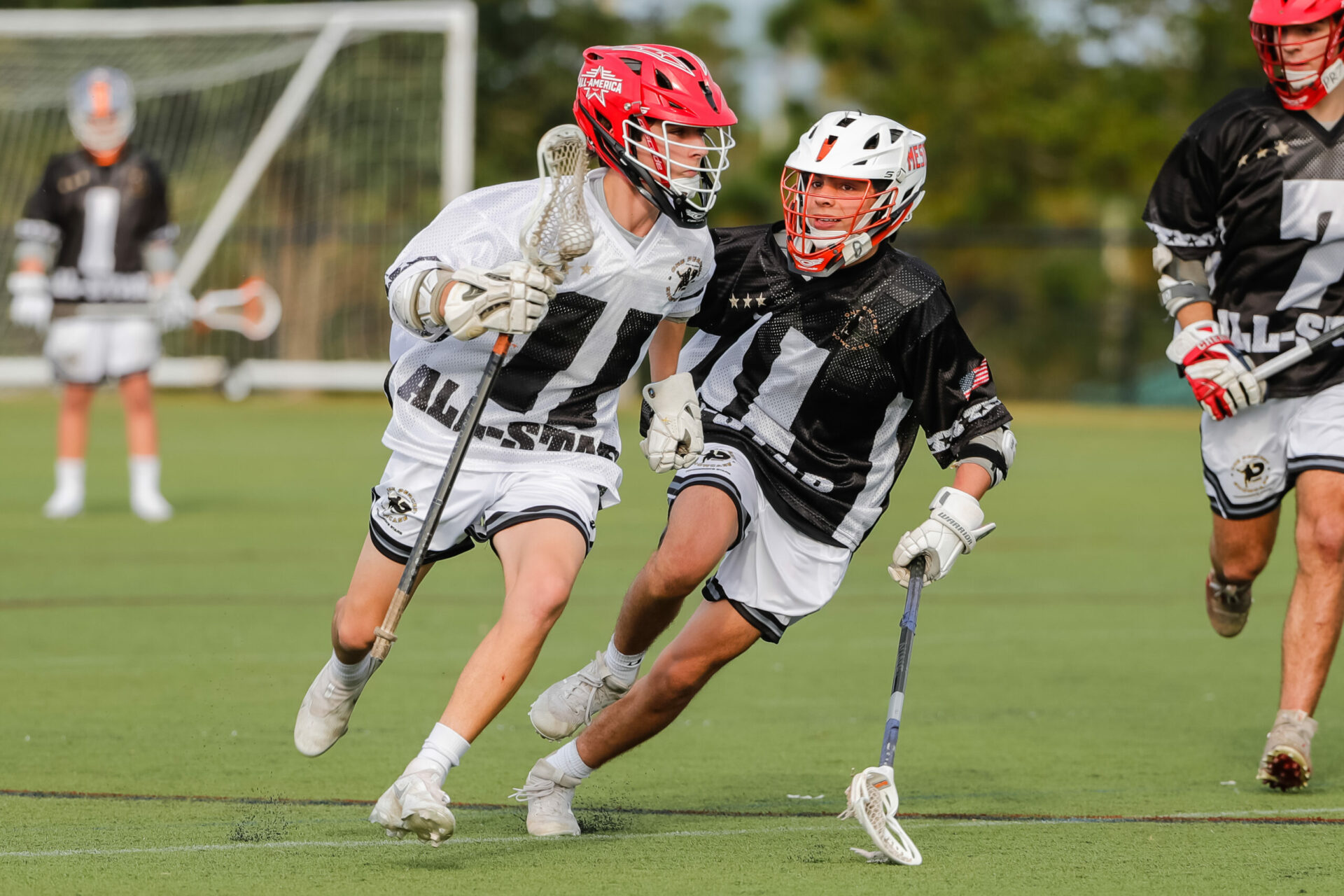 Photo courtesy of Mike Watters.
No. 11 Lad Harper, faceoff, Ponte Vedra (Fla.) / Next Level
The faceoffs were pretty balanced between all four faceoff guys, but Harper unofficially came out with an excellent 7-for-9 performance. The Florida product won his first three faceoffs in three different ways: one where he rotated around and popped an easy ground ball to Josh Kitt (Greens Farms, Conn. / Express North), another where he cleanly won it and got the ball to Caden Harshbarger (Lake Mary, Fla. / SweetLax Florida) and another where he won it to himself after a tough battle and nearly had a house call. Harper seems to have an advanced understanding of different exits and counter, and as he adds size, he has a shot to emerge as one of the top faceoff men in the class.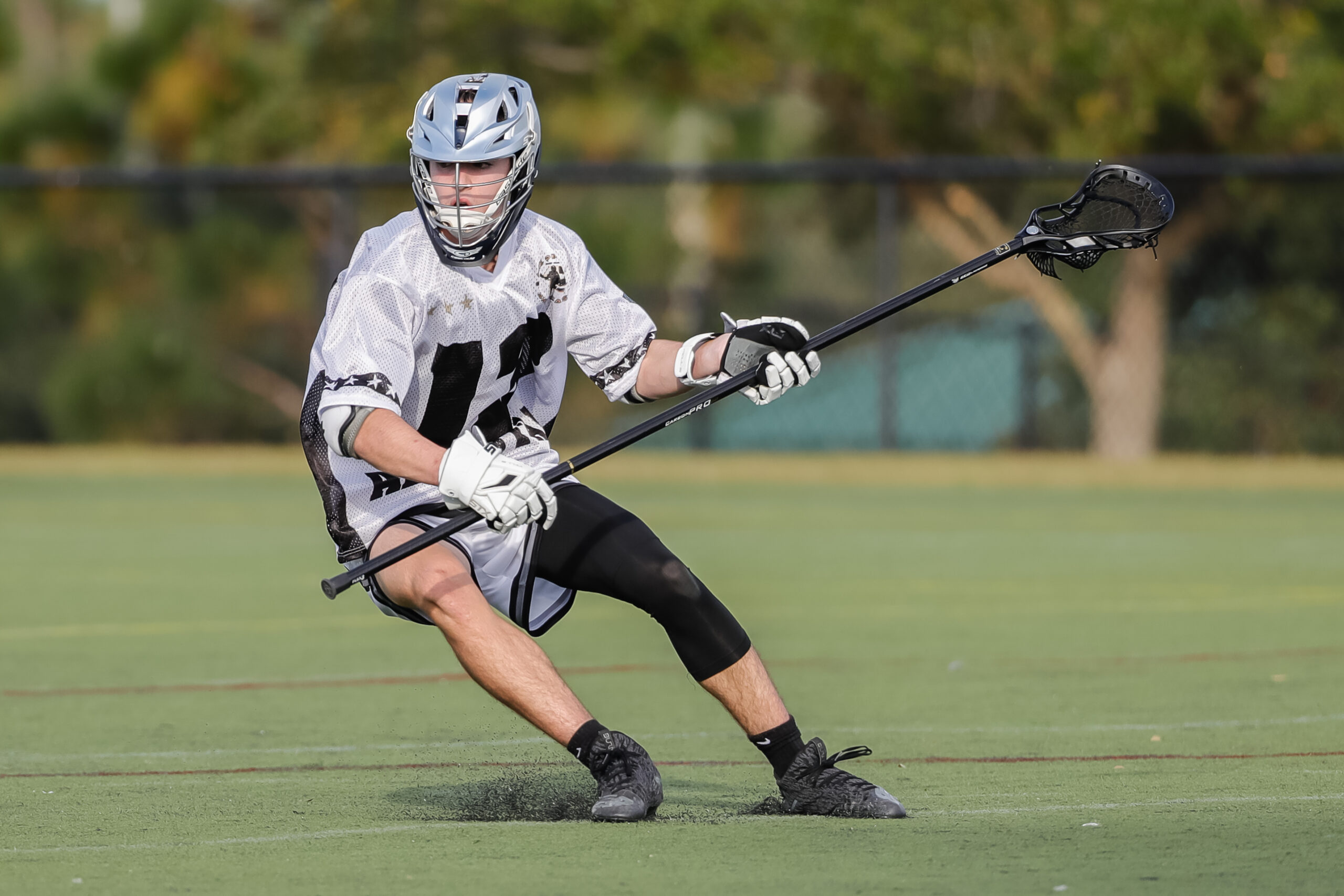 Photo courtesy of Mike Watters.
No. 13 Tyler Eye, LSM, St. Anthony's (N.Y.) / Legacy
You want your LSMs to be disruptive and able to make plays in the middle of the field, and Eye fits that description to a T. He had an absolutely surgical detwigging of MVP Hudson Hausmann early on, and he effortlessly snagged up a couple of nice ground balls throughout the game. He wasn't often tested in 1v1 defense, but acquitted himself well when he did, including forcing a very low-angle BTB attempt from a midfielder.
White Team Honorable Mention
No. 6 Christian Buck, midfield, Jesuit (Ore.) / Mad Dog
No. 19 Preston Taylor, goalie, Sumner (Ore.) / Mad Dog
No. 20 Carter Hagen, goalie, Darien (Conn.) / Eclipse