Winter One Percent Evaluations: 2024 North Carolina and Princeton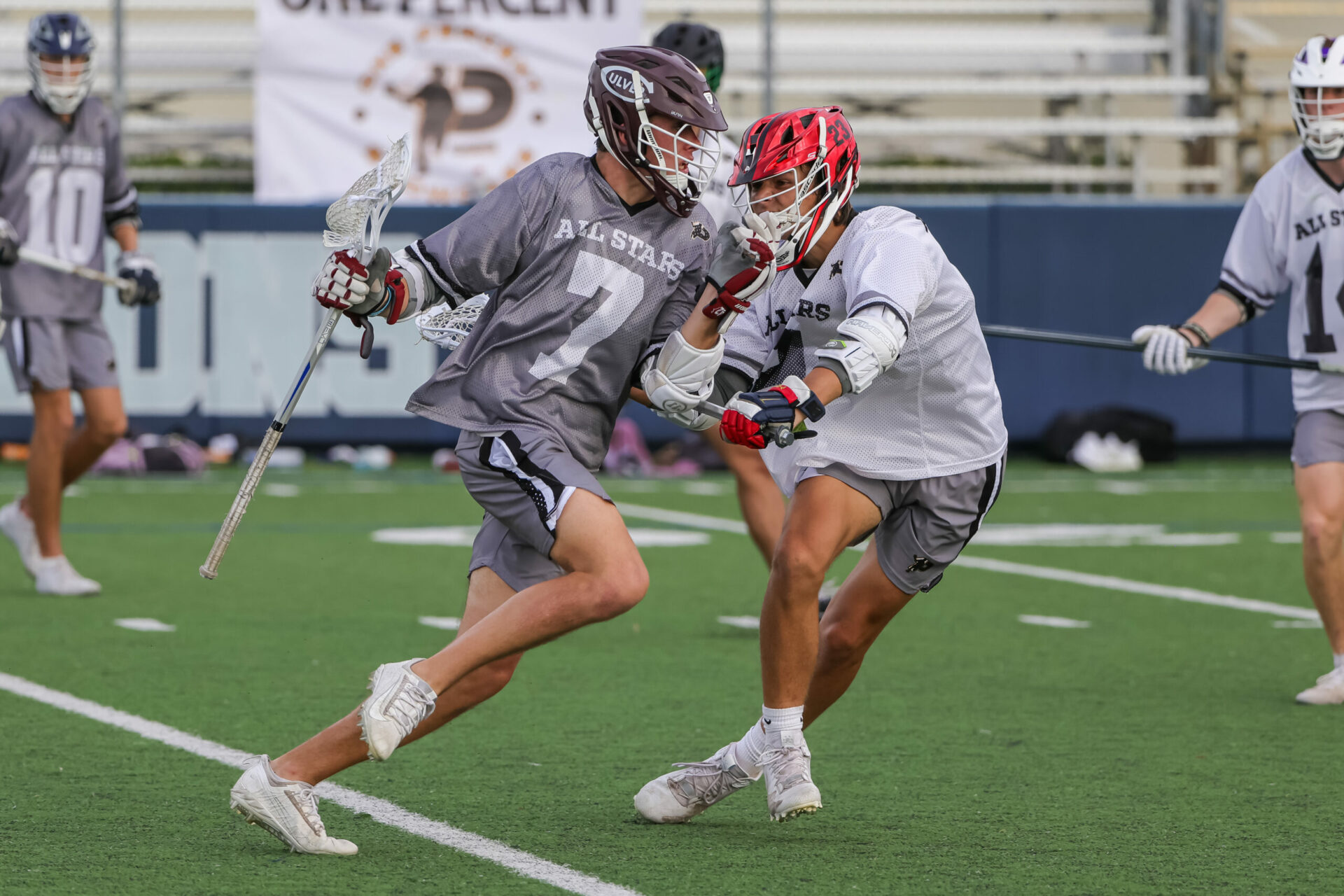 Winter One Percent Evaluations: 2024 North Carolina and Princeton
Follow the One Percent on Instagram , YouTube and Twitter.
The winter One Percent evaluations are here!
North Carolina and Princeton are up next, with every player getting an evaluation. CLICK HERE to see Dartmouth and Harvard evaluations. CLICK HERE to see the list of 2024 all-stars.
This summer's One Percent takes place on June 28 (2024 and 2025) and June 29 (2026) at The Proving Grounds in Conshohocken, Pa. CLICK HERE for full info.
APPLY HERE
2024 – sold out at attack, midfield and goalie
North Carolina
No. 1. Ryan Baik, attack, St. Andrew's Episcopal (Md.) / DC Express

Most comfortable operating at X, Baik showed an ability to make plays in tight and to accurately pick corners under pressure. His first couple of goals on the day came on short-side rips when he beat his man at X. Baik showed good stick protection in front of the cage and also did well in the two-man game on a couple of occasions. He was also a willing participant in the riding game, constantly applying pressure and registering a couple of caused turnovers. Adding a bit more assertiveness to his game will only help him get better.
No. 3. Noah Snyder, attack, Westtown (Pa.) / Brotherly Love 
All-Star. One of the more entertaining players to watch throughout the day, Snyder kept defenses guessing with his shiftiness and terrific feeding ability. He had a number of eye-popping feeds, including a three-assist performance in the opener. One of those came on an absolutely gorgeous dime to Jack Fiordalis for a dunk on the crease. Snyder sees everything, even when it seems like he doesn't. He had a handful of on-point no-look dishes, but he can also stop on a dime and cook a defender at X.
No. 4. Luke Dickinson, attack, Briarwood Christian (Ala.) / Yellowhammer 
A big-bodied attackman, Dickinson took a little bit to get his footing, but once he did, he found multiple ways to produce. He showed his long-range shooting ability when he blasted home a stepdown off of a Kyle Colsey setup, worked some pretty give-and-gos with Teddy Gramins and Jack Fiordalis for a pair of tallies, and worked hard to get open off-ball. Demanding the ball a little bit more will go a long way for him.
No. 5 Kyle Colsey, attack, Ridgefield (Conn.) / Eclipse 
All-Star. One of the premier attackmen in the '24 class, Colsey once again shined as his shots got well-acquainted with twine. His advanced IQ helps him identify matchups and he exploits them. You can see his eyes get big when he gets switched onto a short-stick. That happened early, and a quick split later, a low-to-low rocket found its home.
Colsey has an elite first step and overall athleticism and he left some defenders in shambles with spin moves and splits.He shoots from different angles, works hard on the ride and is a better passer than some might realize. He had a number of impressive passes through traffic, including setups to Gramins and Dickinson. Colsey is an ACC-caliber attackman, and he will not last long on the post-9.1. market.
No. 6 Sean Crogan, midfield, Lexington (Mass.) / Laxachusetts 
All-Star. A true midfielder in the sense that he makes plays all over the field, Crogan is a joy to watch because he does so much. He made his impact felt early with a good ground ball off the wing and an even better burst to run past the LSM and finish the playoff with an overhand tally. Crogan's not afraid to go up against anyone defensively, and when he got beat, it required a perfect shot from the opposing middie because Crogan was usually in his hip pocket.
Offensively, Crogan has the shiftiness and suddenness to demand an early slide. He puts some pop into his shot and can score in a bunch of different ways. He's not overly big, but like his older brother Pat, a '22 four-star recruit headed to Georgetown, he plays with a prickly disposition.
No. 7 Laird Miller, midfield, Brophy Prep (Ariz.) / Mad Dog 
All-Star. A lefty from Arizona's best high school program, Miller made his presence felt more and more as the day went on. He got on the board by burying a Colsey feed from X and later showed his shooting range with a high-to-high bomb off of a Snyder dish. Miller's got plenty of room to fill out, and once he packs on some size, he'll be an even more dangerous dodger. He seems to enjoy playing defense and was dependable on the wings, too.
No. 8 Ian Ludewig, midfield, Hudson (Ohio) / Resolute 
Ludewig, who's a three-sport varsity athlete who also plays football and hockey, is a cut above most athletically. He was at his best defensively and in transition, including one highlight-reel clear where he weaved his way through a pair of double teams to get the ball up the field.
No. 9 Jack Fiordalis, midfield, Lake Highland Prep (Fla.) / SweetLax Florida 
All-Star. Talk about making an impact all over the field. Fiordalis did it all for UNC. He popped a hat trick in the first game, including an absolute bomb on a high-to-high 15 yarder out that left the net rocking. Fiordalis is way more than just an offensive guy, although he filled up the net often throughout the day. An excellent athlete with a smooth stride in the open field, he takes pride in his defense and wing play. Fiordalis hustled hard throughout and also had a handful of nifty passing plays. A legitimate all-around midfielder.
No. 10 Teddy Gramins, midfield, Bronxville (N.Y.) / Predators 
There's a lot to like about Gramins, who has a lot of untapped potential. A tall middie, he needs to add some bulk to his frame to help round out his game a bit more. However, he also did a nice job of getting involved offensively with some smart plays. He had a great draw-and-dump with Dickinson in transition off a faceoff win for an assist. Gramins did a good job of keeping his head up and finding his teammates.
No. 11 Blake Benton, midfield, Valor Christian (Colo.) / Denver Elite 
Part of one of the nation's elite '24 teams in what might be the best team in Denver Elite history, Benton has a really nice first step that helps him both as a dodger and in the clearing game. He had a couple of very good clears, including one full-field run where he weaved in and out of open spots. He's not afraid to mix it up defensively, and if he gets a little more aggressive offensively, will really take his game to the next level.
No. 12 Will Lavallee, faceoff midfield, Milton (Mass.) / 3d New England 
All-Star. Physically, Lavallee sure doesn't look like most faceoff guys. At 6-2, 195 pounds, he can bully guys off of the ball. He uses his height to his advantage when he can pinch and pop to himself by popping the ball way higher than most. That enables him to make sure he's got dibs on the ball since he's usually four or five inches taller than most faceoff guys. Lavallee didn't really push the pace much after his wins, but he did a very good job of using his wing men and a variety of exits.
No. 13 Francis Keneally, LSM, Warwick Valley (N.J.) 
All-Star. A high-energy pole who has aggressiveness for days, Keneally loves to get out and pressure. That energy tends to get the ball to go his way. He hustles all the time, nabbed a bunch of ground balls off the wing and did an impressive job of escaping pressure with the ball in his stick.
Keneally also had one of the best pole goals of the day when he cranked one home in transition from 12 yards out. He also was consistently good on his slides and if he can polish up his coverage angles and stick placement in coverage, he'll emerge as a top-flight LSM in the class.
No. 15 Graham Kaestner, defense, Sacred Heart Prep (Calif.) / West Coast Starz 
A tall, athletic defender, Kaestner showed off some good IQ and a very active stick throughout the day. He had a great pick of a pass coming through X where he ID'd where it was coming from early and jumped it. Kaestner showed off some good power and strength on a couple of reps against 215-pound Zach Chari. He also escapes pressure well with the ball in his stick.
No. 16 James Peters, defense, Paul VI (Va.) / VLC 
Bill this guy rent for the amount of time he spends camped out on gloves. Peters isn't going to sit back and enjoy the view. Rather, he wants to get after it and make life uncomfortable for attackman. He had a gorgeous slap check on the sideline that caused a highlight-reel takeaway, and Peters also grabbed a bunch of tough ground balls in traffic. He'll really blossom when he continues to improve his understanding when and when not to slide.
No. 17 Owen Rodriguez, defense, Bishop Verot (Fla.) / True Florida 
Rodriguez brings ideal size to the position, and while he's still fairly raw, there's a ton of potential for him to reach. He got beat a couple times by some elite attackmen, but kept going back for more reps and acquitted himself well. He's most comfortable trying to bully attackmen off the ball and had a couple of caused turnovers with some heavy checks. Rodriguez also doubled the ball well on a handful of opportunities. Getting lower in his stance and continuing to play high-level competition will help him unlock his vast potential.
No. 19 Drew Jones, defense, St. Francis DeSales (Ohio) / Resolute 
Jones made some really nice plays throughout, and he showed a knack for getting his stick on the ball at very opportune times. On one play, he couldn't stop Zach Chari from getting inside, but made up for it with a nice trail check to send the ball harmlessly out of bounds. His footwork continues to improve and he showed good patience in coverage. Jones also showed good understanding of when and where to slide.
No. 20 Jack Read, goalie, Severn (Md.) / Annapolis Hawks 
All-Star. Read stood out not only for his ball-stopping ability, but also for his communication skills. He puts the defense in the right spot, and when things break down, he makes the stop. Read denied a number of elite shooters throughout the day with different saves. Perhaps none of his stops was better than one on Evan Giachinta when he was falling from right to left and managed to take away a low rip.
No. 21 Landon Pepe, goalie, Somers (N.Y.) / 3d New England 
The lefty was consistent throughout the day, rarely ceding a bad goal and making a couple of excellent saves. He absolutely robbed Jake Kroner on a pipe-to-pipe kick save that he had no business stopping. Pepe was at his best on low shots, showing active feet and tracking the ball well.
Princeton
No. 1 Ian Smith, attack, Kiski (Pa.) / True 
Smith showed an advanced understanding of how to work off-ball, constantly identifying the right spot to venture into. He also had a couple of impressive ground balls in traffic. Smith is comfortable with the ball in his stick, but has to become more aggressive in seeking out his shot.
No. 3 Bryce Gunn, attack, St. Stephen's & St. Agnes (Va.) / VLC 
Gunn showed that he could produce in a bunch of different ways. He got things started with a low-to-low rip from the wing in transition off a Cisco Celotto faceoff win and assist and added an excellent off-ball cut to finish off a nifty Grant Mathieson assist. Gunn also showed that he could make some deft passes, like his nifty feed from X to set up a Will Chiasson dunk. What might have stood out the most, however, was his constant commitment to the ride, where he was rewarded for his hustle with a couple of caused turnovers.
No. 4 Grant Mathieson, attack, Mamaroneck (N.Y.) / Predators 
Mathieson looked much improved from a year ago when he first came to the One Percent. He was significantly more comfortable with the ball in his stick and had some very nice passes, including a dime to a cutting Gunn for a goal. He picked up a couple of tough ground balls in traffic, moved off ball better and showed some shake. Being a shorter attackman can play to his advantage at times when he gets low on his cuts as defenders have a hard time getting low to match him.
No. 5 Quinn Whipple, attack, Taft (Conn.) / Legacy 
All-Star. A two-time One Percent All-Star, the crafty lefty is entertaining to watch because of his willingness to try just about anything. He had one of the best highlights of the day with a diabolical fake jumper to a far corner rip. Quicker than fast, he uses his first step to put defenders in conflict and can score with fakes and deception. Whipple had a nasty goal where he obliterated a defender and finished it off with a leaner. Sometimes, he gets a little too fancy for his own good, but the positives far outweigh the negatives with him.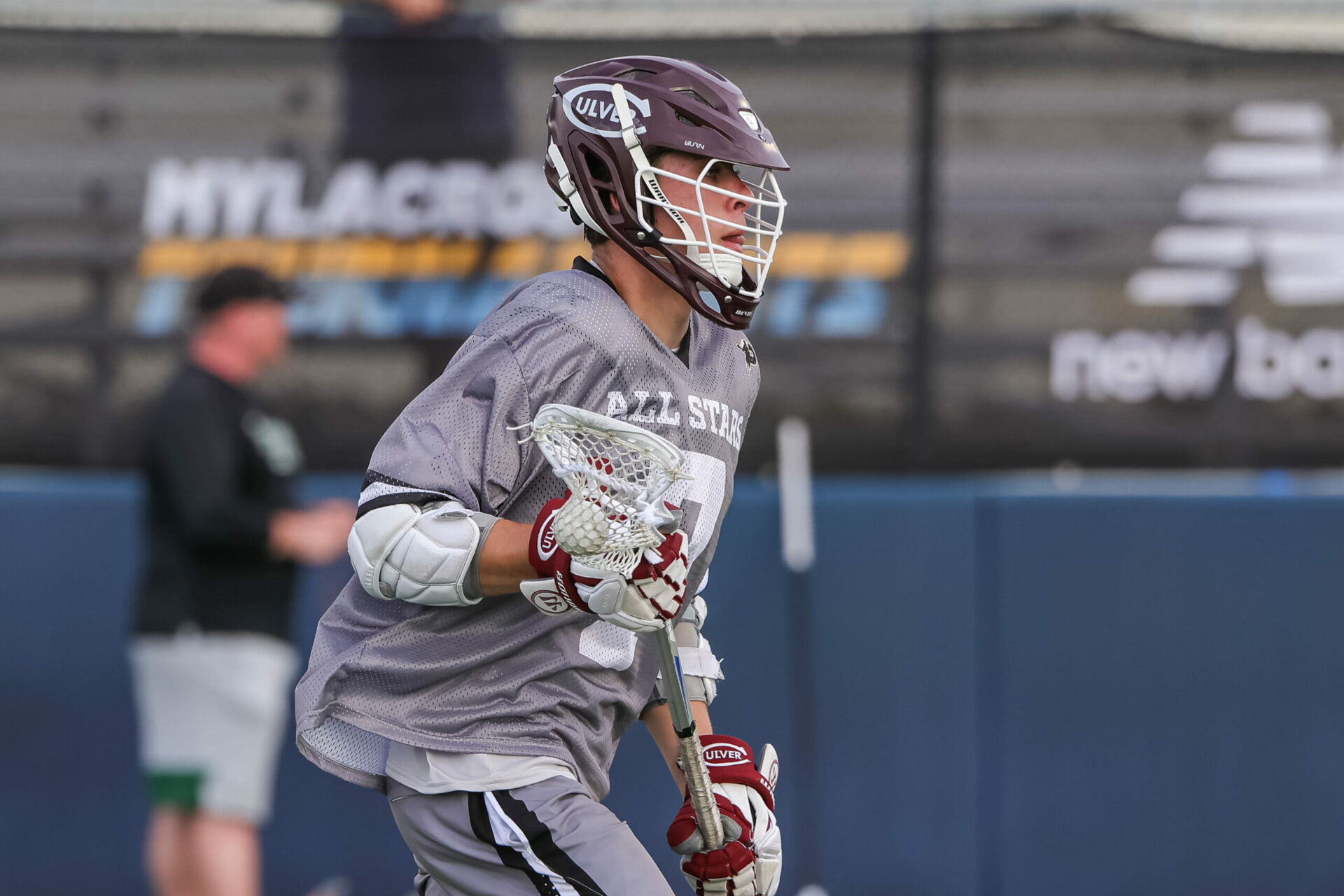 No. 6 Mason Szewczyk, midfield, Culver (Ind.) / True 
All-Star. Szewczyk maybe doesn't get the hype that some of his fellow Culver '24s do – it's likely the best '24 class in the country – but it's time for that to change. He was marvelous throughout the day for his team. Szewczyk constantly blew past guys in transition and he made it a point to score in just about every way possible. He's excellent at setting up defenders for his rollback and coming back for the shot either righty or lefty.
Szewczyk picked up a ton of tough ground balls, played tough defense and set some great picks – one cleared out a defenseman to allow Whipple up the hash for a rocket. He also tossed out a bunch of impressive passes, including some backside skips. He was the Alpha on his team.
No. 7 Will Chiasson, midfield, Natick (Mass.) / Laxachusetts 
Chiasson found ways to contribute all over the field for his team. He was a jack-of-all-trades, master of none type of player who made his presence felt. Chiasson had a couple of goals early, including a dunk off of a Gunn setup and a stepdown rip from Trip Gill. Later, he showed astute understanding of where a slide was coming from by dodging from up top, drawing a slide and dumping it off to the near post for Gunn to finish off. Defensively, he was aggressive on his slides and was dependable throughout.
Stop and pop from @Sweetlax_Fla's Chris Jaskiewicz (Lake Highland Prep, Fla.)! pic.twitter.com/39yG1bQtsf

— OnePercentShowcase (@OnePctShowcase) December 18, 2021
No. 8 Chris Jaskiewicz, midfield, Lake Highland Prep (Fla.) / SweetLax Florida 
Between Caden Harshbarger, Jack Fiordalis, Andrew Jimenez and Jaskiewicz, SweetLax Florida has some DUDES in its midfield. Jaskiewicz is a legit middie who played good, tough defense throughout the day. He had an impressive lefty rollback that he finished with a lefty high-to-high crank. His best goal of the day, though, came when he put a couple of Harvard defenders in a blender, came back and blasted a low-to-high hammer. Jaskiewicz also impressed with his hustle.
No. 9 Billy Eckles, midfield, Rockhurst Jesuit (Mo.) / Midwest Top Gun 
Hailing from one of the top programs in Missouri, Eckles made his bones with some gritty ground balls and did pretty well between the lines. You'd like to see him ask for the ball more on the offensive end, but he assimilated himself into the team offense concept and did a bunch of little things well.
No. 10 Caswell Friedman, midfield, Brentwood (Calif.) / Cali Gold 
Friedman knows that he's a short-stick defensive midfielder and excels as one. He was at his best affecting play on the defensive end, on the faceoff wings and in transition. Friedman had a fantastic sequence that encapsulated everything he's about where he scrapped for a 3v3 ground ball on the wing. He knocked the ball loose, boxed out the LSM and kicked the ball to an open Whipple to get possession. Friedman also showed some offensive skill, like when he tossed out a dime on an invert dodge.
No. 11 Trip Gill, midfield, St. Thomas Aquinas (Fla.) / Florida Crabs 
A tall, lanky middie who has room to pack on size that will elevate his game, Gill understands how to attack a defense and has the skill set to threaten defenses in multiple ways. He had an excellent dodge and feed to set up a Will Chiasson stepdown, then later added a big stepdown of his own. Consistently playing against high-caliber competition will only help him as there's a ton of potential with the STA product.
No. 13 Jaydon Franklin, LSM, Buford (Ga.) / Team 91 Georgia 
The sky's the limit for Franklin as he continues to add polish, particularly on some fundamental things like where to keep his stick in coverage. He had some of the best feet of any defender at the event and was able to consistently match up with shifty guys like Colsey. Franklin's very comfortable pressing out and likes to apply pressure on ball. He had a bevy of splash plays where he'd get his stick on shots or pick up tough ground balls, but his best play came when he perfectly timed up a Colin Komenda rollback, knocked the ball out and grabbed the ground ball in one fell swoop.
No. 14 Cisco Celotto, faceoff midfield, Staples (Conn.) / Eclipse 
Being a shorter faceoff middie plays into Celotto's hands as he can stay low in his stance and control the clamp. When he went forward, he showed a good first step to beat his man and start the fast break. He didn't press a ton offensively, but made pretty good decisions with the ball in his stick. Celotto also showed some deft stickwork with some of his plays on the ground, including a beauty of a hockey style ground ball to his wing.
No. 15 Matthew Bonasera, defense, Pingree (Mass.) / Fighting Clams 
Bonasera struggled early on, but he came roaring back and got significantly better as the day progressed. His best play came when he used his big frame to body up an attackman, caused a turnover, boxed his man out, snatched up the ground ball and smoothly tossed a backhander back to his goalie, Johnny Webb. He timed up some nice double teams and showed an active stick throughout. At 6-4, 195 pounds, he's got the ideal frame for a college defenseman, and if he can become a little more consistent, he'll be in high demand.
No. 17 Erik Young, LSM, Valor Christian (Colo.) / Team 91 Colorado 
Young's a magnet for the ball and finds a way to constantly be around it. His stickwork looked like the best part of his game, as if often the case with LSMs. He had a bunch of tipped passes, takeaways and ground balls. Young's certainly not afraid to throw checks and showed good lateral movement. A high-intensity pole, Young will become even better as he refines his defense.
No. 18 Conner Kunce, faceoff midfield, Nease (Fla.) / True Florida 
Another low-to-the-ground faceoff middie, Kunce was at his best when he was able to scrap on the ground and keep the ball close to him. He fought off some checks as a result of him staying low. He did a solid job of tracking the ball after the clamp, but you'd like to see him push the pace a bit more.
No. 19 Stephen Carre, defense, Darien (Conn.) / Express North
All-Star. Carre's game is so interesting because he does so many things that a great LSM does – takeaways and pushing transition – but he's physically more suited to play close defense. Either way, he was very productive again, using his hyper-aggressive style to cause problems for offenses. He's a pest to go up against and gets his stick on a lot. Sometimes, his aggressiveness costs him and he's going to have up his foot speed to stay with attackmen who are elite athletically.
No. 20 Johnny Webb, goalie, Radnor (Pa.) / NXT 
All-Star. The Defensive MVP of the All-Star Game, Webb makes up for his lack of size by diagnosing plays a step before they happen. He had an outrageously good 1v1 save on the doorstep against Miles Mann, denying him a surefire goal. Webb made a bunch of tough saves look exceptionally easy and did an excellent job of stopping low shots. He was particularly prolific at kick saves, too, tracking the shots well and then booting them away with some flair. Webb will continue to get better as he battles for the starting job at Radnor, one of Pennsylvania's top public schools.
No. 21 Henry Waisburd, goalie, Buckingham Browne & Nichols (Mass.) / 3d New England 
Waisburd did a very good job of coming up with some impressive saves, including a gem of a stuff on the crease on Thomas White where he calmly brought his hands up to deny the should-be goal. He didn't really give up many stinkers and squared well on shooters to deny them angles. He had a couple of hiccups in the clearing game, and polishing that aspect of his game will go a long way.