Winter One Percent Evaluations: 2024 Stony Brook and Yale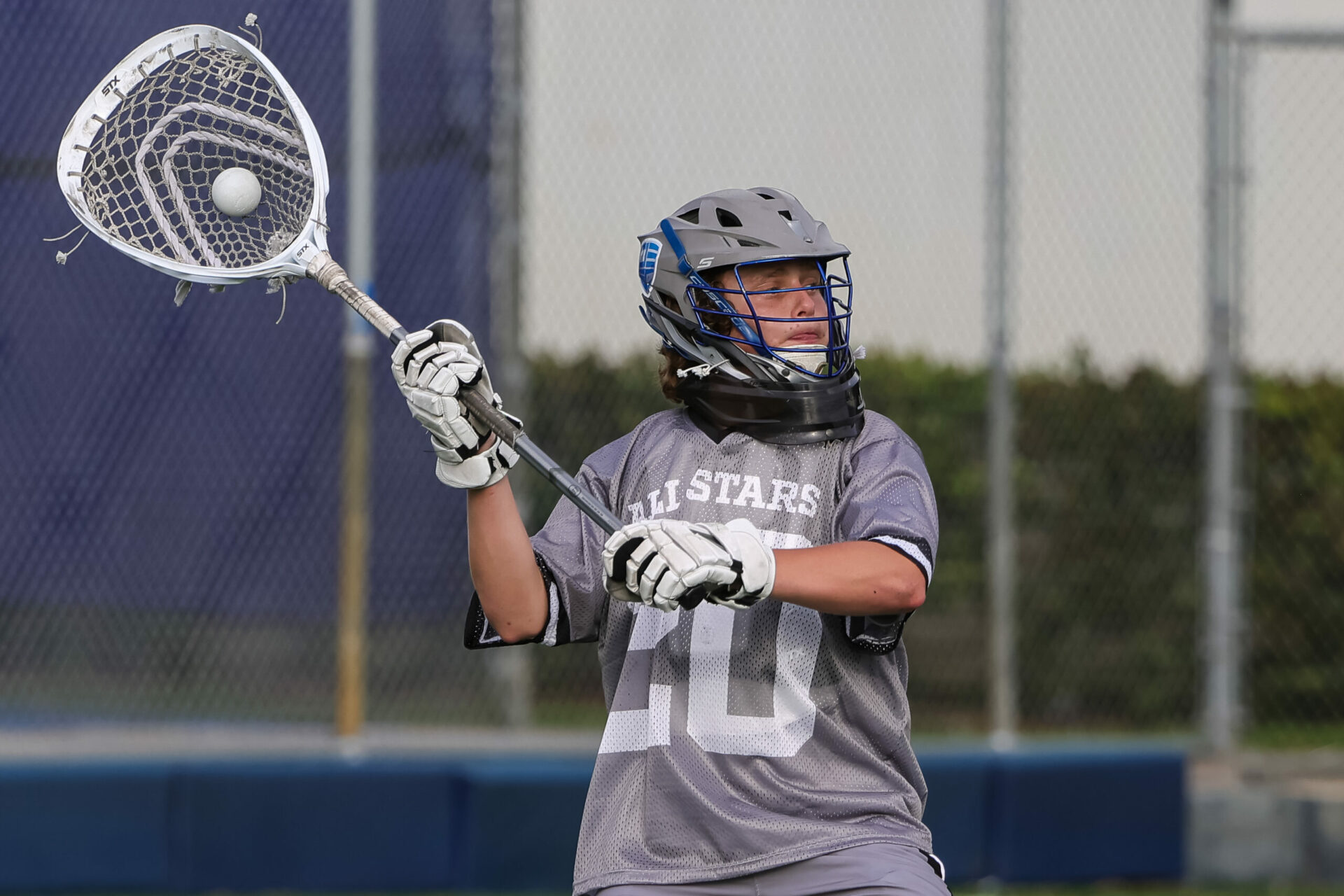 Winter One Percent Evaluations: 2024 Stony Brook and Yale
Follow the One Percent on Instagram , YouTube and Twitter.
The winter One Percent evaluations are here!
North Carolina and Princeton are up next, with every player getting an evaluation. CLICK HERE to see Dartmouth and Harvard evaluations. CLICK HERE to see North Carolina and Princeton evaluations. CLICK HERE to see the list of 2024 all-stars.
This summer's One Percent takes place on June 28 (2024 and 2025) and June 29 (2026) at The Proving Grounds in Conshohocken, Pa. CLICK HERE for full info.
APPLY HERE
2024 – sold out at attack, midfield and goalie
Stony Brook
No. 2 Jack Hamilton, attack, Perkiomen School (Pa.) / Big 4 HHH
A Midwest transplant to Pennsylvania, the lefty, who had a 50-20-70 season at Shawnee Mission East (Kansas) as a freshman, made a habit of making a ton of little plays throughout the day. He has good vision and can break down a defense with his skip passes, but he also showed plenty of slickness. Hamilton showed that deft touch around the crease when he dusted a double team and buried from in tight against Princeton. He also showed well on the ride, collecting a couple of caused turnovers with his hustle and tenacity.
No. 3 Blayze Rodriguez, attack, Calvary Christian (Fla.) / FLX 
At 6-2 and close to 200 pounds, Rodriguez has prototypical size for the position. He also showed well in making some nice plays throughout the day, including a bevy of good passes to open guys. He was active on the ground, too, snagging a couple of ground balls in tight quarters. Rodriguez will continue his upward ascent as he plays more high-level competition.
No. 4 Miles Mann, attack, St. Ignatius Prep (Calif.) / Team Illinois
All-Star. Mann found different ways to be productive throughout the day, scoring in a bunch of different ways while also making some impressive passes. He had a beautiful play where he cooked a defenseman off of a pick and dunked a bouncer through the 5-hole. Later, he added a precise a low-to-mid rip from the wing. Mann competed hard throughout the day.
No. 5 Brett Maguire, attack, Harrison (Ga.)
Maguire is significantly more comfortable as a passer than trying to create his own shot, and there's certainly a spot for guys like that at the next level. He's a very good facilitator who understands how defenses slide and where the open window's going to be. As a shooter, he's savvy off-ball and knows where to go to get his shot off.
No. 6 Caden Harshbarger, midfield, Lake Mary (Fla.) / SweetLax Florida
All-Star. Athletically, he's as good as anyone in the class. Harshbarger makes things look so easy. He has very quick feet, is extremely fluid when he runs and demands early slides when he dodges. Harshbarger makes smart, savvy feeds when it's there, but he can also put a defender in a blender on his way to the rack. He corralled a bunch of ground balls on the faceoff wings and got noticeably more aggressive offensively as the day went on.
No. 7 Colin Komenda, midfield, Rockhurst Jesuit (Mo.) / Midwest Top Gun 
If you're looking for a glue guy who can contribute in a bunch of ways, Komenda might be your guy. He took a bit to get his feet wet, but as the day went on, he played solid on-ball defense and did well in transition. Komenda had a noticeable sturdy pick that freed up Maguire for a goal, and also showed smarts when he worked a nice draw-and-dump with Lleyton Hall for a goal.
No. 8 William Grier McDuffie, midfield, Mountain Brook (Ala.) / Team 91 Georgia
McDuffie checks in with an ideal frame at 6-1, 180 pounds, and he communicated well with his teammates. He assimilated himself well into the team offensive concept and picks up steam when he gets going downhill. If he can be more assertive offensively, things will pick up for the Alabama native.
No. 9 Cole Goodwillie, midfield, Latin School of Chicago (Ill.) / True 
Goodwillie looks the part of a big-time midfielder at 6-1, 180 pounds, and he runs well in the open field for a bigger guy. He showed that he can reach back and get some power on his shot, but he also has to be more assertive in asking for the ball.
No. 10 Thomas White, midfield, Notre Dame Prep (Ariz.) / Arizona Outlaws 
White, who produced a 32-point freshman campaign for Notre Dame Prep, showed some nice vision throughout the day. He was at his best as a feeder when he had the ball in his stick, including an early pass to set up a stepdown rip and later finding Lleyton Hall from X for a dunk on the crease. White hustled hard all day and did some solid work on ground balls and in transition.
No. 11 Wyatt Hurd, midfield, Denver South (Colo.) / Denver Elite 
Hurd showed a diverse skillset throughout the day, highlighted by a lefty goal off of a rollback after taking a great Harshbarger skip pass. Hurd spun to his lefty and ripped home a bouncer. He made a number of quality passes, competed hard on ground balls in traffic and put in his fair share of work on the defensive end.
No. 13 Landon Parker, faceoff, Grand Ledge (Mich.) / Cherries
All-Star. Parker made his bones with a bevy of defensive exits. He didn't push the pace very often, but was very good at popping the ball to himself as he headed out the back door. He has excellent size for the position and can box guys out and protect the ball in his stick, but has to get a little quicker to be able to escape pressure at a high level. Parker opted for the safe play almost every time off the faceoff win.
No. 14 Aden Isika, LSM, The Woodlands (Texas) / Big 4 HHH
A smaller pole with the mindset that he's 6-4, 230 pounds, Isika doesn't shy away from a challenge. He enjoys scrapping on the faceoff wings and loves pushing the ball upfield. Isika did a solid job in coverage throughout.
No. 15 Ethan Fisher, defense, McCallie (Ga.) 
All-Star. Going against Fisher has to be incredibly annoying because he's simply always in the way. He's not very flashy, but that's not a bad thing. The McCallie product uses his footwork to stay in between his man and the cage. He forces attackmen into poor shooting angles. Fisher and Quinn Whipple had some excellent battles where Fisher acquitted himself well.
No. 17 Matthew Fogarty, defense, Oakton (Va.) / VLC 
Fogarty's added some sand paper to his game, and that was on display in Delray. He relished the opportunity to put a little extra pop on every one of his checks and hits. At one point, he basically tossed a much bigger attackman to the ground and grabbed the ground ball to go the other way. He had a bunch of really good, effective slides and took the ball away on a handful of occasions with some precise checks.
No. 18 Alex Rolfe, goalie, Deerfield (Mass.) / Eclipse 
Rolfe had one of the premier saves of the day when he dropped to take away a Mason Szewczyk blast in transition and somehow kept his body from going into the net. A taller goalie who takes up a good chunk of the net, he had some eye-popping saves, including a cross-body stop in transition. His positioning was solid throughout and came up with some impressive low saves for a tall stopper.
No. 19 Lleyton Hall, attack, Oak Hall (Fla.) / 3d Florida 
All-Star. Hall's not a guy who's going to drop 15-yard stepdown bombs, but he might score from everywhere else. He scored a bunch of goals throughout the day and was excellent as a pure finisher. Hall didn't create his own shot a ton, but he showed the slickness and hands to handle everything in tight. He's the guy you want to find in transition with the one-more feed, and he also worked very hard off-ball, which enabled him to get open for those passes to come his way.
No. 20 Alex Fontecchio, defense, Deerfield (Mass.) 
All-Star. Fontecchio doesn't have an off button. He just goes and goes and goes. The lefty isn't overly big, but he's a pain in the butt to go up against. Fontecchio had a number of impressive slides, including a perfectly timed double to cause a turnover against Princeton. He can at times be overly aggressive, but it's better to be that way at this age than the other way around.
No. 21 Jack Pelot, goalie, Ponte Vedra (Fla.) / SweetLax Florida 
Pelot didn't miss the All-Star Game by much at an event where eight or nine goalies had an All-Star case. He's very clean in his movements and doesn't usually cede a ton of rebounds. He drops well to take away low shots and tracks the ball well. One of the best stops of the day, though, came when he cleanly stopped SweetLax teammate Chris Jaskiewicz on a high shot.
Yale 
No. 1 Zach Chari, attack, McCallie (Tenn.)
All-Star. There aren't many high school sophomores who are 6-2, 215 pounds, and there are even fewer that are who move as well as Chari does. He got the ball at the top of the box against Harvard and basically just ran downhill through a bevy of checks and finished it off with a high-to-high dunk. Chari's power and nimble feet make him a tough cover for any defenseman, and his ability to dodge from X, the wings or up top make him a defensive nightmare. He communicated well with his teammates, tried to get everyone involved and also rode hard.
No. 3 Tommy Tray, attack, Malvern Prep (Pa.) / NXT 
A slick little player from one of Pennsylvania's top programs at Malvern, Tray showed the smarts and stick skills to separate in tight quarters. He had a handful of nice plays where he got into small spaces and still scored, including one where he got under the defenseman and bounced it home. Tray had a couple times where he tried to stretch his range out too far, but he did an excellent job from eight yards and in. He also had a nifty head-up feed to Chari on a draw-and-dump for a dunk.
No. 4 Jake Kroner, attack, Lake Forest (Ill.) / True Illinois
Kroner is a smaller attackman who didn't shortchange his team in the hustle department. He worked hard, particularly off-ball to find dead spots in coverage, and gave his team some energy. Adding size, fine-tuning his skills and continuing to test himself against high-level competition will elevate his game.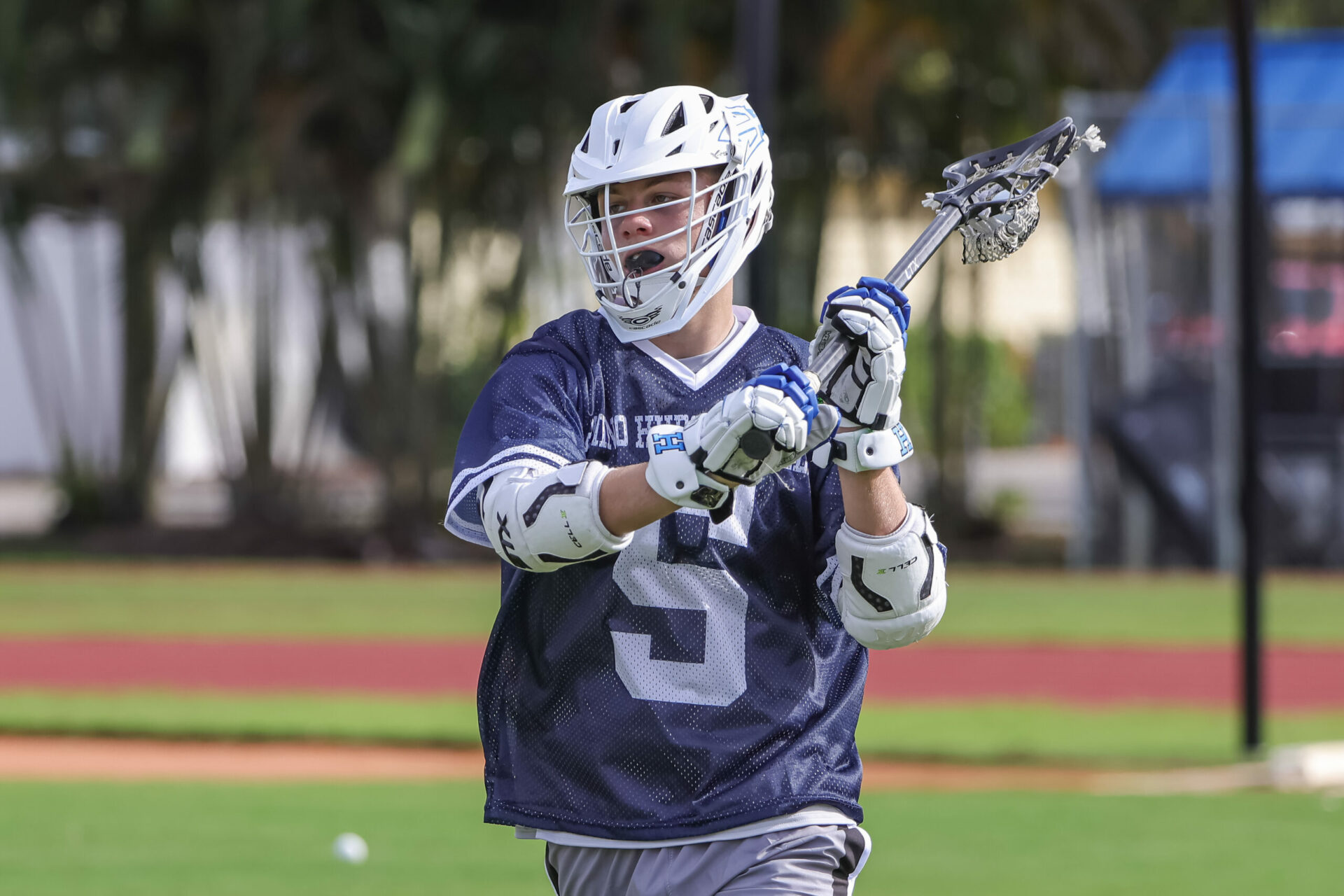 Photo courtesy of Mike Watters.
No. 5 Evan Giachinta, attack, Haldane (N.Y.) / Rhino Hudson Valley
Giachinta is a versatile player who also acquitted himself well as a midfielder, showing well on ground balls and causing a handful of turnovers. He had a gem of a goal against North Carolina when he dodged from X, beat his man inside and scored while falling down. Continuing to improve his footwork will help his game ascend to another level.
No. 6 Jack Bichelmeyer, midfield, Rockhurst Jesuit (Mo.) / Midwest Top Gun
Bichelmeyer is a first-off-the-bus candidate at 6-3, 180 pounds, and he used his size to create some shooting space for himself. He had an absurdly good play where he spun out of a triple team, took a step toward GLE to draw more eyes to him and hit Chari on the backside with a skip to set up a low-to-high bomb. Bichelmeyer's shot wasn't falling as often as he'd have liked, but he did work his way into plenty of good looks. Smoothening out his shooting stroke will help him deliver more pop on his outside shot.
No. 7 William Swartz, midfield, Cannon (N.C.) 
Actually, Bichelmeyer might have to be second off the bus after Swartz, who's 6-5 and 210 pounds. He was clearly hobbled by an injury, but gamely battled throughout the day. Swartz knows that his size makes him a mismatch and attacks it by not wasting time going East and West and opting to get downhill on his dodges. His best play of the day might have been a heavy stepdown off of a Chari pass.
No. 8 Aidan Considine, midfield, Garden City (N.Y.) / LI Express 
Considine's shots weren't falling as much as he'd have liked, but it was awesome to see him double down on making contributions in other ways to make up for it. He picked up some very tough ground balls in traffic and played very solid defense, including a couple of times where he got switched onto some attackmen. Armed with an ideal frame at 6-1, 190 pounds, Considine has the strength and power to run through checks, which he emphatically did when LSM Tyler Quake broke his stick while trying to check him. He's not afraid to use his left hand, either.
No. 9 Noah Steinbrecher, midfield, Buford (Ga.) / Team 91 Georgia 
Steinbrecher made a bunch of little plays that might not show up on the stat sheet but will help his team win games, including a really smart quick draw-and-dump on the end line to get out of pressure. He also had a nice double and caused turnover early on and a double on the wing later on to pop the ball loose. He's not overly big, but competed hard.
No. 14 Ryan McLaughlin, faceoff, West Boca (Fla.) 
It's clear that McLaughlin has put in a lot of time into studying his craft. He prides himself on being a technician who can work some different counters and clean exits. He had a bevy of wins where he put the ball in some different spots for his wing guys. McLaughlin will need to become a little bit better on contested ground balls.
No. 15 Coleman Critchell, defense, Greenwich (Conn.) / CT City 
Critchell worked very hard and did a good job of forcing a handful of low-quality shots with his positioning and stick work. On one play, he smartly got under a topside sweep and timed his check perfectly to cause his man to take an ugly shot. He had a couple of hard runouts, showcasing his compete level. His biggest issues usually came from getting overpowered, so some time in the weight room will suit him well.
No. 16 Ryder John, defense, St. Xavier (Ky.) / Resolute 
Armed with a 6-2, 200-pound frame, John isn't often getting overpowered by any attackmen. Early on, he showed some nice stickwork with a great goose around a middie to himself to start transition and also added an interception by baiting the passer and jumping it. John's stick and the ball seemed to get acquainted on a handful of other occasions, but what really stood out was a runout where he got full extension on a dive and earned the ref's call. Hustle plays never go out of style.
No. 17 Mason Hudson, defense, Saint Andrew's (Fla.) / True
Another defenseman with excellent size, Hudson also brings some snarl to the position. On one play, he got beat by Jack Ransom, straight up bear hugged the Team 91 Charlotte standout and gave him a little extra shot afterward. He was rightfully flagged, but that kind of sandpaper is a good building block to work off of. Hudson showed his stickwork with a filthy can opener on Luke Dickinson and had a couple of very good reps against the very slick Kyle Colsey, including one where he got beat topside but recovered to deflect the shot wide.
No. 18 Adam Kim, defense, Greenwich (Conn.) / Express North
There weren't many defensemen who were faster in a straight line than Kim. He moved very well and liked to get upfield with the ball. Kim showed a penchant for grabbing tough ground balls off the wing and pushing transition, where he made smart decisions with the ball in his stick.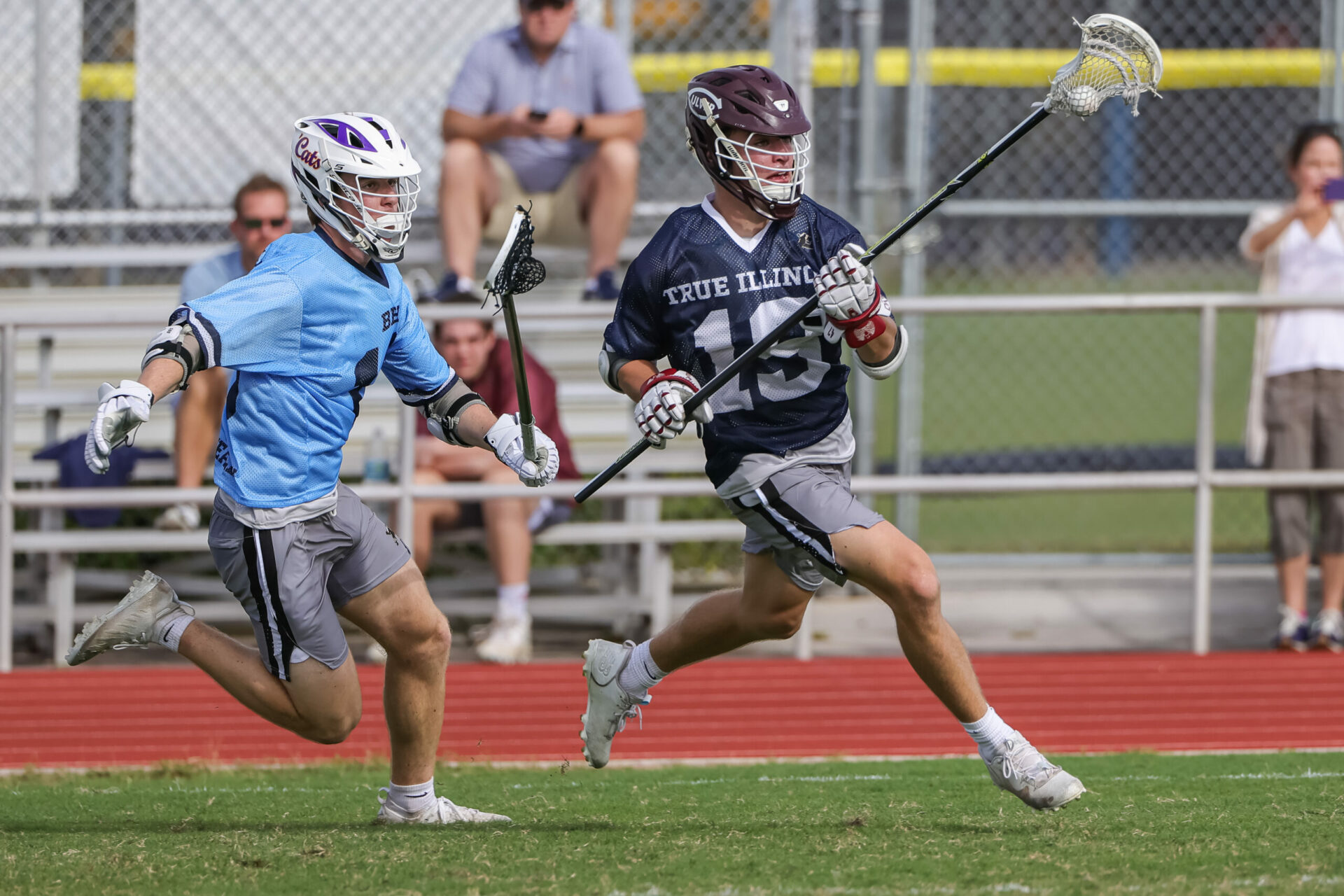 Photo courtesy of Mike Watters.
No. 19 Nikolas Menendez, defense, Culver (Ind.) / True Illinois
All-Star. The best defenseman at the event, Menendez's game has taken significant strides since the summer One Percent. The Culver lefty was seemingly everywhere, and if there was a ground ball near him, it was his. His signature play might have been when he caused a turnover, grabbed the ground ball, outraced a pole and hammered home a high-to-high finish. He made excellent decisions in transition. Menendez also excelled in coverage, using his fleet footwork and his 6-1, 180-pound frame to erase dodges that came his way.
No. 20 Carter Hagen, goalie, Darien (Conn.) / Eclipse
One of the most proven commodities in the '24 goalie class, Hagen narrowly missed another All-Star Game nod. Despite that, he was very strong throughout the day. He understands where to be and what shooters are looking for, and he's one of the top pure stoppers in the class. Hagen rarely ceded a bad goal and made some nice plays in the clearing game.
No. 21 Ethan Jaffe, goalie, Denver South (Colo.) / Denver Elite
All-Star. You won't find a better sequence from a goalie on the day than when Jaffe robbed Luke McNamara on an around-the-world, then scrambled to make an amazing save on Tyler Quake bouncer on the rebound. It was part of an outstanding day for the Denver Elite goalie, who also made a bunch of really nice passes in the clearing game. He also added to his highlight reel with an in-tight denial on Ransom, then he chased down the ground ball and tossed a beautiful pass that got dropped. Jaffe showed that he could make a bunch of different saves, too.