One Percent Showcase 2023 Evaluations: Navy and Purple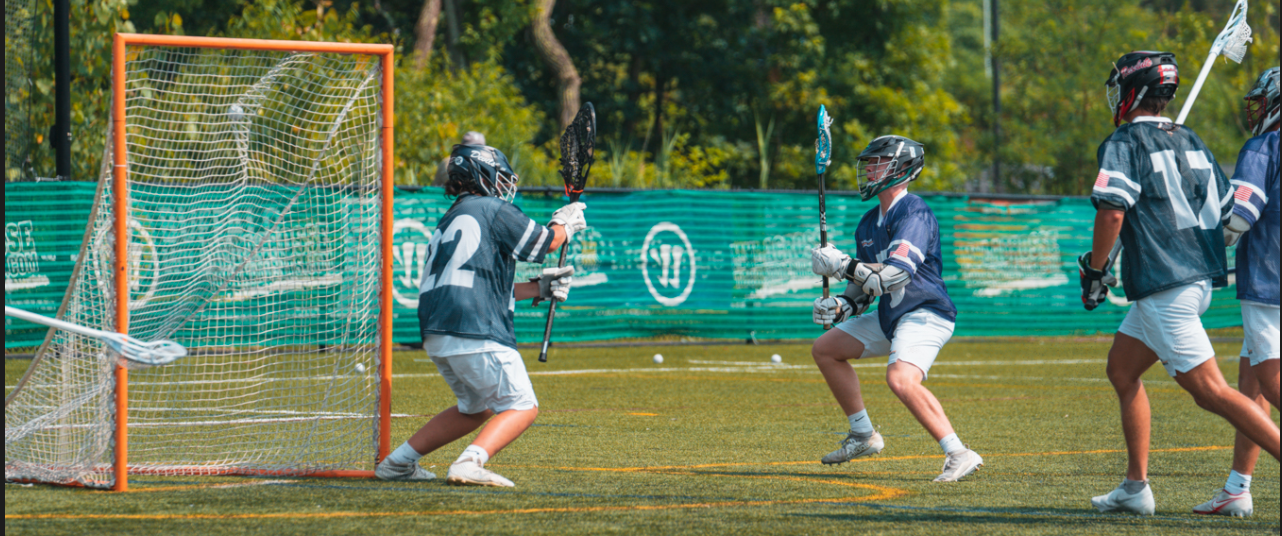 One Percent Showcase 2023 Evaluations: Navy and Purple
Follow the One Percent Showcase on Instagram, YouTube and Twitter. Follow My Lacrosse Tournaments on Instagram and Twitter .
CLICK HERE to check out the dates and express interest in the next three One Percent Showcases. CLICK HERE to check out our fall and winter 2021 events schedule.
The stars came out to play at the One Percent Showcase!
The best players in the 2023, 2024 and 2025 classes came to Capelli Sports Complex in Tinton Falls, New Jersey to test themselves against the nation's elite. Competitors want to see how they stack up against the best, and that's exactly what went down here.
Every player at the event receives an evaluation from our talented, knowledgeable group of evaluators. Yes, all 430+ players that played get broken down here! Check back in the coming days as we continue to upload evaluations and be sure to subscribe to our YouTube channel as we add all game footage from the event.
All photos in this story are courtesy of Nick Ieradi. CLICK HERE for photo gallery links and to purchase photos from Nick.
CLICK HERE to see evaluations from the '23 Black and White teams. CLICK HERE to see evaluations from the '23 Red and Royal Blue teams. All 2023 games from the event have been uploaded to our YouTube channel, which you can find by CLICKING HERE.
2023 Navy
No. 1 Marco Firmender, midfield, Fairfield Prep (Conn.) / CT Wolves  All-Star. Possibly the most complete offensive threat out of the midfield at the event, Firmender demonstrated an ability to score both off of the dodge, and off of the catch with either hand. Firmender's a pure goal scorer with good size and more shake than you might initially expect from a player with his size. He's both physical and elusive off the dodge, provides strong wing play and is an option in transition. The Fairfield Prep product scored in every game he played.
No. 2 Andrew Kohlbrenner, attack, Christian Brothers (N.Y.) / Orange Crush
A goal-scoring attackman with a strong motor, Kohlbrenner finished both in tight and from range, with either hand. His off-ball IQ and ability to think two passes ahead was apparent early on in the day, and he maintained a high level of play throughout the entire event.
No. 3 Brody Atkinson, attack, St. Paul's (Md.) / Team 91 Maryland
Atkinson is a consummate provider, able to spy and exploit passing lanes. His distribution is superb, he has an unselfish mentality and he also has a deceptive shot release when he calls his own number.
No. 4 Matthew Porazzo, attack, Manasquan (N.J.) / Tri-State
A balanced attackman, Porazzo possesses an array of skills. He's got great field vision, quick hands, a low-to-the-ground build that makes him difficult for defenders to pin down. He works hard riding back with quickness in the open field, and he's able to throw an arsenal of different shots at goalies.
No. 5 Jack Ponzio, attack, St. Anthony's (N.Y.) / Team 91 Long Island Bandits
All-Star. Ponzio is an imposing attackman with the physicality to bully his way to the places on the field he wants to be. He's also got soft hands and quick feet around the cage, allowing him to attack with a number of different moves. He's not just a shooter, with the hands and vision to open space for others to exploit. Ponzio also has the versatility to play midfield after a spring of doing just that for a loaded Friars squad.
No. 6 Tyler McCarthy, midfield, Connetquot (N.Y.) / Team 91 Long Island Bandits
All-Star. An excellent two-way midfielder who gets up and down the field with ease, McCarthy has a pair of secure hands in transition. He's quick off the dodge with a huge shot. He can pass at speed off the dodge and thread feeds through narrow windows. When he calls his own number, he possesses a powerful shot and is a lethal option in transition.
No. 7 Teddy Gabrielian, midfield, Avon Old Farms (Conn.) / 2Way
The All-Star impressed with what he did on and off the ball. At 6-3, 175, he has the prototypical midfield frame with room to grow as he hits a college weight room. With the ball, he has quick attacking moves, a hard shot that he places well and excellent passing vision. He also moves well off the ball, finding soft spots in the defense, and he has the frame and footwork to be effective on both ends of the field.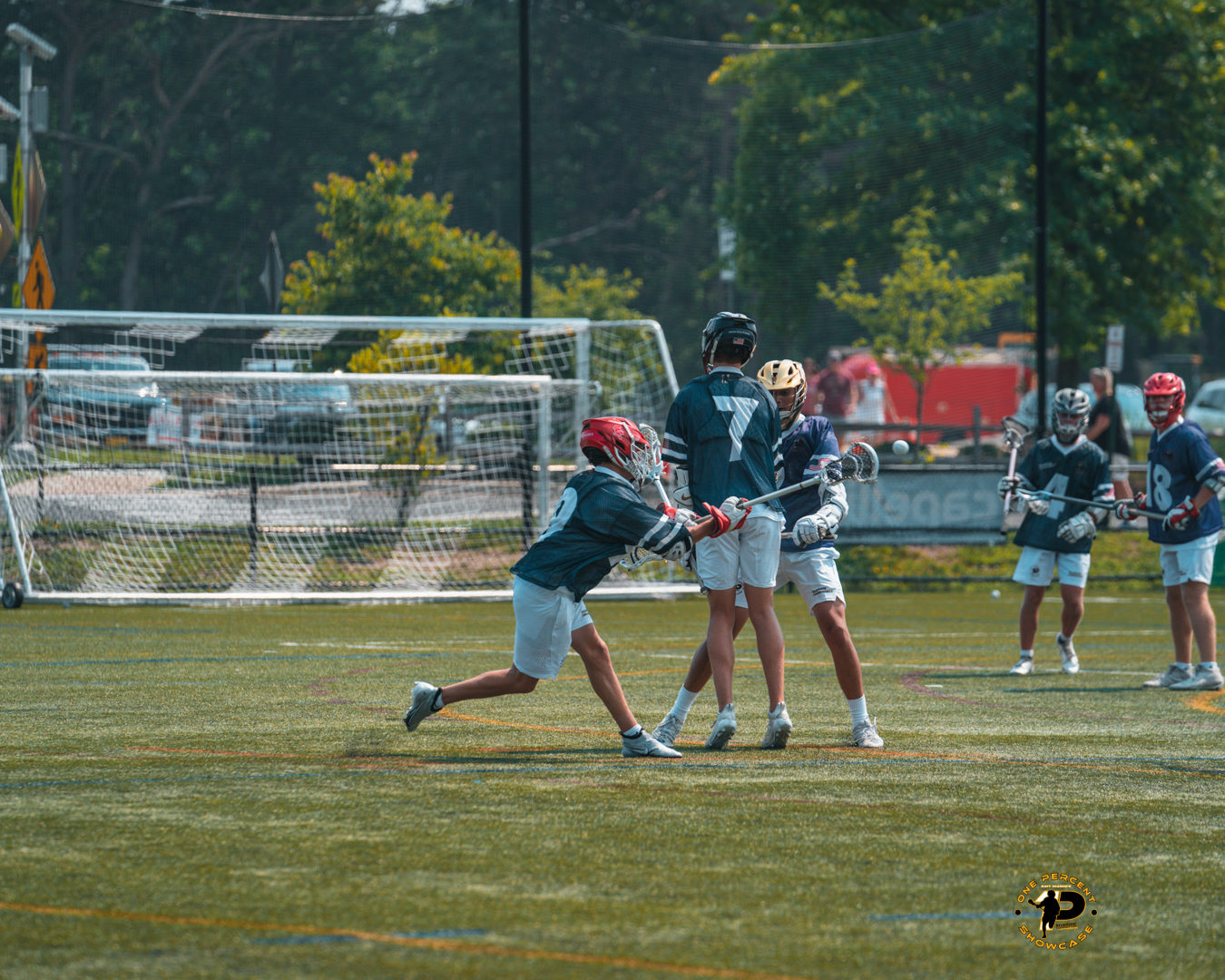 No. 9 Brad Little, midfield, Benilde St. Margaret's (Minn.) / Team Minnesota
The first Minnesota native to play in the event, Little is a heady middie that contributed all over the field. He works hard defensively, with a high work rate and feisty mentality. Little is also a good facilitator within the offense, able to work in the team concept and attack off the dodge. He showed a ton of shiftiness and the ability to make guys miss in tight spaces.
No. 10 Leo Izquierdo, midfield, Saint Viator (Ill.) / Team Illinois Izquierdo has a big frame and long legs, allowing him to cover ground in the open field and get a step on defenders off the dodge. His hands are in constant motion, and he can shoot with both hands with power and placement. Izquierdo can stretch a defense out with his shooting range, too.
No. 11 Joseph Forchelli, midfield, MacArthur (N.Y.) / Team 91 Long Island Warriors
Forchelli is 5-9, 170 pounds, but he plays like he's 6-4, 225. He's got toughness, scrappiness and intangibles for days. Great teams win with guys like him on their team. The lefty moves well off the ball, finding his way into vulnerable areas. He's able to shoot from a variety of angles, tossing different looks at goalies. He got after it defensively, too.
No. 12 Andrew Greenspan, faceoff midfield, Brunswick (Conn.) / Prime Time
All-Star. Greenspan is a tremendous technician at the X, the all-star claiming numerous clean wins with a bevy of moves and exits. He's got quick hands and uses his body adeptly to protect the win. More often than not, he wins the ball forward. One of the better midfielders among the faceoff middies in the '23 class, he's an option in the attacking half after he's won possession. Greenspan showed toughness throughout the day, too, by pushing through a nagging injury to emerge as an All-Star.
No. 13 William Hohn, faceoff, Episcopal Academy (Pa.) / Brotherly Love
Hohn has a low-to-the-ground build that is perfect at the X. He's a battler that extends plays, whether he wins the clamp or not, and mixed it up physically on 50-50 balls. Hohn, who got some varsity experience this spring as the Churchmen's backup behind five-star '22 Andrew McMeekin (Princeton), is good at winning forward or, when he loses, turning his opponent back to deny easy offense.
No. 14 Owen Murphy, LSM, Chaminade (N.Y.) / Shore2Shore
Murphy is a tenacious defender, constantly in the hands of opponents and giving up no ground easily. He's got a heavy, active stick. He moved his feet well to keep midfielders in front of him and is fast in the open field. He did an outstanding job on ground balls, regularly corralling them into his stick on the first attempt.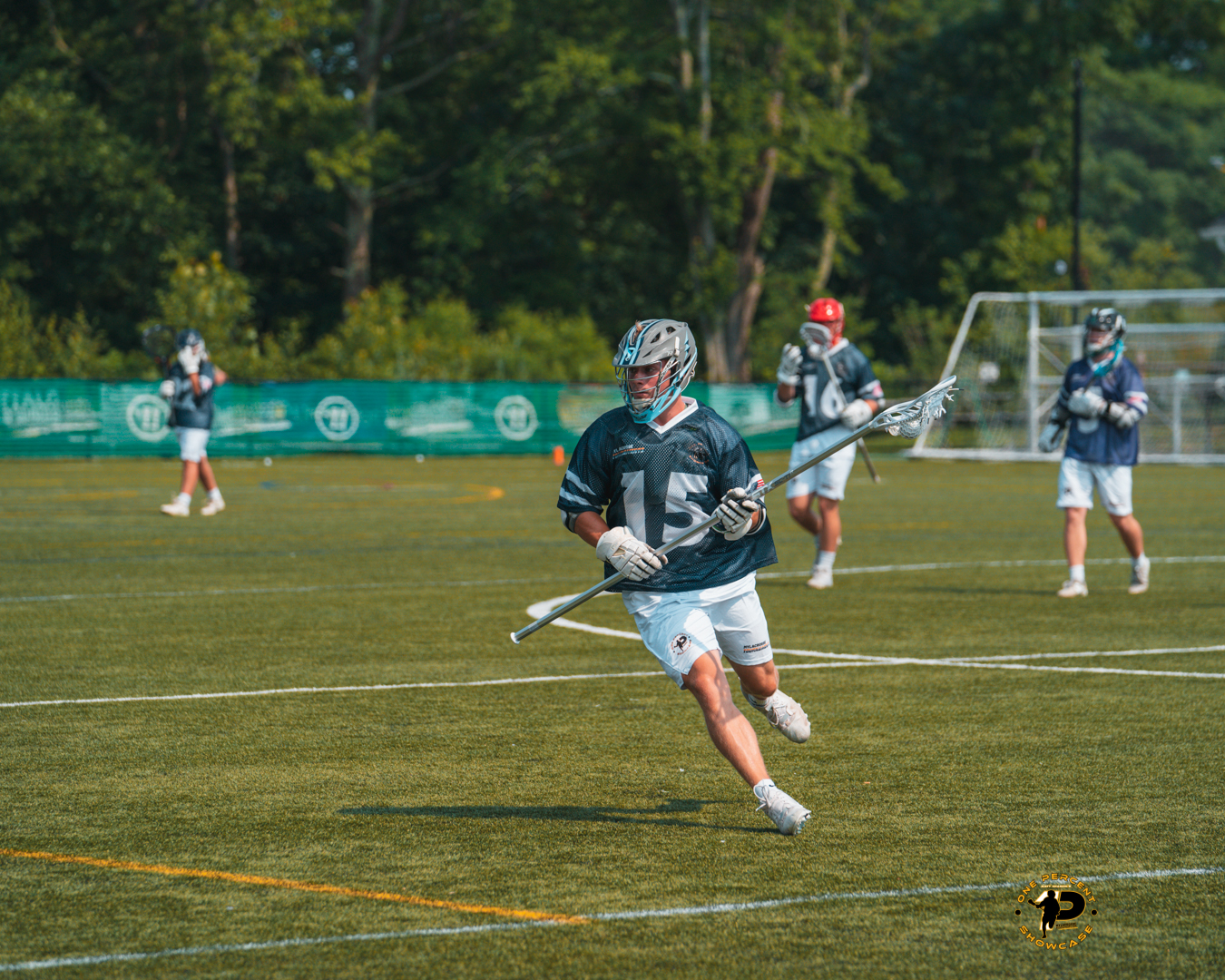 No. 15 Michael Waite, LSM, Downingtown East (Pa.) / Brotherly Love
All-Star. It's hard not to like the lefty's game. Waite has an ideal build for an LSM: a low and sturdy base, quick feet, fast hands. He's fast enough to be a danger in the open field and quick enough to defend well in the defensive half. He's calm in transition with the passing and awareness to make himself an option, and he's a terror on the ground and in his wing play.
No. 16 Jack Elliott '24, defense, Taft (Conn.) / Cherries
Elliott, who recently announced a transfer to Taft as a '24, outstandingly blends speed and strength. He works well within the team concept, reading the game well, sliding decisively, recovering quickly and communicating effectively. Elliott has long strides and a heavy stick, but he's also precise on the ground and in his stick checks. He should be one of the best '24s in the country and is a terrific addition to Nic Bell's powerhouse Rhinos.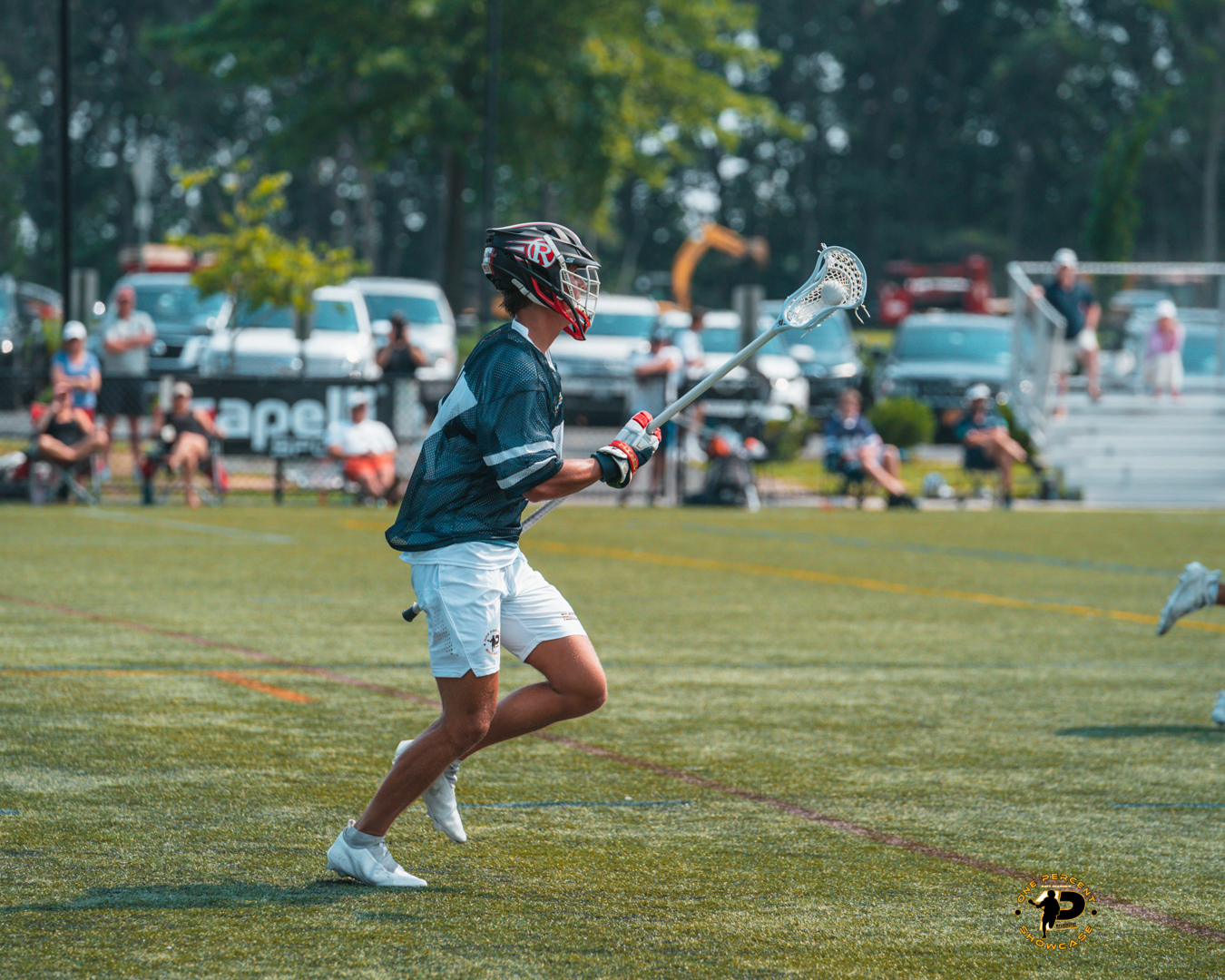 No. 17 Grant Kenley, defense, Olentangy Liberty (Ohio) / Resolute
The younger brother of '21 Ohio State midfield signee Aidan Kenley is rangy pole has excellent technique. He's aggressive, with a heavy stick, good quickness and the discipline on clears to make himself an option for teammates.
No. 18 Tillman Griffeth, defense, Harrison (Ga.) / Thunder
Griffeth is a textbook close defender. He's constantly patrolling and shows great leadership. He's able to stay low with his stick constantly in his mark's hands, moving well and maintaining the leverage on attackers. His long strides are a huge asset in transition.
No. 19 Andrew Matarese, defense, Acton-Boxborough (Mass.) / Fighting Clams
Matarese is strong on the ground despite being a big defender. He recovers well on his slides and is always tuned in on the defensive side of the ball. Matarese is physical in the defensive half and fast in the open field as a transition option.
No. 20 Shane Mosia, defense, Plainedge (N.Y.) / Team 91 Long Island Warriors
The defenseman was a constant presence in passing lanes with an active stick and good off-ball awareness, sniffing out the next play a step ahead of offenses. Strong on the ground with long strides to chew up ground in the open field and find soft spots in transition.
No. 21 Connor Foley, goalie, Thayer (Mass.) / Laxachusetts Black
All-Star Game Defensive MVP. Welcome to the Electric Factory. Every big play by a teammate is celebrated, and every opportunity to raise the energy level of his squad is taken. Foley dives for end lines, competes for ground balls around the crease, throws great outlets and is a quintessential ball stopper between the pipes. His energy is infectious and his teammates are drawn to him. There might not be a better 1v1 stopper in the class. Most impressively for a one day showcase, Foley knew and used everyone's name on the field.
No. 22 SammyMac Arner, goalie, Huntington (N.Y.) / FLG
Arner is not the biggest goalie, but he has a very quick stick and is excellent at getting low on shots and on tracking bouncers. He's calm on clears, waiting for the play to develop before choosing how to best distribute the ball, and he is accurate with his long passes.
2023 Purple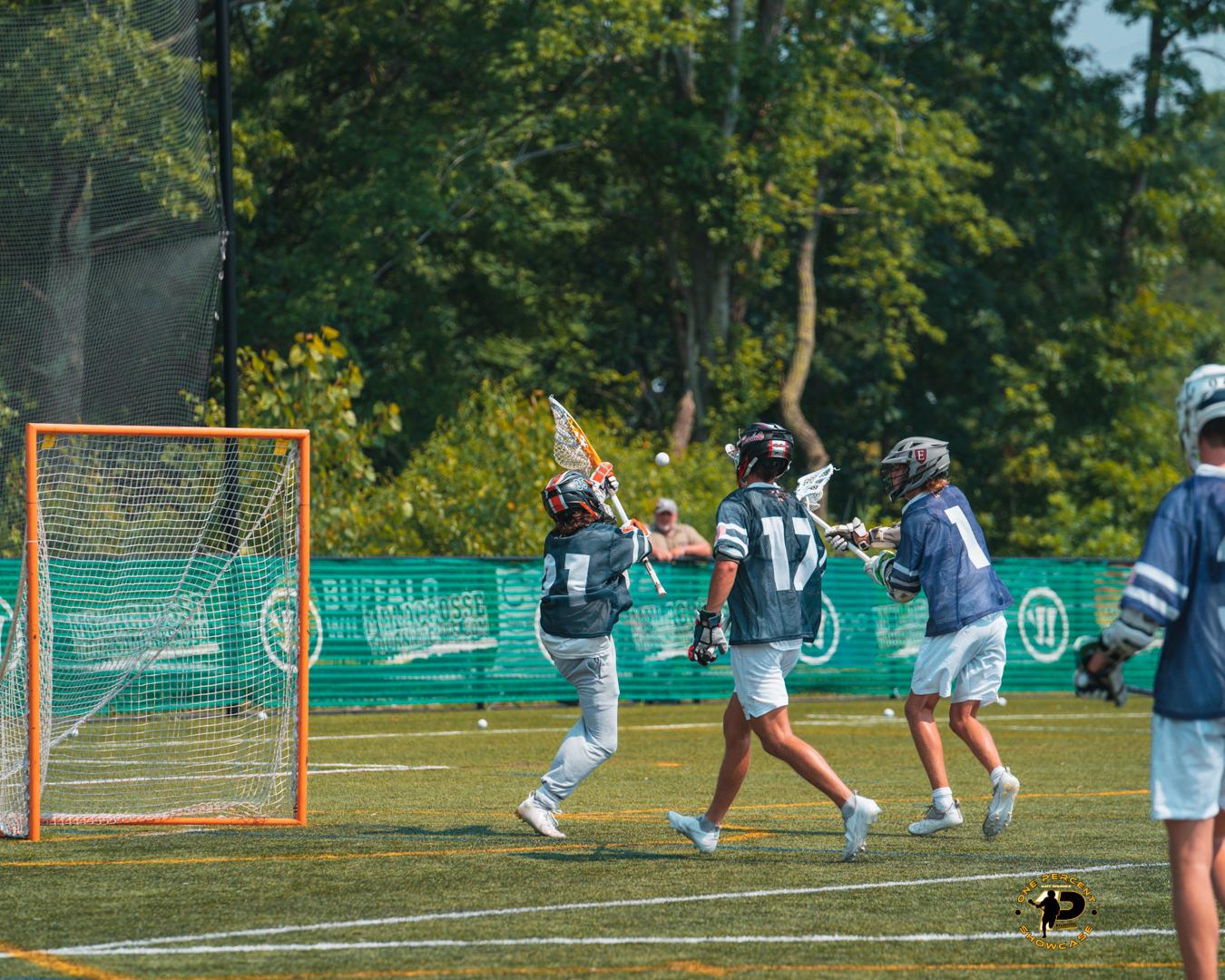 No. 1 Matt Moore, attack, Phillips Exeter (N.H.) / 3d New England
All-Star. Moore is an excellent creator out of X with his high IQ and a deep bag of tricks. He's shifty and has great body control, particularly for a taller attackman, and quick feet to shake off a defender. He's got a quick stick, whether it's with his head up and ready to pass or in creating shot angles to get off a quick release. Moore has an elusive set of attacking moves that make him difficult to defend as a pole and difficult to track as a goalie.
No. 2 Maddux Little, attack, Fairfield Prep (Conn.) / CT Wolves
Little moves the ball quickly in the attacking half. His hands are constantly in motion, looking for the next pass, changing direction or ready to pull a quick shot. He's elusive when he engages a defender with his combination of size and speed, and he's able to select from an array of shots on goal, including a dangerous behind-the-back option.
No. 3 Jack Jenkins, attack, Hudson (Ohio) / Burning River
Consistently good off of the ground he maintained possession for his team off of a number of rebounds and 50/50 GBs. Off ball, Jenkins is savvy and works well to get open and finish inside, where he's got a nifty handle. The Ohio all-state attackman had a couple of deft passes to open teammates, too. His 6-2, 160-pound frame suggests that he isn't done growing, either.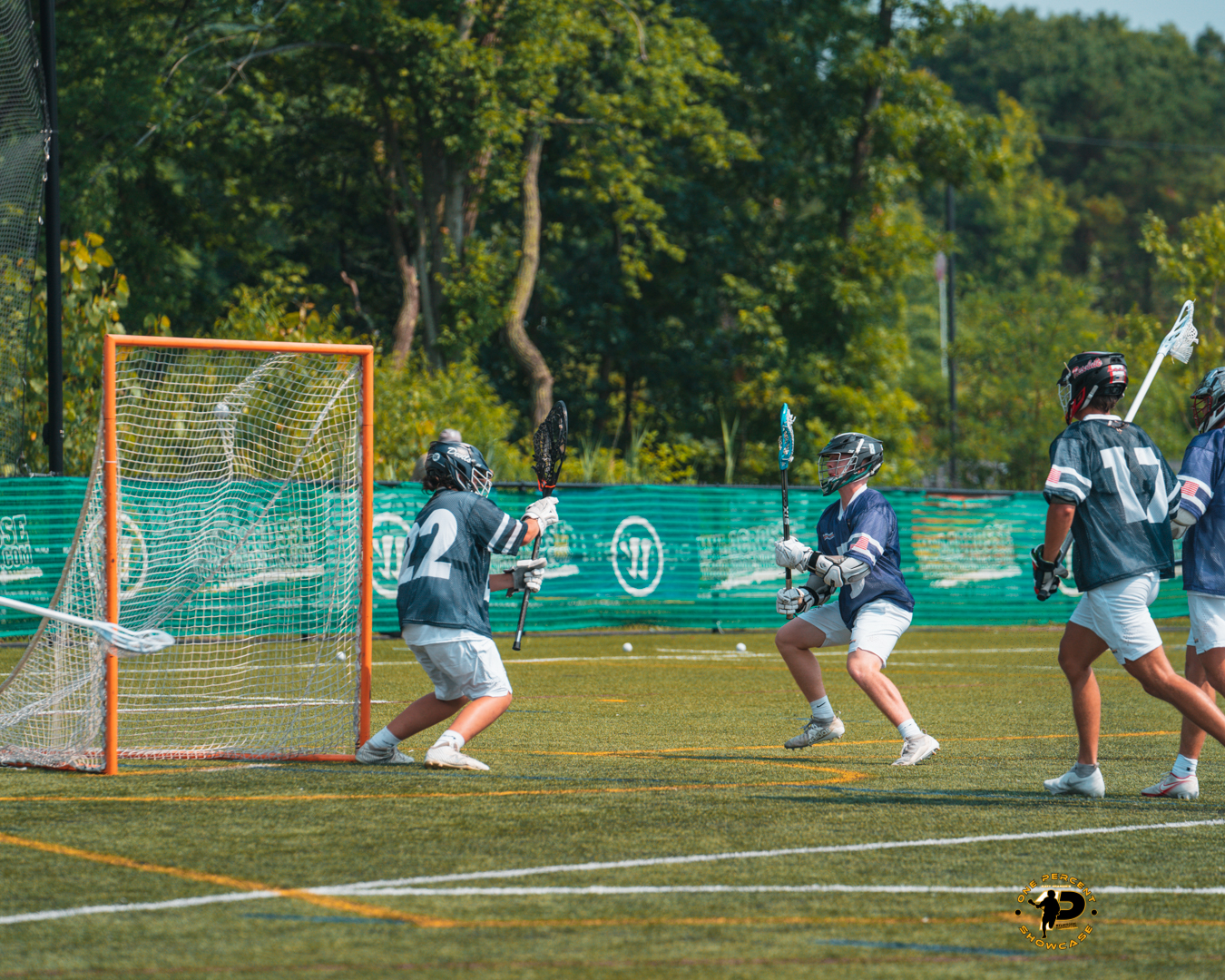 No. 5 Ryan Nagle, attack, Duxbury (Mass.) / Laxachusetts Black
All-Star and one of the best attackmen at the event. What he lacks in physical stature he more than makes up for with his skill and savvy. He has sublime hands that he uses in tight quarters around the crease and in using his motion on the ball to open windows of space for others with his passing vision. He has a quick release on his shot, which makes his array of shot fakes all the more potent, and an extremely accurate shot.
No. 6 Tucker Kellogg, midfield, Trinity-Pawling (N.Y.) / Prime Time
Kellogg is an athletic middie whose defensive play has significantly improved. He has the strong upper body and quick feet to work well in the defensive half. With the ball, he's a potent threat in transition. He's able to get power and placement on his shot even while fading away. Nobody in the class shoots harder than he does. It's uncanny how he's able to get so much torque and power into his shot. Kellogg's also able to translate his speed into a shot off the dodge.
No. 7 Zachary Claiborne, midfield, Western Reserve (Ohio) / Midwest Express
All-Star. Claiborne is excellent off the dodge, whether he's creating space for himself to get off a pinpoint shot or able to feed at speed to a teammate capitalizing on the opening his drawn slide created. His physicality allows him to be a contributor on the defensive end. But his guile makes him an option off the ball in dangerous areas around the crease.
No. 8 Colin McLane, midfield, Rye Country Day (N.Y.) / Predators
A heady defender, McLane is a full-field threat. He's good in transition and has a heavy shot and changes planes well, though his release is a little on the long side. A tall, rangy middie, he's also not afraid to use his left hand if he has to.
No. 9 Ryan Ciacci, midfield, Detroit Country Day (Mich.) / Cherries Ciacci is a skilled and smart player who can do so many things well. He's an adept passer with his non-dominant hand, a proficient shooter, and his footwork behind the cage is excellent.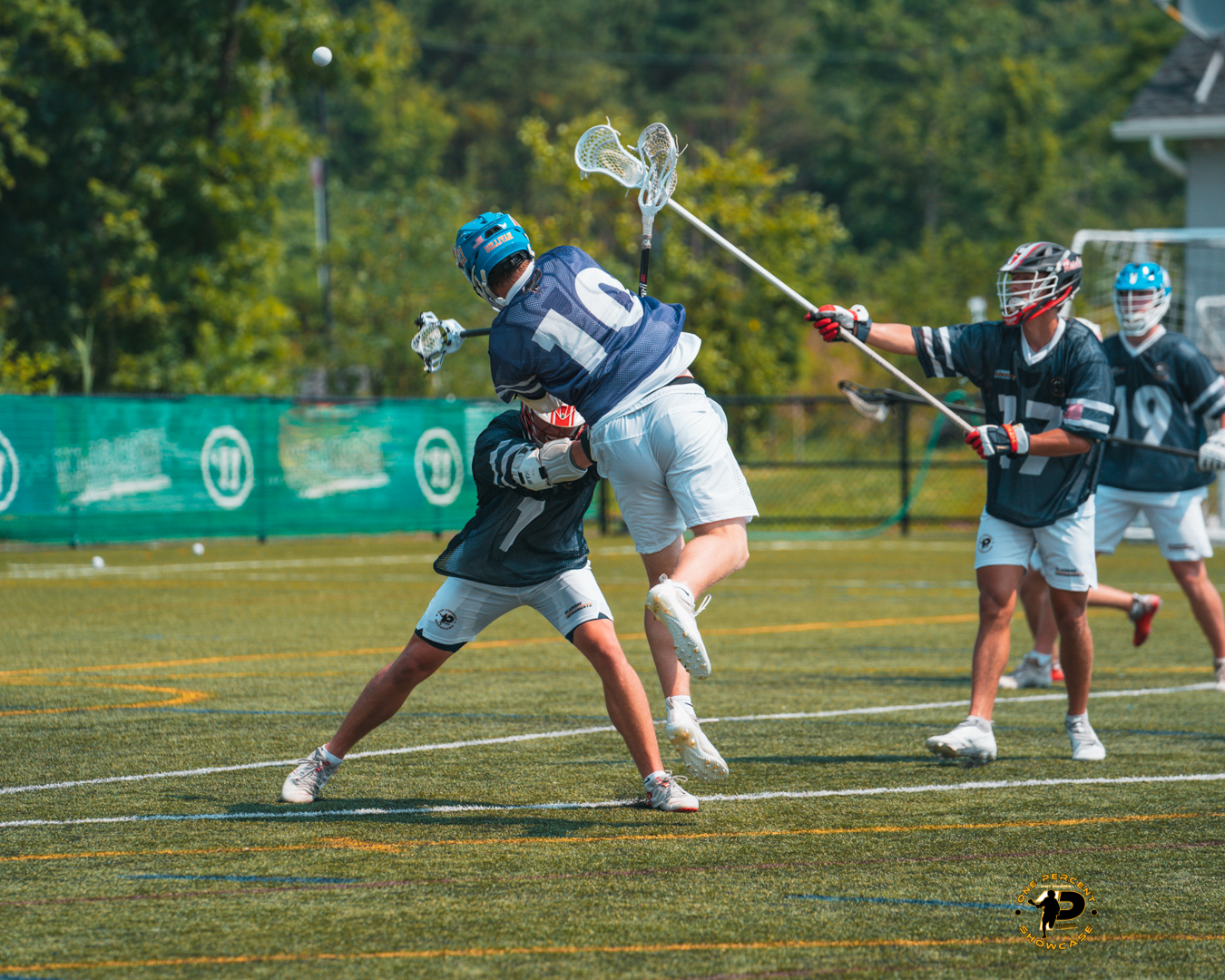 No. 10 Colin Sullivan, midfield, St. John's (Mass.) / Fighting Clams
Sullivan is not afraid to take his defender behind the cage and can create opportunities from both X and from up top. He has the classical set of dodging options for a middie, but he's also able to run by defenders off the invert with a combination of quickness and speed to get an opening. Off the dodge, he's able to pass at speed with good vision to find teammates, and he has the willingness to work on defense.
No. 11 Rocco Ippoldo, midfield, Germantown Academy (Pa.) / Big 4 HHH
Ippoldo has long arms for his frame, which opens up new windows for him to be able to hit passes or shots. The lefty – also a hockey player, which is always a plus – has the skillset to play as an attackman or middie. Ippoldo's quick off the dodge, able to get off a strong shot with little space and distribute off the dodge at speed.
No. 12 Jake Spallina, faceoff midfield, Mount Sinai (N.Y.) / Team 91 Long Island Bandits
All-Star. Spallina is much more than a faceoff guy. He's got great hands at the X, able to win draws clean against many opponents and launch straight into offense, but physical enough to battle it out when the draw extends. He's also poised and productive once he gets the ball. Spallina's able to pass accurately and astutely under pressure and makes himself an option when his team flips to offense. He will be a coveted recruit as a jack-of-all-trades middie who gets up and down the field with ease and relishes the opportunity to hurt someone on the defensive end.
No. 13 Colby Baldwin, faceoff midfield, Scarsdale (N.Y.) / Predators
Baldwin shows poise at the X and his l0w-to-the-ground frame allows him to scoop GBs and get leverage on opponents, and he shows a willingness to battle beyond the clamp and extend plays. When he wins, he makes good decisions with the ball. When he doesn't win, he's able to stick with the play and delay quick offense.
No. 14 Brett Spallina, LSM, Mount Sinai (N.Y.) / Team 91 Long Island Bandits
Spallina has a textbook stick when he's in coverage. He's constantly in opposing middies' hands but doesn't go for the highlight-reel check very often. Instead, he's more cover guy than an Instagram highlight check guy, somewhat of a rarity with modern LSMs. His quickness keeps attacking players in front of him. Spallina's a dogged worker on the wing and an asset on clears and in the open field in transition. He's also got the sandpaper and toughness that his twin Jake and older brother Joey have.
No. 15 Jake Melchionni, LSM, Delbarton (N.J.) / Leading Edge
The All-Star is a persistent presence on the defensive end and a constant danger for defenders to account for in the attacking half. Melchionni is potentially the best takeaway guy in the class. Is he a righty or a lefty? Yes. He provided several assists on the day, proving his superlative transition instincts, his ability to get up the field quickly and his skill to do something with the ball once he got there. He's a hard worker on the ground and on the wing. He's fast in the open field and quick when locked up in coverage, with an active stick to hound his mark. Melchionni handles a pole the way most handle a short stick.
No. 17 Trevor Galgano, defense, Walt Whitman (N.Y.) / Rebels
Galgano demonstrated a consistently good grasp of team defense over the course of the day. His solid size helped knock down or pick off multiple passes, and he was consistently communicating effectively and sliding well.
No. 18 Cal Taulbee, defense, Catholic Central (Mich.) / Cherries
Taulbee's work within the defensive system is impressive. He slides with conviction, recovers quickly and is always tuned in to what's happening. He's able to pick off passes and engage physically with attackmen, using an active stick and his strength in combination. With the ball, Taulbee is an excellent passer. He's got long strides that chew up ground in transition to get the ball up field.
No. 19 Mac McGahren, defense, Darien (Conn.) / Eclipse
McGahren's stick skills stand out immediately when clearing the ball, definitely a threat to push the pace. He communicated well off the ball and has a good grasp of overall defensive concepts. McGahren's got a good frame, the aggressiveness you like out of a good cover guy and loves to plant his stick on his opponent's gloves.
No. 20 Jack Regan, defense, Chaminade (N.Y.) / Long Island Express
Regan is a textbook defender. His technique is excellent, with a busy stick and the ability to keep attacking players in front of him. His stick is constantly in his mark's hands, and he has a variety of stick checks to separate man from ball. He has a physical upper body that he uses to lean on players, but he's quick enough to repel attackmen that get too physical and is able to dictate battles on his terms.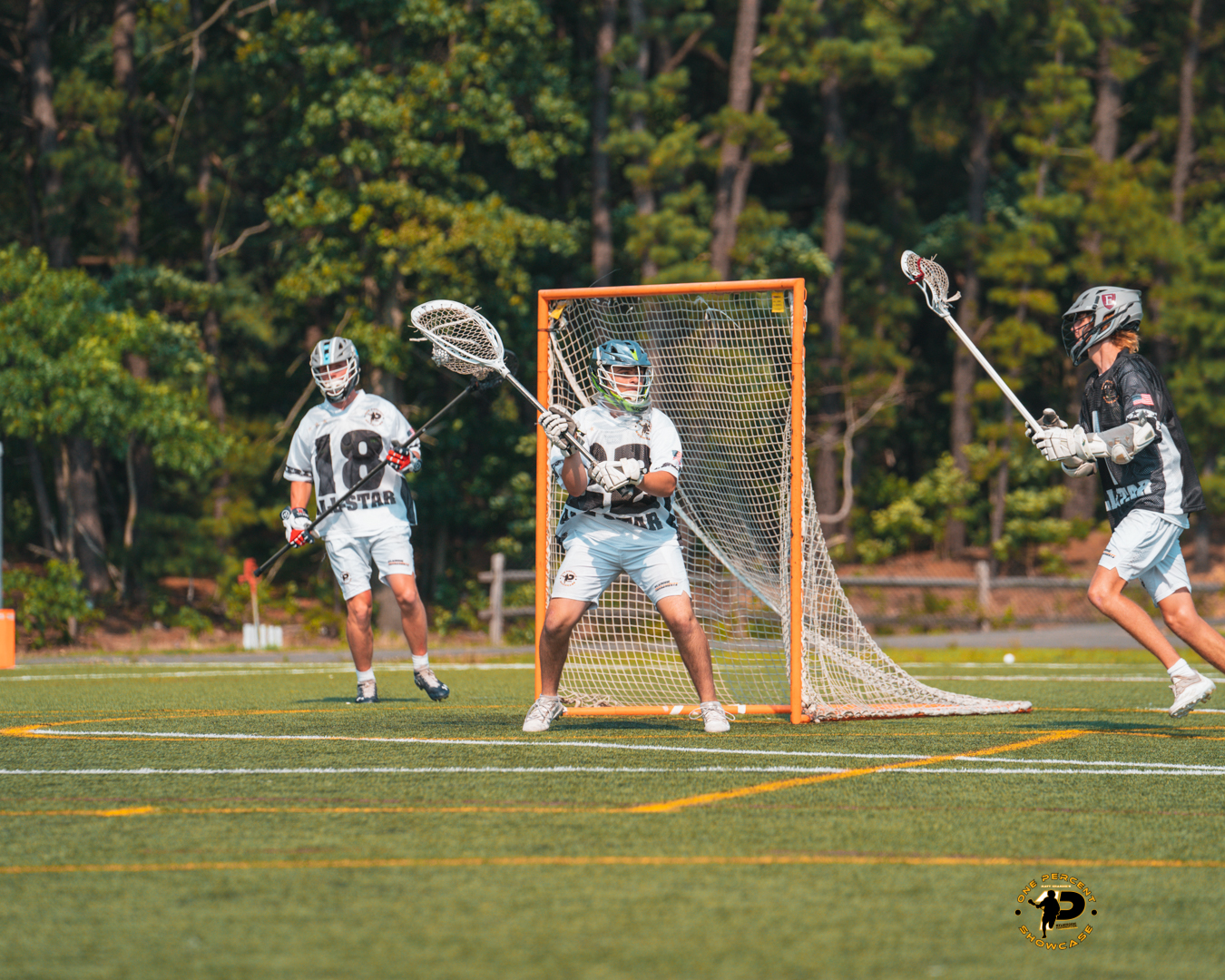 No. 21 Michael Ippoliti, goalie, St. Dominic (N.Y.) / Shore2Shore
All-Star for the second time. One of the best goalies in the class, Ippoliti moves well with shooters in the cage. Far from the biggest goalie, he makes up for a lack of size by moving efficiently from side to side and tracks shooters well. He's got a quick stick and he's able to use his lower body independently to deny shooting options. Ippoliti works well with his defense to keep everyone on the same page and does a nice job of baiting shooters into playing catch with him by leaving open spots to which he knows he can get.
No. 22 Luke Tabasso, goalie, Episcopal Academy (Pa.)
Tabasso's shot-stopping is impressive. He's excellent on low shots and tracks shooters well. Tabasso brings much more in his skillset, though. He's quick out of the cage to cover shots. He doesn't stray too far from the cage but uses the space well on clears and gets the ball to the right teammates. He's also very loud and effective in communicating with his defense.
No. 23 Colin Singleton, defense, Olmsted Falls (Ohio) / Burning River  Singleton always has his head on a swivel in the defensive half. He makes heady off-ball reads, helping well on defense as a late slide and getting his stick in passing lanes. He covers a lot of ground quickly with excellent footwork. Singleton's also an excellent distributor in transition with accurate stretch passes.