One Percent Showcase 2024 Evaluations: Teams Red and Royal Blue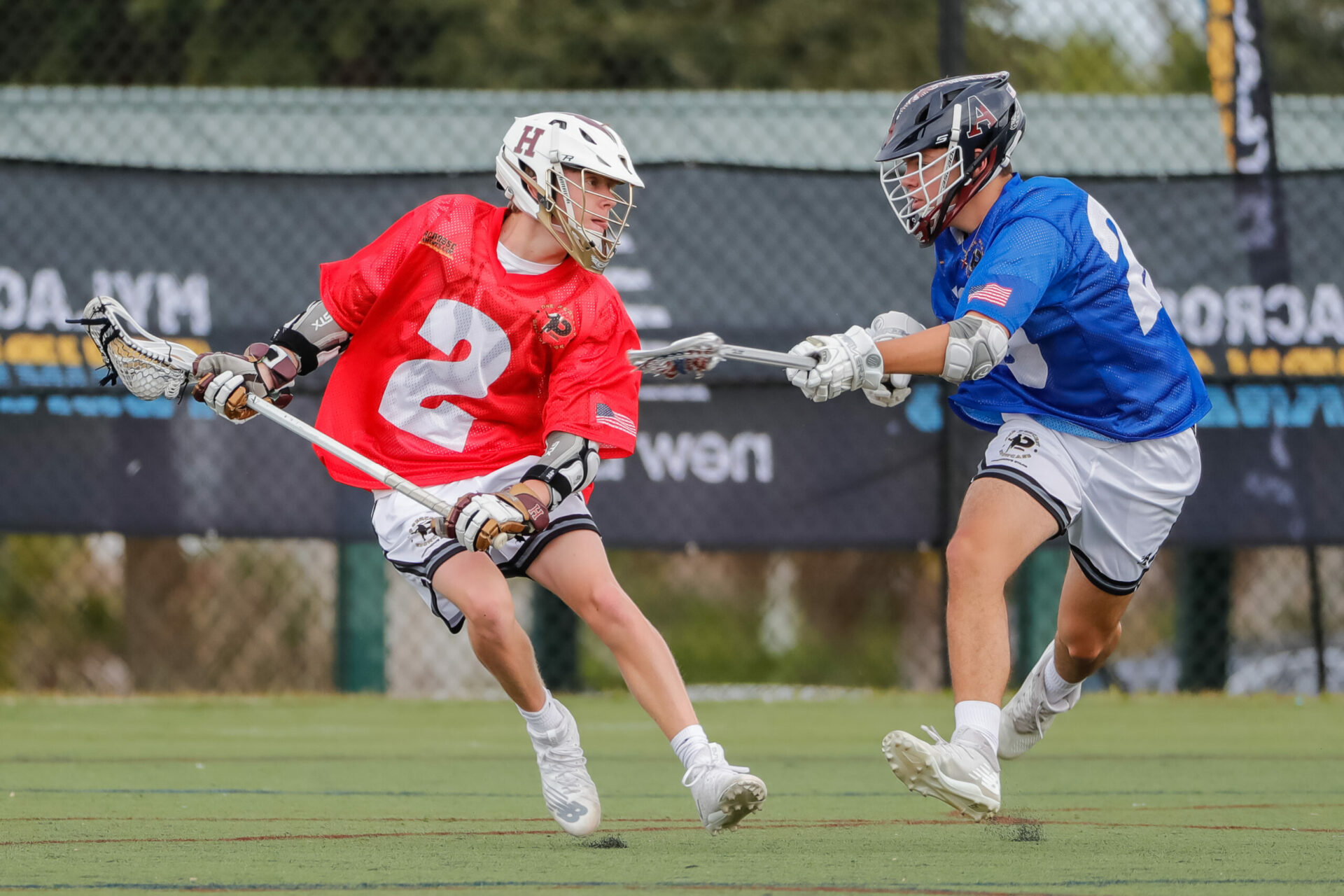 One Percent Showcase 2024 Evaluations: Teams Red and Royal Blue
Follow the One Percent Showcase on Instagram and Twitter. The One Percent will be held on July 6 (2023 and 2024) and July 7 (2025). Click here to apply. 
The next wave of lacrosse stars is here.
The class of 2024 put everyone on notice at the One Percent Showcase: Tomorrow's Stars in Davenport, Florida. More than 120 players from more than 20 states and Washington, D.C. made the trip, and there's no doubt that the '24s can ball.
Every player at a One Percent Showcase gets an evaluation from our team of evaluators. We started off with the Black and Carolina Blue teams, which you can read about if you CLICK HERE. CLICK HERE for the Green and Navy teams. We're wrapping it up with the Red and Royal Blue teams.
CLICK HERE for a breakdown of some of the best players from the All-Star Game. CLICK HERE for an All-Star Game highlight reel. CLICK HERE for photo galleries from the day from professional photographer Mike Watters. CLICK HERE to apply for the summer One Percent Showcase.
RED
No. 2 Aydan DiRocco, attack, Haverford School (Pa.) / Mesa
All-Star. One of the most complete players at the event. DiRocco is well-coached, smart, unselfish, and opportunistic. He's a threat to dodge and score, but when he drew a double team, he made the right reads on offense. He also has great range on his shot, as well as an effective low-to-high release. DiRocco kept pace in the battle for family bragging rights with an All-Star nod, just like his brother, Ryan, earned in the '23 event this fall. The younger DiRocco teamed up with Ryan Colsey (Ridgefield, Conn. / Eclipse) for one of the nicer goals in the All-Star Game when he snapped home a BTB on a nice cut to finish a Colsey feed. 
No. 3 Henry Ferguson, attack, Brunswick (Conn.) / Prime Time
Ferguson was a consistent presence throughout the day. He handles the ball, is an effective dodger, and he moves efficiently and effectively without the ball in his stick. He did a nice job of popping to open spaces to make himself a threat, and there is so much to like about the way this kid plays lacrosse.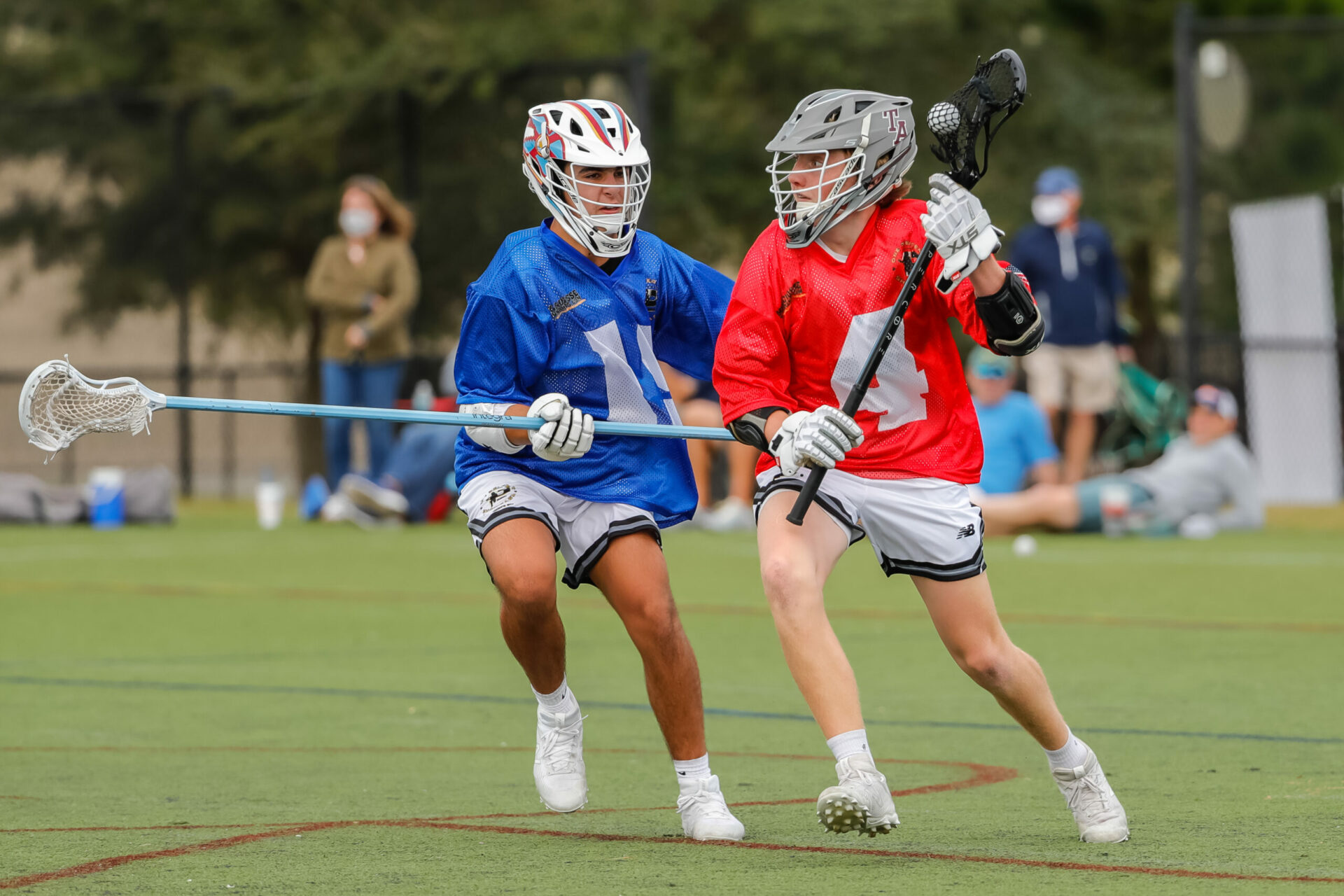 No. 4 Evan O'Neil, attack, Tabor (Mass.) / Laxachusetts
Evan has a great change of direction dodge, and he used his footwork and quickness to get to the island. He was able to escape early double teams and find open teammates throughout the day. He has tremendous vision and a knack for finishing inside. When his hands are free and he's on his natural side, he can let it fly, and he packed some good power on his shot.
No. 5 Bear Soper '25, attack, MadLax
Soper unfortunately only played a little bit before getting injured, but he was really good at finding the soft spots in the defense by moving well without the ball. The lefty can also throw a hard exchange pass with his off hand. With that being said, Soper also utilized his change of direction dodge to get back to his left hand. He has a multifaceted attackman who can let it fly between the hash marks. It was impressive to see the '25 challenge himself against many of the most talented 2024 defensemen in the country. It speaks to a competitive spirit that will help him in his career. 
No. 6 Christian Buck, midfield, Jesuit (Ore.) / Mad Dog
All-Star. Buck is a dynamic dodger who will most certainly be next in a long line of talented West Coast midfielders. He has a phenomenal split dodge and he can shoot with range. He was excellent in getting to the middle of the field and not settling for low-percentage shots. He's willing to take a check and finish in front of the goal. He was a difference maker for the Red team all day long and can clear it with ease using his speed.
No. 7 Caiden Ramos, midfield, Detroit Country Day (Mich.) / Cherries
All-Star. Ramos has a motor that doesn't stop running. He can play defense, faceoff, play on the wings, and clear it effectively. He's most dangerous as a dodger on his natural side and has a deceptive low-to-high release that challenged many of the goalies at the event. The multi-sport athlete and all star selection has a bright future with the Yellow Jackets of Detroit Country Day School and the Cherries.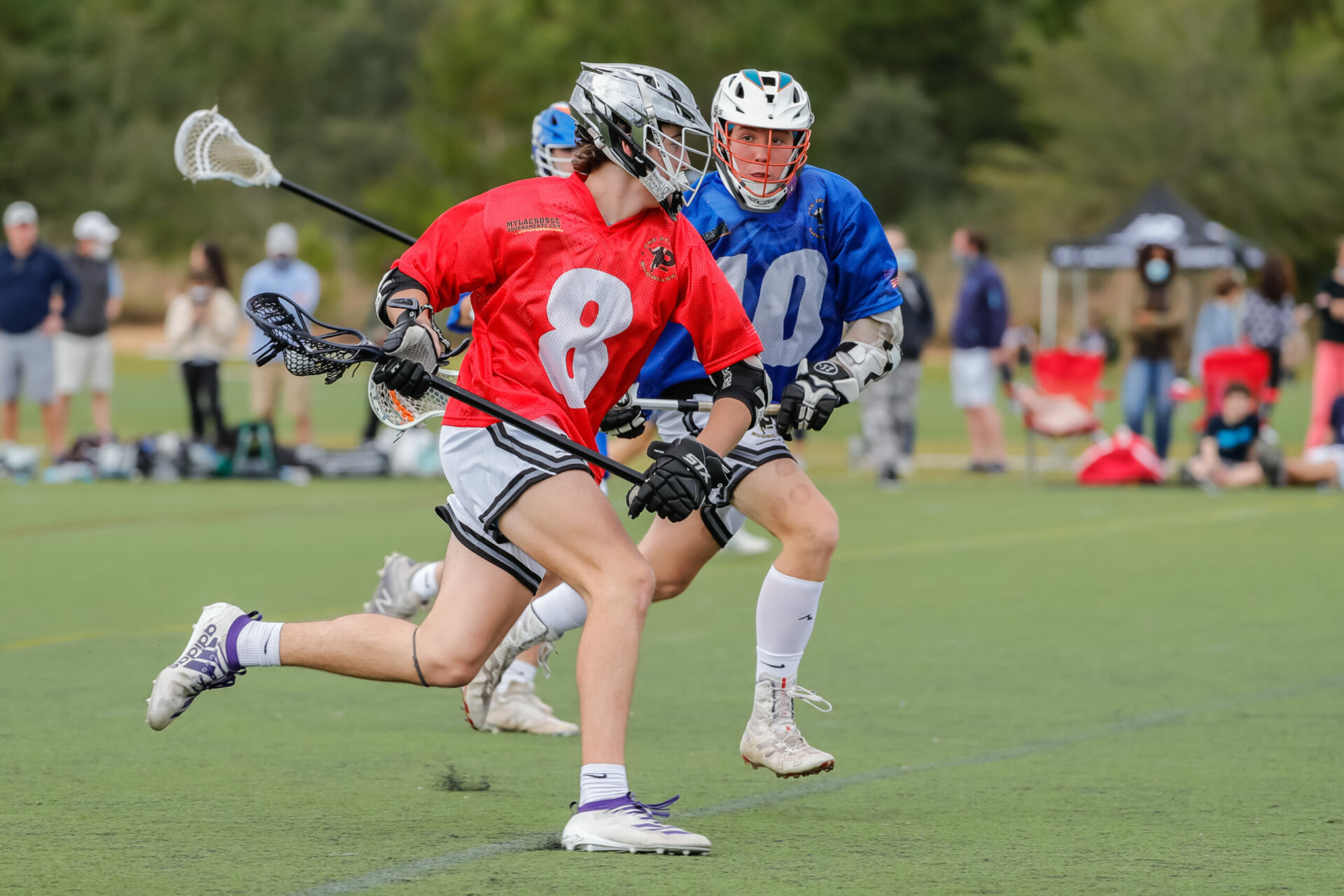 No. 8 William Swartz, midfield, Cannon (N.C.) / Carolina Miners
Swartz jumps off the page immediately because he physically looks the part of a high-level Division I midfielder. He has great size and backs up that size with his physicality as a dodger. Swartz shot the ball very well on the run and he drew a quick slide throughout the event. He has a deceptive sidearm release that was difficult for the goalies to pick up, and his potential is through the roof.
No. 9 Jack Connolly, midfield, Chaminade (N.Y.) / LI Express
Connolly handles the ball well with both of his hands and he has a nasty left-to-right stutter split. He plays with his head up and he gets the ball out of his stick quickly. Connolly can really move well, and his athleticism helps him gets from one end of the field to the other in a hurry. 
No. 10 Lee Huffard, midfield, Brunswick (Conn.) / Eclipse
Lee is a hard dodger and an aggressive player who was an asset to his team on the offensive end of the field. He paired really well with his teammates and showed that he can carry a double team. His footwork and athleticism are above average, and those are traits that will help him continue his ascent to being a big-time middie. 
No. 11 Daniel Koch, midfield, Mahopac (N.Y.) / Prime Time
A defensive stalwart and hard dodging middie who loved getting in the mix and scrapping, Koch did an excellent job of making his presence felt. Koch made a number of runs from the defensive to offensive ends of the field, and he didn't take any plays off. He's the type of midfielder that every team needs, an unselfish player who embraces all aspects of being a quality midfielder. 
No. 12 Parker Hoffman, faceoff, Fredrick (Conn.) / 2Way
Hoffman was one of the most skilled faceoff guys in an event that had a lot of them. Not only can he handle the ball under pressure, he's incredibly quick, deceptive, and a threat to score when he has the ball in his stick. His clamp plunger is lethal and his ability to collect ground balls is what separated Hoffman from the other faceoff men at the event. He's a well-rounded player who can thrive in a bunch of situations. 
No. 13 Necco Cottage, faceoff, Smithtown West (N.Y.) / Legacy
Cottage is relentless on ground balls and an incredible technician at the stripe. His ability to direct the ball to his wingmen might have been his greatest attribute. He didn't rely on his clamp plunger, and he used a variety of other moves to keep his opponents at bay. When his opponents tied him up, he sawed down on the ball and gained possession. Cottage is also very skilled and can handle the ball well under pressure, in addition to making the correct off ball cuts on the slow break. 
No. 14 Rowan Collins, LSM, Manhasset (N.Y.) / Team 91
All-Star. Collins can flat out play! He's an excellent on-ball defender, in addition to being very skilled at picking up contested ground balls on the wing. He has a great motor, demonstrated the willingness and ability to play team defense and did a really nice job of getting his stick on hands to cause pressure and turnovers. His matchup against Joshua Kitt in the All-Star Game was fun to watch. He was one of the few defensive players that had the footwork and discipline to contain one of the most dynamic dodgers at the event.   
No. 15 Weber Emery, LSM, Lawrenceville (N.J.) / 2Way
Emery worked hard to take away the middle of the field from the opposing team's most effective dodgers. He worked well on the wings with his teammates and he's got a good handle. Emery was able to get up and out quickly in the clearing game, and he did a nice job collecting loose balls in the defensive end of the field. He was vocal, active off ball, and demonstrated a firm understanding of team defense.
No. 16 Rowan Hedley, defense, Providence (N.C.) / Team 24/7
Hedley made his presence known throughout the day by exhibiting a keen understanding of off-ball defense. He stole space as an adjacent defender and deterred a number of dodges with hard hedges. He collapsed well off the ball and kept his head on a swivel, and he always seemed to be in the right place at the right time to consistently make the right play. His willingness to scrap for ground balls was a major plus, too. 
No. 17 Kevin Morrow, defense, Lawrenceville (N.J.) / Denver Elite
Morrow was a solid on-ball defender and he had a great presence in the paint for the Red team throughout the day. His long and short approaches were good, to go along with excellent stick work. Morrow was quick to get upfield and provide an outlet for his goalies and middies when the Red team cleared the ball. He was vocal, physical, and competed hard for loose balls in the defensive end of the field.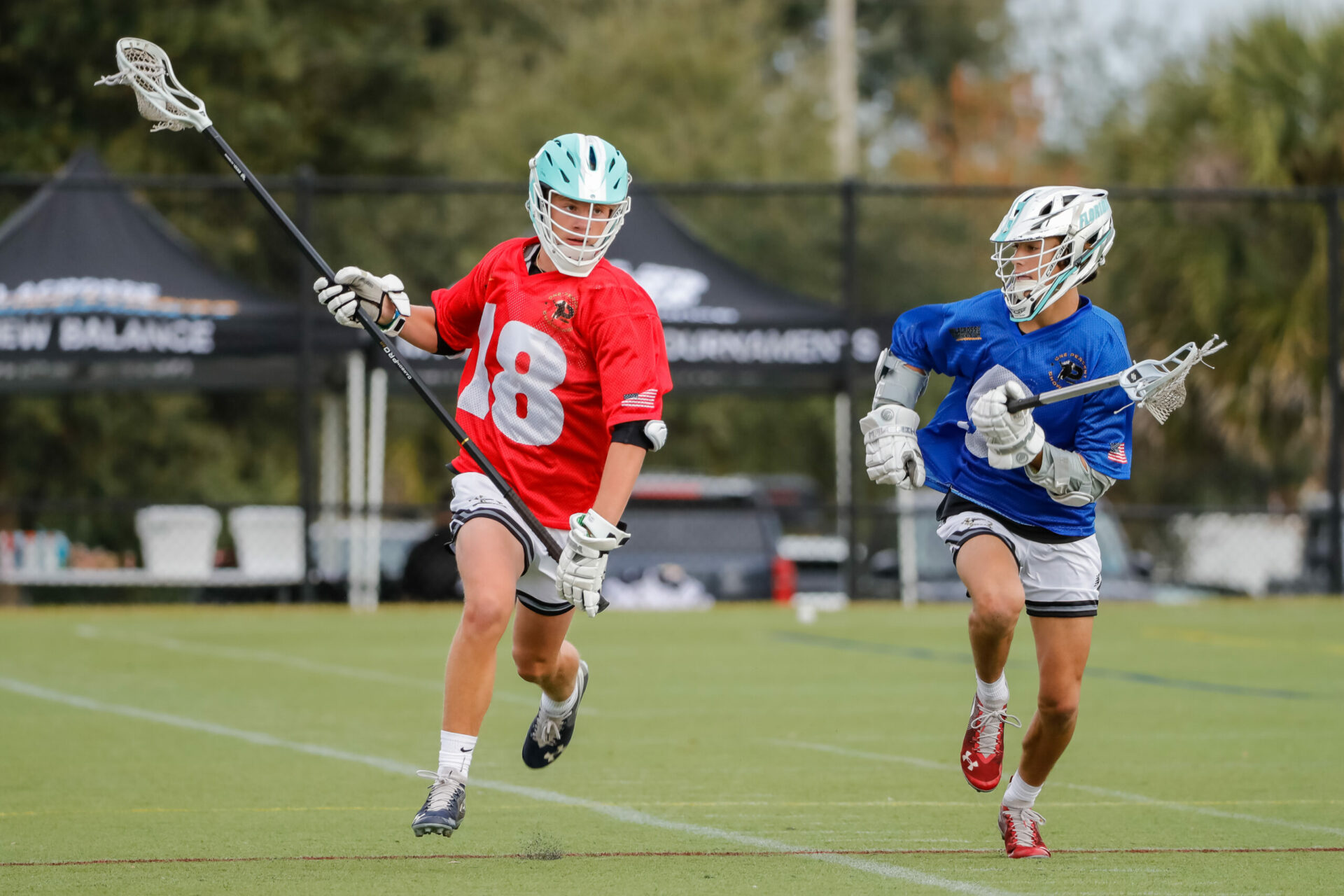 No. 18 Colin Wade, defense, Oxbridge (Fla.) / SweetLax Florida
Wade is an impressive defenseman who can do a number of things very well. He was one of the better on-ball defenders at the event to go with very good stick work. He was disciplined in his approaches and he made contact with dodgers throughout the day, dissuading them from getting to the middle of the field. Wade challenged himself all day long by matching up against some of the more talented attackmen and he made the right reads for his team in the clearing game.
No. 19 Thomas Yavinsky, defense, Georgetown Prep (Md.) / Next Level
All-Star. Like his Next Level teammates, Yavinsky is well-coached, skilled, and committed to team defense. He has good footwork and was able to put pressure on the ball inside of the box. Quietly effective without playing out of control, he excelled at communicating with his defensive middies and should be a prominent part of one of the better '24 teams in the country for years to come.
No. 20 Carter Hagen, goalie, Darien (Conn.) / Eclipse
All-Star. As mentioned in Eclipse teammate Alex Rolfe's evaluation, it's hard to imagine that anyone has a better '24 goalie duo than Eclipse. Hagen had quite a day at the showcase. His performance in round robin play was stellar, but he shined in the last game of the day with a number of big saves against the best competition at the event. He eats up rebounds and explodes to the ball. He played his angles well, in addition to communicating effectively with his defenders. Hagen was also really good in the all-star game, stuffing a pair of his highly-thought of Eclipse teammates in Hudson Hausmann and Kyle Colsey on prime scoring chances. 
No. 21 Dean Sanders, goalie, Milton (Ga.) / Georgia Tigers
Sanders is a good ball stopper who is particularly adept at saving shots inside the paint. An athletic keeper who moves well from pipe to pipe, he's patient in the clearing game and a good passer. He worked well with his teammates and became more comfortable providing instructions throughout the day.     
ROYAL BLUE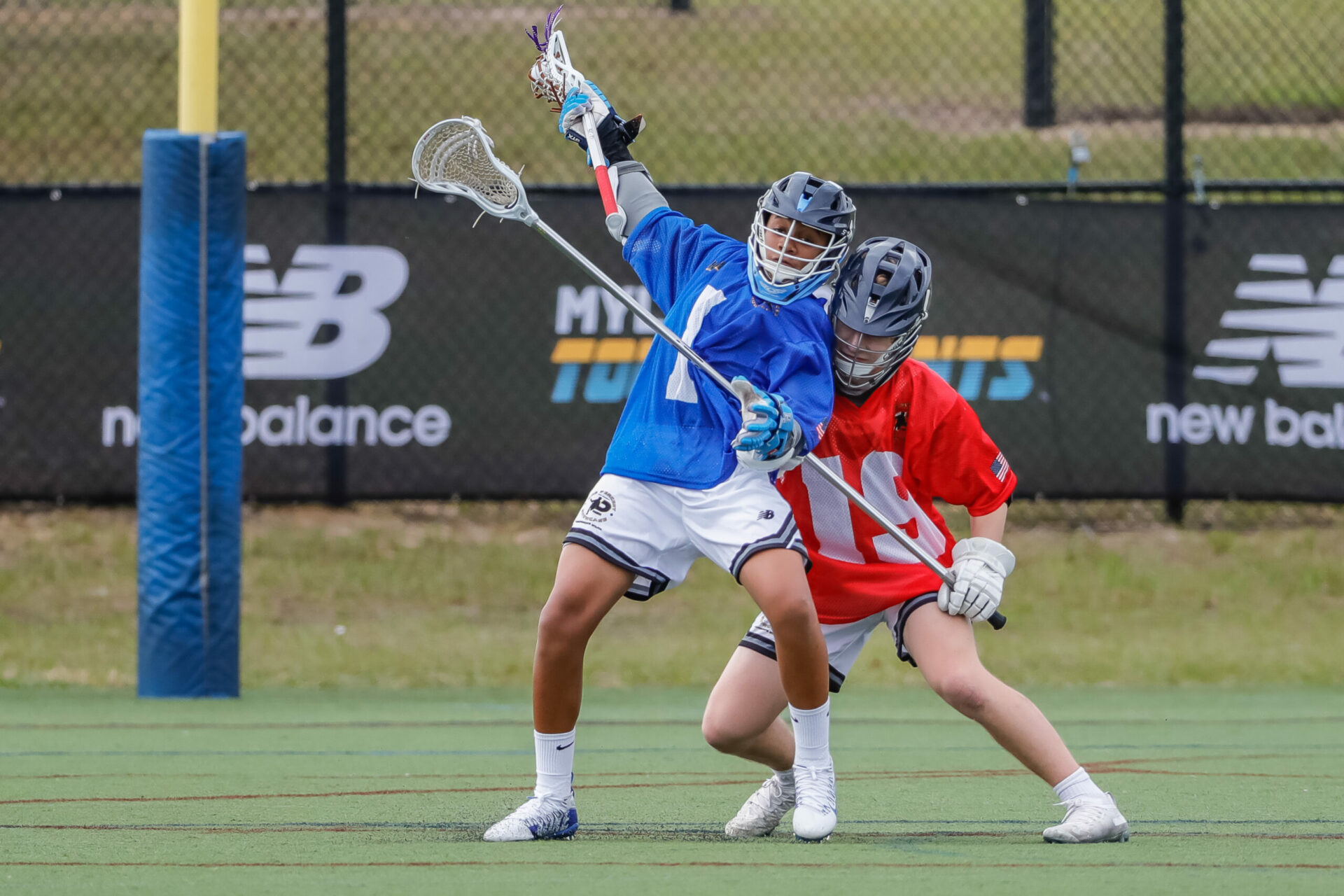 No. 1 Stone Evans, attack, Cushing (Mass.) / Prime Time
Evans is an very talented and intelligent attackman. He has excellent stick work and vision, and not only does Evans draw the attention of the defense, but he consistently makes the right reads on offense. He hunts picks and sets them well.  Evans rides hard all of the time – he had a hand in a few caused turnovers on the ride – and he's an unselfish, and opportunistic player. He kept the defense honest by picking the right times during a game to test his man. 
No. 2 Devon Christian, attack, Hotchkiss (Conn.) / Team 24/7
Christian can beat his man and score, and he's comfortable playing with his stick in both hands. He has an explosive split dodge and he isn't afraid to challenge his defender, and knows how to protect his stick and he finish in front of the goal. I loved his hockey stop to a change of direction. He has two very effective releases on his shot, in addition to great velocity. He's going to be someone to watch closely this spring and summer as the 24/7 team will make some noise this summer and in the future. 
No. 3 Jack VanEss, attack, Caledonia (Mich.) / Cherries
A big, well-built attackman, VanEss was very effective scoring off the ball and he has good hands. He used his size and strength well to back down his defender in order to create space for his hands. VanEss has great range on his shot, and when his hands are free, he's likely to score. The talented box player has an array of moves inside and he can soak checks. 
No. 4 Parker Beiland, attack, St. Stephens (N.C.) / Team 24/7
Beiland worked hard inside to get to himself open, especially in his team's game against the Carolina Blue team. He has a burst of speed and a great change of direction dodge, and he's a reliable attackman who did a bunch of little things that helped his team have success throughout the day. 
No. 5 Nicholas George, attack, Hotchkiss (Conn.) / 2Way
George is a deceptive dodger who can beat his man and score, but even more impressive was his ability to draw a slide and look inside for an open teammate. He has a pretty nifty stutter-skip move that helped him get separation from his defender, as well as the ability to play with both of his hands. He's a multi-faceted attackman who makes the people playing with him better. 
No. 6 Caden Harshbarger, midfield, Lake Mary (Fla.) / SweetLax Florida
All-Star. Harshbarger is a smooth operator on the offensive end of the field. When the ball is in his stick, the game slows down. He makes difficult plays appear mundane and his skills are exceptional. It was a joy to watch him play at the event. He can shoot with velocity and accuracy, he's an exceptional passer and dodger, and he can generate offense from above and behind the cage. He is, without a doubt, one of the most impressive midfield prospects in the 2024 graduating class. The sky's the limit for this SweetLax middie.
No. 7 Brevin Wilson, midfield, Cannon (N.C.) / Carolina Miners
All-Star. Wilson made plays all day long for the Royal Blue team. His split dodge is lethal: he hammered his foot into the ground and left many defenders lunged for air, allowing the shifty offensive player from the Carolina Miners to get open and get his shot on the goal. He can carry double teams and make hard feeds to the adjacent offensive player, has tremendous speed and was proficient at helping his team clear the ball. Wilson plays offense with his head up all of the time: he probes the defense and makes excellent read progressions. 
No. 8 Caleb Yeung, midfield, Bishop Guertin (N.H.) / NH Tomahawks
Yeung is a skilled middie who has the ability to get to the middle of the field with his left hand. He possesses the craftiness of a box lacrosse player and demonstrated the ability to get his shot off in tight spaces. A high-IQ player, he put himself in triple threat position and read the defense before making a decision. He's an athletic player who moved well from box-to-box.
No. 9 Connor Crosby, midfield, Brunswick (Conn.) / 2Way
An athletic and highly-skilled middie, Crosby excelled on the offensive and defensive ends of the field. He was relentless in his pursuit of 50/50 ground balls, and when he picked them up, it was rare to see an opponent catch up to him. He's a fierce competitor who isn't afraid to challenge his opponents on offense. A big righty with a really good hitch, Crosby also packs a powerful alley dodge shot off a sweep.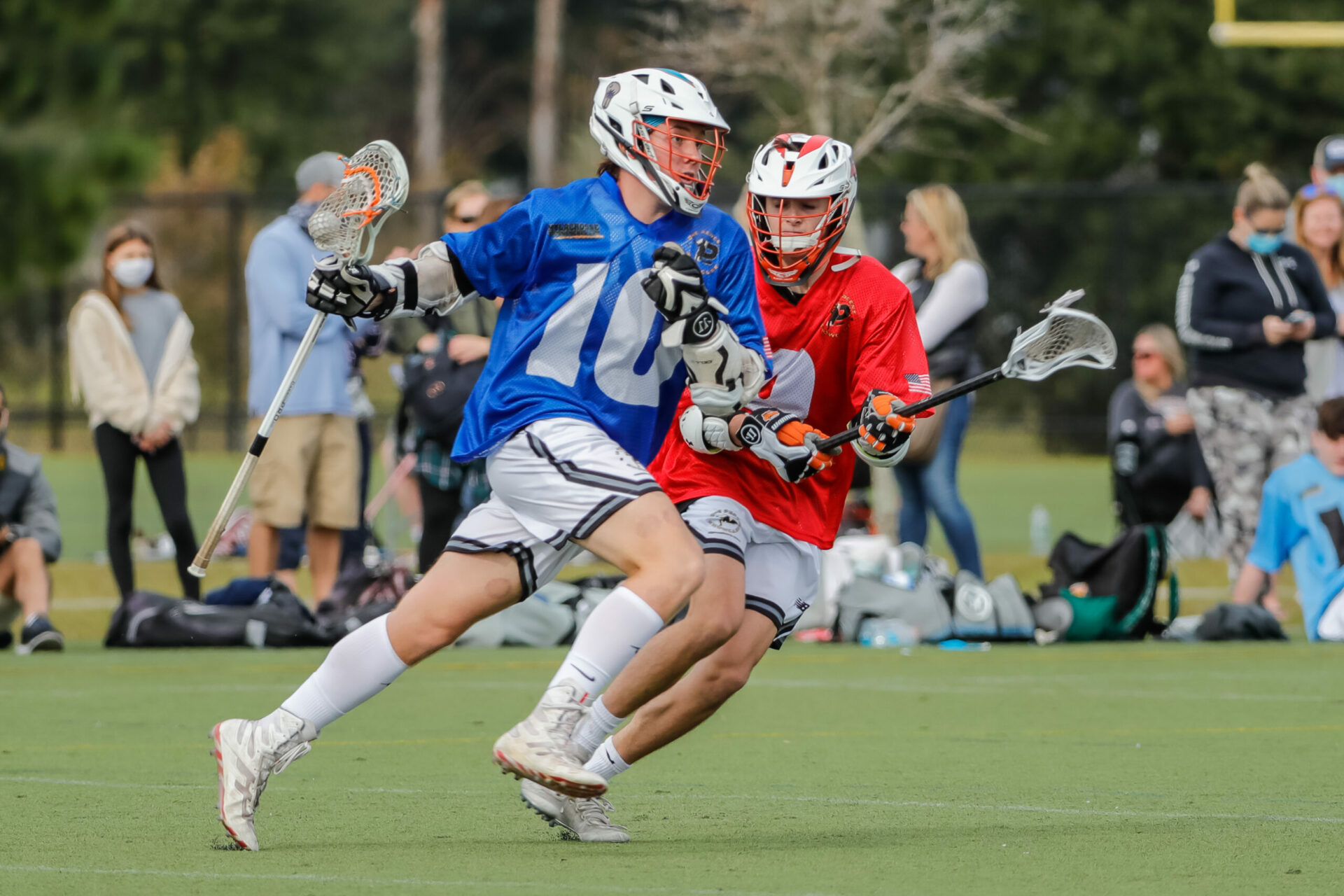 No. 10 Web Perry, midfield, Porter Gaud (S.C.) / Charleston Elite
A hard dodging, physical, and tough player who had an excellent showing at the event. Perry distinguished himself by doing the little things correctly. He cuts to the middle of the field hard, takes high percentage shots, and made it a point not to sub himself off on defense. He showed off his versatility, a trait that will undoubtedly endear him to college coaches down the road.
No. 11 Joshua Kitt, midfield, Greens Farms (Conn.) / Express North
All-Star. Luke Macaluso had the goal of the day, but Kitt had the play of the event. Kitt and another middie were competing for a loose ball along the sideline. With one hand on his stick, he then goosed the ball into the air, spun around his opponent, collected the ball, and outran his opponent down the field. It looked effortless, and the play highlighted his impressive athletic ability. Kitt is a dynamic dodger and playmaker in the middle of the field, but he's also an incredibly skilled lacrosse player. He has an excellent split, a phenomenal hitch and go, and he shoots the ball with accuracy and velocity.  He was a game changer on the wing throughout the day because of his commitment to picking up contested ground balls. He easily gets separation from the defense after collecting ground balls. He almost executed a one-handed Air Gait in the All-Star Game, a move that requires balance, strength, and creativity. 
No. 12 Tyler DeGirolamo, faceoff, West Chester East (Pa.) / Mesa
All-Star. A very well coached and talented athlete, DeGirolamo has quick hands and technical expertise. He can escape from pressure and get the ball to his teammates quickly. He bellied up against his opponents to prevent them from going forward when he lost the clamp and showed very good defensive exits and grit when competing for ground balls. 
No. 13 Lad Harper, faceoff, Ponte Vedra (Fla.) / Next Level
All-Star. A technician, Harper has a number of moves at the stripe, but more importantly, he knows when to use them. His clamp plunger is his most effective move, but he also has a very good quick rake. It's obvious that Lad is a well coached faceoff man, as his exits are clean to go along with great technique. Harper is also a very good athlete and stick handler. He can escape pressure and get the ball to the right players on offense. 
No. 14 Ryan Gaudion, LSM, Walton (Ga.) / Thunder LB3
Gaudion was really good on faceoff wings, where he was able to beat his opponent in, box him out, and help the Royal team gain possession of the ball. Gaudion has a great motor and he hustled on and off the field all day. He has the ability to pick up a contested ground ball and get it down field quickly. He handles the ball well in the middle of the field, has a great sense of the game and is an effective on-ball defender and he has good off ball footwork. 
No. 15 Tyler Quake, LSM, Brunswick (Conn.) / 2Way
Quake is relentless on the wing. He threw hard checks and he created havoc between the lines, and he's adept at picking up ground balls and can get it from one end of the field to the other quickly. He was able to put a lot of pressure on some of the most talented players at the event without getting beat. Quake did an admirable job of sloughing in off ball and supported his teammates throughout the day. 
No. 16 Jack Mulholland, defense, Manhasset (N.Y.) / LI Express
Mulholland has a great stance and he can put tremendous pressure on the ball inside the box. He can pick up ground balls, in addition to clearing the ball with ease. Mulholland has phenomenal stick work and he's a well-coached defensive player. He made good slide decisions and always positioned himself in a place that allowed him to evaluate the quality of defense on the ball. He used verbal and non-verbal communication effectively throughout the afternoon. 
No. 17 RJ Salser, defense, Cardinal Mooney (Fla.) / SweetLax Florida
All-Star. Salser is a good stick handler and a sound on-ball defender. He is an excellent athlete who was able to get up and out when his goalie made a save. Salser moved from end-to-end faster than any defenseman at the event. RJ's athletic ability will serve him well in the future. 
No. 18 David Lopez, defense, Gulliver Prep (Fla.) / Florida Crabs
Lopez is a good on and off-ball defender. He has a great stance and he kept his head on the swivel. He understands team defense and is a well coached player, and Lopez did a very nice job of supporting the on ball middies throughout the event by sliding or hedging. 
No. 19 Will Chanin, defense, Avon Old Farms (Conn.) / True Illinois
Chanin is a vocal and physical defensemen who used his size to keep his attackmen from getting to the goal line extended. He has great posture on and off of the ball. Chanin gets low and drives on his opponent's hips and he keeps his stick in front of him when he approaches the ball. He knows when and where to apply ball pressure to an attackman and he has a really good handle.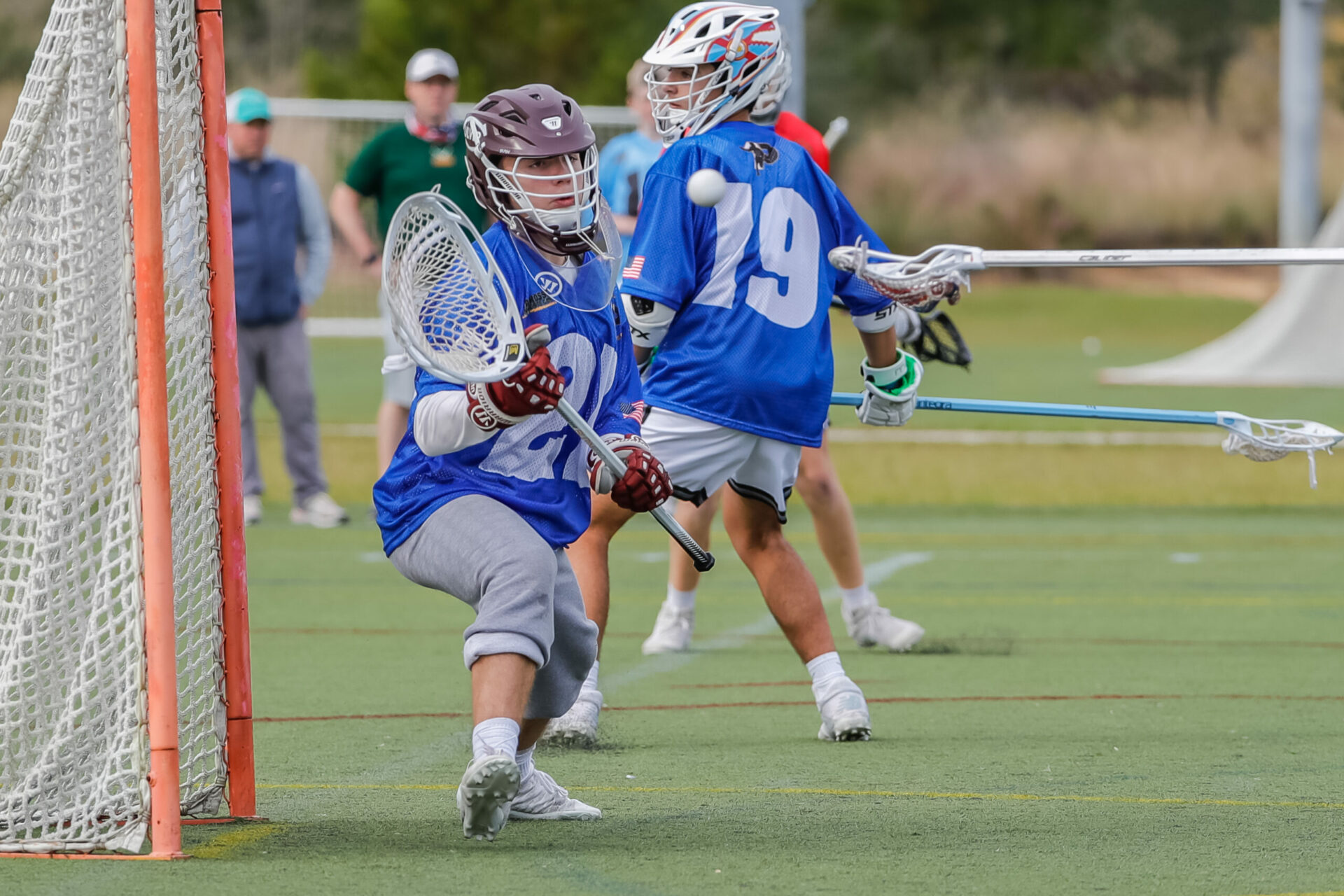 No. 20 Braswell Vachon, goalie, Culver (Ind.) / Thunder LB3
Vachon was the most vocal goalie at the event, constantly keeping his defense moving with his swift, decisive commands. He took charge of his defense early on and excelled at both verbal and non-verbal communication. He stole several goals inside against his opponents by staying patient and mirroring shooters, and he's a very good passer. 
No. 21 Hayes Schreiner, goalie, Springside Chestnut Hill (Pa.) / Big 4 HHH
Schreiner is calm, cool, and collected in the cage. Regardless of what's happening in front of him, he was able to track the ball and make saves throughout the event. He's disciplined and he played his angles very well. He saw the ball well and he has good hand speed. Schreiner has been well coached and he was patient in the clearing game.