Winter One Percent Evaluations: 2025 Michigan and Notre Dame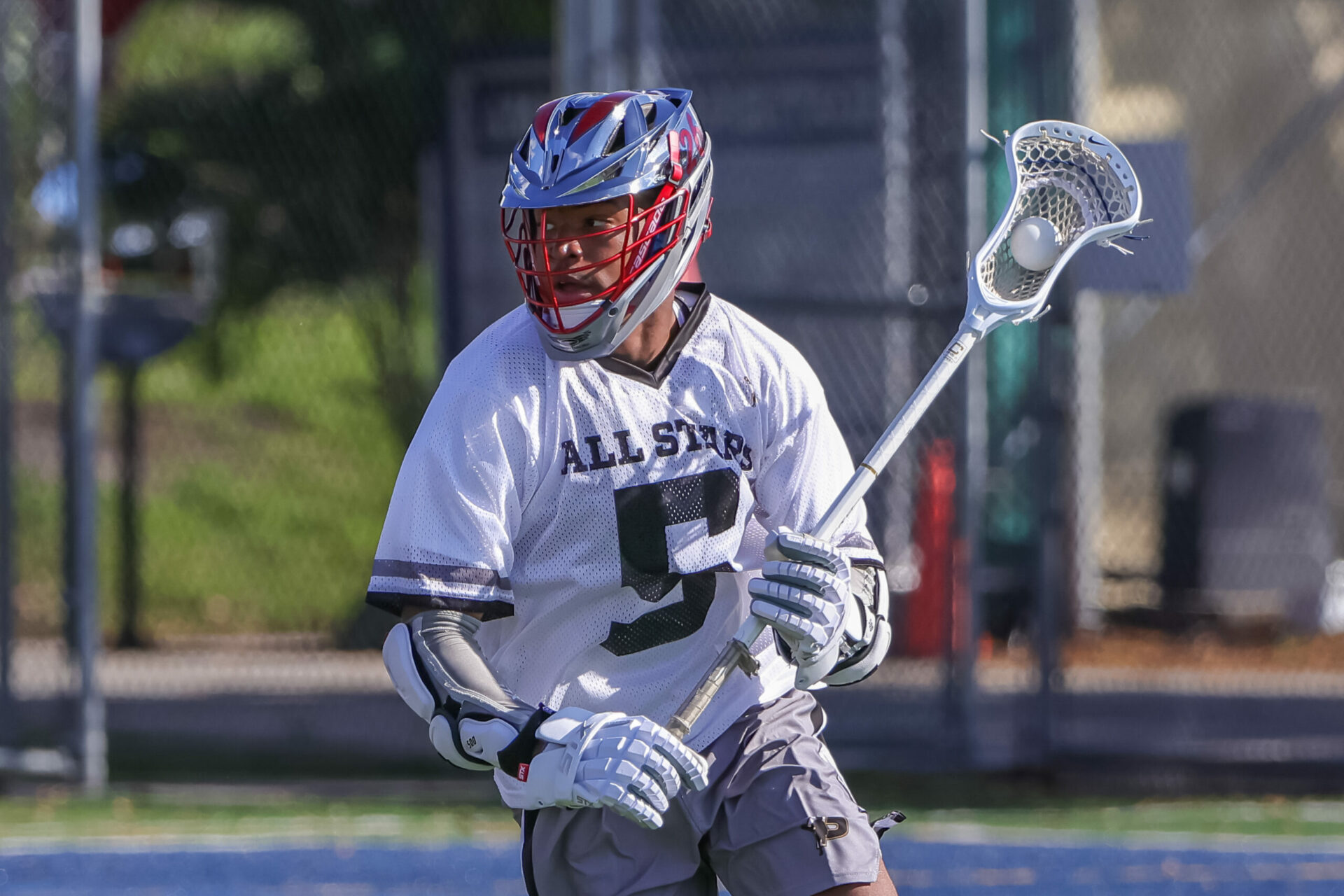 Winter One Percent Evaluations: 2025 Michigan and Notre Dame
Follow the One Percent on Instagram , YouTube and Twitter.
The winter One Percent evaluations are here!
Michigan and Notre Dame kick off the '25 group, with every player getting an evaluation. CLICK HERE to see Dartmouth and Harvard evaluations. CLICK HERE to see North Carolina and Princeton evaluations. CLICK HERE to see Stony Brook and Yale evaluations. CLICK HERE to see the list of 2024 all-stars.
This summer's One Percent takes place on June 28 (2024 and 2025) and June 29 (2026) at The Proving Grounds in Conshohocken, Pa. CLICK HERE for full info.
SUMMER INTEREST FORM
Michigan
This is illegal in at least 15 states, but luckily for Khalif Hocker, anything goes in Florida.

The @ResoluteLax and St. Xavier (Ohio) '25 attackman put on a show in Delray. What an absurd goal! pic.twitter.com/bCVrU2EBq3

— OnePercentShowcase (@OnePctShowcase) March 3, 2022
No. 1 Khalif Hocker, attack, St. Xavier (Ohio) / Resolute 
All-Star. Hocker came in with a big reputation as one of the top '25s in the nation and backed it up. A tall, lanky attackman, he made a number of flashy, eye-popping plays, perhaps none better than his absurd backhander in the opening game. Hocker's box background is evident in his game through his slick handle, bevy of moves and ability to finish in a bunch of different ways. Hocker dodged from the wing and from up top and he showed the ability to get to the heart of the defense and finish in tight.
No. 2 Landon Rasmus, attack, Jupiter (Fla.) / Florida Crabs 
Rasmus lacks prototypical size, but he makes up for it with some grit and relentless energy. He made some plays in the riding game and off the ground, and he showed an ability to work to get open off-ball. He'll need to grow, but there are a lot of raw tools for him to work with.
No. 3 Ike Silverman, attack, Bullis (Md.) / DC Express 
Silverman made some really impressive plays, particularly as a feeder, and would have had better numbers if some of his teammates finished off some of the good looks he set up. He rode hard and picked up some tough ground balls. When he has the ball in his stick, he makes some very good feeds, but has to get more assertive as a dodger.
No. 4 Magnus Langtry, attack, Legend (Colo.) / Sixers 
All-Star. The undersized lefty – the son of former pro Brian Langtry – understands the game at a high level and found ways to continually get open. That was pronounced early when he slipped into the middle and buried a Brady Winter feed, but he also had a slick low-to-low transition finish from Alex Michaelides. Langtry showed that he could get to dirty areas, both for scoring opportunities and ground balls, and as he continues to grow, could evolve into a top-flight attackman.
No. 6 Wyatt Merandi, midfield, Allatoona (Ga.) 
All-Star. Merandi stands out right away with his 6-2 frame, but it was his versatility that really shined throughout the day. He took some faceoffs and acquitted himself well on the ground. Merandi did an excellent job of getting open on his dodges, although his shots didn't always fall. One of his better offensive plays came when he threaded a dime to Matt Plunkett from GLE for a backhand goal from the Express North standout.
No. 7 Theo Perkins, midfield, Brunswick (Conn.) / 2Way
All-Star. Perkins earned an All-Star nod through some fine transition and ground ball work. He had his moments offensively, too, like when he threw a great backside skip pass of a draw and dump that a teammate dropped. Perkins showed a penchant for coming up with ground balls, including a tough one where he won 1v2 and escaped pressure.
No. 8 Braiden DeLacy '26, attack, Haverford School (Pa.) / Tigers XXVI
Another good one from the powerhouse Fords and one of the best '26 teams in the country in the Tigers, DeLacy didn't look out of place playing up. He showed some really good offensive IQ with some of his dodges and feeds, none better than when he picked up a ground ball, put his foot in the ground, ran to the cage and dunked one in short side while taking a big hit. He later pocketed a nifty high bouncer, too.
No. 9 Matthew Plunkett, midfield, Iona Prep (N.Y.) / Express North
All-Star. Plunkett showed a balanced offensive game, flashing as both a feeder and finisher. It was his dodge that drew a double team to get Hocker open for his backhander, and he consistently dodged with his head up and found open guys on the back side. He also had an excellent off-ball cut and backhand finish from a Merandi assist. Plunkett also showed some snarl on the defensive end, punishing an opposing middie on the sideline with a bully ball caused turnover.
No. 10 Timmy Plunkett '26, midfield, Resurrection Grammar (N.Y.) / Express North
All-Star. An integral part of an Express North '26 team that reached the final at the NLF National Championships, Plunkett was good enough to make the All-Star Game while playing a grade up. He's legit. His best offensive play might have been when he blasted out the far side corner with a low-to-high rollback. Plunkett picked out corners with relative ease and, like his brother, showed good vision and a prickly disposition on defense.
No. 11 Shovan Eriksson, midfield, Falcon Cove (Fla.) / Stealth 
Eriksson did a good job of assimilating himself into the team offensive concept. He got off to a bit of a slow start, but once he got a little more assertive, made some impressive plays. He showed some good chemistry with Hocker, hooking up the Resolute standout with some deft feeds for goals. One of them came in transition when Eriksson outran the pack in transition to set up Hocker for a backside finish.
No. 12 Brady Winter, midfield, Horace Mann (N.Y.) / LI Express 
All-Star. Winter established himself as an alpha dodger almost immediately and good things happened as a result. If teams didn't slide to him off the dodge from up top, he was getting to the rack. If they were, Winter was finding open guys around him, like when he slipped the rock inside to set up a Langtry low-to-high crank.
No. 14 Barrett Carter, LSM, Wheaton (Ill.) / True 
All-Star. Carter has the versatility to cover in a bunch of different ways. LSM's the official position, but he can guard attackmen or middies in different spots. He consistently showed good patience, leverage and footwork at X. Carter also flashed when he had a strip in front and goosed a ground ball over to Perkins. He wasn't as flashy as some other LSMs can be, but he also didn't really get beat, which is even more important. 
No. 15 Ryder Hanin, defense, Bullis (Md.) / DC Express 
All-Star. Hanin popped in Michigan's opener when he smartly cut to open space and buried a high-bouncer in transition off of a Logan Eaton setup. The DC Express standout popped in the Virginia game with a nice transition run and setup to Hocker. He also had a great double team on the wing to cause a turnover to go along with some smooth stick-handling on ground balls.
No. 16 Alexander Michaelides, defense, St. Thomas Aquinas (Fla.) / Stealth 
All-Star. Hanin was certainly Michigan's flashiest defender and he was ominpresent around the ball all day long. Michaelides showed some impressive offensive pop early when he ran some 50+ yards in transition and hammered home a bouncer. He also later added another goal and set up a Langtry finish. Defensively, he was patient throughout and didn't overextend. Michaelides constantly found a way to disrupt the opposing offense's flow with an active stick and quality coverage.
No. 18 Logan Eaton, defense, Grand Rapids Christian (Mich.) / Cherries 
A well-built lefty defender, Eaton had a slow start in coverage but rapidly improved as he found his footing. He showed an excellent stick throughout the day with a number of ground balls in traffic via some slick toe drags and box outs. Eaton had a terrific feed to set up a Hanin transition rip and also excelled at mucking it up physically.
No. 19 Chaz Dechene, defense, St. Anthony's (N.Y.) / LI Express 
All-Star. Dechene was certainly not shying away from pressing out on guys and getting up in their business. He had a perfectly-timed double team early on to cause a turnover and his aggressiveness paired well with his active stick. Even when he got beat on a couple of occasions, he recovered well to get his stick on the ball. Dechene was rock-solid throughout the day.
No. 20 Colin Anderson, goalie, Gill St. Bernard's (N.J.) 
Anderson's finest save of the day was a marvelous 1v1 denial of Cam Kelley on the crease, but he also made a bevy of other significant denials that popped. Anderson showed some poise and calmness in the cage to go along with a multitude of different stops, including a gem of a kick save on Jack Lancelot.
No. 21 Matthew Barry, goalie, Fairfield Prep (Conn.) / Eclipse 
Barry's fundamentals were solid throughout, and that paid off with a bunch of saves that he made look easy. On one sequence, he calmly came away with a smooth save on Lucas Kroner before he dropped a 30-yard dime to Timmy Plunkett. On one Matt Huggins question mark, he hugged his pipe and didn't yield an inch. Barry dropped very efficiently on low shots and was at his best at taking away low denials.
Notre Dame
No. 1 Finlay Radding, attack, Walker (Ga.) / Thunder 
All-Star. Radding was excellent throughout the day and showed that he could get on the stat sheet in myriad ways. He put a defender in a blender and ripped one 5-hole early, but also set up Kelley, Higgins and Kroner for different goals, the latter a stepdown cannon. Radding also rode hard throughout and gave other teams no free clears.
No. 2 Matthew Higgins, attack, St. Ignatius Prep (Calif.) / ADVNC 
All-Star. Higgins and Radding had some similarities to their game. Higgins got involved in the riding game early and never wilted. He bagged a couple of early goals, one on a mid-to-high transition rip from Noah Seabolt and then burying a Matt Steele pass on an off-ball cut. He was particularly good against Syracuse, including a gem of a BTB finish from Kelley and a draw-and-dump finish from Radding after Higgins picked off a pass at the midline.
No. 5 Gary Merrill, midfield, St. Anthony's (N.Y.) / Team 91 LI Shock 
All-Star. Merrill has to be on the short list of the very best 2025 midfielders. The two-time One Percent All-Star is a presence all over the field and can assimilate himself into any role. He had full-field clears, great passes and some impressive goals. Merrill also holds up his end of the bargain defensively. He had an awesome high-to-high screamer on the run against Syracuse, and earlier, he had an outstanding clear that culminated with a back pipe assist to James Finch.
No. 6 Luke Danna, attack, Creekside (Fla.) / Florida Crabs 
All-Star. A versatile offensive presence who carved up defenses as a scorer and passer, Danna racked up three assists in the opener, highlighted by a clear and feed to the middle for a Kelley finish. He consistently drew multiple sets of eyes his way before snapping off a precise pass, but also found ways to get to high-traffic areas and finish in style. The lefty dodged with his head up and was supremely confident with the ball in his stick.
No. 7 Lucas Kroner, midfield, Lake Forest (Ill.) / True 
Kroner showed on a handful of occasions that he can stretch a defense out with his shooting range. He bombed home a 12-yard high-to-high crank off of a caused turnover at the mid line, then later took a Radding skip pass from X and crushed a stepdown blast. Kroner had a couple of slick dodges where he created some separation, but he needs to add a little more to his dodging arsenal. If he can do that and pair it with his shooting ability, he'll be a monster.
No. 8 Noah Han '26, attack, Loudoun Country Day (Va.) / MadLax
All-Star. The younger brother of '23 Michigan commit Matt Han, Han was a force at attack and also made some plays out of the midfield for his team. He did an excellent job of involving his teammates and also finishing on his own. Han understood how to work with picks and had one where he came off a Matt Steele pick and burned out a far corner from 12 yards out. Later, he uncorked a 15-yard lefty rip from down the alley. Han showed a high IQ and versatility, and he had a number of slick passes.
No. 9 James Finch, attack, St. Thomas Aquinas (Fla.) / Crabs 
All-Star. Finch was consistently productive throughout the day and he used a number of different moves to get open and score. He got involved early with a far side bouncer from the righty hash and had a couple of early dunks off of passes from Merrill and Steele. He showed that he could beat defensemen at X with his shiftiness, too.
No. 11 Bryce Bertanzetti, midfield, Saint Andrew's (Fla.) / Stealth
Bertanzetti has a tall, lean, athletic frame that lends itself to him putting on some good size in the future. He also understood how to get open off ball and moved well in space, including one where he left a defender in the dust to finish off a Kelley pass. Bertanzetti could stand to demand the ball a little bit more offensively, but worked well within the team offensive concept.
No. 12 Matthew Steele, midfield, Pomfret (Mass.) / Laxachusetts 
Steele was a strong glue guy for the Notre Dame team and helped out his squad by getting involved in a multitude of ways. He freed up Han for a goal with an outstanding pick early, played tough defense throughout and had a great sequence where he picked off a bad clear and found Finch on the back post for a dunk. Steele got involved on ground balls and came away with his fair share.
No. 13 Ty Green, defense, Christian Brothers (N.Y.) / SweetLax 
All-Star. A Ric Beardsley protégé, Green is already pretty filled out for a freshman, checking in at 5-11, 190 pounds, and it shows in his game. If you try to get inside on him and he gets a hold of you, you're going for a ride. He played a tough, physical brand of defense throughout and used his power and stick skills to knock loose a handful of turnovers. When he throws checks, he throws them with intent, and he stripped some of the better players on a couple of occasions.
No. 14 Noah Seabolt, defense, Lassiter (Ga.) / Thunder 
All-Star. Already 6-3 and 175 pounds, Seabolt very much looks the part of a Division I defenseman. For a young man with his size, though, he gets out and runs well in the open field. He communicated well with his teammates and consistently got his stick on stick or on the ball in the air. Seabolt put together a couple of impressive caused turnovers and he was a presence that offensive players tended to avoid.
No. 15 Jack D'Spain, defense, Leadership Prep (Texas) / Crabs 
Notre Dame had a couple of towers on the back end with D'Spain standing out above the rest at 6-5, 190 pounds. He was quietly effective in coverage, using his length, range and size to make life difficult for attackmen. D'Spain had a rep that really stood out when he took on a dodger from up top, powered him out of scoring range and forced a low-angle shot. If he can clean up his footwork a bit, D'Spain has all the potential in the world.
No. 16 Tim Humes, defense, St. Mary's (Mich.) / Cherries 
Humes is also a high-level hockey player, which was obvious in how he handled the ball at times. He was also quietly effective in coverage and has the athleticism and toughness to make it tough to get around him. Humes did a quality job of keeping his stick on gloves and impressed on a couple of clears, too, as he hoofed it upfield.
No. 17 Thomas Sheumack, defense, Taft (Conn.) / Prime Time 
All-Star. The multi-time One Percent All-Star was up to his old tricks again. He is very aggressive in coverage but doesn't often overcommit, and he was particularly good at getting out on guys dodging from X and at GLE. Sheumack showed a very active stick, stayed low in his stance and rarely ceded any room in coverage. He also knew when to double, including one where he came over about 10 yards to surprise an attackman and take the ball away. It wouldn't be a surprise to see him earn some playing time as a Taft freshman this year.
No. 18 Kyan East, defense, Spanish River (Fla.) / Stealth 
A very active defender, East had a number of splash plays, perhaps none better than an early caused turnover where he sent a stick to the moon. His stickwork was on point throughout, both in landing checks and corralling ground balls, and East showed high energy throughout the day.
No. 19 Cam Kelley, attack, Taft (Conn.) / Prime Time 
All-Star Game MVP. How much time ya got for this one?
Kelley has such a presence on the field and has a well-earned big reputation that he more than backed up throughout the day. He's already 6-1, 175 pounds with a frame that suggests that he can play much heavier down the road. Kelley runs by guys with ease, using his strength to get leverage once he has a step on guys. He shoots the living daylight out of the ball and the lefty scored with either hand multiple times. He pocketed three goals in the All-Star Game, including an absolute bomb that vaporized the net as time expired.
Kelley's versatility, though, is where he really shines. He took a handful of faceoffs and won nearly all of them, often chasing down the ground ball himself. The North Carolina native also had a wealth of impressive passes, including a dime to Higgins for a bouncer. If I were making the NLF rankings for the class of 2025 right now, he'd have a very serious case for No. 1 in the class.
No. 20 Preston Hawkins, goalie, Worthington Kilbourne (Ohio) / Resolute 
All-Star. Hawkins never looks like he's fazed by anything. He just calmly makes every save and gets the ball out. Another high-end goalie from the Resolute program – they've had two five-star goalies in the NLF rankings -in the past three classes – Hawkins made some absolutely incredible saves throughout. Perhaps none were better than a superb save on a Ben Kupstas stepdown followed by an outrageous denial on a smart Liam Banks rebound. There are no wasted movements with Hawkins, which help offset his smaller frame. He's always in command.
No. 21 Jackson Lynch, goalie, Viera (Fla.) / Florida Crabs 
All-Star Game Defensive MVP. Lynch capped off a rock-solid day with a six-save effort in the All-Star Game. Another calm in the cage type, Lynch has the athleticism to get to shots that others can't. He came across his body for a bevy of impressive saves and mirrored shots well in tight. He stoned a handful of the event's best shooters and has unlimited potential as he polishes up his game.