One Percent Showcase 2024 Evaluations: Black and White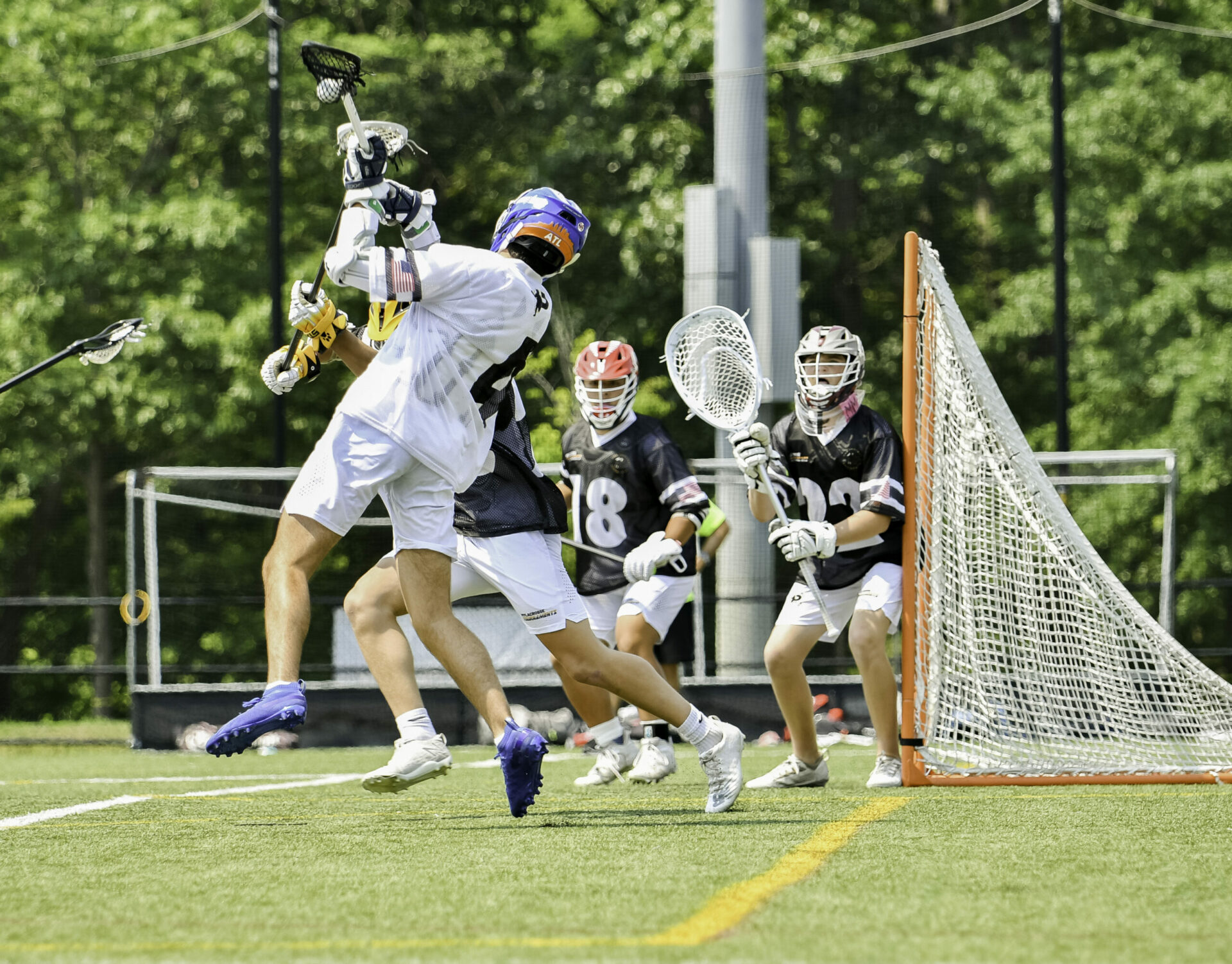 One Percent Showcase 2024 Evaluations: Black and White
Follow the One Percent Showcase on Instagram, YouTube and Twitter. Follow My Lacrosse Tournaments on Instagram and Twitter .
CLICK HERE to check out the dates and express interest in the next three One Percent Showcases. CLICK HERE to check out our fall and winter 2021 events schedule.
The stars came out to play at the One Percent Showcase!
The best players in the 2023, 2024 and 2025 classes came to Capelli Sports Complex in Tinton Falls, New Jersey to test themselves against the nation's elite. Competitors want to see how they stack up against the best, and that's exactly what went down here.
Every player at the event receives an evaluation from our talented, knowledgeable group of evaluators. Yes, all 430+ players that played get broken down here! Check back in the coming days as we continue to upload evaluations and be sure to subscribe to our YouTube channel as we add all game footage from the event.
Black and White team photos in this story are courtesy of Alex McIntyre. CLICK HERE for photo gallery links and to purchase photos from Alex. All-Star game photos are courtesy of Nick Ieradi. CLICK HERE for photo gallery links and to purchase photos from Nick.
2023 Evaluations
Black and White
Red and Royal Blue
Navy and Purple
Carolina and Green
All 2023 games from the event have been uploaded to our YouTube channel, which you can find by CLICKING HERE. All 2024 and 2025 games will be uploaded soon.
2024 Black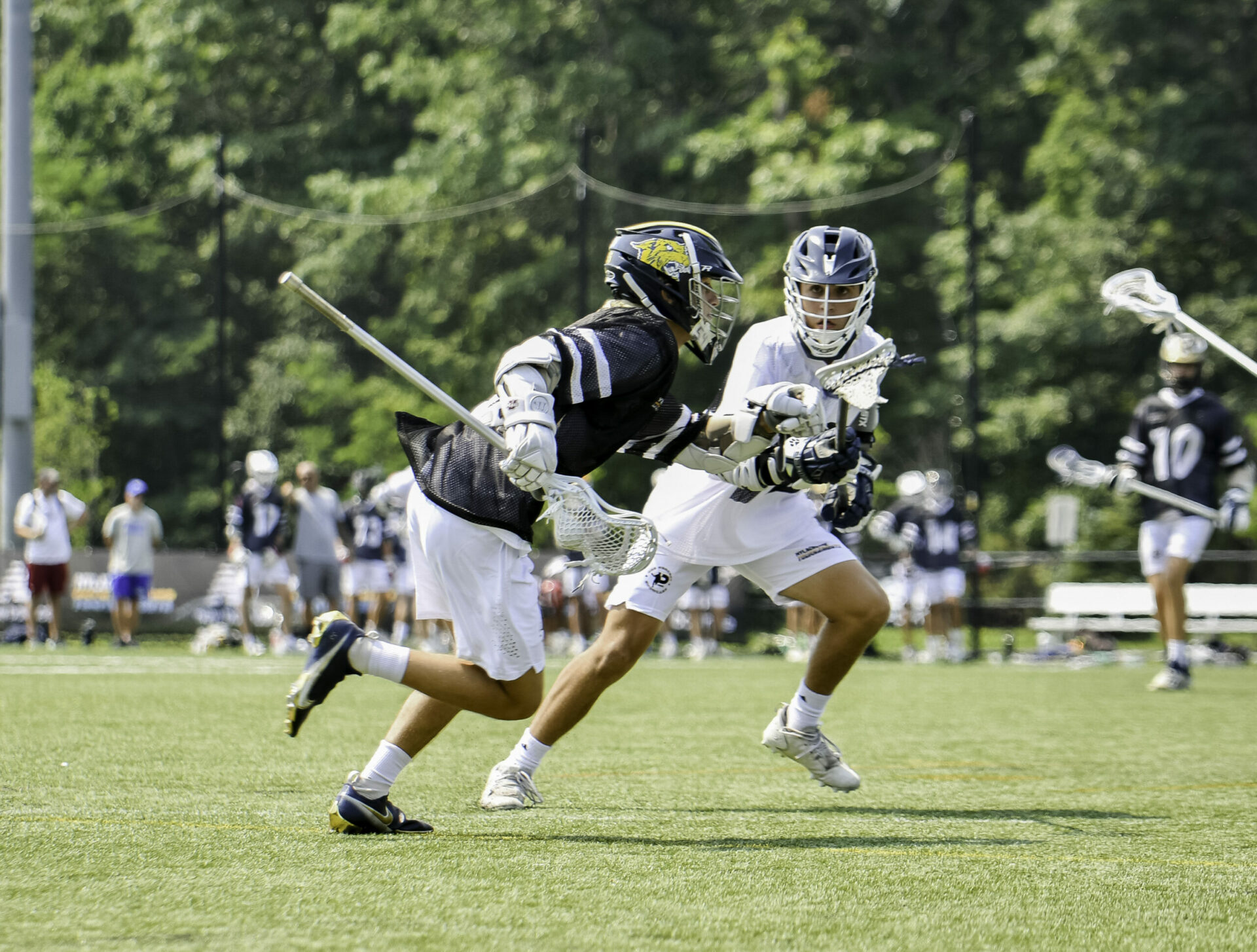 No. 1 Liam Kershis, attack, Shoreham-Wading River (N.Y.) / Legacy
All-Star. On the short list of players who could be the best in the '24 class, Kershis – who had 35 goals and 20 assists for the Wildcats as a freshman – has a great deal of quickness and speed to go along with elite vision and skill. An elite X attackman is a rare commodity in any class, Kershis is just that. He showed ability to finish or feed, and defenses figured out really quickly that he was the biggest offensive threat on the field.
No. 2 Stone Evans, attack, Cushing (Mass.) / Prime Time
A skilled and slick passer that will take his game to the next level as his dodging ability improves. Evans throws highlight reel passes into tight windows and trusts his vision against the looks that the defense gives him. He utilizes rollbacks and hesitation moves to get to dangerous spots on the field.
No. 3 Griffin Sumwalt, attack, Riverhead (N.Y.) / Long Island Empire
A smaller attackman that is excellent off-ball, Sumwalt showed that he didn't have to run by his defender to produce. There were a number of times where he flashed to the pipes for a great look, quickly and accurately diagnosing holes in the defenses. A high-IQ player.

No. 4 Robbie Granara, attack, Reading Memorial (Mass.) / Fighting Clams
An athletic attack/midfield combo that shoots well out of his roll dodge. His versatility to play both positions is what makes him incredibly marketable. Granara has elite hands, which make him dangerous in the interior as well.

No. 5 Quinn Whipple, attack, Taft (Conn.) / Legacy
All-Star. Whipple is a slick finisher with a high IQ who's eerily similar to a young Jeff Ricciardelli (Taft / Eclipse / Notre Dame). His ability to exploit a recovering defense, sets him apart from others in his class. Whipple's got a nifty stick and did a nice job as both a scorer and a feeder, and he's got plenty of flash to his game, never scared to try something cool. 

No. 6 Jack Koch, midfield, La Salle (Pa.) / Duke's
Koch is a tough two-way grinder that was impactful on both ends of the field. While the two-way tag is often reserved for underskilled athletes, Koch showed that he is truly a threat on both ends of the field, particularly on the defensive end, where he scrapped hard and brought some sandpaper to the position. 

No. 7 Alex Kershis, midfield, Shoreham-Wading River (N.Y.) / Legacy
Displaying an excellent first step, coupled with a high compete level and an ability to maintain possession with offensive rebounds, Alex Kershis was a wing-dodging slasher all day. He can consistently beat a pole above or below the cage. He left an impact early on with his great ground ball play, particularly on the faceoff wings, and his clearing ability. 

No. 8 Cole Maddox, midfield, Hough (N.C.) / Team 91 Charlotte
A herky-jerk dodger that uses his big frame to get downhill and draw slides. Maddox has a great right-to-right split and the size to overpower his defenders as he delivers a hard overhand shot. His ability to draw slides makes him a must-have for any offense.

No. 9 Austin Constable, midfield, Lucy Beckham (S.C.) / Charleston Elite
Constable stood out on the defensive end with elite footwork to stick to his matchup like glue. He seemed to defer to his teammates on the offensive end, but demonstrated a good understanding of spacing. In between the lines, he corralled some tough ground balls.

No. 10 Finn Dougherty, midfield, La Salle (Pa.) / Duke's
A middie with a good-sized frame that will allow him to add size as he gets older, Dougherty often found himself behind the cage. He showed great shake and an ability to turn the corner when inverting. Another high-end player in a stacked offensive 2024 class for La Salle.

No. 11 Luca Petruccelli, midfield, Manhasset (N.Y.) / Team 91 Long Island
Petruccelli is an athletic two-way midfielder that thrives in between the lines. Built for the shot clock era, he could be an offensive middie that stays on defense or a defensive middie that pushes early offense. Petruccelli's ability to put the clamps – highlighted by quick feet and a ton of tenacity – on would-be dodgers should endear him to a number of coaching staffs.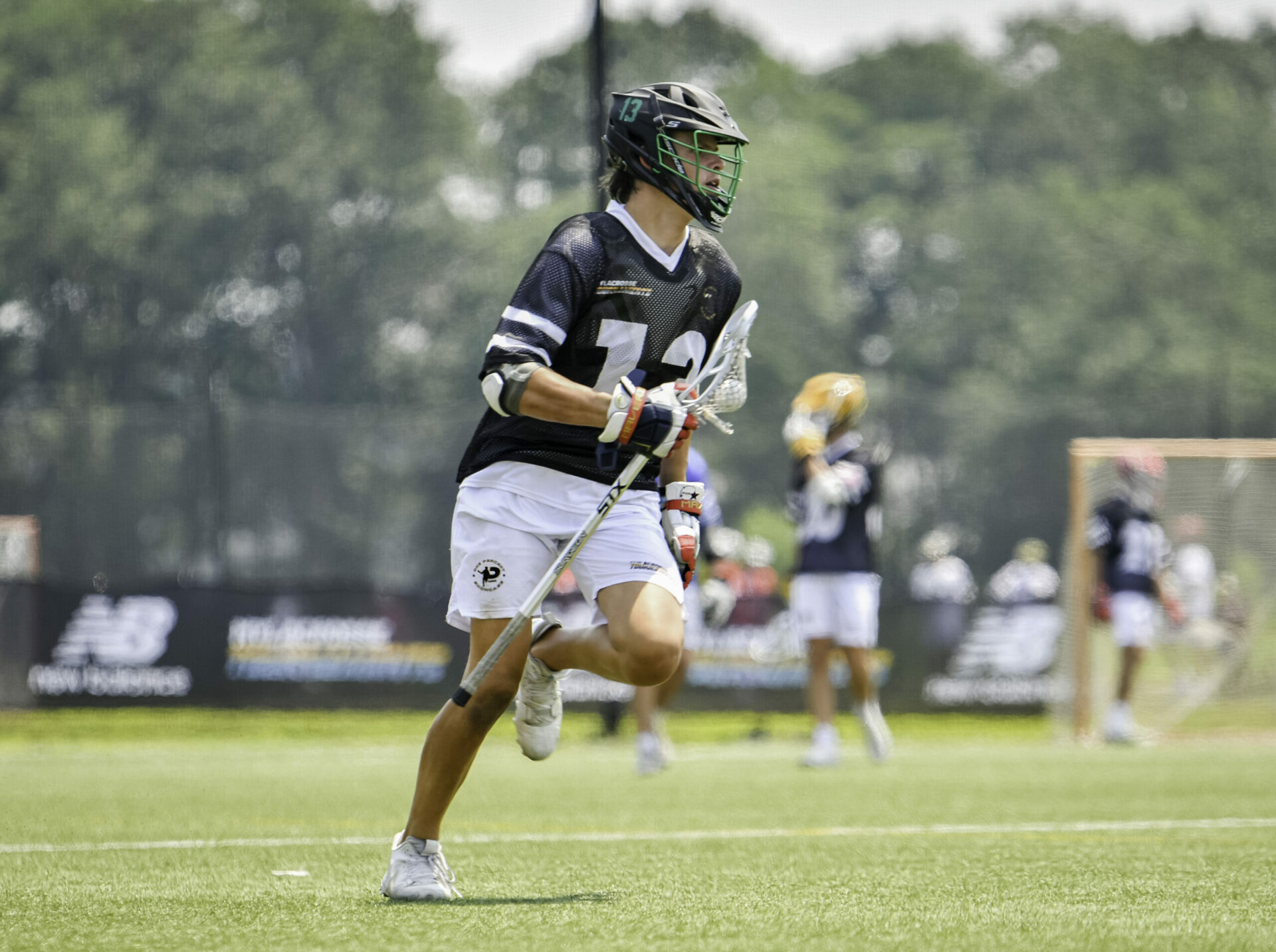 No. 13 RJ Radonis, faceoff, Deerfield (Mass.) / Next Level
All-Star. A cerebral FOGO that had great success with reverse exits. Radonis won the majority of his clamps, and as a result faced a number of counters. He handled these counters with poise and was able to maintain possession for his team, even when under pressure from opposing wings.

No. 14 Tyler Quake, LSM, Brunswick (Conn.) / 2Way
An aggressive player that gets doubles and runs up midfielders' backs, Quake doesn't defend – he hunts. Quake displayed a high level IQ of off-ball play. His ability to anticipate dodgers slowing down and rolling back or inside rolling is beyond his years. 

No. 15 Connor Nesbitt, LSM, Regis Jesuit (Colo.) / Denver Elite
Rangy with a good stick that can start transition. Nesbitt is a menace in between the lines. He is a vacuum off the ground and flashed a ton of playmaking ability, particularly between the lines. He created a ton of havoc in the middle of the field. 

No. 16 Jack Cimino, Haverford School (Pa.) / Mesa
Cimino has a strong frame and a patient stick: he will make you beat him. While onlookers are often enamored with takeaways or swashbuckling, Cimino is a lunch pail defenseman who goes unnoticed, but may be the most reliable member of his unit. His coverage was excellent throughout. 

No. 17 Desi Arrup, defense, Boys' Latin (Md.) / Team 91 Maryland
Arrup hails from the storied Boys' Latin School and looks to continue the defensive culture that Coach Brian Farrell has instilled there. He demonstrated great patience in the clear, almost like a third short stick and looked the part of a DI defenseman.

No. 18 Franklin Mau, defense, Pingry (N.J.) / Leading Edge
Mau, a powerful defenseman with a strong base, must have blocked or deflected three shots in one game. He has good lateral movement and a high-level ability to show-no-go to alley dodgers, while maintaining his matchup and demonstrating physicality throughout.

No. 19 Jack Hadden, defense, Newburyport (Mass.) / NE Twisters
A strong defenseman that is transition-minded, Hadden sparked some early offense for his team over the course of the day. Hadden looks like a high-level football prospect when he engages attackmen and drives them away. He uses his powerful 6-0, 200-pound frame to own his the matchup. 

No. 20 John Klinge, defense, St. Ignatius (Ohio) / Resolute
All-Star.
A mean-spirited lefty that collapses well on feeds to the interior, Klinge and his yellow St. Ignatius helmet bring back memories of a young Blade Cintron '20. At times, his attackman would move the ball quickly and elect to settle in to an off-ball role for the time being. Klinge was disruptive when given the opportunity. 

No. 21 Timmy Piacentini, goalie, Lawrenceville (N.J.) / Tri-State
All-Star. A twitchy lefty that is tough to beat in tight. Piacentini is mature beyond his years as he faced a murderer's row of shooters this spring as Lawrenceville's starter as a freshman. His baptism by fire has resulted in tremendous growth and ability. He was dialed in throughout, making a bunch of really impressive saves.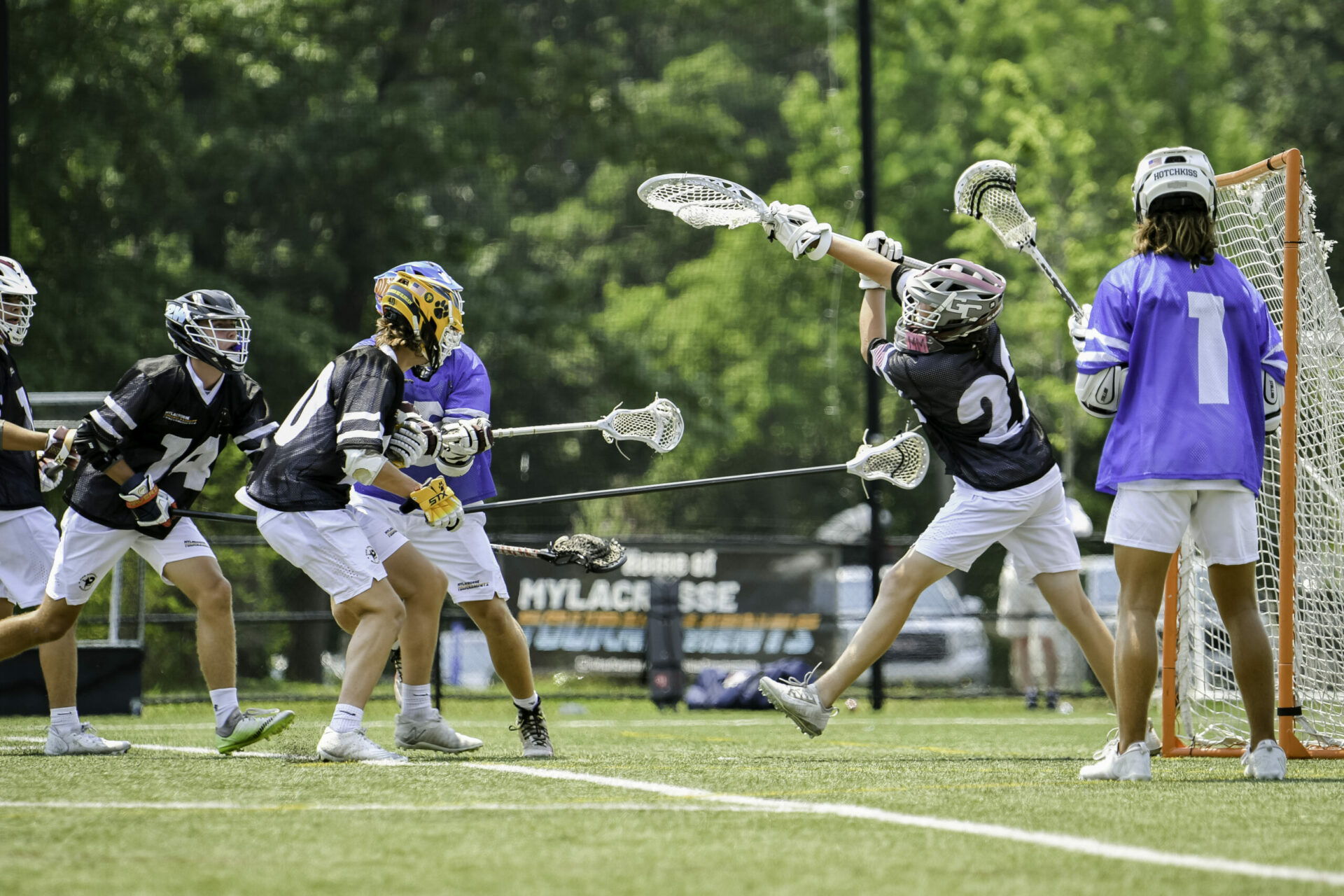 No. 22 Denis Fargione, goalie, Garden City (N.Y.) / Long Island Express
Another elite goalie from the Island, Fargione stands tall in cage and makes shooters take great shots – he doesn't give up easy ones. At times, he does seem a bit impatient in cage, but has a tremendous ability to stop the ball when his feet are set.

2024 White 
No. 1 Connor Gately, attack, Lawrenceville (N.J.) / Igloo
All-Star. A super-skilled, two-handed X-attackman that is deceptively jittery. He took advantage of a number of overly aggressive defenders with that shiftiness and quickness. A recent transfer to Lawrenceville, he's got the ability to play behind the cage or come through the box this spring.
No. 2 Jack VanEss, attack, Caledonia (Mich.) / Cherries
A physical dodger with size that shoots a heavy ball. VanEss delivers all his passes in a textbook/overhand manner, which makes them incredibly catchable for teammates. He plays like a box player with deep outside range.

No. 4 Brett Maguire, attack, Harrison (Ga.) / Thunder
A feed-first lefty that found a number of his teammates cutting inside, Maguire is seemingly one of the next great attackmen to come out of Atlanta's Thunder program. He wasn't afraid to fit passes into tight windows and moved well off-ball, sneaking around to find open spaces in the defensive coverage.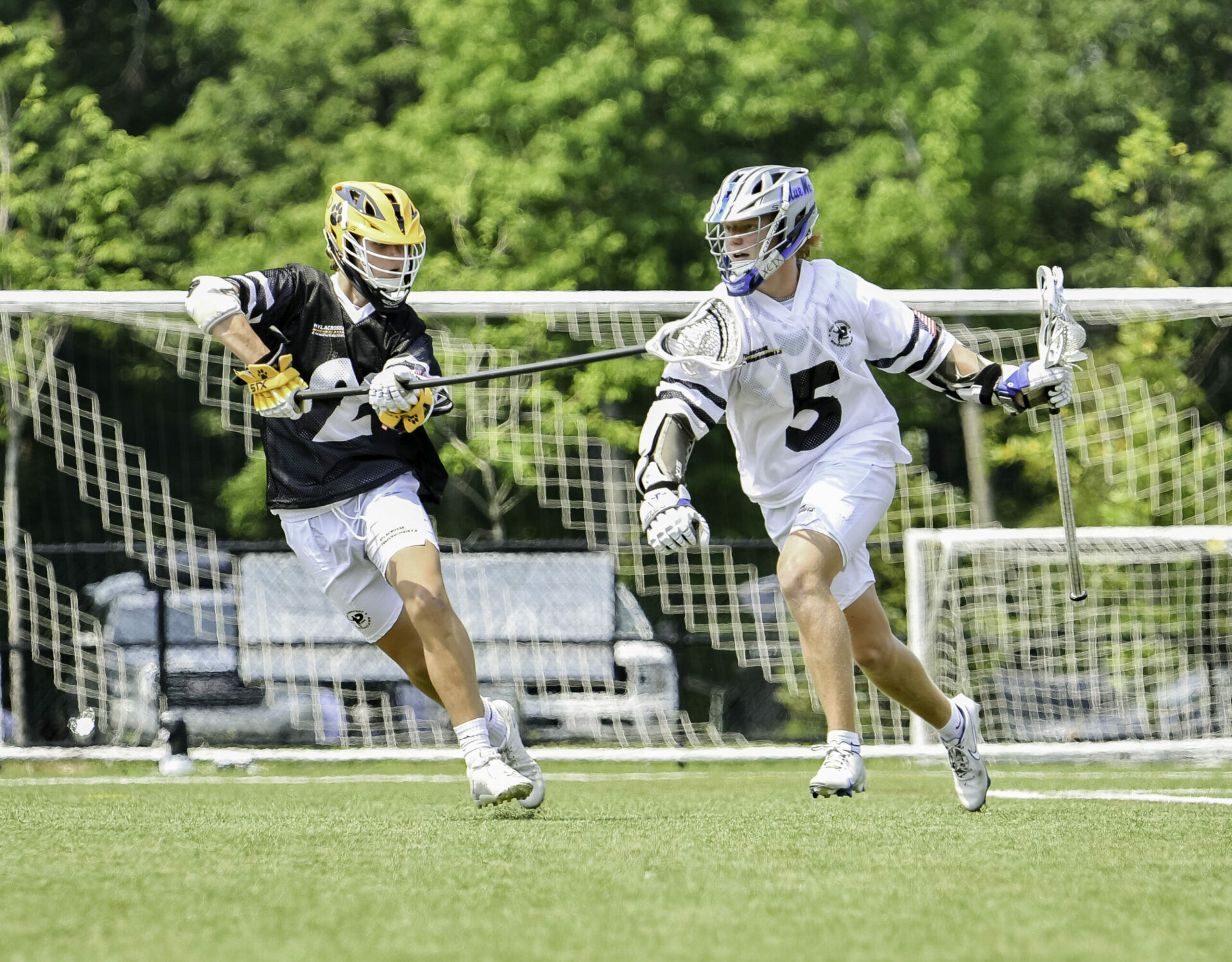 No. 5 Brady Pokorny, attack, Darien (Conn.) / Eclipse
One of the best attackmen at the event, Pokorny is a physical, skilled and assertive attackman. Pokorny, who earned second-team all-state honors on the strength of 53 goals and 15 assists for Darien – that's not normal – as a freshman, was the alpha on White's attack team and initiated the bulk of their offense. He had a handful of eye-popping skip passes through the defense and made plays from up top, on the wing or at GLE. For a bigger guy, he does a nice job of getting low and hiding where the ball's coming from on his shots.
No. 7 Paul Van Bastelaar, midfield, La Salle (Pa.) / Duke's
Van Bastelaar demonstrated a high off-ball IQ all day long and he was able to find seams when his teammates had the ball behind the cage. Van Bastelaar is a pure scorer that will thrive in Coach Rob Forester's pairs offense next spring at La Salle.

No. 8 Julian Navab, midfield, Deerfield (Mass.) / Eclipse
Navab is a great athlete with an ability to dodge and a physical frame that's significantly more advanced than the rest of the class. Demonstrating an emerging IQ that is learning how to exploit opposing defenses, expect Navab to make leaps this spring as he will likely see meaningful minutes for a Deerfield team that graduated 23 seniors last spring.

No. 9 Kevin Dolan, midfield, Wilmington Friends (Del.) / Brotherly Love
Dolan is a good initiator – he had 13 assists and 33 points this spring for Wilmington Friends – that will only get better as is stickwork improves. He runs well between the lines and makes the smart/right play. A little undersized, he makes up for it with his athleticism – he started on the soccer team as a freshman – and had a solid summer for a strong Brotherly Love squad.

No. 10 Sam LoPresti, midfield, Shenendehowa (N.Y.) / Albany Power
LoPresti showed off his ability as a two-way midfield and one-man clear. Nothing overly complicated about his game and with a preference for getting North-South, he charges hard down the alleys and buries it low and away on most goalies.

No. 11 Mark Boyle, midfield, Reading Memorial (Mass.) / NE Twisters
Boyle has a motor in the middle of the field. Coupled with a good right-to-right split, he is able to get his hands free for a hard overhand shot. His heads-up-dodging and hesitation moves enable him to freeze would-be sliders.
No. 12 Nick Wehmeyer, faceoff, Malvern Prep (Pa.) / Brotherly Love
All-Star. Wehmeyer is strong and plays with a physicality rarely seen at this age, a result of his 5-10, 160-pound frame and a varsity starter on a powerhouse Friars' squad. He uses effective counters when he wasn't able to control the clamp. Wehmeyer runs well and is a threat after the win. It's yet another elite young faceoff man from the Philly Face-Off League.
No. 13 Jack Szalanski, LSM, Detroit Country Day (Mich.) / Cherries
Szalanski has an active stick, is sound off-ball, and made a number of great plays in the middle of the field. What more could you want from your LSM? Opposing midfielders were rightfully hesitant to dodge him all day, a nod to how he controlled the middle of the field.
No. 14 Oliver Pritchard, LSM, Dawson (Colo.) / Team 91 Northside
An offensive-minded LSM with a big frame that is able to spark early offensive with his up-and-out play. Pritchard was essentially a third short stick on defense with his ability to scoop GBs and push the ball to his attackmen, but he also showed that he could turn and run with athletic middies. 

No. 15 Rowan Collins, defense, Manhasset (N.Y.) / Team 91 Long Island
Collins has a strong off-ball IQ and he was able to direct his teammates during recoveries. Normally an LSM, he acquitted himself well at close defense. His motor's always running and he has an advanced understanding of team defense.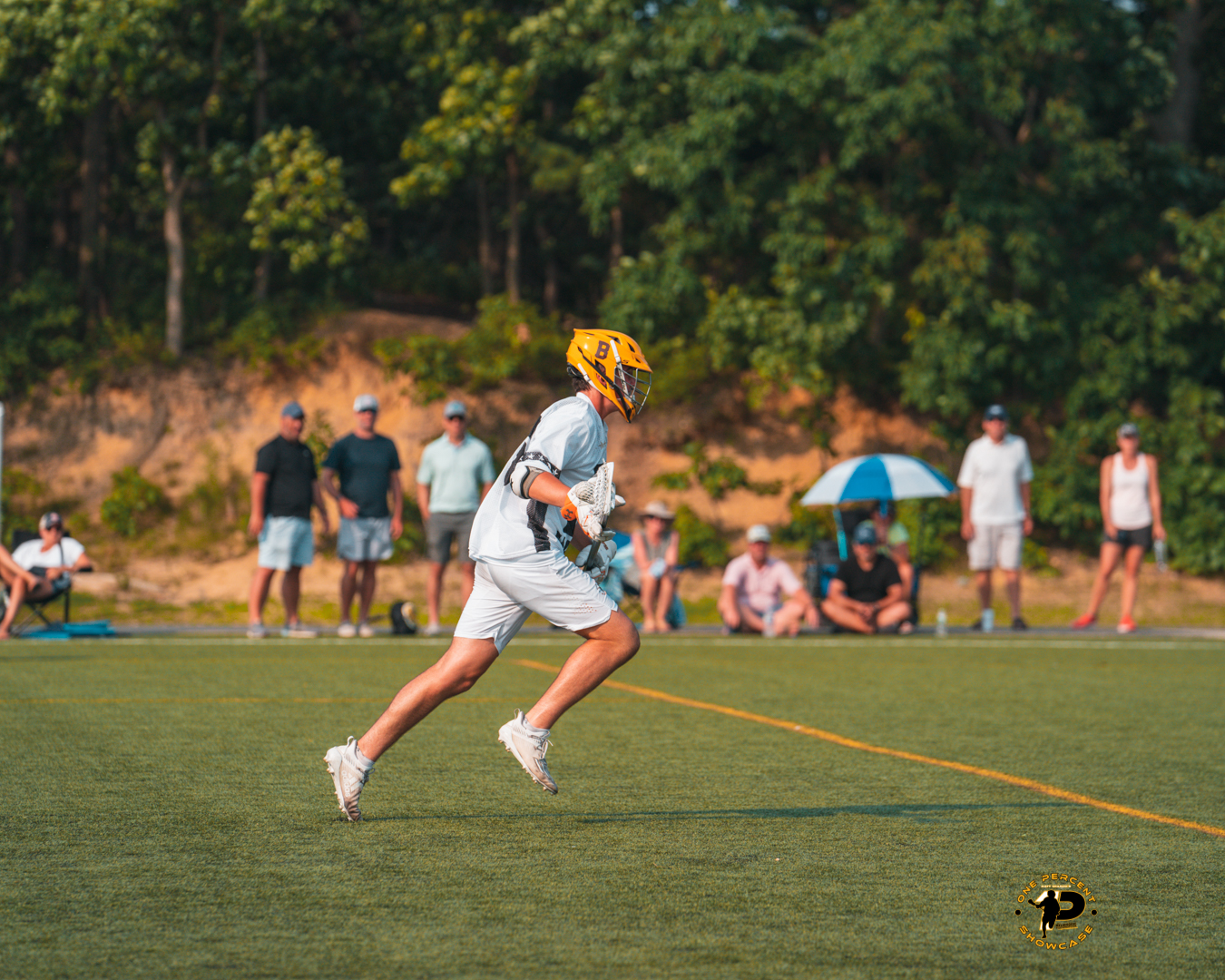 No. 16 Luke Hublitz, defense, Brunswick (Conn.) / Eclipse
Next up in a long line of star Brunswick defensemen. Hublitz draws comparisons to former Brunswick great Colin Mulshine. He is tall, strong, athletic – and while a gentleman off the field, an animal on it. He had a number of caused turnovers with his precise checks. Hublitz gets low and overpowers attackmen, particularly at GLE. 

No. 18 Ben Norten, defense, Pittsford Mendon (N.Y.) / 3d Upstate
Norten projects as more of an LSM at the next level due to his size. He is a great communicator that has a knack for scooping elbows as the ball is being moved. He does a great job of getting up and out to start transition.

No. 19 Quinn York, defense, Evergreen (Colo.) / Team 91 Colorado
What stood out most about York was his ability to deliver hard, yet surgical checks. Certainly does not mind laying the lumber, but he does so in a manner that doesn't draw flags and often results in turnovers. A nightmare matchup for attackmen that enjoy carrying on the perimeter.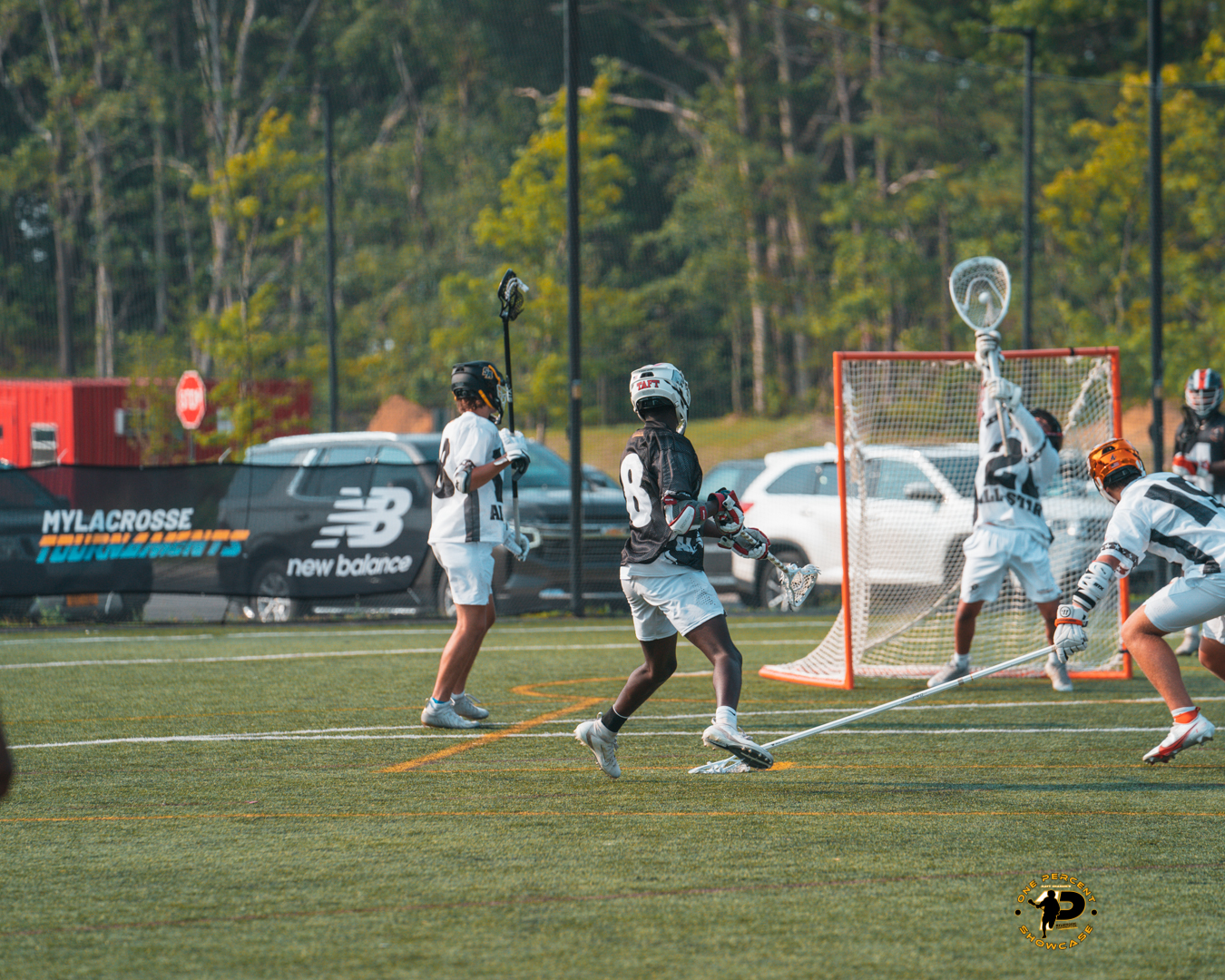 No. 20 Aidan Olazabal, goalie, Phillips Exeter (N.H.) / Team 91 Maryland
All-Star. Solid stopper that sees alley shots well and earned All-Star Game Defensive MVP honors. Olazabal seemingly gets a piece of every shot. He may be one of the single-most improved players in the 2024 class this summer. Olazabal showed a knack for big saves,

No. 21 Christopher Schwartz, goalie, Cardinal Gibbons (N.C.) / Team 91 Carolina
Schwartz is a lefty that is a loud and effective communicator. He also delivers great outlets to his teammates as they streak upfield in the clear. Schwartz takes away low shots with ease and baits shooters into trying him there, only to send them packing.