Winter One Percent Evaluations: 2025 Syracuse and Virginia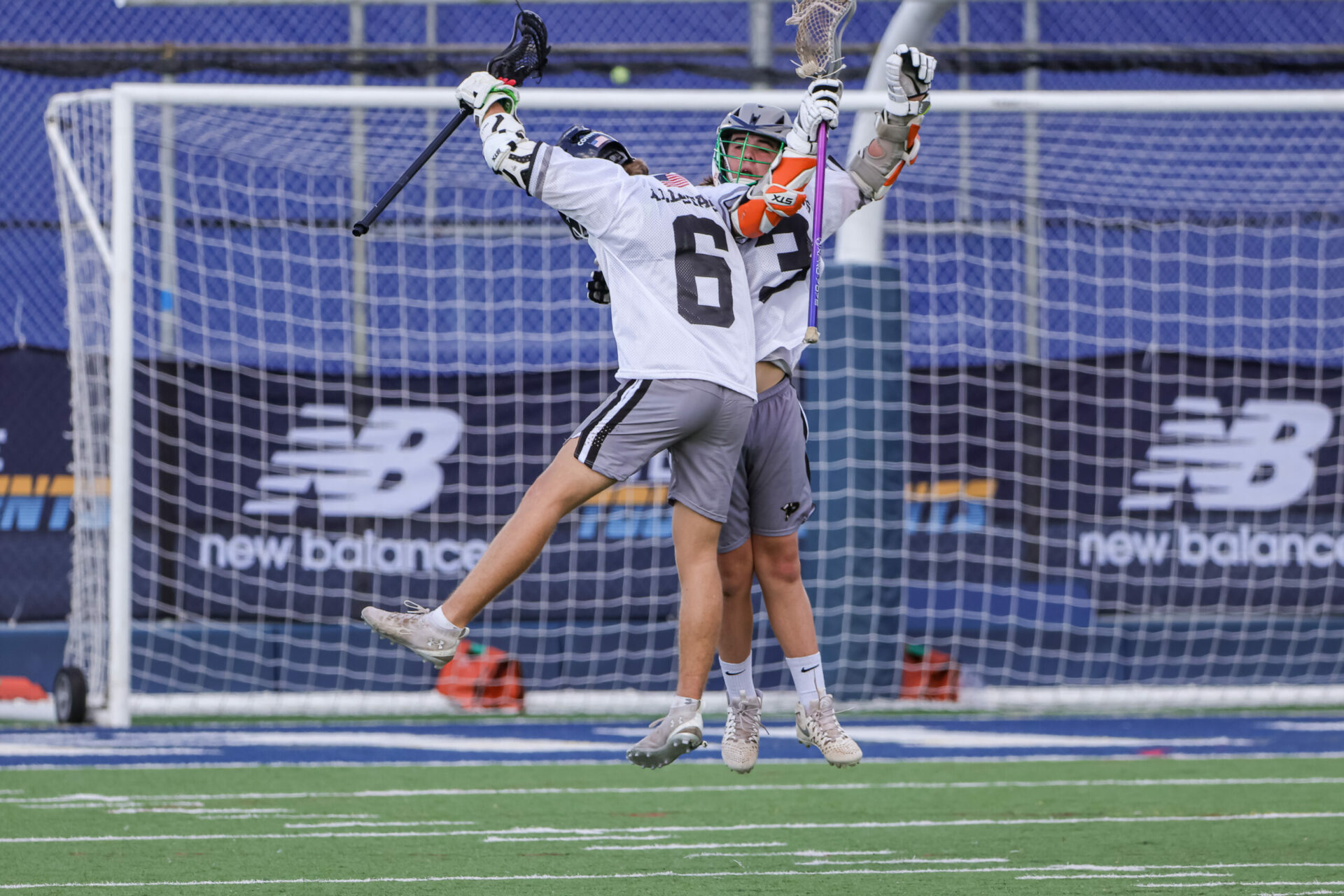 Winter One Percent Evaluations: 2025 Syracuse and Virginia
Follow the One Percent on Instagram , YouTube and Twitter.
The winter One Percent evaluations are here!
Michigan and Notre Dame kick off the '25 group, with every player getting an evaluation. CLICK HERE to see Dartmouth and Harvard evaluations. CLICK HERE to see North Carolina and Princeton evaluations. CLICK HERE to see Stony Brook and Yale evaluations. CLICK HERE to see Michigan and Notre Dame evaluations. CLICK HERE to see the list of 2024 all-stars. CLICK HERE to see the list of 2025 all-stars.
This summer's One Percent takes place on June 28 (2024 and 2025) and June 29 (2026) at The Proving Grounds in Conshohocken, Pa. CLICK HERE for full info.
SUMMER INTEREST FORM
Syracuse
No. 2 Oliver Nappi, attack, Hopkins (Conn.) / Eclipse 
All-Star. Nappi got involved offensively early and was consistently productive throughout the day en route to his All-Star nod. He had a nice low-to-low finish in transition early and then flashed for a great off-ball cut to finish off a Liam Banks pass. His best play of the day, though, came when he broke on a clearing pass, picked it off and outran everyone to toss it home. He's a crafty offensive player who will be able to do some serious damage if paired with a pass-first attackman.
No. 3 Liam Banks, attack, McIntosh (Ga.) / Big 4 HHH
All-Star. Banks has shot up a couple of inches since we last saw him this summer, and he's also noticeably worked hard at reshaping his body. The result is a leaner, more athletic player, and that change goes well with his crafty playing style. While he still had his fair share of off-ball plays that ended up in the back of the net, he was also more patient with the ball in his stick and made some really impressive passes. He often found the one-more look and understood where skip lanes were opening up. One of his coolest goals of the day came when he leapt up to swat a rebound home out of mid-air.
No. 4 Ben Kupstas, attack, St. Thomas Aquinas (Fla.) / Stealth
Kupstas got off to a slow start, but he picked up the pace as the day went on and made some impressive plays. The lefty looked more confident with the ball in his stick as he played more and more, and his best play of the day came in the video above. He made a smart cut, caught a Jameson Foglesong feed and hit a double-pipe backhander. Kupstas also had an impressive finish on a transition feed from Luke Kelly. Becoming a little more assertive will go a long way for his offensive game.
No. 5 Luke Kelly, midfield, St. John's Prep (Mass.) / 3d New England
All-Star. Kelly was a force in his team's second game of the day to highlight a strong day in Florida. He moved very well laterally in coverage as a SSDM, routinely making his matchup pass out of going at him. Kelly showed some offensive pop, too, against the Virginia team when he smoothly dodged to his right and snapped a hard shot short-side high on Jesse D'Alonzo, the best goalie at the event.
No. 6 J.T. Murphy, midfield, Cannon (N.C.) 
Murphy definitely didn't shortchange his team in the hustle department. The 6-3 lefty middie was always going and his best work on ground balls and in defense. Arguably his best play of the day came when he just outworked a pair of defenders and got rewarded with a ground ball and an easy dunk opportunity. He also showed that his big frame is a problem for defenses when he skied over a defender to catch a Dylan Faison pass to tap it home.
No. 7 Jameson Foglesong, attack, Winter Park (Fla.) / SweetLax Florida
All-Star. Foglesong was fighting it a bit early on, but rebounded nicely to put together an All-Star day. His feed to Kupstas was on point, but it was all the more impressive that he waited to have three sets of eyes looking at him before hitting the backside look. He had a couple of nice feeds throughout the day and buried a hard overhand rip in a game against Virginia. Foglesong was active in the riding game, too, causing a couple of turnovers in the process and knocking down passes.
No. 10 Dylan Faison '26, midfield, Pine Crest (Fla.) / Team 91 LI
All-Star. One of the very best midfielders at the event despite being a '26, the younger brother of four-star Notre Dame '23 commit Jordan Faison was all over the place. His first step gave defenders fits and he did an awesome job of contorting his body in tight spaces to create scoring chances that wouldn't normally be there. Faison had an excellent goal where he weaved his way through the entire defense and popped it home, but he also held up on the defensive end, constantly pressing out on guys and daring them to beat him 1v1. They usually couldn't.
No. 12 Parker Prater, midfield, Perry (Ga.) / Thunder 
All-Star. The lefty midfielder excelled in the clearing game, routinely creating open space for himself with the ball in his stick. Prater understood where the ride was coming from and weaved his way around pressure. He also did a very nice job defensively in 1v1 situations and was a nuisance on the ride, picking off a couple passes to head back the other way.
No. 14 Logan Weiss, LSM, North Broward Prep (Fla.) / Stealth
An enormous lefty at 6-2, 215 pounds, Weiss looks the part of a big-time defender and had his moments throughout the day. None were better than when he hit an opponent with a devastating wrap check at the midline against Virginia. When offensive players tried to create separation with power, they went nowhere. If Weiss can fine tune his footwork, he has all the potential in the world.
No. 15 Jack Carroll, defense, Malvern Prep (Pa.) / Big 4 HHH
All-Star. Another high-level Big 4 HHH / Malvern product, Carroll had a good argument to be named the top defender on the day. He made things look easy, using his footwork, strength, leverage and stick to keep attackmen at bay. Carroll had a handful of caused turnovers, but he really shined in simply keeping his matchup away from the cage. He's aware of where guys are trying to cut off-ball, too, and took away that space with ease. Carroll keeps a strong base and doesn't get overly aggressive. Instead, he's patient, trusts his fundamentals and waits for opponents to make a mistake.
No. 16 Rowan Hedley, defense, Hotchkiss (Conn.) / Team 91 Charlotte
A six-foot-tall defenseman, Hedley has the frame to continue to add size. He did an excellent job off-ball, stopping cutters from finding room around him. Hedley had a couple of rock-solid reps in coverage, and he was at his best in 1v1s when he showed his aggressiveness and physicality.
No. 17 Luke Taylor, defense, Detroit Catholic Central (Mich.) / Cherries
Taylor progressed nicely as the day went along after struggling early on. His footwork got cleaner and he looked a lot more confident as he played more. He was tough to get around when he kept his feet moving and stayed low in his base.
No. 18 Reid Harkins, defense, East Coweta (Ga.) / Team 91 Georgia 
Harkins had a couple of tough reps early and immediately learned from them, which you love to see. They came on some very correctable moments, like playing too high and not keeping his feet moving. He showed improvement right away and got lower in his stance. Once he started consistently moving his feet, he forced low-angle shots. Harkins had a really nice block on a spinning backhander in front, and the attackman had to shoot it that way because Harkins had matched feet with him across the crease.
No. 19 Ryker Kemp, defense, Ponte Vedra (Fla.) / Florida Crabs 
All-Star. Kemp looks like a future college linebacker, not a defenseman. The 6-5, 205-pounder moves well for such a big guy, especially in the open field. Good luck getting in the way of that monster when he's rolling downhill. You're done for once he locks on to you, and the lefty also made some nice passes while pushing the pace in transition.
No. 20 Zachary Rosenberg, goalie, University School (Fla.) / Stealth
All-Star. It's impressive to see a '25 commanding his defense so well. Rosenberg is constantly talking and putting his guys in the right spot. He's also an excellent stopper who took away shots from some of the best players at the event, including a 1v1 stop on Cam Kelley on the crease and a tough drop where he brought his body on Gary Merrill. He's got a bright future in the cage.
No. 21 Connor Kraemer, goalie, Wando (S.C.) / Charleston Elite 
Kraemer improved as the day went on and made a handful of very impressive saves, including a gem of a transition stuff on Matt Steele where he showcased very quick hands. He started off slow in the clearing game but regrouped with a couple of great tosses, including a 40-yard dime to Murphy at the midline. Kraemer's a very solid goalie when he has his fundamentals going, like when he hugged the post well to not yield any space on one shot and staying low on a squirrelly bouncer.
Virginia
No. 2 Owen Iles, attack, Brunswick (Conn.) / Team 91 LI 
All-Star. A repeat All-Star from the summer and for good reason. Iles is a super crafty player who loves regularly making Instagram-worthy plays. He's an excellent passer who's great at exploiting skip lanes and is absolutely not scared to throw those skip dimes, righty or lefty. Iles always has his head up and can score, too, but he was on his passing game throughout the day. His favorite target was Cam McCarthy, who buried a bunch of those passes. Iles also rode hard throughout, causing some turnovers in the process. Just a really fun player to watch.
No. 3 Cam McCarthy, attack, Holderness (N.H.) / 3d New England
All-Star. The lefty's connection with Iles was on display early when he cut to the middle and ripped home a pass from his teammate. McCarthy was outstanding at creating open space with his hard off-ball work and he doesn't need a ton of time and room to let his shot fly. For as good a scorer as he is, he was better than expected as a passer, particularly from up top, where he threaded some backside skip passes. One of his better ones found Keegan Nash on the wing, who promptly sent it to meet some twine.
No. 4 Pierce Montes, attack, Oak Hall (Fla.) / Florida Crabs
Montes has the smarts and handle to thrive, and he did his best work as a passer. He excelled in the draw-and-dump and understands where defenses are going to be vulnerable. He got a little unlucky as some of his best passes didn't result in goals with his teammates missing, but the looks were there. Montes also showed that he can let it fly, like when he took a feed from Giacomo Chapman and hammered a low-to-high bomb.
No. 5 Holden Scully, midfield, Cardinal Gibbons (N.C.) / MadLax Capital
Scully had one of those days where his shot wasn't finding the back of the net as much as he'd have liked to. Despite that, there's a lot to like from the North Carolina native, like his tall frame and athleticism that helped him get open on a handful of occasions. He's got some shake to him and created separation with his quickness. As he adds size and refines his shooting, he'll be a problem.
No. 6 Dominic Carusone, midfield, Calvert Hall (Md.) / DC Express
Carusone was a force between the lines for the Virginia team, doing his best work at getting the ball up and off the ground. A 5-11, 180-pounder, he showed good explosiveness and the desire to go to compete for ground balls. Carusone vacuumed up ground balls with ease, both on the run and in tight quarters, and he made some smart passes in the offensive game.
No. 7 Keegan Nash '26, attack, Episcopal Academy (Pa.) / Big 4 HHH
An athletic '26 who didn't look out of place in a '25 field, Nash showed good chemistry with his teammates and a high skill level, too. He moves well – both in the open field and when finding dead space at 6v6 – and flashed a good handle with a handful of goals. Nash also found skip lanes and tossed out some nice passes.
No. 8 Giacomo Chapman, midfield, St. Ignatius Prep (Calif.) / West Coast Starz 
The younger brother of '23 Loyola commit Bruno Chapman, Giacomo showed the ability to impact the game in a number of ways. In the first game of the day, he made a smart one-more pass to set up a Pierce Montes stepdown, then later cut off ball to bury an excellent McCarthy pass. His best goal of the game, though, came when he had a hard take from X and scored while falling away from the net and taking a hit. Chapman's got some scrap to his game, which was highlighted by an unbelievable play where he hustled and dove around a double team to knock the ground ball back to Matt Swartz.
No. 9 Matt Swartz, midfield, Wyoming Seminary (Pa.) / Big 4 HHH
All-Star. Swartz is also an outstanding soccer player, and he runs like one. He glides in the open field and had a number of eye-popping plays, like when he cooked a defender in transition and scorched home a high-to-high snipe. Swartz dodges down the alley with a purpose and scored both righty and lefty in the process.
No. 11 Gavin Young, midfield, McIntosh (Ga.) / DS Thrashers
Young showed up with a handful of impressive plays, including an early stepdown blast to get on the board. The Georgia native had a couple of tough ground balls in traffic, including one that he pulled out and finished off right away. He's undersized but scrappy, and he competed hard.
No. 12 Jack Lancelot, midfield, Cypress Bay (Fla.) / Stealth
Lancelot did a lot of little things for his team. The lefty made some nice plays in the clearing game, got involved on ground balls and boxed guys out well in the process. He's shifty and can make guys miss in tight spaces. He just needs to continue to demand the ball a bit more offensively.
No. 14 Daniel DeCastro, LSM, Bullis (Md.) / DC Express
All-Star. DeCastro doesn't miss on ground balls. Ever. Ever ever ever. It's uncanny. He has a ridiculously smooth stick and can come up with any ground balls, no matter the circumstances. DeCastro took the bulk of the faceoffs / puck drops for his team and tracked the ball so well that he was basically playing make it, take it as a pole. Unofficially, he had nine ground balls in the opener and another five in the second game, where he also had a gorgeous slap check to take the ball away and – of course – snag the ground ball. DeCastro is tailor-made for the LSM position, and he's got to be in the conversation among the best in the country for the '25 class.
No. 15 Oliver Meuse, defense, Taft (Conn.) / West Coast Starz
Meuse got involved physically early and was at his best throughout the day when he showed that bite and sandpaper. He put the ball on the ground on a number of occasions and did a nice job of continually getting his stick on the ball and making life tough for offensive players.
No. 16 Owen Thomas, defense, St. Thomas Aquinas (Fla.) / Stealth
Thomas had a patently-ridiculous sequence in the opener when he knocked down a one-more look on a 3v2 with a perfectly-timed slide. He then grabbed the ground ball, split the double team and got the ball up and out. It showed a little bit of what makes him a good prospect. Thomas showed a good understanding of how to defend picks and was good off the ground, too.
No. 17 Rand Shepard, defense, Phillips Exeter (N.H.) / Iron Horse
All-Star. A good-sized defenseman who was quietly effective as a cover man throughout the day, Shepard was tough for guys to get around. He showed good balance and kept his stick in front of him, denying attackmen the room they needed to get topside. Shepard had a very impressive takeaway early on where he landed a strong check at GLE, kicked the ball to himself and then found his goalie as a safety valve. As an added bonus, he showed well in the open field in the transition game.
No. 19 Spencer Cavin, defense, Chattahoochee (Ga.) / Team 91 Georgia 
Cavin doesn't have ideal size for the position yet, but he made up for it by showing more and more aggressiveness as the day went on. He moved well laterally and showed some good 1v1 defense throughout the day. Cavin knows how to position himself well, and when he keeps his feet moving, can stay right there in coverage.
No. 20 Jesse D'Alonzo, goalie, Loyola Blakefield (Md.) / DC Express
All-Star. It's early, but it's hard to imagine that there are many better goalies than D'Alonzo in the '25 class. He's undersized, but the lefty is outstanding in the cage. He had some great saves against some elite shooters like Khalif Hocker and Matt Plunkett, among others. D'Alonzo makes stops look much easier than they are and his movements are clean. He tracks the shots well, doesn't guess very often and picked up a couple of highlight-reel stuffs, too.
No. 21 Gardiner Ely, defense, Darien (Conn.) / Eclipse 
All-Star. Ely showed a terrific stick throughout the day, corralling a bevy of ground balls. He also was a pest in coverage with his stick camped out on gloves. Already checking in at 5-11, 170, he's got the frame to really emerge as a big-time defenseman. Ely did a good job in the clearing game, too, finding ways to get the ball up field.