One Percent Showcase 2024 Evaluations: Navy and Purple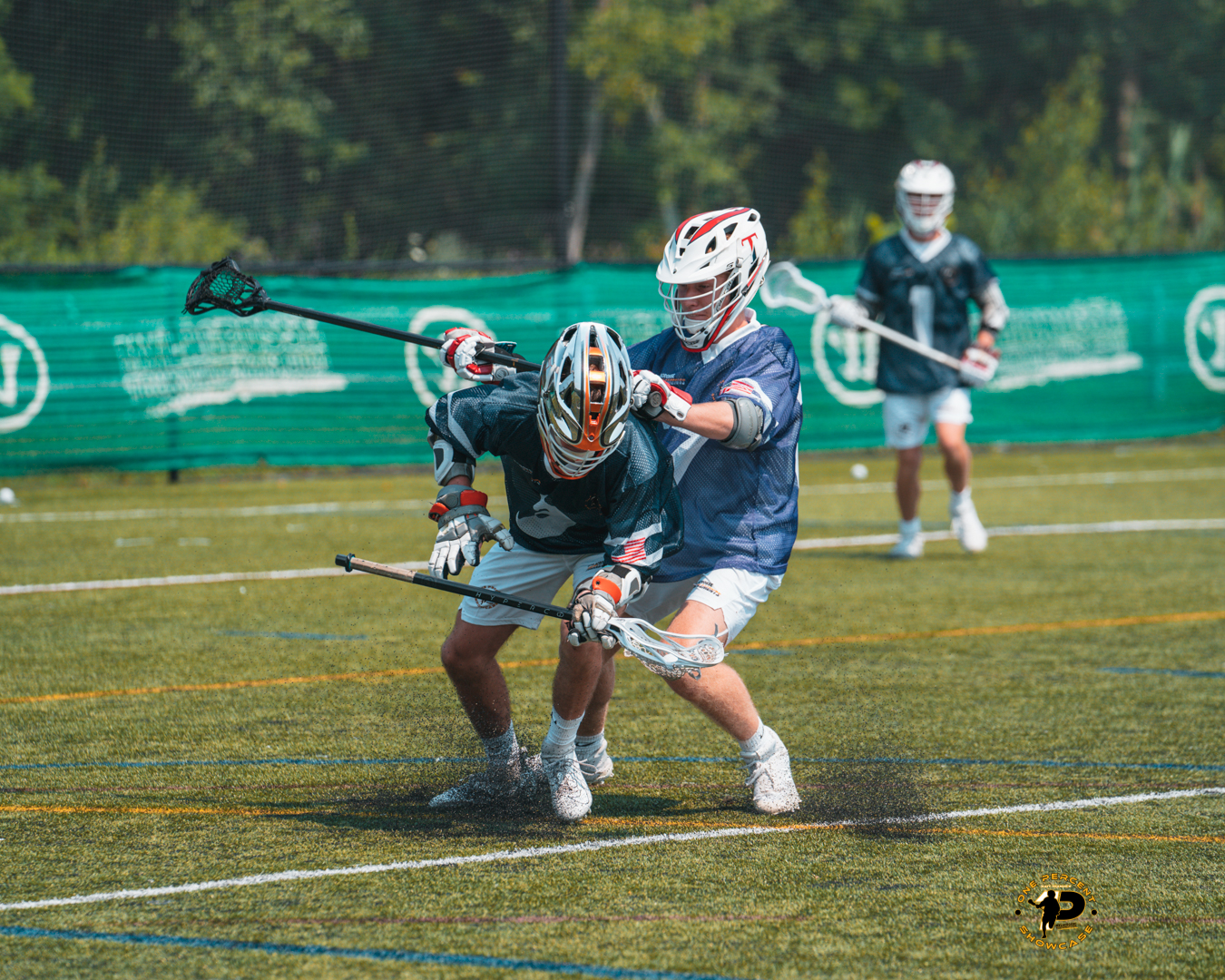 One Percent Showcase 2024 Evaluations: Navy and Purple
Follow the One Percent Showcase on Instagram, YouTube and Twitter. Follow My Lacrosse Tournaments on Instagram and Twitter .
CLICK HERE to check out the dates and express interest in the next three One Percent Showcases. CLICK HERE to check out our fall and winter 2021 events schedule.
The stars came out to play at the One Percent Showcase!
The best players in the 2023, 2024 and 2025 classes came to Capelli Sports Complex in Tinton Falls, New Jersey to test themselves against the nation's elite. Competitors want to see how they stack up against the best, and that's exactly what went down here.
Every player at the event receives an evaluation from our talented, knowledgeable group of evaluators. Yes, all 430+ players that played get broken down here! Check back in the coming days as we continue to upload evaluations and be sure to subscribe to our YouTube channel as we add all game footage from the event.
Photos in this story are courtesy of Nick Ieradi. CLICK HERE for photo gallery links and to purchase photos from Nick.
2023 Evaluations
Black and White
Red and Royal Blue
Navy and Purple
Carolina and Green
2024 Evaluations
Black and White
Red and Royal Blue
2024 Navy
No. 1 Aydan DiRocco, attack, Haverford School (Pa.) / Mesa
DiRocco has the build and vision of a classic X operator. He's adept at distributing and getting his teammates involved from behind the cage. He's also able to use the space his passing threat creates to open up windows to call his own number, with quick feet around the crease and the ability to exploit narrow slivers of space.
No. 2 Tyler Maille, attack, Groton (Mass.) / NE Twisters
Maille has a high center, long legs and long arms. That athleticism allows him to be strong on the ball, to create windows of space with his physicality and offer a variety of shot angles. He's good at working from GLE to get on the crease and be an option for others.  
No. 3 Max Warden, attack, Brunswick (Conn.) / Eclipse
Warden has a high lacrosse IQ and is good at getting his teammates involved. He has quick hands that are always in motion, probing for the next move of the ball. He works well out of X and can call his own number, though he could use to shorten his shot windup some.
No. 4 Dylan Reese, Rye Neck (N.Y.) / Team 91 Tristate 
Reese had a solid build and a left-handed shot. He has a game that plays at either attack or midfield. He's got the hands to facilitate offense at either position, though you'd like to see him demand the ball a little bit more. 
No. 5 Rylan Padelford, attack, Wahconah Regional (Mass.) / Boston Kings
Padelford can affect the game all over the field. He's a physical player with a strong upper body, and that informs his willingness to fight defensively. On offense, he's got great hands, a penchant for moving off the ball and finding his way into dangerous areas around the crease and the deft hands to execute and cash in when he gets there. 
No. 6 Josh Kitt, midfield, Taft (Conn.) / Express North
Kitt has a quick shot on offense and the combination of moves, strength and speed to put off defenders and great space for himself. Defensively, his technique is excellent, and he's a willing battler matched up against other middies. He's also a danger in transition, with the speed to get up the field and the savvy to make the right decision with the ball.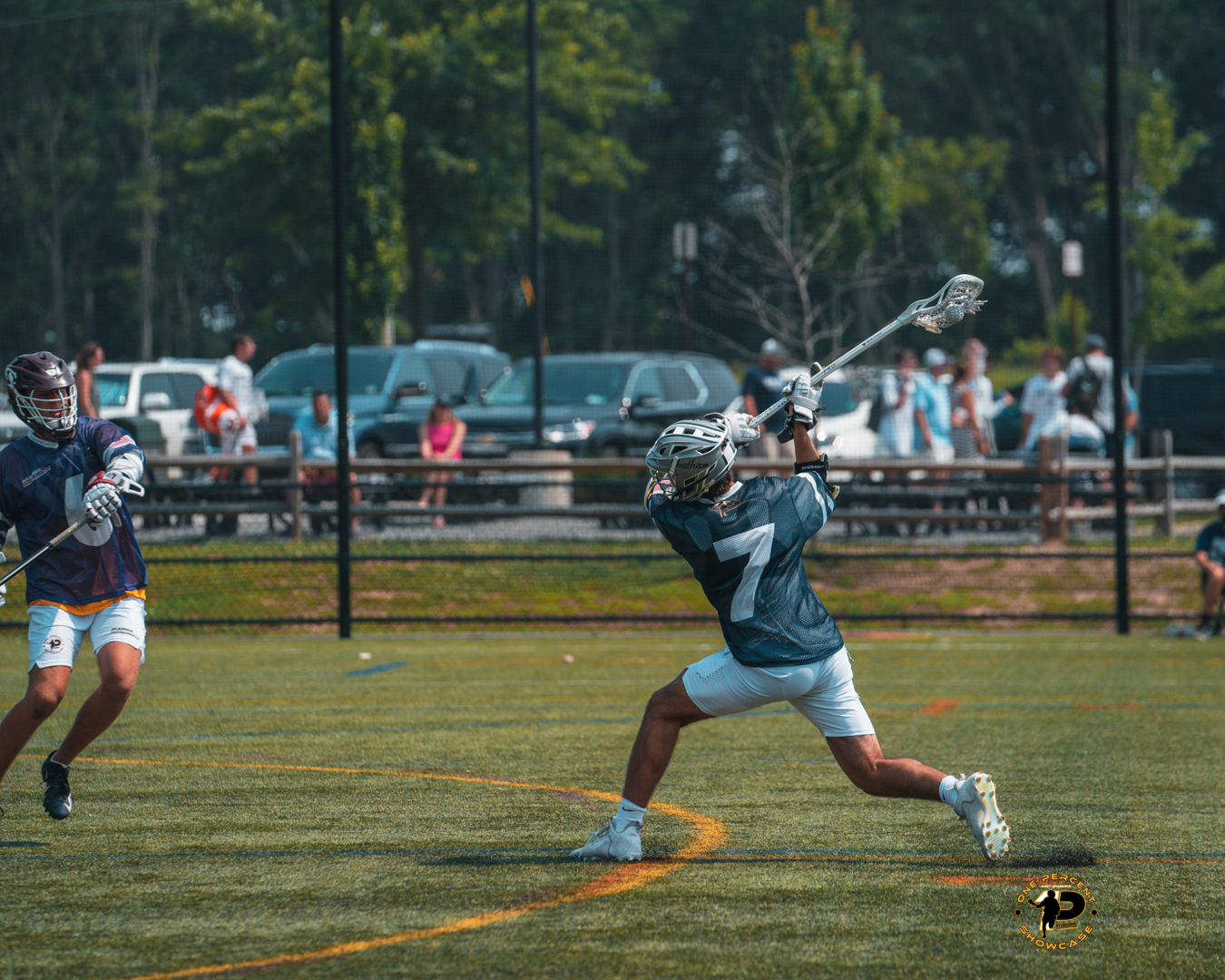 No. 7 John Lagunowich, midfield, Chatham (N.J.) / BBL
A dynamic middie, Lagunowich has impressive size and strength for his age to go with a full middie's skillset. He moves well off the ball, always with his head and stick up as an option for teammates. He's strong on the ball, both in transition and in the offensive end to repel double teams. Has good footwork in the defensive half, too. He's patient in possession, a strong passer, physical on the dodge and with a strong, accurate shot.
No. 8 Michael Mondiello, midfield, Manhasset (N.Y.) / Team 91 Long Island
Mondiello impressed with his speed, able to put defenders under pressure with his speed off the dodge. When he creates that speed, he's got the hands to get his teammates involved and the shot to call his own number. He's also a dangerous player in transition, and he's got good defensive awareness.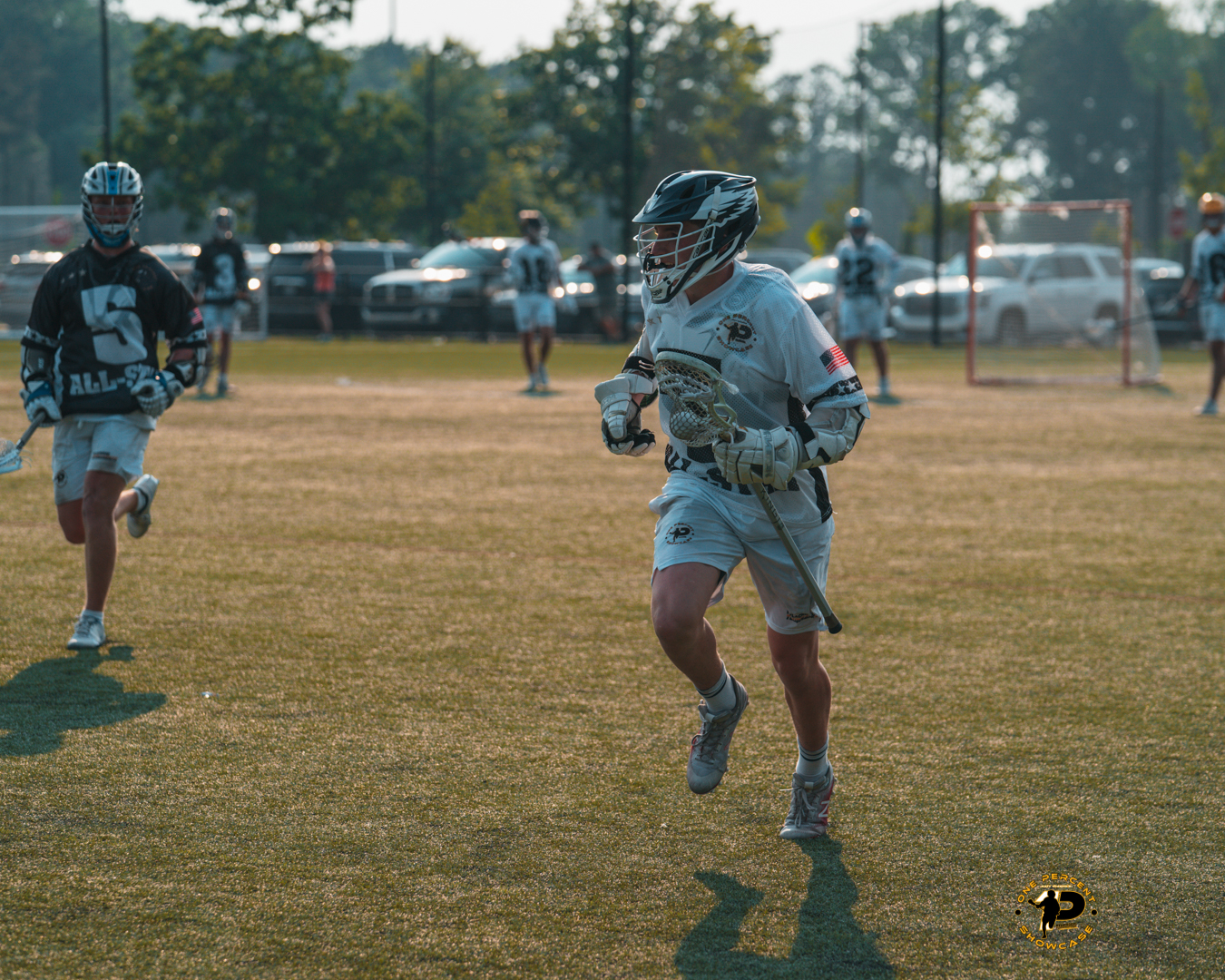 No. 9 Jake Vana, midfield, St. John's Prep (Mass.) / Gorilla
All-Star Game MVP. Vana impressed with his goal-scoring all day. He's rangy, even at a young age, and those long arms allow him to impart tremendous leverage and power on his shots. He's got a quick release, places his shots well from deceptive angles and is elusive off the dodge, using his skinny frame and the security of the ball in his stick to his advantage. He also hustles well on both ends of the field. 
No. 10 Luke Pascal, midfield, St. Stephen's & St. Agnes (Va.) / VLC
The rangy midfielder is most at home in transition, where his long strides make him a challenge to keep up with. Beyond just his foot skills, though, he has the hands to cash in when he gets into those dangerous areas, whether it's off the dodge to get into a shot or passing off to teammates.
No. 11 David SantaMaria, midfield, Westminster (Conn.) / 2Way
SantaMaria works hard on both ends of the field. He provides dogged wing play and is strong on ground balls. He's a heady transition option, getting up and down the field and making smart decisions with the ball.
No. 12 Tyler DeGirolamo, faceoff midfield, West Chester East (Pa.) / Mesa
A low-to-the-ground faceoff man, DeGirolamo won draws at an impressive rate against strong competition. He uses his wings well, but he's also able to win draws cleanly, push the ball forward and make the right passing decision in the offensive half.
No. 13 Palmer Firmender, LSM, Fairfield Prep (Conn.) / Prime Time
The LSM has the range to make plays with his quickness or with his strength. He's not afraid to engage physically with an attacking player, which combined with his excellent stick work – in particular, he produced a handful of devastating trail checks – makes him a formidable defender. He also has the footwork move with opponents and the quickness to navigate out of trouble in transition.
No. 14 Garrett Coombs, LSM, Lucy Beckham (S.C.) / Charleston Elite
Coombs made excellent reads on defense time and again. His ability to get in passing lanes and his positioning in the defensive half was tremendous. He converts that into turnovers with his ability on the ground, and his speed makes him a weapon in transition.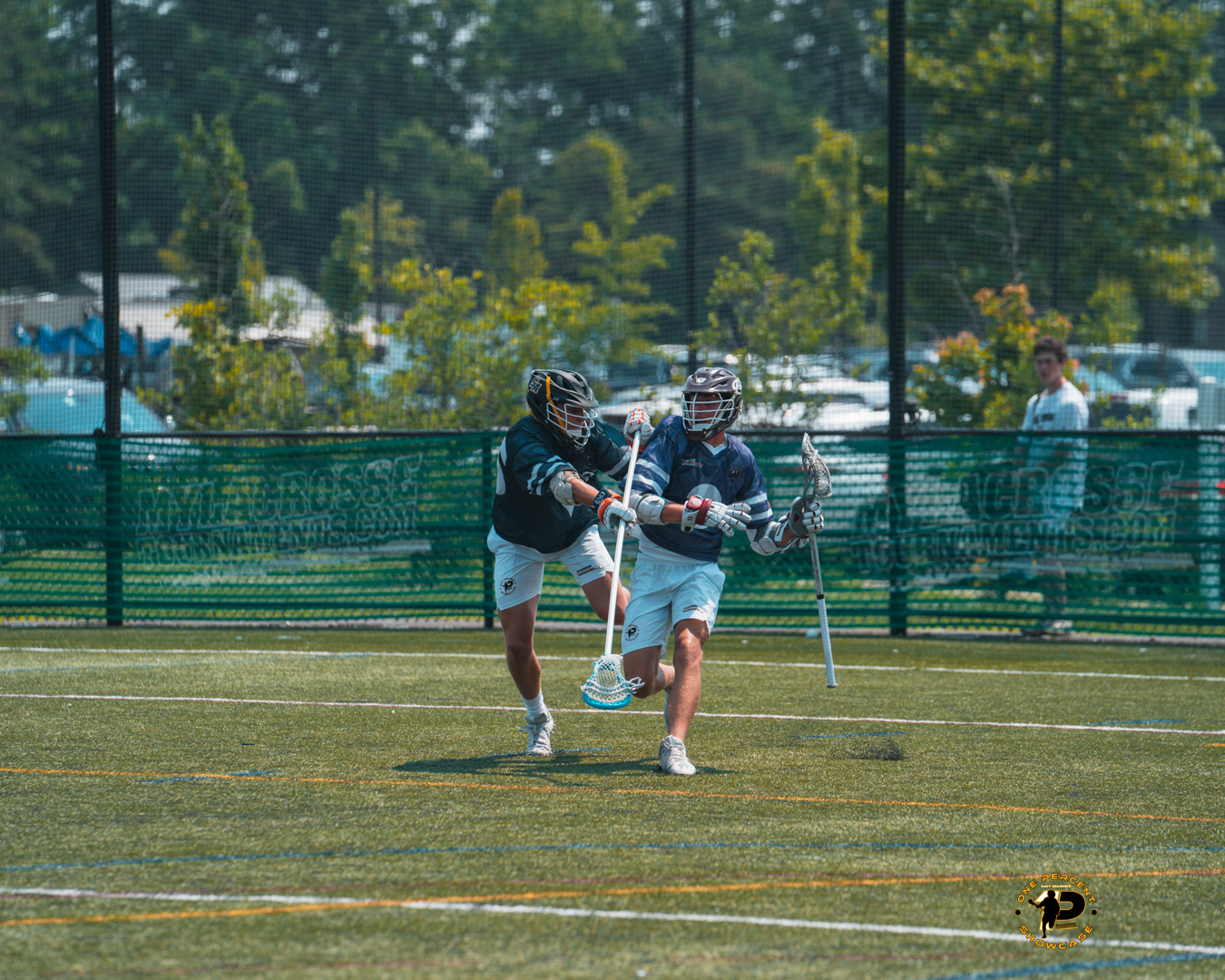 No. 15 Dante Vardaro, defense, St. Anthony's (N.Y.) / Team 91 Long Island
All-Star. Vardaro covers a ton of ground in defensive coverage. He's got long strides and quick feet, which lets him track his man, slide quickly and recover well. He's also smart about his positioning and his distribution on clears. Vardaro's got plenty of bite and physicality, too. 
No. 16 Andrew Van Stone, defense, La Salle (Pa.) / NXT
Van Stone has a strong upper body that he uses to great effect with a heavy stick to constantly pester attackers. He's not the quickest defender, but he reads the game well and has great awareness of when to help off ball and how to recover quickly. He's also a strong passer and mobile option on clears.
No. 17 Luke Harrington, defense, Kent Denver (Colo.) / Team 91 Colorado
A big righty with a high IQ, Harrington is the type of defenseman that you might notice at first but eventually understand everything that he brings to the table. He's constantly in the right place and opts for coverage over flashy checks. A very steady defender who slots in well playing next to a gambler of a takeaway guy.
No. 18 Gray Tamasco, defense, New Canaan (Conn.) / Eclipse
Tamasco has a tall frame and uses it to assert leverage on his marks. He's got a heavy stick that he uses to harass attackmen, making his presence felt at all times. Tamasco did a nice job of moving laterally and getting under his man to make life difficult.
No. 19 Jacob Ross, defense, Hartland (Mich.) / Cherries
Ross already has the imposing frame of a No. 1 defenseman at 6-0, 180 pounds, and he plays like it, too. He's extremely physical and plays with controlled aggression, particularly at GLE. He doesn't back down from anyone and relishes the opportunity to get physical at any moment. Ross also did a nice job of collecting ground balls and kickstarting transition.
No. 20 Ben Friedman, goalie, Taft (Conn.) / Prime Time
Friedman is particularly good at his post-to-post movement, moving laterally well to track passers across the crease. He's quick to get out of his cage to cut down angles and cover shots, he's an active participant in clears and he's a strong communicator in how he marshals his defense and how he communicates on clears. Friedman made a handful of eye-popping 1v1 saves, too. 

No. 21 Tucker Williams, goalie, Brunswick (Conn.) / 2Way
Williams isn't the biggest goalie, but he's a plus shot-stopper. He's good at getting his stick on shots and controlling the rebounds. He's excellent at tracking shooters, especially side-to-side, and very strong on low shots, though he can sometimes get caught cheating by going to the ground too quickly.
2024 Purple
No. 1 Luke Breslin, attack, Commack (N.Y.) / Team 91 Long Island
All-Star. An unselfish chance creator, Breslin can operate from all over the field, whether it's through X, at GLE or from up top. He's got great passing vision and the hands to get the ball where he wants. He's adept at creating space with his upper-body strength and his quick feet, and when he decides to use that space for himself, he's clever at finding shot angles and placements to put off goalies. 

No. 2 Owen West, attack, South Side (N.Y.) / Long Island Express
West worked well as a co-leader of the attack with Breslin given their similar outlooks. He's got longer strides and might be more willing to engage defenders physically, but he makes that work with his excellent stick work and his soft hands around the cage. He's excellent at getting his teammates involved with the space he's able to create. 
No. 3 Mason Szewcyk, attack, Culver (Ind.) / True National
Szewyck is a textbook facilitator. A cerebral attacker, he can pick teams apart if they give him room to operate at X, continually looking for the next move of the ball. He's got long legs to open up the space to make those passes. Could use to shorten the release on his shot, which is nonetheless powerful.
No. 4 Cody Lam, attack, Westfield (N.J.) / BBL
Given the X operators around him, Lam was more likely to operate from up top. He's strong off the dodge and a good passer. He's able to contribute in translation, where he's able to make good decisions, get in good spots and run the point.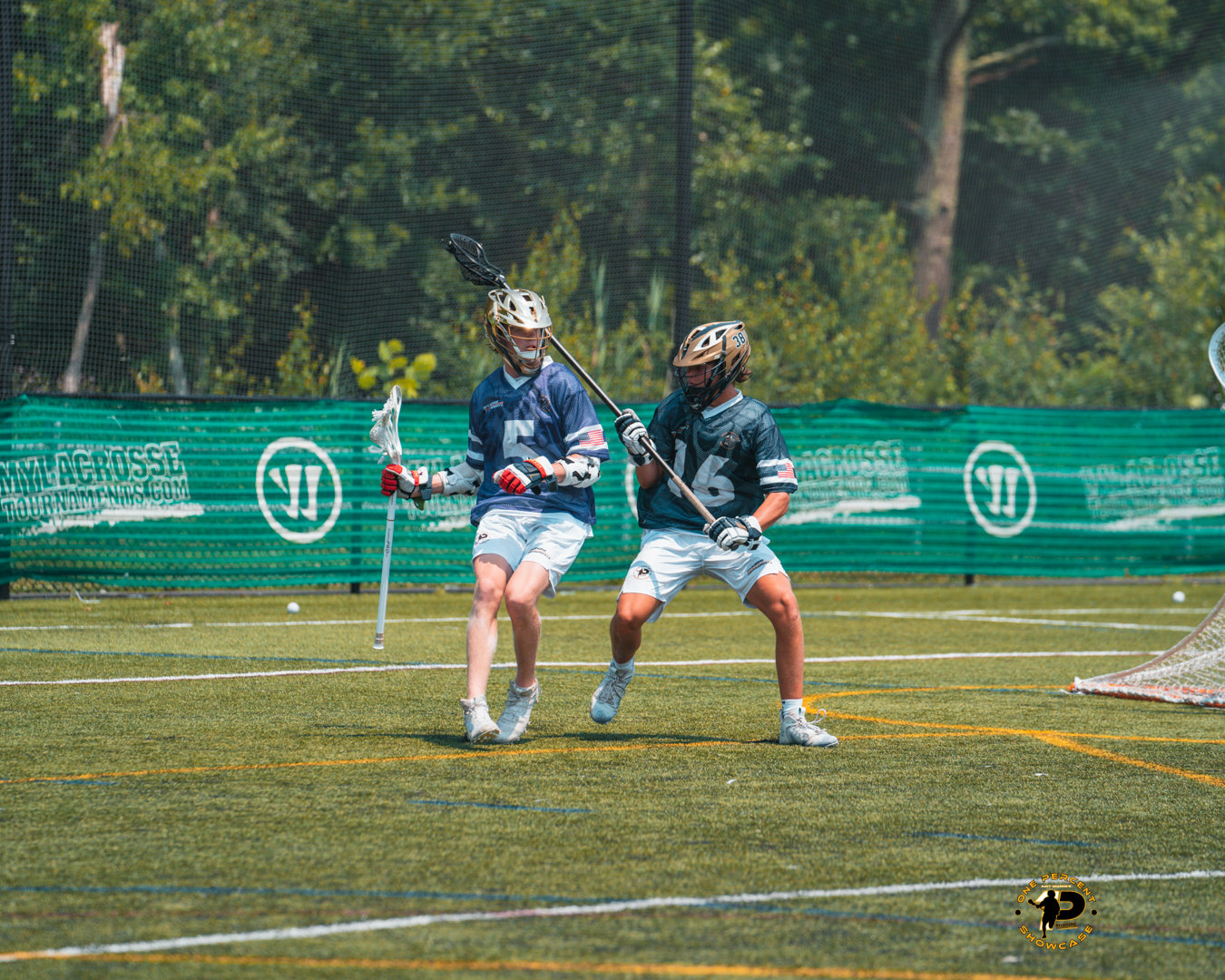 No. 5 Will Barber, attack, Emmaus (Pa.) / Mesa
Barber fit in seamlessly with the attack. He's always willing to make the extra pass, and his soft touch and quick hands mean he was able to execute that pass more often than not. When it comes time to shoot, he's got a quick release and accurate placement. Already at 6-1, 170 pounds, he's got the frame to grow into a big-time attackman at the next level.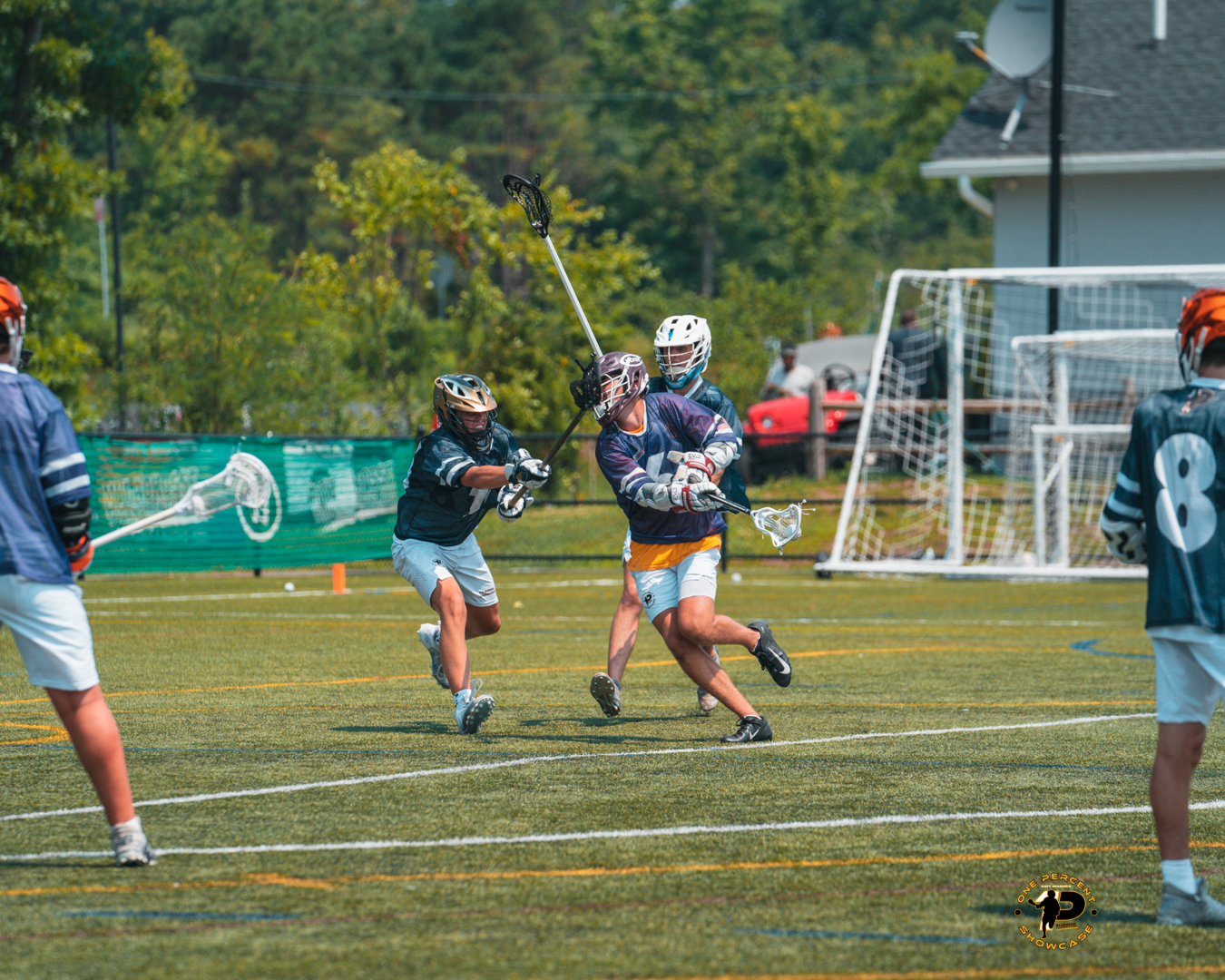 No. 6 Luke Warrington, midfield, Culver (Ind.) / Team 91 Maryland
All-Star. The middie plays a confident game at both ends of the field with good reason. He's quick in coverage with how he moves his feet, isn't afraid to get physical and brings a real zeal and headiness to the defensive side. With the ball, he's elusive and able to strike in different ways. He's outstanding in transition, with the patience and poise to make the correct decisions with the ball. One of the elite midfielders in the '24 class. 
No. 7 Giovanni Brosco, midfield, Western Reserve (Ohio) / Cherries
Brosco shined on the wing, where he wasn't afraid to get on the ground and battle. He's a heady player on both ends of the field, not afraid to engage physically on the defensive side, and he plays well off teammates on offense, especially when it comes to setting picks.
No. 8 Jake Parker, midfield, Parkland (Pa.) / Duke's
Parker is an imposing presence on both ends of the field. He's willing to engage physically and use his strength to direct dodgers to less dangerous areas. Offensively, he plays downhill, getting pace off the dodge and translating that into a powerful shot or creating space for others when he draws slides.
No. 9 Connor Crosby, midfield, Brunswick (Conn.) / 2Way
Crosby is a smart defensive player, who is able to meld his IQ and physical play in the defensive half. He's excellent on the ground and has a great motor on both sides of the field.
No. 10 Brian Bowler, midfield, Cherry Creek (Colo.) / Team 91 Colorado
All-Star. Bowler is an instant clear: get him the ball and he will find a way to get it up the field, with his speed in the open field and his elusiveness and poise when defenders converge on him. He works very hard on the defensive end, and he's a dangerous dodger, able to translate his speed into a hard shot. He should blossom with the coaching he gets from former pro Matt Bocklet at both Cherry Creek and Team 91 Colorado. 
No. 11 Caleb Yeung, midfield, Bishop Guertin (N.H.) / NH Tomahawks
Yeung isn't the biggest middie, but he works hard on both ends of the field. He's able to use his strength wisely on defense. Yeungutilizes his quickness on the dodge to create space and moves well off the ball. He's fast in the open field, making him a valuable transition piece.
No. 12 Jacob Tresser, midfield, Rham (Conn.) / 2Way North
Tresser is an enthusiastic defensive presence. Though he's not big, he's willing to mix it up on the defensive end, scrapping as needed to get the job done. He's excellent in transition and works well within the team concept on offense as a valuable option.
No. 13 Kyle Hata '25, faceoff midfield, Choate (Conn.) / Fighting Clams
Hata is a battler on the ground. He's excellent on groundballs, is adept at extending the play at the X, using his wings well and works well after the draw to make sure it doesn't turn into offense. He's also a confident passer when he has the ball, as a behind-the-back toss in traffic showed.
No. 14 Christopher Moody, LSM, Blessed Trinity (Ga.) / Thunder
Moody isn't the quickest LSM, but he makes up for it with excellent positioning. He has solid defensive footwork, takes heady routes to the ball and smart angles on opposing attackers. He's got a busy stick that is always in the hands. Moody's also got great overall awareness – for instance, on a Purple squad with several defenders more active in jumping into the attack, Moody was astute enough to switch off roles with the ball, more often holding back in the defensive half or getting off the field quickly while others pushed forward.
No. 15 Emmet Kenehan, LSM, Iona Prep (N.Y.) / Team 91 Tristate
Kenehan is an excellent one-v-one defender. He's got the technique of a close defender with the speed and quickness you'd expect from an LSM, able to move quickly in the open field and also shuffle his feet well in coverage. With the ball, he's an attacking threat, as a goal will attest, and a great passer on clears. 
No. 16 John Henry Finkeldie, defense, Delbarton (N.J.) / Leading Edge
All-Star. Finkeldie does a lot of things really well and is the latest in a long line of terrific Delbarton defensemen. He's a technical defender who knows when to be aggressive. Armed with a great poke check and an active stick to toss at opponents. He slides decisively, recovers quickly, is aware off the ball to get into passing lanes, communicates well and is a very good passer in transition.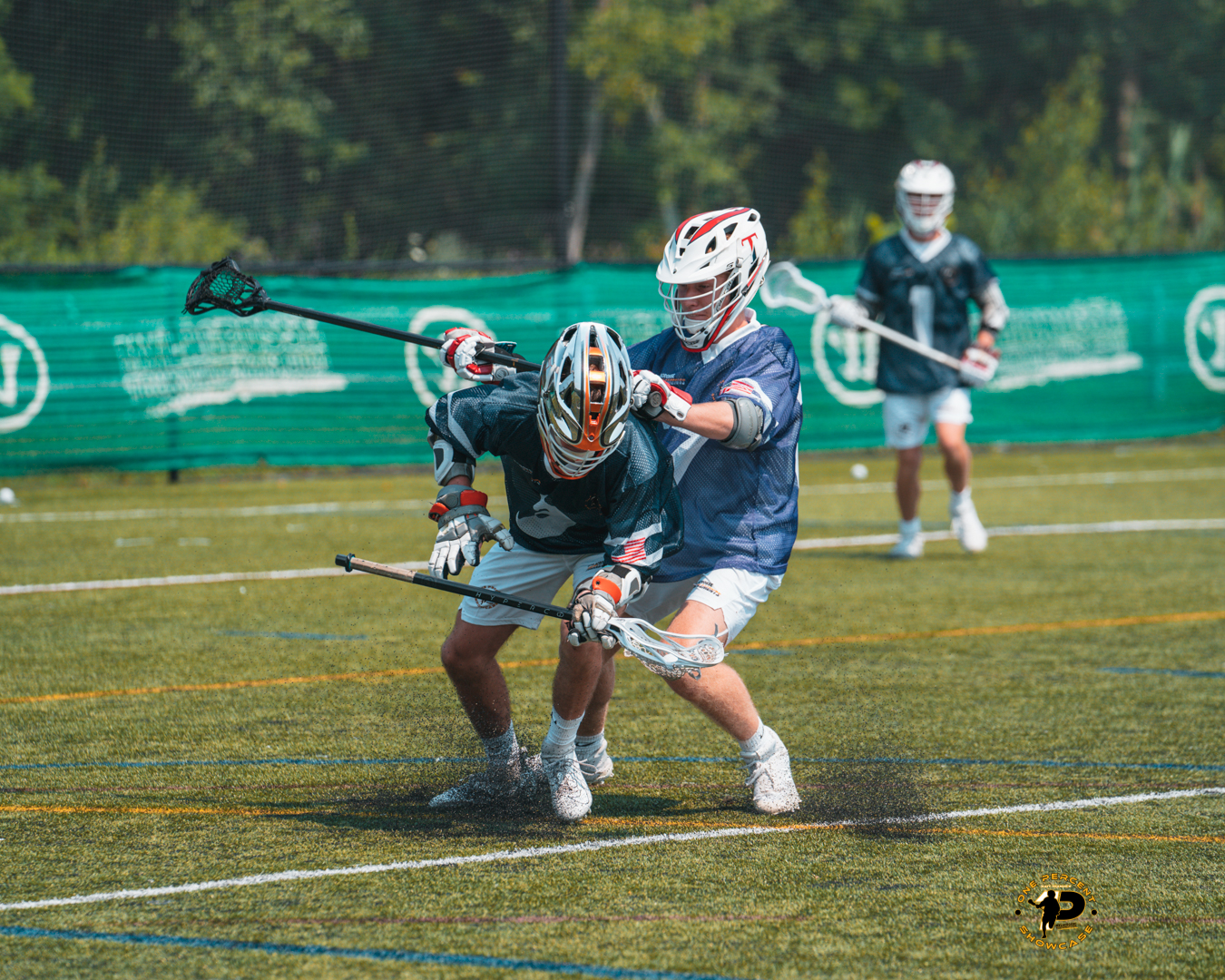 No. 17 Thomas Sheumack '25, defense, Taft (Conn.) / Predators
What Sheumack may lack in foot speed he makes up for with superb defensive instincts. His head is constantly on a swivel, always tuned in to be a help defender. His fundamentals are tremendous, he's got a great stick and he's hard to budge off the ball.
No. 18 Jack Mulholland, defense, Manhasset (N.Y.) / Long Island Express
A lynchpin on one of the stingiest defenses in the country with Express, Mulholland is an imposing physical presence. He is able to dictate terms when his jousts with attackmen get physical, using his strength to direct opponents to where he wants them. Having strong footwork and an active stick add to his defensive bona fides. He's also a very good passer on clears.
No. 19 Benjamin Anton, defense, Salesianum (Del.) / Brotherly Love
Anton reads the game well and quickly diagnoses plays. He's constantly in passing lanes, is physical and has a good stick that allows him to take risks smartly and create turnovers. Could use to improve on his footwork to round out his arsenal of defensive skills.
No. 21 Aden Isika, defense, The Woodlands (Texas) / Prime Time
Isika always plays with his head up. He's a strong off-ball defender in helping within the team setup, and he's a creator in transition with his ability to make wise decisions. He's good on the ground, safe on clears and the kind of defender you have to account for once he crosses the midline.
No. 22 Zachary Rosenberg '25, NSU University (Fla.) / Stealth
Rosenberg is a vocal leader. He is outstanding on high shots and moves well to cover the low ones. He's quick out of the cage to cover shots and passes the ball well while not being afraid to get involved in clears with his feet.
No. 23 John Fisher, goalie, Battlefield (Va.) / VLC
All-Star. Part of an outstanding 1-2 punch in the cage for VLC, Fisher is outstanding on low shots and moves well side to side. He's basically an extra short stick on clears with his willingness to hoof it up the field and his decision making. It helps that he has the stick skills to execute the passes that he has the audacity to pick out and stretch the field, translating clears into dangerous attacking moments.