One Percent Showcase 2024 Evaluations: Carolina and Green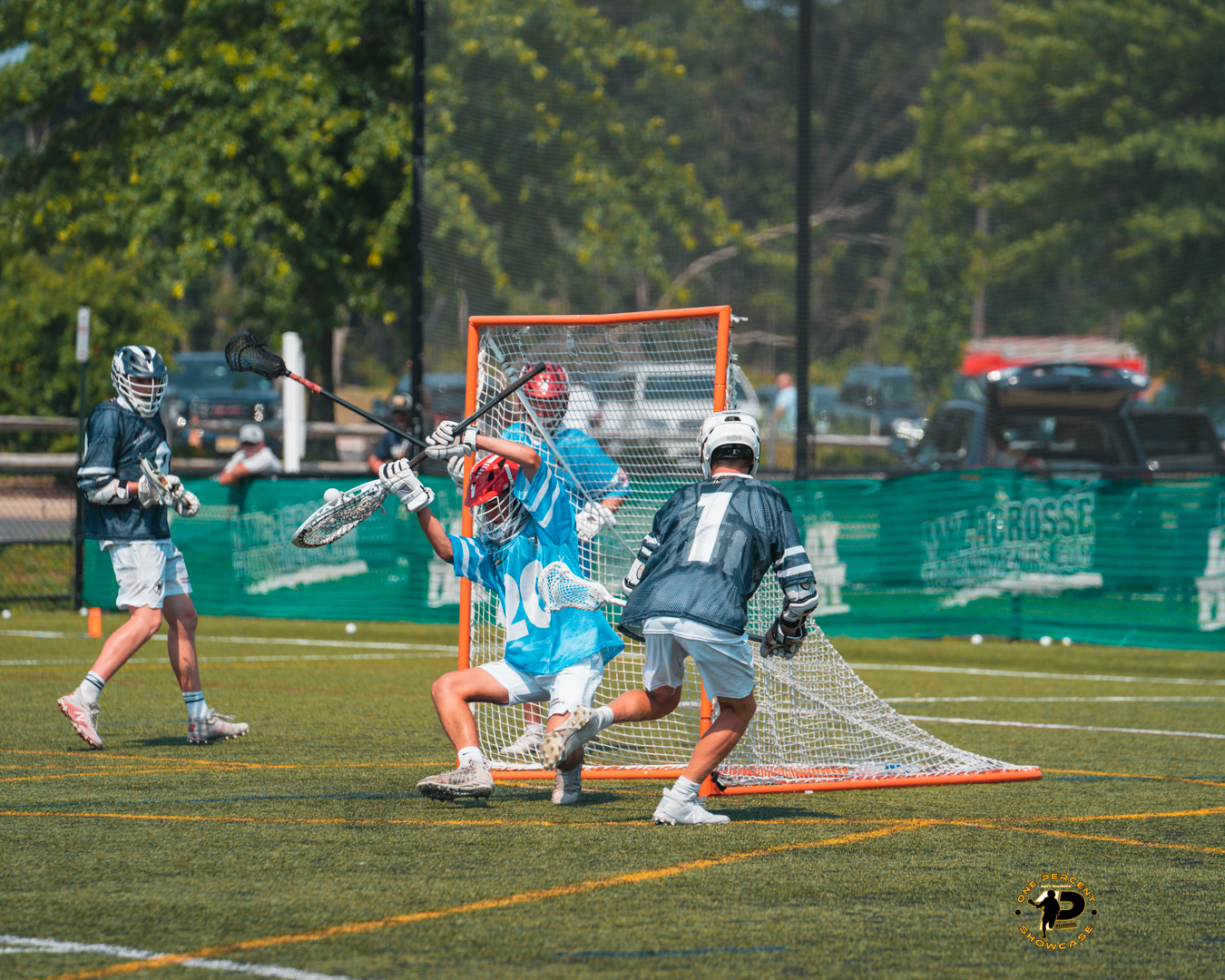 One Percent Showcase 2024 Evaluations: Carolina and Green
Follow the One Percent Showcase on Instagram, YouTube and Twitter. Follow My Lacrosse Tournaments on Instagram and Twitter .
CLICK HERE to check out the dates and express interest in the next three One Percent Showcases. CLICK HERE to check out our fall and winter 2021 events schedule.
The stars came out to play at the One Percent Showcase!
The best players in the 2023, 2024 and 2025 classes came to Capelli Sports Complex in Tinton Falls, New Jersey to test themselves against the nation's elite. Competitors want to see how they stack up against the best, and that's exactly what went down here.
Every player at the event receives an evaluation from our talented, knowledgeable group of evaluators. Yes, all 430+ players that played get broken down here! Check back in the coming days as we continue to upload evaluations and be sure to subscribe to our YouTube channel as we add all game footage from the event.
All photos in this story are courtesy of Nick Ieradi. CLICK HERE for photo gallery links and to purchase photos from Nick.
2023 Evaluations
Black and White
Red and Royal Blue
Navy and Purple
Carolina and Green
2024 Evaluations
Black and White
Red and Royal Blue 
Navy and Purple
All 2023 games from the event have been uploaded to our YouTube channel, which you can find by CLICKING HERE. All 2024 and 2025 games will be uploaded soon.
2024 Carolina
No. 1 Jack Ransom, attack, Charlotte Catholic (N.C.) / Team 91 Charlotte
All-Star for the second time. Ransom showed improved vision, flashing great hands and always has his head up, able to select passes and get his teammates involved. At heart, he's a finisher first, willing to pull off audacious solo moves, like a behind-the-back goal at the tournament, and has a powerful shot and is an all-around strong finisher.  
No. 2 Michael Moynihan, attack, Arapahoe (Colo.) / Team 91 Colorado Moynihan has a rangy frame and long strides to create space for himself. He's got deft hands and find space well for himself, but he also possesses the passing ability to use that space to set up teammates. 
No. 3 Tyler Gougler, attack, Springfield (Pa.) / Duke's
Gougler possesses a formidable shot when he's able to lean into it. He's a shifty, tough, low-to-the-ground attackman who's able to get under the leverage of many defensemen, and he's able to use that positioning to get around his marker and get at the cage. 
Nate Austin-Johnstone (@ThayerLacrosse / @LXCMinutemen) finishing at the rack in the @OnePctShowcase! pic.twitter.com/jjdsGDgkvA

— Matt Chandik (@MChandik26) July 6, 2021
No. 5 Nate Austin-Johnstone, attack, Thayer (Mass.) / Laxachusetts
All-Star. Austin-Johnstone has so many options in his toolbox. He creates a variety of shot angles off the dodge. He moves the ball well and works off the ball adeptly. The thick lefty is a handful to corral when he gets moving downhill and he has a rocket of a shot. Austin-Johnstone had a particularly impressive goal in the All-Star Game, one where he slalomed his way through the defense and dove across the crease to tuck the ball home. It showed flashes of his body control and skills in tight spaces.
No. 6 Max Frattaroli, attack, St. Anne's (Mich.) / Cherries 
The attackman moves well off the ball, able to play off his teammates well. He's not afraid to go into high-traffic areas on the crease, he hustles hard after loose balls and he works well on the ride. He's not a high-volume attacker, though, and could stand to demand the ball more often.

No. 7 John Majka, midfield, Malvern Prep (Pa.) / Brotherly Love
Another talented Malvern product, Majka is an excellent dodger, willing to engage his defender and often able to run by him. He translates that speed into a hard shot, and that combination usually demands an early slide. 
No. 8 Aiden Bross, midfield, Archbishop Stepinac (N.Y.) / Prime Time
Bross turned heads with his ability to score goals and set up teammates in a variety of ways. He is sturdy in possession and an asset in transition. He's got soft hands around the cage and is crafty off the dodge with strong decision-making. He's patient and chooses his spots well. And when it comes to it, he packs a rocket shot. 
No. 9 Jack Balzi, midfield, New Milford (Conn.) / Eclipse 
Balzi has a strong physical base and a fluid game on both ends of the field. Offensively, he's an excellent passer with his head always up. He's able to translate speed off the dodge straight into a heavy shot. Balzi moves well off the ball and demands possession. He can hurt defenses with the ball or waiting to load up a shot on the weakside. His also provides heady wing play, speed in the open field, good defensive footwork and an aptitude on ground balls.

No. 10 Danny Aiello, midfield, Bayport-Blue Point (N.Y.) / Team 91 Long Island
Aiello is excellent at moving the ball off the dodge, whether it's passing to teammates or firing off a pinpoint shot, and he's become a significantly more confident player with the ball in his stick. He's a very reliable defensive midfielder with quick feet who thrives on making contact, and Aiello prides himself on his ability to deny high-level scoring chances. 
No. 11 Wyatt Hurd, midfield, Denver South (Colo.) / Denver Elite
Hurd is a gritty defensive presence, willing to get physical and put in the work in the defensive half. He's got a great motor to get up and down the field, and he's deferential in the offense to work off his teammates.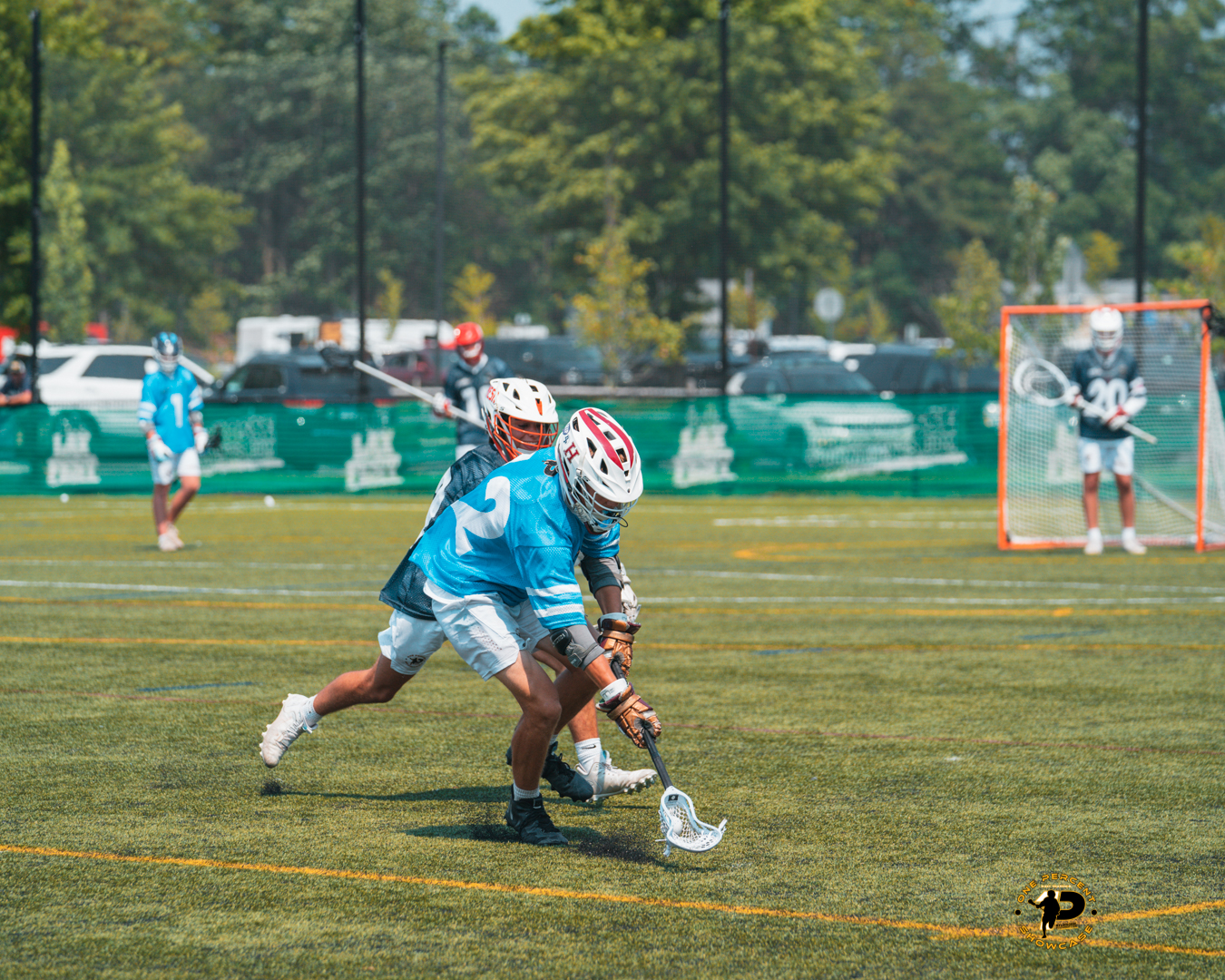 No. 12 Ben McCarthy, faceoff midfield, Haverford School (Pa.) / Freedom
All-Star. McCarthy is built with a higher center of gravity than most faceoff men. He uses that to his advantage when it comes to leaning on opponents. He's a clean technician with quick hands and the ability to win the ball cleanly and launch forward into the offense. McCarthy's also great on the ground when he doesn't win it clean. When he turns possession into offense, McCarthy possesses a strong shot and astute passing to trigger the attack. It's early, but as of right now, McCarthy has to be in the conversation as being the top faceoff guy in the '24 class. 
No. 13 Jake Burchetta, LSM, Brunswick (Conn.) / Predators
Burchetta is a valuable wing presence, with his work on the ground and his ability to harass the ball and turn back attacks. He's solid in the half-field defense, with good 1v1 skills, including to turn his hips and run with any midfielder. He'll be an all-around terror if he can fine tune his off-ball defense.
No. 14 Paul McLucas, LSM, McDonogh (Md.) / Team 91 Maryland
All-Star. McLucas has an imposing build beyond his years. He's outstanding on the ground, motors up the field in transition with long strides and is a shot option. Defensively, his technique is great, his 1v1 defending is solid and works well within the team concept. There can't be many, if any, LSMs who take the ball away as much as he does in the '24 class. 
No. 15 Kevin Morrow, defense, Lawrenceville (N.J.) / Shore2Shore
All-Star. A tall, lanky defenseman who earned some playing time at Lawrenceville last spring, Morrow is physical but doesn't overly rely on that, augmenting it with the way he reads the game. He's willing to joust with attackmen and generally has the advantage in that category, leaning on them to exert leverage. But he's also got a great stick that is constantly in passing lanes and helps well off the ball. 
No. 16 Matt Fogarty, defense, Oakton (Va.) / VLC
What Fogarty lacks in size, he makes up for with excellent technique. He's a tremendous on-ball defender, able to track opponents behind the cage with his quick footwork and harass them with an active stick. He's a secure defensive hand on the crease, with his ability to aid in clears, on the ground and in passing lanes.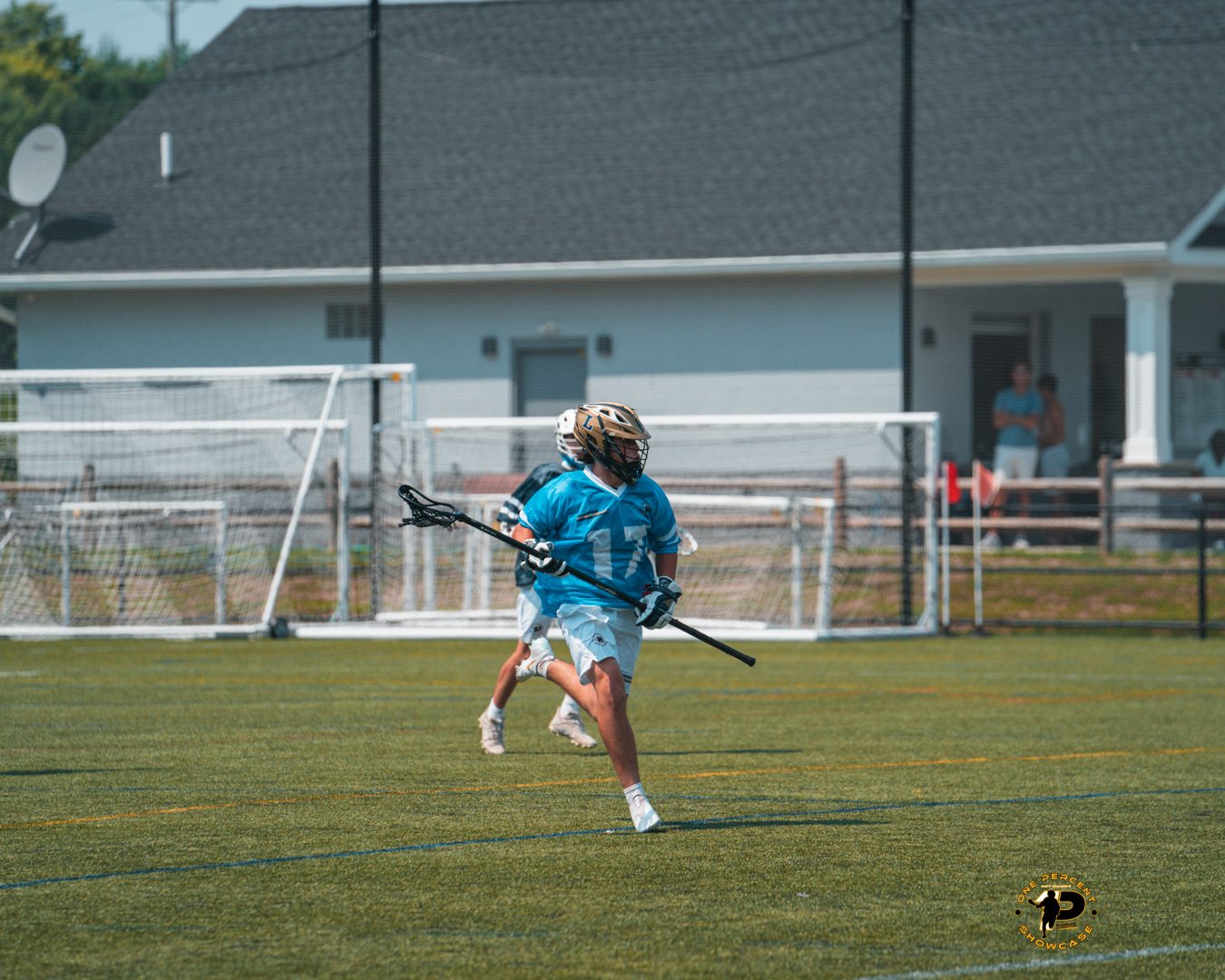 No. 17 Logan Missett, defense, La Salle (Pa.) / Duke's
Missett is a solid defenseman in a variety of ways, blending his strength and quickness to be strong in one-v-one matchups. He's great on the ground, works well off the ball in reading the attack and distributes the ball well on clears. 
No. 18 Leo Schechtman, defense, IMG (Fla.) / Express North
Schechtman is a heady defender who works outstandingly in the team concept. He slides quickly, recovers well, is aware of movement when he's not on the ball and uses his reads to create turnovers. He also is quick on the ball and defends with a high stance that makes it easier to keep his stick in opponents' hands. 
No. 19 Nikolas Menendez, defense, Culver (Ind.) / Cherries
Menendez's footwork makes him a stout defender, able to keep opponents in front of him and funnel them to safer areas. He has the stick skills to be an option in transition, including after crossing the midline.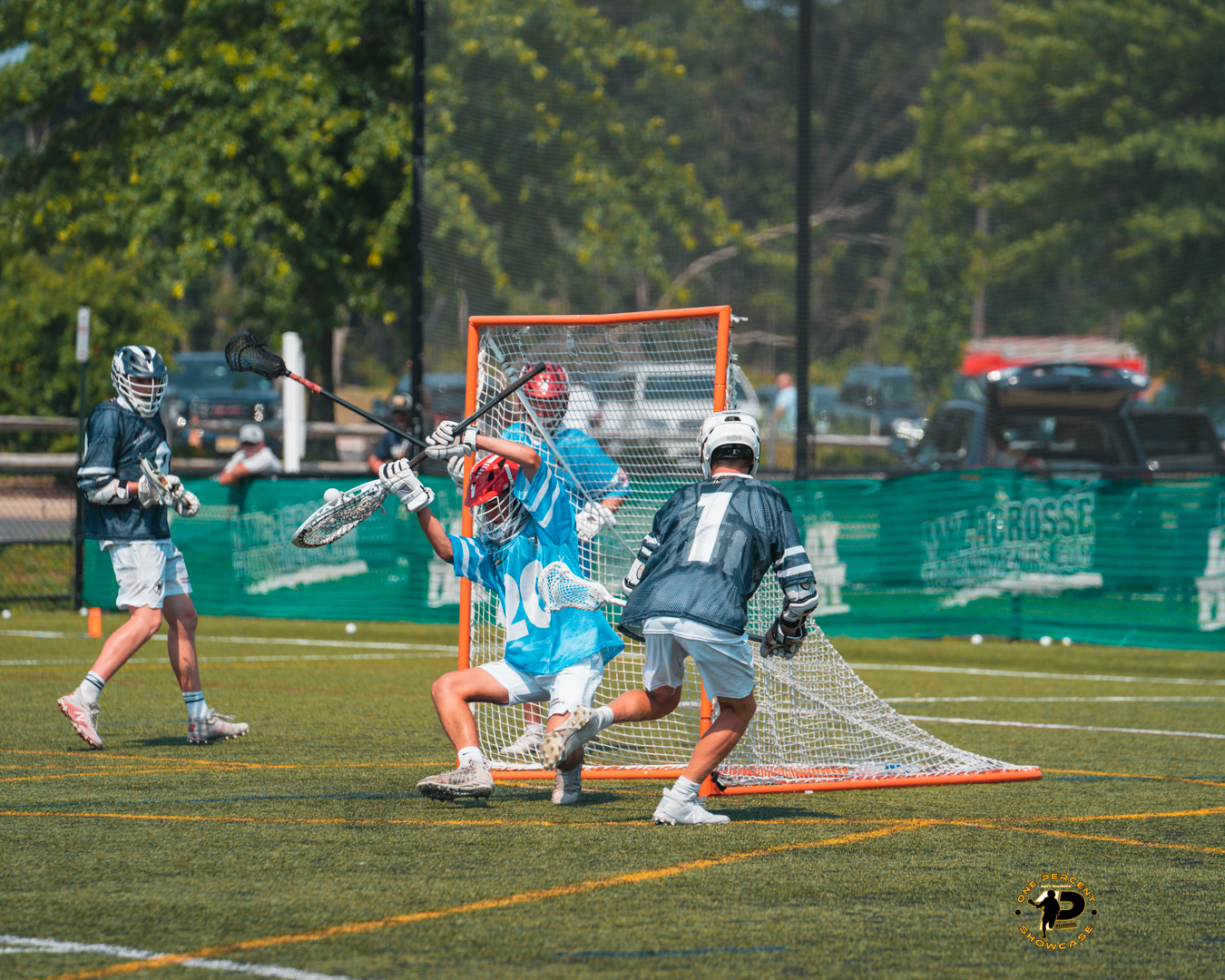 No. 20 Patrick Roelke, goalie, Delbarton (N.J.) / Leading Edge
Roelke does the job of denying shots and much more. He covers shots well out of the cage and is quick to intercept passes around the crease. He's secure with the ball in his stick and distributes well to start clears. 
No. 21 Brady Carver, goalie, Academy of the New Church (Pa.) / Duke's
Carver is a strong shot-stopper. He gets down low to deny shots well, tracks bouncing shots well and communicates well with his defenders. He's also a clean distributor on clears. 
No. 22 Tommy Tray, midfield, Malvern Prep (Pa.) / NXT
Tray is a two-way middie who gets up and down the field. He understands the team concept well, always aware when he's off the ball and cognizant of where the space on offense is. He's got quick feet and a shifty dodge to create space for himself, and he's able to make plays for himself and for others with his passing. Tray also works hard on the defensive end and is a battler on the ground.
2024 Green 
No. 1 Drew Lockwood, attack, Hartland (Mich.) / Cherries 
The younger brother of NLF No. 27 '22 Bo Lockwood (Michigan), Lockwood isn't the biggest attackman but he moves extremely well and facilitates ball movement within the team. He's got a heavy shot, a willingness to go into dangerous areas and quick hands to execute on the crease. When he gets space, he's able to launch a powerful shot. 
No. 2 Owen Burke, attack, Cherry Creek (Colo.) / Denver Elite
Burke is a dangerous attacking player. He has soft hands, a quick release and is able to conjure a variety of shot angles with his astute movement, both off the dodge and without the ball. He's particularly fond of the ability to curl from X to bury a shot around the cage, one of a plethora of attacking moves in his arsenal. 
No. 3 Jared Beschel, attack, Manhasset (N.Y.) / Team 91 Long Island
Beschel is a pass-first attackman. He can facilitate out of X or from other areas on the field. He rotates well off the ball to make himself an option for others, and he gets his teammates involved with his hands constantly in motion and his head always up. 
No. 4 Joe DiMella, attack, Governor's (Mass.) / NE Twisters
DiMella is willing to make the extra pass and defer to his teammates, particularly in transition. More often than not, DiMella makes the right decision with the ball, knowing when to push and when to pull back.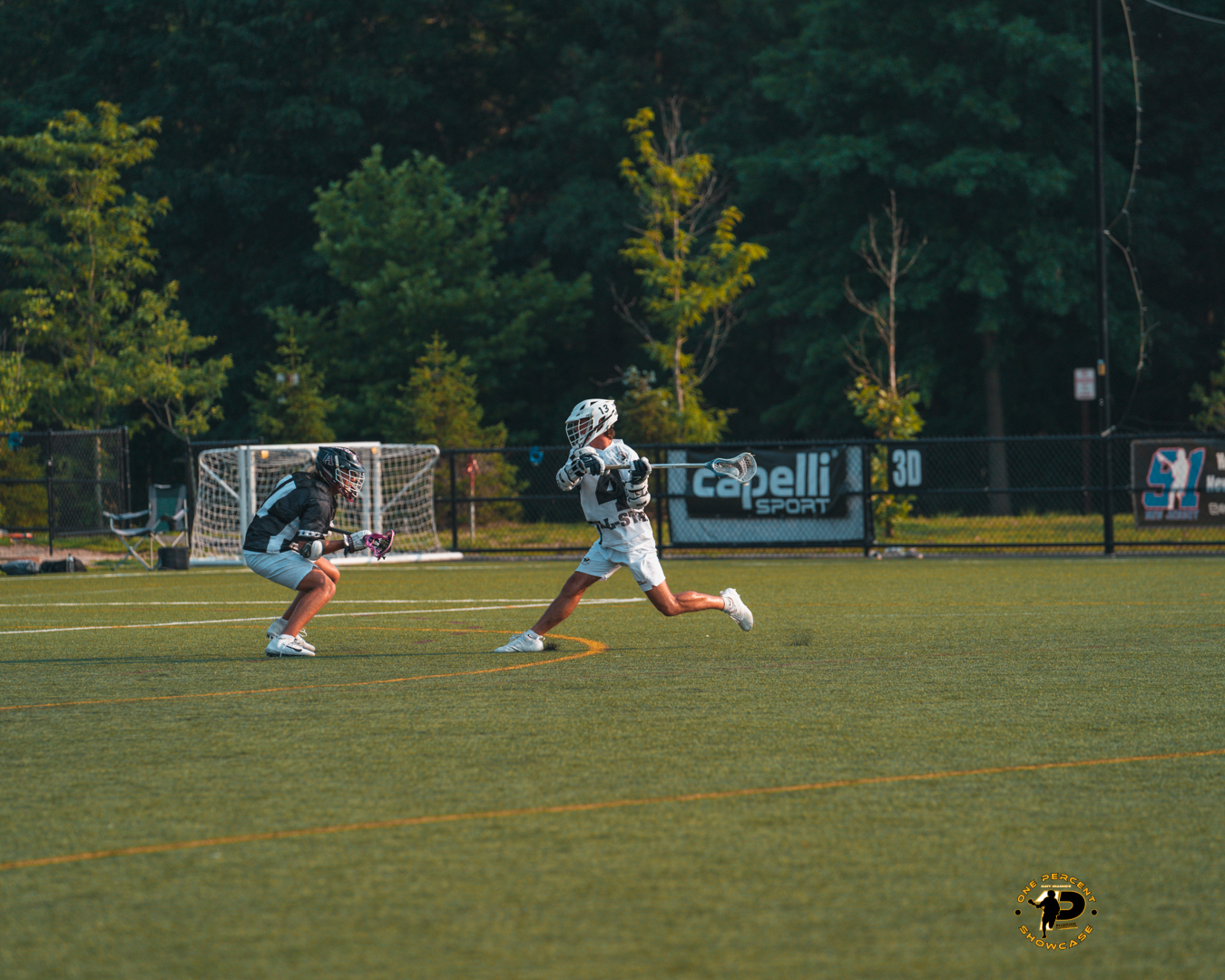 No. 5 Dylan Jaszcz, attack, Episcopal Academy (Pa.) / Brotherly Love
All-Star. Quite possibly Philly's top '24. He led Episcopal Academy in scoring as a freshman with 31 goals and 13 assists. At a young age, Jaszcz already possesses a sophisticated array of moves. His footwork to tiptoe around the crease is outstanding. He's able to shoot with power and placement from a variety of angles. Jaszcz can hurt you off the dodge from up top, create angles from the wings or distribute from X. All of it stems from a sublime set of hands, next-level vision and the slow heartbeat to make heady decisions with the ball in his stick. When his physicality matures to meet his obvious skills, he will be nearly impossible to stop. 
Spin cycle from Ryan Hornyak (@AOF_Lacrosse / @2WayLacrosse)
One more from Dylan Jaszcz (@EAboyslacrosse / @BrotherlyLoveLC)
Top shelf 🚀 from Ben Firlie (@MCDLaxScores / @91Maryland)

Green '24s were an absolute wagon! pic.twitter.com/wBje4tR1ah

— OnePercentShowcase (@OnePctShowcase) July 8, 2021
No. 6 Ben Firlie, midfield, McDonogh (Md.) / Team 91 Maryland
All-Star. One of the best pure shooters in the '24 class. Firlie gets up and down the field at will, contributing on both ends. With the ball, he's a lethal dodger, able to uncork powerful shots or pass at speed to entice teammates into the space his movement has created. On defense, he's got the technique and quickness to keep opponents in front of him and isn't afraid to mix it up physically. 
No. 7 Hunter Aquino, midfield, Academy of the New Church (Pa.) / Duke's
There aren't too many 6-4, 175-pound middies running around these days, which already makes Aquino a bit of a unicorn. Aquino showed his willingness to battle it out on both ends of the field. He's got long legs but moves his feet nimbly, allowing him to stay in front of opposing attackers. He's able to match up with them physically with a strong upper body. All of those attributes make him a natural on the wing, where he's able to use his prowess on the ground to help out his teammate at the X. 
No. 8 William Cramp, midfield, Paul VI (Va.) / Cavalier 
Cramp has a great motor that he deploys on both ends of the field. He's a good shooter off the dodge, a speedy option in transition and a hard worker on defense. 
No. 9 Matt Jacobsen, midfield, Central Bucks West (Pa.) / Team 11 
All-Star. Jacobsen has the makings of an impressive build, with long arms that let him unleash quite a shot. He's able to access a variety of shot angles and impart tremendous power off the dodge. Jacobsen is also surprisingly shifty in getting around defenders, plus he's smart in how he positions his body on defense and is an asset in transition.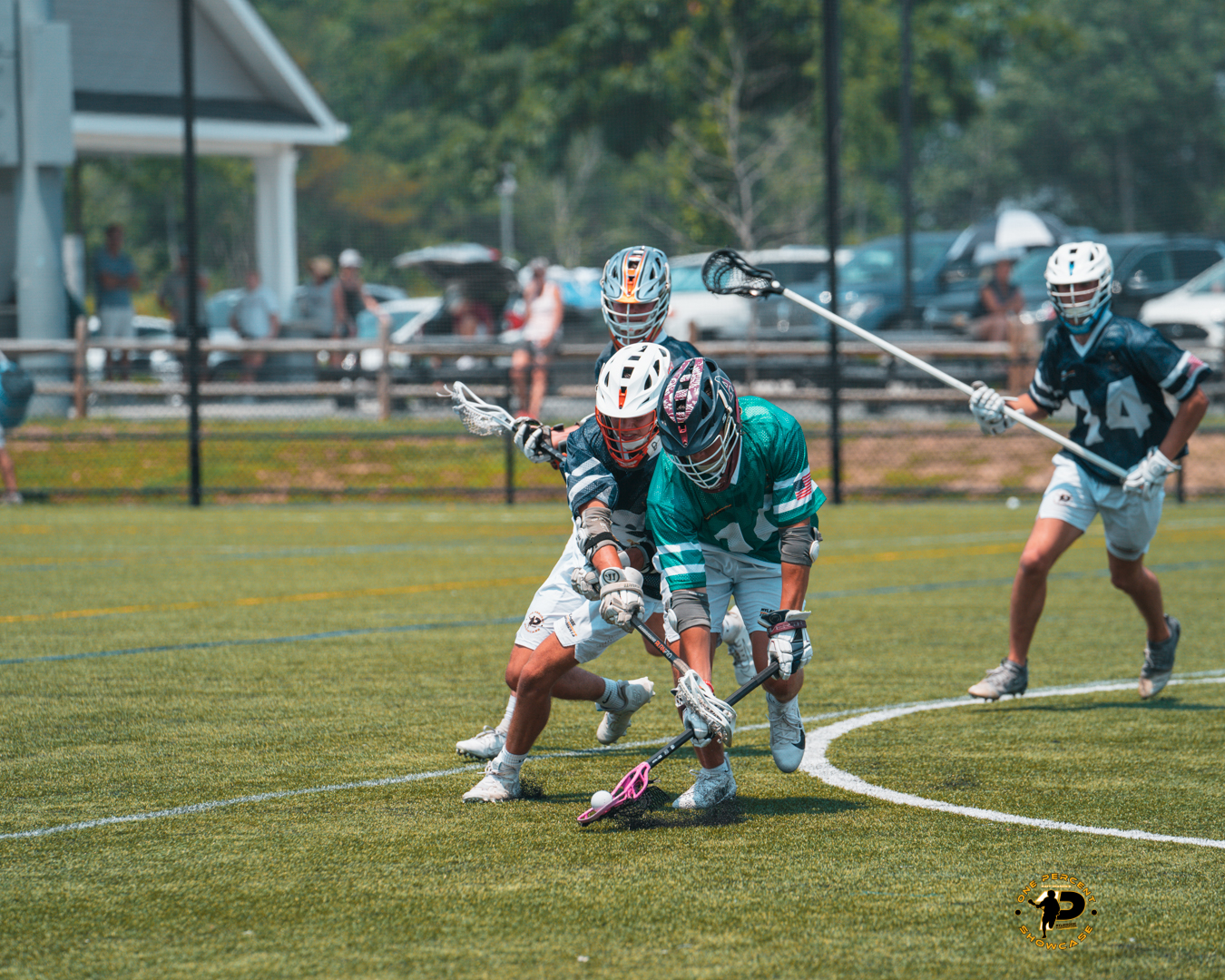 No. 10 Ryan Hornyak, midfield, Avon Old Farms (Conn.) / 2Way
All-Star. Hornyak is another demon in transition, able to get up the field and make the correct decision with the ball when he does. He's a strong passer overall. On defense, he battles hard, with good footwork and an active stick. 
No. 11 Sam Schafer, midfield, Spring Lake (Mich.) / Cherries
Shafer is a big kid, and it's most apparent when he's tasked with defensive duties. He's tremendous at shunting a dodger's momentum and redirecting them, with an active stick and good awareness to move with his man and help off ball. His long strides means he's tough to keep up with in all three phases of the game. 
No. 12 Stevie Davis, faceoff midfield, La Salle (Pa.) / Duke's 
All-Star. A newcomer to the position, Davis' raw talent and athleticism have vaulted him into the conversation featuring the best '24 faceoff guys. He made it easy on himself with a bevy of clean wins, though he often stays on for one passage on the offensive end after a win. He's very secure with the ball after securing possession, and he has a good feel for setting the pace of the offense once he moves into the attacking half. 
No. 13 Ryan Wieczorek, LSM, Massapequa (N.Y.) / Long Island Express
The LSM merges the toughness of a close defender with the open-field speed of an LSM. He slides assertively and recovers well, aware of the team's defensive needs. He's got an active stick that hounds opponents, and he provides strong support on the faceoff wing. 
No. 14 Wesley Cohn, LSM, Athens Drive (N.C.) / Team 91 Carolina
All-Star. Cohn is everywhere. He plays on the wing, using his superb ability on the ground, and can even take draws. He's an excellent on-ball defender with his lateral quickness, helps well off the ball and has an active stick to harass attackers and tie up their sticks. Cohn is also a very good passer and has the speed to be an option in transition. 
No. 15 Stephen Carre, defense, Darien (Conn.) / Eclipse 
All-Star. Carre isn't the biggest defenseman, but he makes up for it with tremendous quickness. That coverage ability is most apparent when he's tracking attackmen through X and when he's able to talk through screens. Carre also has an outstanding stick that is constantly pestering opponents and disrupting their ability to make plays. He's versatile with the ability to play LSM and loves to apply pressure. 
No. 16 Kaleb Griffith, defense, Loomis Chaffee (Conn.) / Express North
Griffith has a high IQ, reading plays well in transition and in the half-field defense. He slides well, recovers quickly and has the footwork to make plays. Griffith makes his bones on power and pure strength, using that to deny attackmen a clean look at the cage. 
No. 17 Grant Strohmaier, defense, Christ Church Episcopal (N.C.) / Team 91 Charlotte
Strohmaier has a great stick, able to pick up ground balls well and create mistakes by attackmen with his constant disruption of their hands. He's great as an on-ball coverage defender. 
No. 19 Kieran Campbell, defense, La Salle (Pa.) / Duke's
Rob Forster has an outstanding 2024 class at La Salle, and Campbell is one of its headliners on the back end. Campbell is willing to dictate terms on physical battles with defenders, not afraid to initiate contact and use it to his advantage. He makes it work even better with his quick footwork and his ability to read the offense, working well off-ball and working efficiently through picks. 
No. 20 Carter Hagen, goalie, Darien (Conn.) / Eclipse 
All-Star for the second time. The next one from possibly the country's premier goalie pipeline in Darien, Hagen has a big frame but is also good on low shots, including using his feet to great effect. He's a good leader, who is vocal with his defense, and he's smart with his angles, understanding how to cut down what shooters have to work with.
No. 21 Kyle Morris, goalie, Haverford School (Pa.) / Mesa 
Morris is a big presence in the goal. He's excellent at tracking shooters as they change their angles and has the quick stick and shuffling feet to move with them. He's also precise on his clears and poised in his distribution.