One Percent Showcase 2025 Evaluations: Red and Royal Blue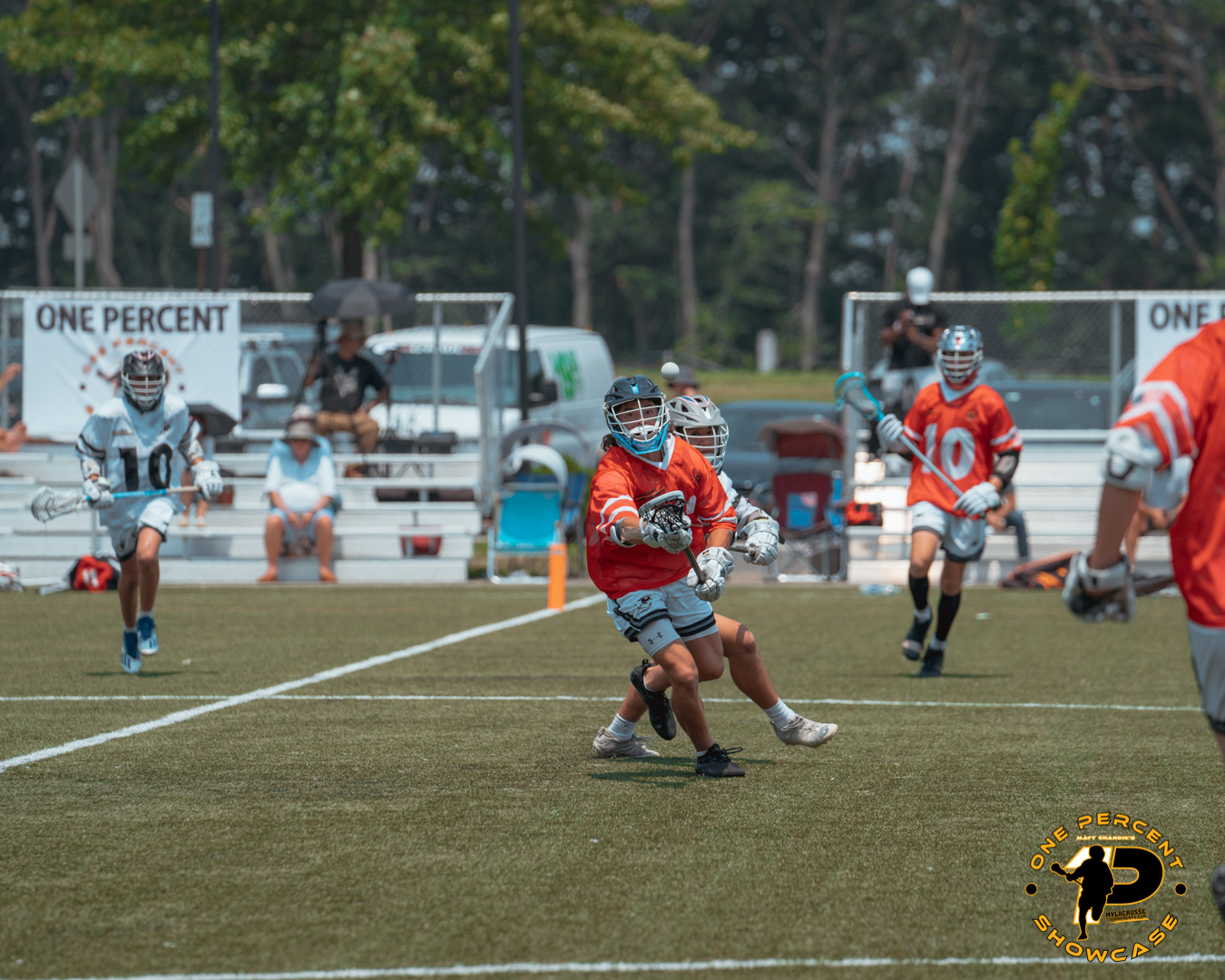 One Percent Showcase 2025 Evaluations: Red and Royal Blue
Follow the One Percent Showcase on Instagram, YouTube and Twitter. Follow My Lacrosse Tournaments on Instagram and Twitter .
CLICK HERE to check out the dates and express interest in the next two One Percent Showcases. CLICK HERE to check out our fall and winter 2021 events schedule.
The stars came out to play at the One Percent Showcase!
The best players in the 2023, 2024 and 2025 classes came to Capelli Sports Complex in Tinton Falls, New Jersey to test themselves against the nation's elite. Competitors want to see how they stack up against the best, and that's exactly what went down here.
Every player at the event receives an evaluation from our talented, knowledgeable group of evaluators. Interested in playing in the December or June One Percent events? Click on the respective grad year to express interest in the 2024, 2025 and 2026 events.
All photos in this story are courtesy of Nick Ieradi. CLICK HERE for photo gallery links and to purchase photos from Nick.
2023 Evaluations
Black and White
Red and Royal Blue
Navy and Purple
Carolina and Green
2024 Evaluations
Black and White
Red and Royal Blue 
Navy and Purple
Carolina and Green
2025 Evaluations
Red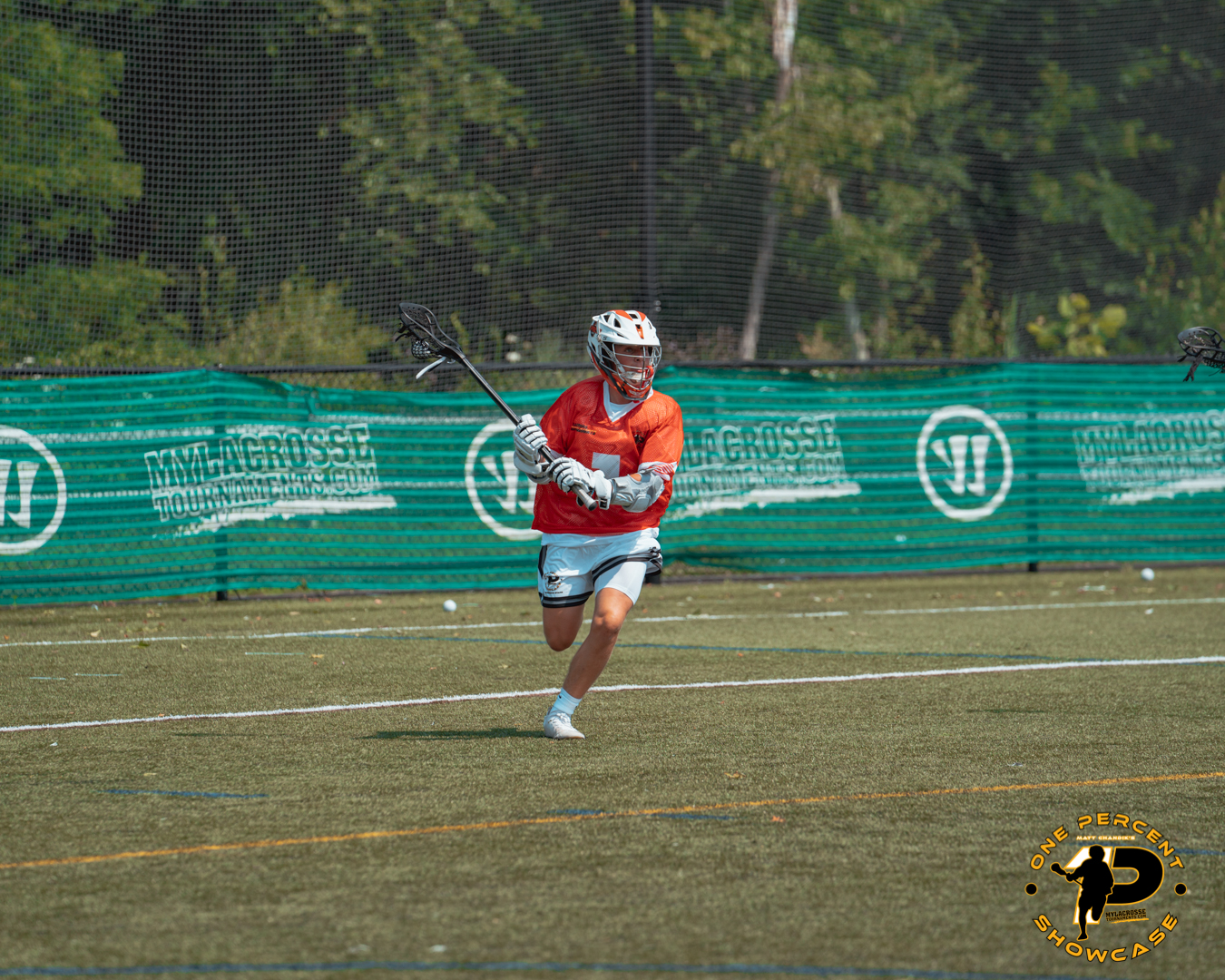 No. 1 Connor Kuttin, attack, Chaminade (N.Y.) / LI Express
All-Star. At this point, Kuttin has to be in the discussion for the best '25 attackman in the country. The youngest of three brothers – Sean and Kevin both play for Yale – Kuttin has great bloodlines to go along with incredible vision, hands and skill. He's the type of attackman that makes everyone else around him significantly better. Kuttin is a phenomenal passer and had a bunch of great feeds through traffic and into tight windows that got converted by his teammates. He hustles hard, can take it to the rack and showed great chemistry with Brody Bessette in particular, setting up the Team 91 Carolina standout for a bushel of goals throughout the day.
No. 3 Bobby Cusimano, attack, Delbarton (N.J.) / Leading Edge
Cusimano showed the ability to beat defenders in a bunch of ways throughout the day. He did yeoman's work off the ball, slithering into open spaces to create scoring chances, but also flashed shake and quickness to separate 1v1. He's confident with the ball in his stick and can make some good passes, but he also had a couple of impressive goals, including a beauty of a stepdown in the two-man game off of a Nolan Sabel feed.
No. 4 Owen Iles, attack, Brunswick (Conn.) / Team 91 Long Island Shock
All-Star. Iles might have been the best attackman on the day at turning the corner and finishing in traffic. He's not scared at all to get to the paint and getting his nose dirty if it means he can score a goal. Iles had a number of hard takes where he scored both righty and lefty on the crease. He dodges with a purpose every time and scores some eye-popping goals, like the one where he had a ridiculous backhander up the lefty hash. Iles is a smart, heady player with a great stick.
No. 5 Ethan Moore, attack, Fessenden (Mass.) / 3d New England
Moore knows how to do the little things well. He constantly goes hard and does everything at a fast pace. He got things rolling with a hard dodge to just above GLE, where he uncorked a high-to-high finish in style. Moore absolutely OBLITERATED a top corner when Connor Kuttin drew the attention and dumped it off to him. Later, he added a gem of a feed to Bobby Cusimano for a goal. He's a well-rounded lefty.
No. 6 Brody Bessette, attack, Holly Springs (N.C.) / Team 91 Carolina
All-Star. Bessette and Connor Kuttin had great chemistry, with the Tar Heel State standout being the finisher to Kuttin's feeder. He did an excellent job of moving off-ball and catching and finishing everything inside, but also showed some variety to his game. He separated well on a wing dodge, got under a defenseman and buried a bouncer, then later added a stepdown from 12 or so yards off of a Kuttin feed.
No. 7 Gabriel Moore, midfield, Fessenden (Mass.) / 3d New England
All-Star. Like his twin Ethan, Gabriel Moore goes hard all the time. A tall, athletic midfielder, he did some nice work on the wings, securing a handful of tough ground balls and getting transition going. Moore runs well in the open field. You'd like to see him assert himself a little more on the offensive end, but he's got plenty of upside.
No. 8 Anthony Raio, midfield, Half Hollow Hills West (N.Y.) / Team 91 LI Shock
Not many eighth-graders produce a lot offensively while playing on varsity, but Raio buried 24 goals and added 12 assists for Hills West last spring. A tall, athletic midfielder, he showed flashes of brilliance throughout the day, including a nasty split dodge that he punctuated with a low-to-low rip. Raio's quickness helped him separate from defenders, and at the other end, he was willing and able defensively.
No. 9 Sawyer Smith, midfield, Radnor (Pa.) / Mesa
A do-it-all type who got involved in all aspects, Smith showed that he's a bit of a jack-of-all-trades. He had some nice feeds, played scrappy defense and ran well between the lines. He could stand to – and has the ability to – get involved a bit more offensively.
No. 10 Nolan Sabel, midfield, New Providence (N.J.) / BBL
All-Star. Sabel sure didn't skimp on the flashy plays, and he has an advanced understanding of how to break a defense down. He always has his head up and does a terrific job of getting his teammates the ball. He may have been the best feeding middie there, setting up Bobby Cusimano for a couple of impressive goals and later adding a dime to John Stenberg. Sabel has a good handle and the athleticism to put defenders in conflict.
No. 11 Wesley Faher, midfield, Fairfield Ludlowe (Conn.) / Express North
Faher picked up steam as the day went on, working hard to get involved in the offensive flow and becoming more assertive. He had a head-turning goal when he put his foot in the ground and exploded past a Black team defender to set himself up. Faher also did a good job of finding and exploiting soft spots in the coverage.
No. 12 John Stenberg, midfield, Hingham (Mass.) / Laxachusetts
All-Star. A tall, athletic midfielder from a very good LXC '25 team, Stenberg was a major asset on the faceoff wings. He made a bevy of plays to help Russell Fitzgerald and Michael Reilly to big days. Offensively, he fights hard to get to the middle of the field and showed some pop, highlighted by a low-to-high bomb from 10 or so yards on the wing.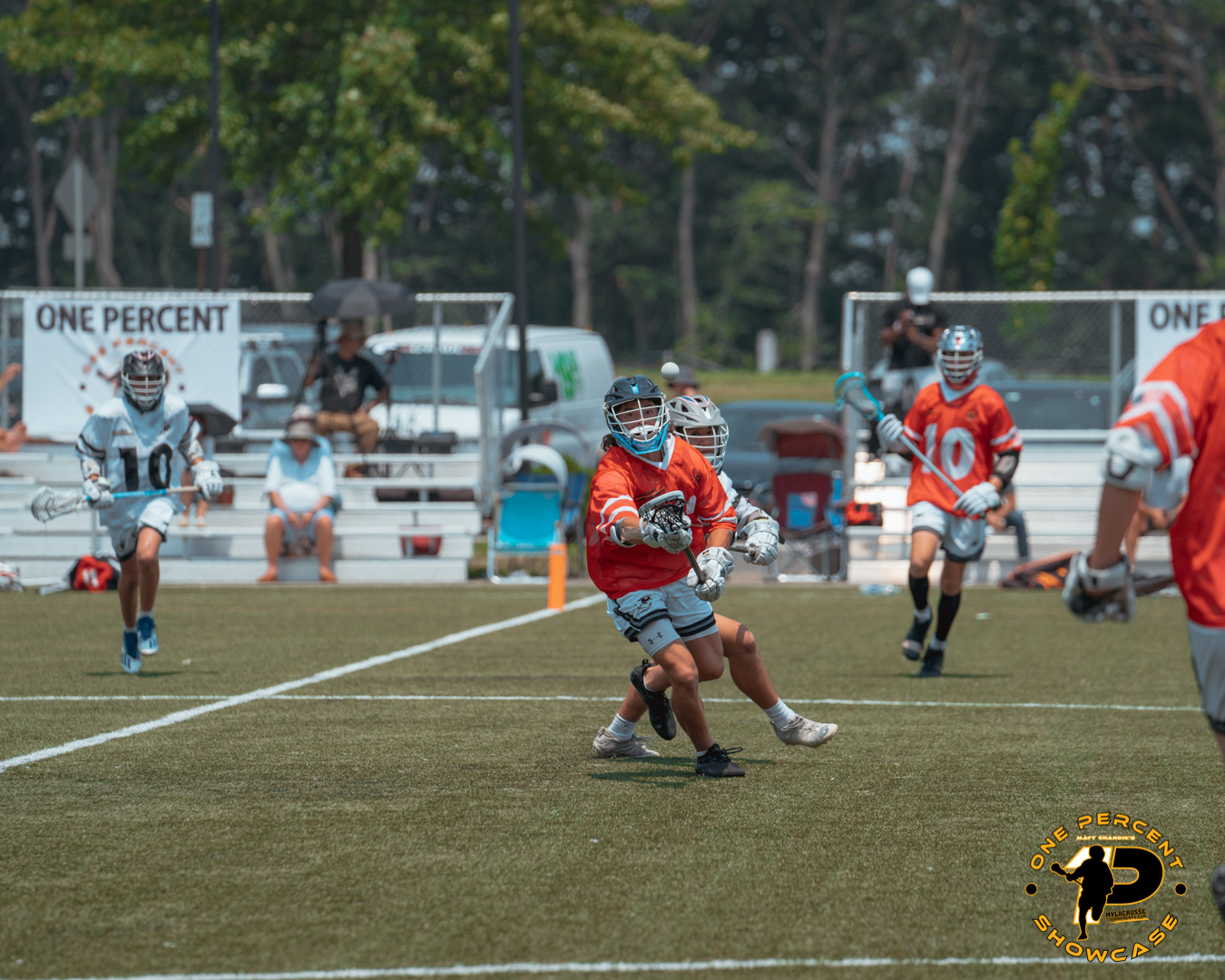 No. 13 Russell Fitzgerald, faceoff midfield, Penn Charter (Pa.) / Prime Time
All-Star. You can count on one hand the amount of faceoffs that Fitzgerald lost throughout the day. He earned All-Star Game defensive MVP honors, but if there were an MVP for the day, he might have gotten it. Fitzgerald excelled at putting the ball in different spots, constantly keeping his opponents guessing, and he's got no problem handling the ball in traffic and making good decisions with it. It got to the point where Fitzgerald was basically doing whatever he wanted. Likely the top faceoff guy in the class at this point, and it may not be close.
No. 14 Barrett Carter, LSM, Wheaton (Ill.) / True Illinois
Carter was a presence both in coverage and on the faceoff wings for the Red squad. He moves really well and seems to be a rare LSM who covers as well as a good close defenseman. Carter did a nice job of sitting down to get leverage under hands, forcing a couple of turnovers and sloppy passes. He also flashed an active stick.
No. 15 Will Pedicano, LSM, Delbarton (N.J.) / BBL
All-Star. Pedicano came in to the event with a big reputation and backed it up with an excellent day. He has a very good stick and picked up some impressive ground balls to go along with knocked down passes and a couple of caused turnovers. Pedicano loves to get physical with his matchup and throws hard checks, and he knows when and where to get his hands on opponents.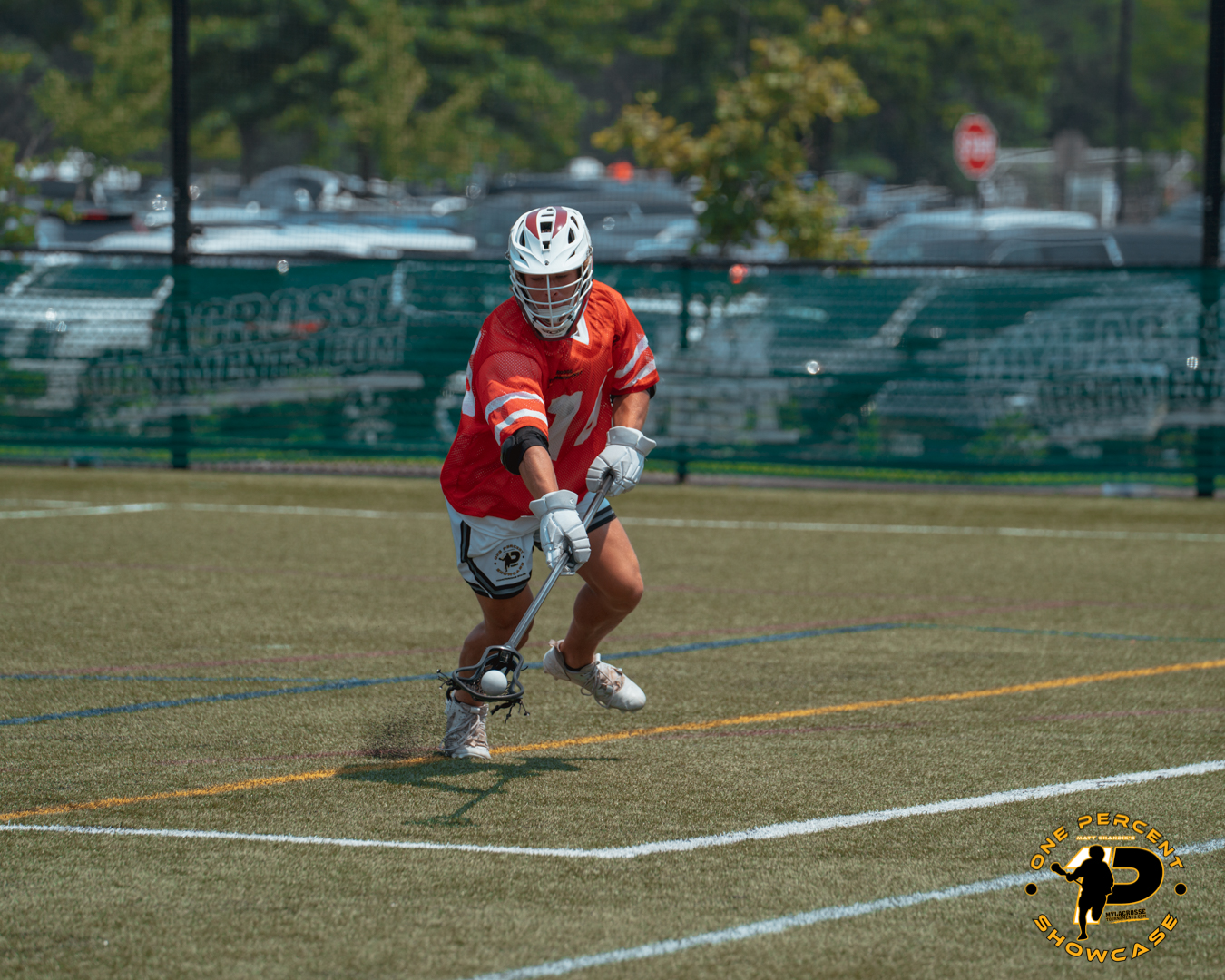 No. 16 Gavin Cooper, defense, Haverford School (Pa.) / Big 4 HHH
All-Star. It's very clear that Cooper knows exactly where the weight room is and what it accomplishes. Physically put-together like a senior, he plays as big as he is. Cooper relishes initiating contact and wants to hurt people with the way he plays. He had one particularly good sequence where he ragdolled a dodger, swatted the ball out, picked it up and tossed a great outlet pass. It wouldn't be shocking to see Cooper compete for a starting role for the national powerhouse Fords this spring. He's that good.
No. 17 Devin Maguire, defense, St. Sebastian's (Mass.) / Laxachusetts
The younger brother of '22 Duke commit Aidan Maguire, Devin is cut from a similar cloth to a lot of stalwart defensemen that Laxachusetts has produced over the years. He's an imposing presence and doesn't shy away from contact, and was particularly physical at GLE. Maguire timed his double teams well, slid effectively and communicated well with his defensive teammates.
No. 18 Ryan Luhrs, defense, Southold (N.Y.) / Team 91
Luhrs moves well and is best as a quietly effective cover man. He did a good job of keeping his stick out in front of him and squeezing guys away from the cage. Luhrs matched feet well and he showed a knack for landing his checks right on opponents' crosses. He has high upside as he fills out and gets a little bit meaner.
No. 19 Dominick Paone, defense, Upper Dublin (Pa.) / Duke's
A lefty who showed a high motor while still playing under control, Paone showed some decent physicality and also proved that he could match feet with some high-level attackmen. He had one play where he got under an attackman and tossed him to the ground, showing some of the meanness that coaches love.
Are you KIDDING?

Henry Griffith (Manhasset, N.Y. / Shore2Shore) with the unbelievable save!

🎥: @flano0 pic.twitter.com/acF2QEjgfk

— OnePercentShowcase (@OnePctShowcase) July 7, 2021
No. 20 Henry Griffith, goalie, Manhasset (N.Y.) / Shore2Shore
Griffith definitely had the save of the day, diving across the crease and robbing a surefire goal with one hand. It spoke to his agility and concentration. He was solid throughout the day and showed poise in the cage. Griffith kept it safe in the outlet game, too.
No. 21 Brayden Holt, goalie, Danvers (Mass.) / NE Twisters
All-Star. One of the more consistent goalies throughout the day, Holt has a good-sized frame but also the ability to move his feet well and fluidly drop down on low shots. He was one of the more active goalies out of the cage, too, and showed poise and accuracy in the clearing game.
No. 22 Michael Reilly, faceoff, St. Anthony's (N.Y.) / LI Express
Reilly scrapped very hard at the stripe all day long and took home his fair share of wins. He was almost re-energized when he lost the clamp and took it upon himself to scrap that much harder to make it a 50-50 ball. He had a couple of plays where he smartly boxed out his opponents to get the ground ball, and he showed some good vision on a feed to set up a John Stenberg goal.
No. 23 Peter Gerbasi, defense, Chaminade (N.Y.) / Team 91 LI Shock
Gerbasi had one of the prettier takeaways of the event when he blasted a perfectly-timed slap check on the wing to take the ball away. He's good off the ground, can bump and run and loves to engage physically. It seemed like his stick was omnipresent on gloves all day long and he showed a prickly disposition and tenacity.
Royal Blue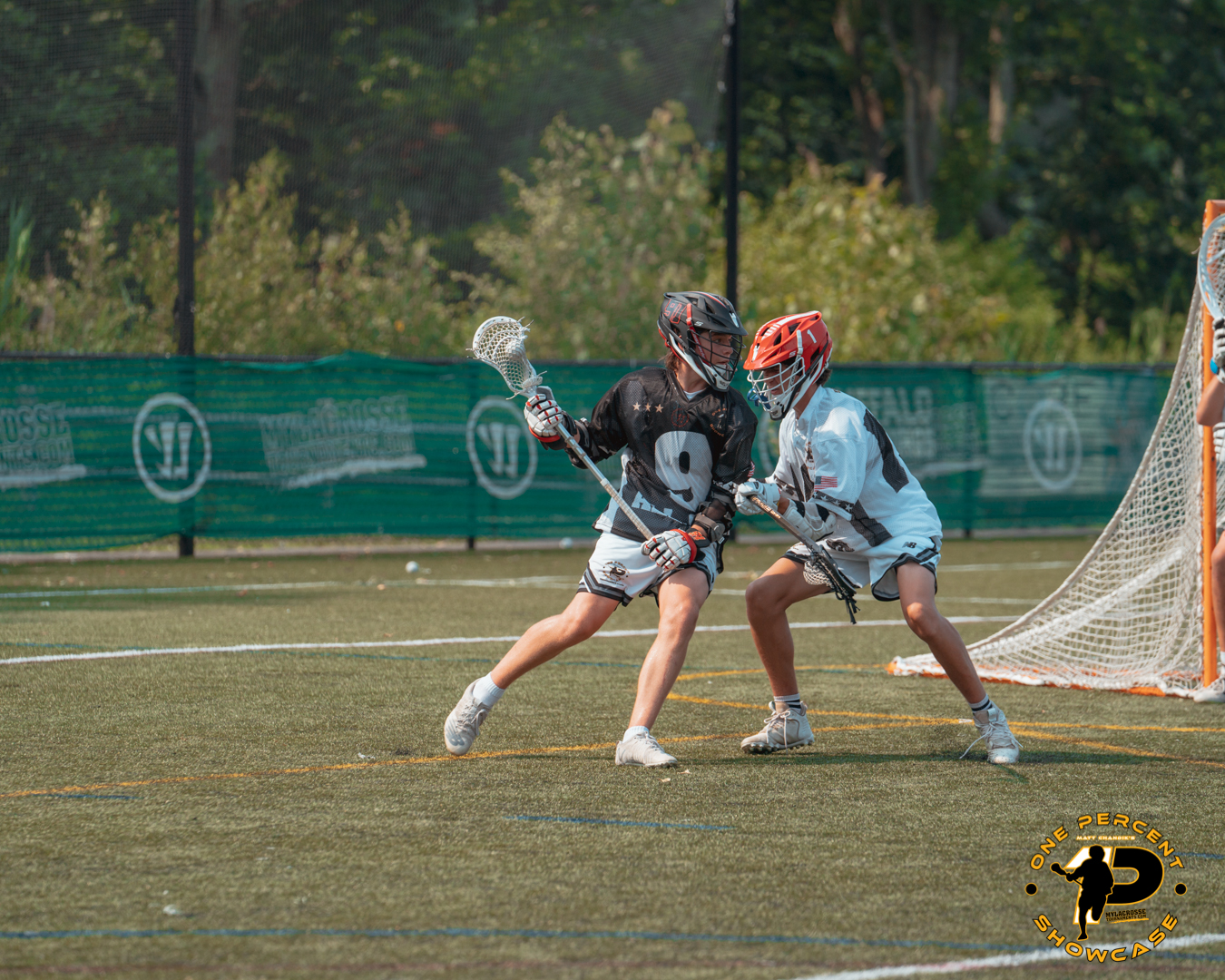 No. 1 Brendan Millon, attack / midfield, McDonogh (Md.) / Team 91 Maryland Fire
All-Star. Like his older brother, '23 McCabe Millon, he could be the best player in his class. Millon got stronger and stronger as the day went on, and he did some nice things both at attack and midfield. He's a terrific feeder, showing early chemistry with Brad Barber and exploding in the final game with Liam Banks Jr.. He picked up some very tough ground balls, took the ball away in 1v1 defense and found open teammates all the time. Millon can find guys from X, the wing or up top, and he also mixed in a gem of a BTB goal.
No. 2 Ryan Rubino, attack, Paul VI (Va.) / VLC
Rubino was very active inside, constantly attacking dead zones in coverage with his movements. He's got good hands and an understanding of how to attack defenses. He also showed some toughness on a couple of ground balls.
No. 3 Liam Banks Jr., attack, Harrison (Ga.) / Big 4 HHH
Banks developed a nice rapport with Brendan Millon, and the duo went off in the final game of the day as Banks finished with five goals. Banks has the requisite coach's son lacrosse IQ and understands how to work off the ball to get open. He's a good finisher who buried a couple of Millon's feeds in the final game. Banks is a willing participant in the two-man game and understands where and how to set picks, and he also uses his soft hands to do damage with the ball in his stick.
No. 5 Charlie Ruvinsky, attack, Berkshire (Conn.) / Express North
An aggressive, opportunistic dodger who isn't afraid to test his matchup, Ruvinsky goes hard to high-traffic areas to make a play. He had a handful of impressive ground balls in a crowd and played hard all the time. Ruvinsky's finest play may have been when he snapped up a ground ball in traffic and finished it a hard, deceptive snap that fooled the goalie. A somewhat slippery dodger, he's got some power on his shot.
No. 6 Cullen Lynch, attack, Chaminade (N.Y.) / LI Express
A smaller lefty, Lynch worked hard to get open off ball. He had a handful of nice feeds to some cutting teammates, showing an advanced understanding of good offensive play. Lynch also did a solid job of riding and doing little things to help his team succeed.
No. 7 Brendan Mullahy, midfield, Fairfield Prep (Conn.) / Eclipse
All-Star. A tall, very athletic midfielder, Mullahy is very confident with the ball in his stick and consistently exploded by defenders when he stuck his foot in the ground and got going downhill. He runs the open field very well and had a highlight-reel punt return clear through three or four riders. He takes one stride when others need three, and he packs a ton of pop on his shot, especially on the run.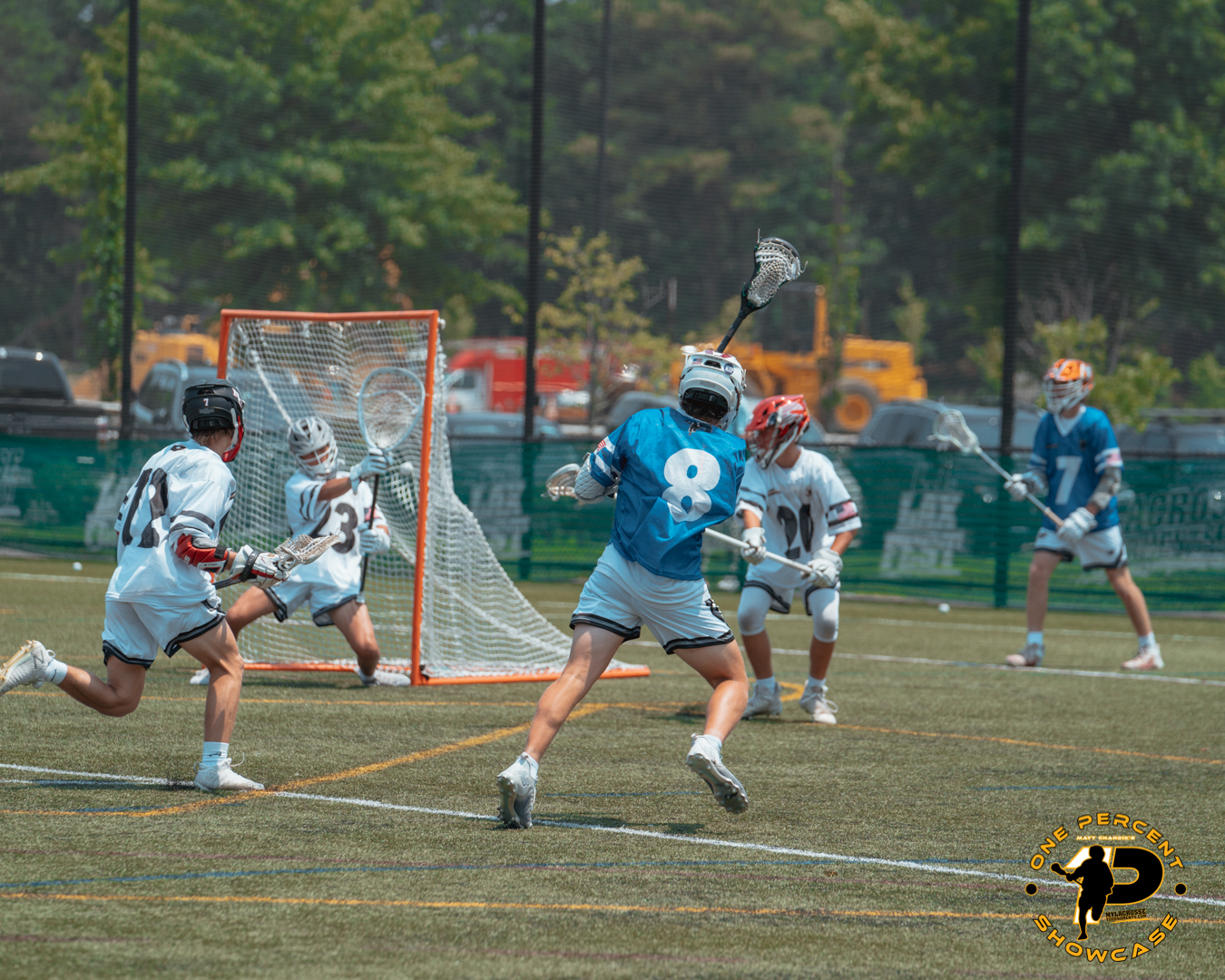 No. 8 Reece Childs, midfield, Haverford School (Pa.) / Big 4 HHH
All-Star. Speaking of punt return clears, give Childs the ball and get out of the way. He'll get it to the other side of the field. One of the best all-around midfielders at the event, Childs made an impact in all three facets of the game. Very good at shooting on the run, he works extremely hard to get to the middle of the field. Defensively, he plays right up in your face, and in transition, you're not catching him. Childs also gobbled up a few ground balls on the faceoff wings.
No. 9 Hunter Kimball, midfield / attack, Chaminade (N.Y.) / Team 91 LI Shock
Kimball's batteries never die. He just goes, goes and goes. His first step leaves defenders backtracking in a hurry and he can beat guys off the dodge from X, the wing or up top. It's not just about the offense, though. Kimball gets up in guys' faces, competes hard all the time and brings tons of scrappiness and toughness to the table. A crafty finisher, scored a couple of impressive goals by getting to the paint and burying.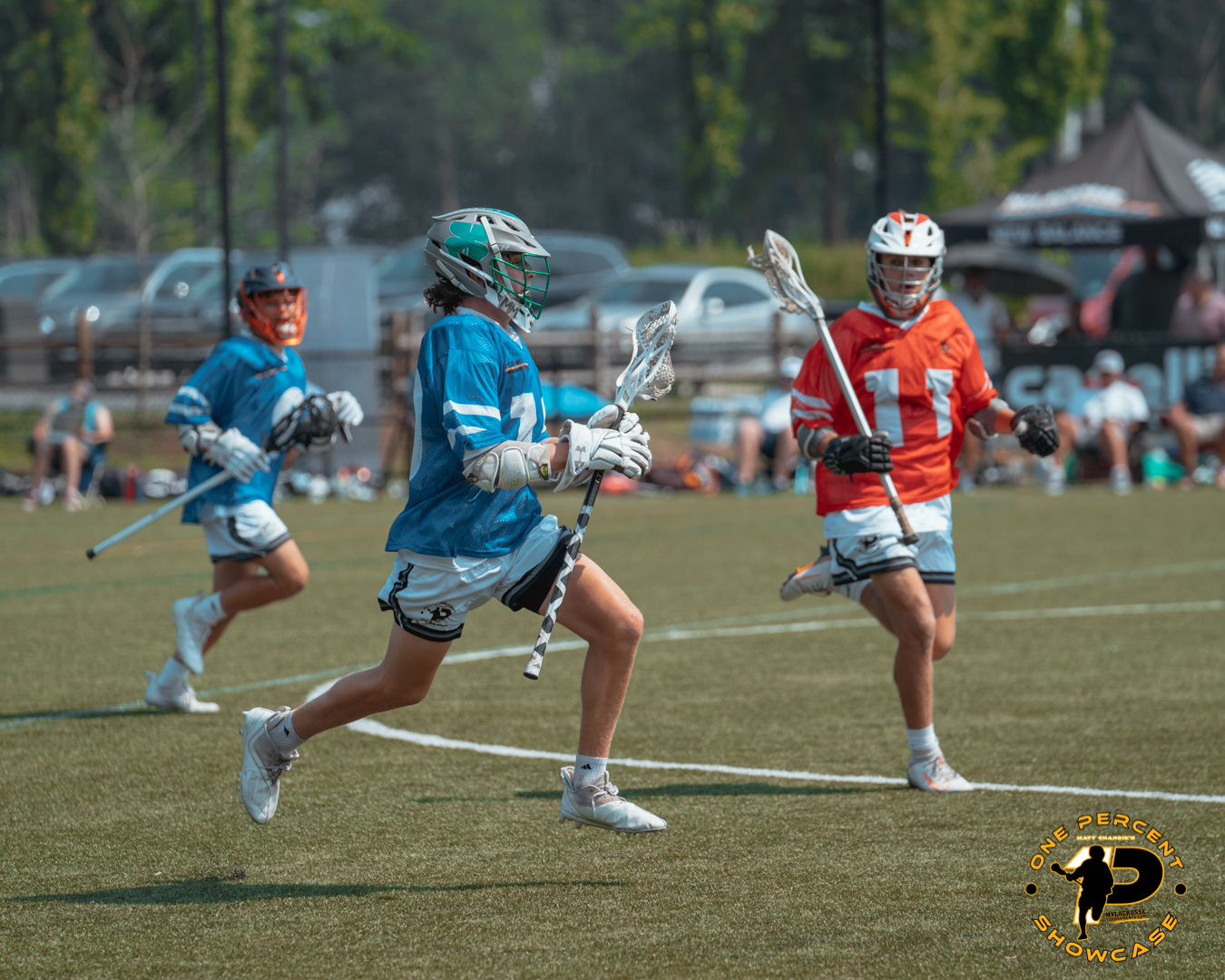 No. 10 Owen Crann, midfield, Westford (Mass.) / Laxachusetts
All-Star. If the ball's on the ground, Crann's coming up with it. He was outstanding in scooping up ground balls and played exceptionally well throughout the day. A thoroughbred in the clearing game, Crann is very athletic in the open field and impossible to catch. Offensively, he dodged hard and kept his head up at all times, flashing high-level vision.
No. 11 Henry Hughes, midfield, John Jay (N.Y.) / Express North
A two-way midfielder who showed an advanced understanding of off-ball defense, Hughes' calling card is his quickness. An unselfish player, he made good decisions with the ball in his stick. Adding a touch more assertiveness to his offensive game would go a long way.
No. 12 Daniel Kolin, midfield, Chaminade (N.Y.) / LI Express
Another midfielder who understood the little things – playing hard all the time, going into high-traffic areas and playing good defense – Kolin had a particularly impressive play where he slipped into a crowd and fired off a low-to-low scorcher. 

No. 13 Scott Conte, faceoff midfield, Wayne Hills (N.J.) / BBL
All-Star. Conte turned up the compete level as the day went on. A tall faceoff middie who runs well in the open field, he had a couple of plays where he lost the clamp and showed some smart counters to get the ball back. Conte made some good decisions in traffic and on one play, effortlessly weaved out of a double team. There's a lot to like about his game.
No. 14 Michael Mayerhofer, faceoff midfield, Long Island Lutheran (N.Y.) / Team 91 LI Shock
Mayerhofer did a good job of winning the clamp and putting the ball in a number of different spots. As he fills out and adds size, he'll be able to come away with an even higher number of wins. He's clearly a student of the game and knows where to go with the ball to keep opponents off-balance.
No. 15 John Rodehorst, LSM, La Salle (R.I.) / 3d New England
All-Star. A very aggressive pole who slid well, Rodehorst is tall, athletic and has a very good stick. He understood off-ball defense, too, knocking down a couple of passes in the process. Rodehorst pushed the offensive pace well, too. He punctuated his strong day with a high-to-low rip off of a Henry Hughes feed against the White squad.
No. 16 Jermaine Anderson, defense, Colonial Forge (Va.) / VLC
All-Star. A physical presence who plays with an edge, Anderson moves well laterally and stayed in the hip pocket of most who tried to dodge him. He made a number of smart, heady decisions on when to slide, and he soaked a couple of shots, too. Anderson's the type whose stock could really soar as he grows into his body.
No. 17 Charlie Halpert, defense, Haverford School (Pa.) / Big 4 HHH
Halpert had an active stick throughout the day, denying skip lanes by getting his stick in the middle of the action. He showed a willingness to engage attackmen with his physicality and stood his ground at GLE to deny quality scoring chances. Halpert had solid positioning throughout and moves well laterally. If he can become a little meaner and more aggressive, his game will take flight.
No. 18 Andrew Gryzenia, defense, Detroit Country Day (Mich.) / Cherries
All-Star. There's not a ton of flash to Gryzenia's game, but there doesn't need to be. He was in the right place at the right time and kept his stick in front of him to deny quality looks. Gryzenia communicated well with his defensive mates and he did add a few eye-catching plays, like a beauty of a trail check that knocked the ball loose for a turnover.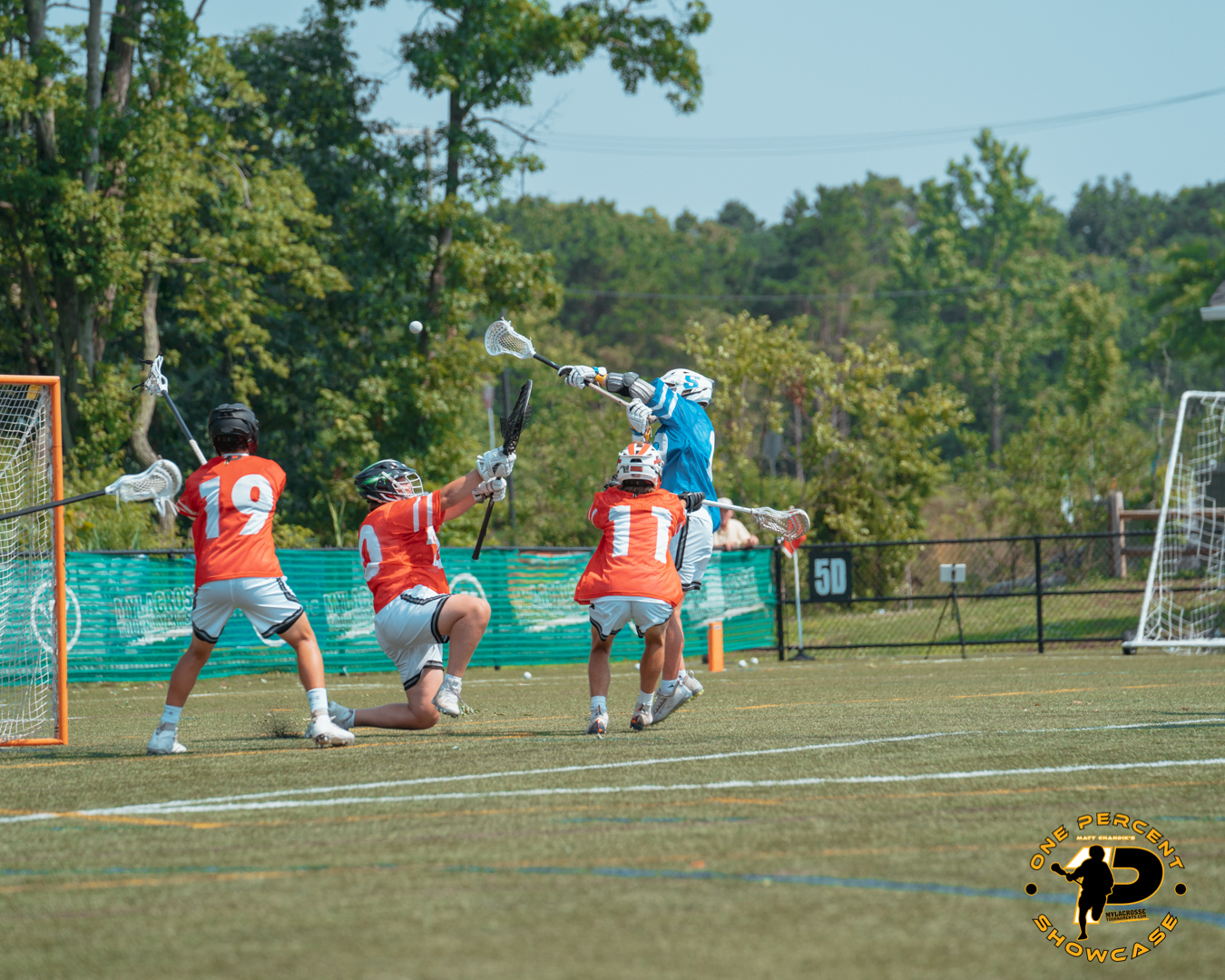 No. 19 Brad Barber '26, attack/midfield, Springfield (Pa.) / Duke's
All-Star. A true '26 making the All-Star Game in a loaded field like this should tell you everything you need to know about Barber. He's always in the right place at the right time and his game is mature beyond its years. He had a hat trick in the first game on a rollback high snipe, a scorcher of a stepdown from a Brendan Millon feed and a greasy rebound in front. Barber doesn't get rattled by anything and can play both attack and midfield at a high level. He made one of the best defensemen at the event look foolish with his shiftiness for a goal in the All-Star Game.
No. 20 Teddy McKeigue, defense, St. Sebastian's (Mass.) / Laxachusetts
McKeigue plays a bit of a different game than his older brother, '22 Penn commit PJ McKeigue. The lefty's not as flashy in taking the ball away, instead preferring to play a more disciplined close defenseman's game. Tall and patient with good footwork, he timed his doubles well and vacuumed up a number of ground balls. A vocal, spirited defenseman, McKeigue also did good work in transition.
No. 21 Jackson Kennedy, goalie, Springfield (Pa.) / Duke's
In line to be a difference-maker at Philly's preeminent goalie factory, Kennedy is a smaller but very patient and poised goalie. Fundamentally, he seems advanced for his age. Kennedy had a picturesque 1v1 save inside, hugged the posts well so he didn't get beat short side and took away clean looks with ease.
No. 22 Hunter Mezzatesta '26, goalie, Yorktown (N.Y.) / Express North
All-Star. Mezzatesta is very well put-together, especially for an eighth grader. He's big, but he also moves very well, which helps him take away a ton of shots. On one play, he made an excellent 1v1 save and quickly tossed a 25-yard dime in the outlet game. He stands tall and takes up a lot of the cage, but also tracks shots well and uses his quick hands to deny shooters.
No. 23 Parker McDonald, LSM, St. Anthony's (N.Y.) / Team 91 LI Shock
All-Star. McDonald was lights-out for the Shock at the World Series of Youth Lacrosse and kept that going with a superb day at One Percent. Aggressive but in control, he showed that he could cover better than most LSMs, but he's also very active around the ball. McDonald's tall, throws hard checks and excels between the lines.